This is a preview of subscription content, log in to check access.
Access options
Buy single article
Instant access to the full article PDF.
US$ 39.95
Price includes VAT for USA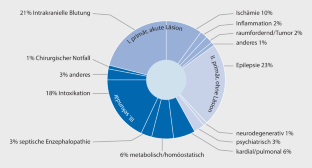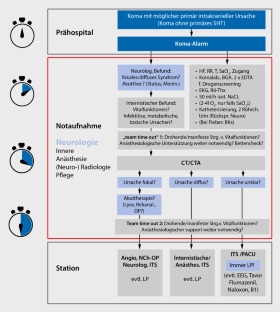 Literatur
1.

Bernhard M, Becker TK, Nowe T, Mohorovicic M, Sikinger M, Brenner T, Richter GM, Radeleff B, Meeder PJ, Buchler MW, Bottiger BW, Martin E, Gries A (2007) Introduction of a treatment algorithm can improve the early management of emergency patients in the resuscitation room. Resuscitation 73:362–373

2.

Braun M, Schmidt WU, Mockel M, Romer M, Ploner CJ, Lindner T (2016) Coma of unknown origin in the emergency department: implementation of an in-house management routine. Scand J Trauma Resusc Emerg Med 24:61

3.

Carpenter CR, Hussain AM, Ward MJ, Zipfel GJ, Fowler S, Pines JM, Sivilotti ML (2016) Spontaneous subarachnoid hemorrhage: a systematic review and meta-analysis describing the diagnostic accuracy of history, physical examination, imaging, and lumbar puncture with an exploration of test thresholds. Acad Emerg Med 23:963–1003

4.

Chu DK, Kim LH, Young PJ, Zamiri N, Almenawer SA, Jaeschke R, Szczeklik W, Schünemann HJ, Neary JD, Alhazzani W (2018) Mortality and morbidity in acutely ill adults treated with liberal versus conservative oxygen therapy (IOTA): a systematic review and meta-analysis. Lancet 391:1693–1705

5.

Forsberg S, Hojer J, Ludwigs U, Nystrom H (2012) Metabolic vs structural coma in the ED—an observational study. Am J Emerg Med 30:1986–1990

6.

Gill MR, Reiley DG, Green SM (2004) Interrater reliability of Glasgow Coma Scale scores in the emergency department. Ann Emerg Med 43:215–223

7.

Horsting MW, Franken MD, Meulenbelt J, van Klei WA, de Lange DW (2015) The etiology and outcome of non-traumatic coma in critical care: a systematic review. BMC Anesthesiol 15:65

8.

Kanich W, Brady WJ, Huff JS, Perron AD, Holstege C, Lindbeck G, Carter CT (2002) Altered mental status: evaluation and etiology in the ED. Am J Emerg Med 20:613–617

9.

Ludwig L, McWhirter L, Williams S, Derry C, Stone J (2016) Functional coma. Handb Clin Neurol 139:313–327

10.

Posner JB, Saper CB, Schiff ND, Claassen J (2019) Plum and Posner's diagnosis of stupor and coma. Oxford University Press, Oxford, New York

11.

Royl G, Ploner CJ, Mockel M, Leithner C (2010) Neurological chief complaints in an emergency room. Nervenarzt 81:1226–1230

12.

Sanello A, Gausche-Hill M, Mulkerin W, Sporer KA, Brown JF, Koenig KL, Rudnick EM, Salvucci AA, Gilbert GH (2018) Altered mental status: current evidence-based recommendations for prehospital care. West J Emerg Med 19:527–541

13.

Schmidt WU, Ploner CJ, Lutz M, Möckel T, Lindner T, Braun M (2019) Causes of brain dysfunction in acute coma: a cohort study of 1027 patients in the emergency department. Scand J Trauma Resusc Emerg Med 27:101

14.

Sechi G, Serra A (2007) Wernicke's encephalopathy: new clinical settings and recent advances in diagnosis and management. Lancet Neurol 6:442–455

15.

van de Beek D, de Gans J, Spanjaard L, Weisfelt M, Reitsma JB, Vermeulen M (2004) Clinical features and prognostic factors in adults with bacterial meningitis. N Engl J Med 351:1849–1859

16.

Volk S, Koedel U, Pfister HW, Schwankhart R, Op den Winkel M, Muhlbauer K, Klein M (2018) Impaired consciousness in the emergency department. Eur Neurol 80:179–186

17.

Wurmb TE, Fruhwald P, Knuepffer J, Schuster F, Kredel M, Roewer N, Brederlau J (2008) Application of standard operating procedures accelerates the process of trauma care in patients with multiple injuries. Eur J Emerg Med 15:311–317
Ethics declarations
Interessenkonflikt
M. Braun, W.U. Schmidt, M. Lutz, H. Topka, C.J. Ploner und die Kommission Neurologische Notfallmedizin der DGN geben an, dass keine Interessenkonflikte bestehen.
Für diesen Beitrag wurden von den Autoren keine Studien an Menschen oder Tieren durchgeführt. Für die aufgeführten Studien gelten die jeweils dort angegebenen ethischen Richtlinien.
Additional information
Redaktion
G. Fink, Köln
J. P. Sieb, Stralsund
About this article
Cite this article
Braun, M., Schmidt, W.U., Lutz, M. et al. Koma unklarer Genese – Versorgung in der Notaufnahme. DGNeurologie (2020). https://doi.org/10.1007/s42451-020-00206-5