Abstract
Purpose
The objective was to evaluate the occupational vibration acting under grapple skidder operators during skidding operation of the Eucalyptus tree bundles.
Methods
The collection of the whole-body vibration data was based on the methodology recommended by the International Organization for Standardization (ISO 8041 and ISO 2631). Then, technical procedure for obtaining vibration data from the operators was performed using a Larson Davis tri-axial vibration meter, model HVM 200 and a tri-axial ICP accelerometer of the seat pad type.
Results
When comparing the values of the weighted acceleration and VDV with the limits established by the European Directive, it is verified that in both tests, the measured values are higher than the one expected by the respective regulation. Compared to the ISO 2631 criteria, both tests provided results located in the danger zone.
Conclusion
The values obtained indicate that occupational exposure may cause health risks to grapple skidder operators. The results showed the need of actions that can minimize the transmission of vibration to the operators due to the level being above the guidelines, despite all the technology used by manufacturers of machinery for harvesting.
This is a preview of subscription content, log in to check access.
Access options
Buy single article
Instant access to the full article PDF.
US$ 39.95
Price includes VAT for USA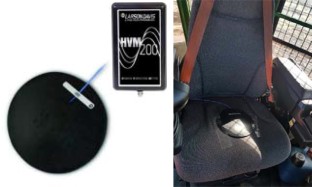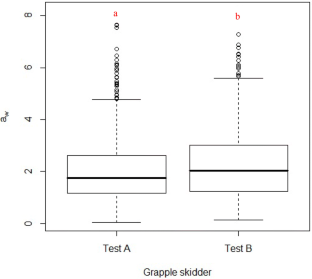 References
1.

Lindroos O, Cavalli R (2016) Cable yarding productivity models: a systematic review over the period 2000–2011. Int J For Eng 27:79–94

2.

Di Fulvio F, Abbas D, Spinelli R, Acuna M, Ackerman P, Lindroos O (2017) Benchmarketing technical and cost factors in forest felling and processing operations in different global regions during the period 2013–2014. Int J For Eng 28:94–105

3.

Bodaghi AI, Nikooy M, Naghdi R, Venanzi R, Latterini F, Tavankar F, Picchio R (2018) Ground-based extraction on salvage logging in two high forests: a productivity and cost analysis. Forests 9:1–18

4.

Rottensteiner C, Tsioras P, Neumayer H, Stampfer K (2013) Vibration and noise assessment of tractor trailer and truck mounted chippers. Silva Fenn 47(5):1–14

5.

Basri B, Griffin M (2013) Predicting discomfort from whole-body vertical vibration when sitting with an inclined backrest. Appl Ergon 44(3):423–434

6.

Bridger RS (2018) Introduction to human factors and ergonomics, 4th edn. Taylor & Francis, New York

7.

Melemez K, Tunay M, Emir T (2013) The role of seat suspension in whole-body vibration affecting skidding tractor operators. J Food Agric Environ 11(1):1211–1215

8.

Rothmore P, Aylward P, Oakman J, Tappin D, Gray J, Karnon J (2017) The stage of change approach for implementing ergonomics advice translating research into practice. Appl Ergon 59:225–233

9.

International Ergonomics Association IEA (2020) Definition and Domains of Ergonomics. https://www.iea.cc/whats/index.html. Accessed 22 Jan 2020

10.

Lehto M, Landry SJ (2013) Introduction to human factors and ergonomics for engineers, 2nd edn. CRC Press, Boca Raton

11.

Iida I, Buarque L (2016) Ergonomics: design and production, 3rd edn. Edgard Blucher, São Paulo

12.

Cation S, Jack RJ, Dickey JP, Lee-Shee NK, Oliver M (2008) Six degree of freedom whole-body vibration exposure during forestry skidder operations. Int J Ind Ergon 38:739–757

13.

Zehsaz M, Sadeghi MH, Ettefagh MM, Shams F (2011) Tractor cabin's passive suspension parameters optimization via experimental and numerical methods. J Terrramech 48:439–450

14.

Calvo A, Preti C, Caria M, Deboli R (2019) Vibration and noise transmitted by agricultural backpack powered machines critically examined using the current standards. Int J Environ Res Public Health 16:1–20

15.

Duarte MLM, Araújo PA, Horta FC, Vecchio SD, Carvalho LAP (2018) Correlation between weighted acceleration, vibration dose value and exposure time on whole body vibration comfort levels evaluation. Saf Sci 103:218–224

16.

Liu C, Griffin MJ (2018) Measuring vibration induced variations in pressures between the human body and a seat. Int J Ind Ergon 67:274–282

17.

Rehn B, Bergdahl IA, Ahlgren C, From C, Jarvholm B, Lundstrom R, Nilsson T, Sundelin G (2002) Musculoskeletal symptoms among drivers of all terrain vehicles. J Sound Vib 253(1):21–29

18.

Sherwin LM, Owende PMO, Kanali CL, Lyons J, Ward SM (2004) Influence of tyre inflation pressure on whole-body vibrations transmitted to the operator un a cut-to-length timber harvester. Appl Ergon 35:253–261

19.

Goering CE, Stone ML, Smith DW, Turnquist PK (2003) Human factors and safety. Chapter 15 in Off-Road Vehicle Engineering Principles ASAE, St. Joseph, MI. pp 421–462

20.

Gangsar P, Tiwari R (2017) Comparative investigation of vibration and current monitoring for prediction of mechanical and electrical faults in introduction motor based on multiclass support vector machine algorithms. Mech Syst Signal Process 94:464–481

21.

Griffin MJ (1990) Handbook of human vibration. Academic Press, Cambridge

22.

Wegscheid E (1994) Another look at skidder ride vibration. J For Eng 5(2):21–32

23.

Rehn B, Lundström R, Nilsson L, Liljelind I, Järvholm B (2005) Variation in exposure to whole-body vibration for operators of forwarder vehicles—aspects on measurement strategies and prevention. Int J Ind Ergon 35(9):831–842

24.

Calvo A (2009) Musculoskeletal disorders (MSD) risks in forestry. A case study to suggest an ergonomic analysis. Agric Eng Int CIGR J 11:1–9

25.

Kumar R, Kumaraswamidhas LA, Murthy VMSR, Vettivel SC (2019) Experimental investigations on machine vibration in blast-hole drills and optimization of operating parameters. Measurement 145:803–819

26.

Behjou FK, Majnounian B, Namiranian M, Dvorak J (2008) Time studying and skidding capacity of wheeled skidder timberjack 450c in Caspian forests. J For Sci 54(4):183–188

27.

Lima JSS, Leite AMP (2014) Mechanization. In: Forest harvest, ed. Viçosa MG, Brazil: UFV, 2014, ch. 2, pp 46–73

28.

Alvares CA, Stape JL, Sentelhas PC, Gonçalves JLM, Sparovek G (2014) Koppen's climate classification map for Brazil. Meteorologishe Zeitschrift 22:711–728

29.

Santos HG, Almeida JA, Oliveira JB, Lumbreras JF, Anjos LHC, Coelho MR, Jacomine PKT, Cunha TJF, Oliveira VA (2018) Brazilian system of soil classification, 5th edn. Ed. EMBRAPA, São Paulo

30.

International Organization for Standardization. (1997) ISO 2631-1: Mechanical vibration and shock—evaluation of human exposure to whole-body vibration—part 1: general requirements

31.

International Organization for Standardization. (2005) ISO 8041-1: human response to vibration—measuring instrumentation. Geneva

32.

R development core team (2018) R: A language and environment for statistical computing. Austria R Foundation for Statistical Computing, Vienna

33.

LD G4 Utility Software. Version: 3.06 PCB Piezotronics. Utah, USA

34.

Donati P (2002) Survey of technical preventative measures to reduce whole-body vibration effects when designing mobile machinery. J Sound Vib 253(1):169–183

35.

Jack RJ, Oliver M, Dony R, Dickey JP (2008) The use of multiple resolution cross-correlations to align simultaneously collected whole-body vibration data. J Low Freq Noise Vib Act Control 27(2):121–133

36.

Boileau PE, Rakheja S, Wang Z (2002) Ride vibration environment of tracked sidewalk snowploughs: spectral classification. Int J Veh Des 30:309–326

37.

Conrad LF, Oliver ML, Jack RJ, Dickey JP, Eger T (2012) Quantification of 6 degree of freedom chassis whole-body vibration in mobile heavy vehicles used in the steel making industry. J Low Freq Noise Vib Act Control 31:85–104

38.

Pitts P (2006) Whole-body vibration of forestry vehicles: forwarders and harvesters. Health and Safety Laboratory, Buxton

39.

Sherwin LM, Owende PM, Kanali CL, Lyons J, Ward SM (2004) Influence of forest machine function on operator exposure to whole-body vibration in a cut-to-length timber harvester. Ergonomics 47(11):1145–1159

40.

Hinz B, Menzel G, Bluthner R, Seidel H (2001) Transfer functions as a basis for the verification of models—variability and restraints. Clin Biomech 16(Supplement1):S93–S100

41.

Jack RJ, Eger T (2008) The effects of posture on seat-to-head whole-body vibration transmission. J Low Freq Noise Vib Act Control 27(4):309–325

42.

Jack RJ, Oliver M, Dickey JP et al (2009) Characterization of 6-degree-of-freedom whole-body vibration exposure spectra during skidder field operation. In: Proceedings of the 4th international conference on whole body vibration injuries, Montreal, Quebec, pp 75–76

43.

Jack RJ, Oliver M (2008) A review of factors influencing whole-body vibration injuries in forestry mobile machine operators. Int J For Eng 19:51–65

44.

Poje A, Grigolato S, Potocnik I (2019) Operator exposure to noise and whole-body vibration in a fully mechanised CTL forest harvesting system in Karst terrain. Croat J For Eng 40:139–150

45.

European Agency for Safety and Health at Work. Directive 2002/44/EC. On the minimum health and safety requirements regarding the exposure of workers to the risks arising from physical agents (vibration). Official Journal of the European Communities, 2002. Available from: https://eurlex.europa.eu/legal-content/EN/TXT/?uri=celex:32002L0044. Accessed 15 Jan 2020

46.

Jack RJ, Oliver M, Dickey JP, Cation S, Hayward G, Lee-Shee N (2010) Six degree of freedon whole-body vibration exposure levels during routine skidder operations. Ergonomics 53(5):696–715
Acknowledgements
To the National Council of Scientific and Technological Development (CNPq) for the financing of the research (Universal Announcement no 01/2016), process 400500/2016-7.
Additional information
Publisher's Note
Springer Nature remains neutral with regard to jurisdictional claims in published maps and institutional affiliations.
About this article
Cite this article
Cazani, A.C., Miyajima, R.H., Simões, D. et al. Operator Exposure to Whole-Body Vibration in Timber Extraction with Grapple Skidder. J. Vib. Eng. Technol. (2020). https://doi.org/10.1007/s42417-020-00219-0
Received:

Revised:

Accepted:

Published:
Keywords
Ergonomics

Lumbar disc disease

Musculoskeletal injury

Mechanical vibration

Occupational health

Forest operation