Access options
Buy single article
Instant access to the full article PDF.
US$ 39.95
Tax calculation will be finalised during checkout.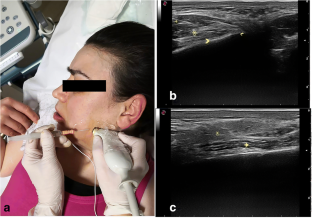 References
1.

Ivanhoe CB, Lai JM, Francisco GE. Bruxism after brain injury: successful treatment with botulinum toxin-A. Arch Phys Med Rehabil. 1997;78(11):1272–3.

2.

Van Zandijcke M, Marchau MM. Treatment of bruxism with botulinum toxin injections. J Neurol Neurosurg Psychiatry. 1990;53(6):530.

3.

Van Den Engel-Hoek L, Lagarde M, Van Alfen N. Ultrasound of oral and masticatory muscles: why every neuromuscular swallow team should have an ultrasound machine. Clin Anat. 2017;30(2):183–93.

4.

Bialek EJ, Jakubowski W, Zajkowski P, Szopinski KT, Osmolski A. US of the major salivary glands: anatomy and spatial relationships, pathologic conditions, and pitfalls. Radiographics. 2006;26(3):745–63.

5.

Lee JY, Kim JN, Yoo JY, Hu KS, Kim HJ, Song WC, et al. Topographic anatomy of the masseter muscle focusing on the tendinous digitation. Clin Anat. 2012;25(7):889–92.

6.

Serra MD, Duarte Gavião MB, dos Santos Uchôa MN. The use of ultrasound in the investigation of the muscles of mastication. Ultrasound Med Biol. 2008;34(12):1875–84.

7.

Chang PH, Chen YJ, Chang KV, Wu WT, Özçakar L. Ultrasound measurements of superficial and deep masticatory muscles in various postures: reliability and influencers. Sci Rep. 2020;10(1):14357.
Ethics declarations
Ethics Approval
Not applicable.
Consent to Participate and Publication
Both written and oral informed consents of the patients or caregivers were obtained for publication.
Conflict of Interest
The authors declare no competing interests.
Additional information
Publisher's Note
Springer Nature remains neutral with regard to jurisdictional claims in published maps and institutional affiliations.
This article is part of the Topical Collection on Medicine
About this article
Cite this article
Giray, E., Yolcu, G., Demirci, M. et al. Treatment of Bruxism Associated with Brain Injury: Description of the Technique of Botulinum Toxin Injection of Masseter Under Ultrasound, Electromyography, and Electrical Stimulation-Guidance. SN Compr. Clin. Med. (2021). https://doi.org/10.1007/s42399-021-00808-4
Keywords
Botulinum toxin

Brain injury

Bruxism

Masseter