Abstract
Immune check-point inhibitors (ICPI) are becoming frequently used as first- or second-line therapy in different types of cancer. ICPI-related hepatotoxicity is usually immune mediated and can vary in severity from mild hepatitis to acute liver failure. We report the case of a patient with non-small cell lung cancer who developed severe hepatotoxicity following the first administration of pembrolizumab. Unexpectedly, pathological findings revealed a non-immune-mediated cholestatic liver injury consistent with vanishing bile duct syndrome (VBDS). VBDS is a rare disease characterized by progressive destruction of intrahepatic bile ducts, which has been associated with different conditions, including adverse drug reactions. Treatment consists in discontinuation of the offending drug while steroid-based treatment is not recommended.
Access options
Buy single article
Instant access to the full article PDF.
US$ 39.95
Tax calculation will be finalised during checkout.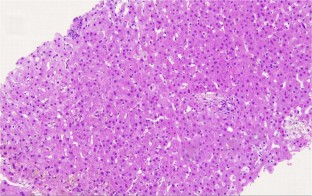 Availability of Data and Material
References
1.

Lleo A, Rimassa L, Colombo M. Hepatotoxicity of immune check-point inhibitors: approach and management. Dig Liver Dis. 2019;51:1074–8.

2.

Ardolino L, Joshua A. Immune check-point inhibitors in malignancy. Aust Prescr. 2019;42(2):62–7.

3.

Aivazian K, Long GV, Sinclair EC, Kench JG, McKenzie CA. Histopathology of pembrolizumab-induced hepatitis: a case report. Pathology. 2017;49(7):789–92. https://doi.org/10.1016/j.pathol.2017.07.010.

4.

Cheung V, Gupta T, Payne M, Middleton MR, Collier JD, Simmons A, et al. Immunotherapy-related hepatitis: real-world experience from a tertiary centre. Frontline Gastroenterol. 2019;10:364–71.

5.

Kobayashi K, Nakachi I, Mitsuishi A, Arai D, Sakurai K, Masaki K, et al. Successful retreatment using pembrolizumab for nonsmall lung cell cancer after severe immune-related hepatitis: a case report. Clin Lung Cancer. 2020;21(1):e30–2.

6.

Forschner A, Schraml C, Pierchalla K, Weide B, Eigentler TK, Lauer UM, et al. Pembrolizumab-induced hepatitis: diagnosis and treatment. J Dtsch Dermatol Ges. 2017;15(9):933–5. https://doi.org/10.1111/ddg.13037.

7.

Reau NS, Jensen DM. Vanishing bile duct syndrome. Clin Liver Dis. 2008;12:203–17.

8.

Bakhit M, McCarthy TR, Park S, et al. Vanishing bile duct syndrome in Hodgkin's lymphoma: a case report and literature review. World J Gastroenterol. 2017;23(2):366–72.

9.

Zhong YY, McLean L, Buckle A, Siva S, Tran B. Vanishing bile duct syndrome associated with pazopanib after progression on pembrolizumab. Can J Urol. 2020;27(4):10339–41.

10.

Visentin M, Lenggenhager D, Gai Z, Kullak-Ublick GA. Drug-induced bile duct injury. Biochim Biophys Acta Mol basis Dis. 1864;2018:1498–506.
Ethics declarations
Ethical Approval
Not applicable.
Consent to Participate
Not applicable.
Consent to Publication
Informed patient consent was collected for the publication of this case report.
Competing Interests
The authors declare no competing interests.
Additional information
Publisher's Note
Springer Nature remains neutral with regard to jurisdictional claims in published maps and institutional affiliations.
This article is part of the Topical Collection on Medicine
About this article
Cite this article
Masetti, C., Pugliese, N., Rimassa, L. et al. Pembrolizumab-Induced Vanishing Bile Duct Syndrome: a Case Report. SN Compr. Clin. Med. (2021). https://doi.org/10.1007/s42399-021-00803-9
Keywords
Pembrolizumab

Cholestasis

Hepatotoxicity

Immunotherapy