Abstract
We report the case of a woman with acute ischemic stroke due to recurrent occlusion of the left middle cerebral artery, which occurred three times in 15 days. Only after the third event, digital subtraction angiography detected carotid web (CW) in the left internal carotid artery. Management of CW is still debated and varies from medical therapy to endovascular and surgical approaches, in order to avoid recurrences and outcome worsening. Early arterial reocclusion is associated with poor outcome compared with persistent recanalization. According to the current data, repeated endovascular treatment appears to be a viable option for recurrences and should not be withheld. Intravenous thrombolysis, three mechanical thrombectomies, and stent placing were needed to ensure good outcome in our patient.
Access options
Buy single article
Instant access to the full article PDF.
US$ 39.95
Tax calculation will be finalised during checkout.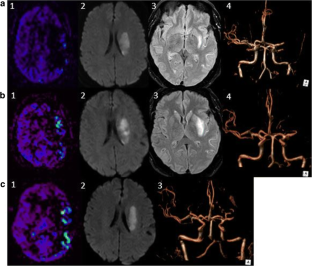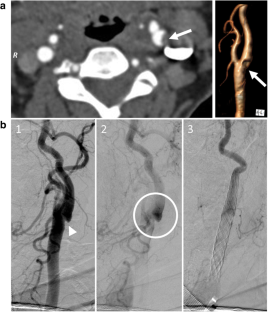 References
1.

Choi PMC, Menon BK, Demchuk AM. Carotid web and stroke. Eur J Neurol. 2014;21:12418.

2.

Choi PMC, Singh D, Trivedi A, Qazi E, George D, Wong J, et al. Carotid webs and recurrent ischemic strokes in the era of CT angiography. Am J Neuroradiol. 2015;36:2134–9.

3.

Joux J, Boulanger M, Jeannin S, Chausson N, Hennequin JL, Molinié V, et al. Association between carotid bulb diaphragm and ischemic stroke in young Afro-Caribbean patients: a population-based case-control study. Stroke. 2016;47:2641–4.

4.

Zhang AJ, Dhruv P, Choi P, Bakker C, Koffel J, Anderson D, et al. A systematic literature review of patients with carotid web and acute ischemic stroke. Stroke. 2018;49:2872–6.

5.

Wojcik K, Milburn J, Vidal G, Steven A. Carotid webs: radiographic appearance and significance. Ochsner J. 2018;18:115–20.

6.

Joux J, Chausson N, Jeannin S, Saint-Vil M, Mejdoubi M, Hennequin JL, et al. Carotid-bulb atypical fibromuscular dysplasia in young afro-caribbean patients with stroke. Stroke. 2014;45:3711–3.

7.

Compagne KCJ, van Es ACGM, Berkhemer OA, Borst J, Roos YBWEM, van Oostenbrugge RJ, et al. Prevalence of carotid web in patients with acute intracranial stroke due to intracranial large vessel occlusion. Radiology. 2018;286:1000–7.

8.

Touzé E, Southerland AM, Boulanger M, Labeyrie PE, Azizi M, Bouatia-Naji N, et al. Fibromuscular Dysplasia and Its Neurologic Manifestations: A Systematic Review. JAMA Neurol. 2019;76:217–26.

9.

Haussen DC, Grossberg JA, Bouslama M, Pradilla G, Belagaje S, Bianchi N, et al. Carotid web (intimal fibromuscular dysplasia) has high stroke recurrence risk and is amenable to stenting. Stroke. 2017;48:3134–7.

10.

Coutinho JM, Derkatch S, Potvin ARJ, Tomlinson G, Casaubon LK, Silver FL, et al. Carotid artery web and ischemic stroke: a case-control study. Neurology. 2017;88:65–9.

11.

Santana D, Laredo C, Renú A, Rudilosso S, Llull L, Urra X, et al. Incidence and clinico-radiological correlations of early arterial reocclusion after successful thrombectomy in acute ischemic stroke. Transl Stroke Res. 2020;11:1314–21. https://doi.org/10.1007/s12975-020-00816-x.

12.

Styczen H, Maegerlein C, Yeo LL, Clajus C, Kastrup A, Abdullayev N, et al. Repeated mechanical thrombectomy in short-term large vessel occlusion recurrence: Multicenter study and systematic review of the literature. J Neurointerv Surg. 2020;12:1186–93.

13.

Powers WJ, et al. 2018 guidelines for the early management of patients with acute ischemic stroke: a guideline for healthcare professionals from the American Heart Association/American Stroke Association. Stroke. 2018;49:e46–e110.

14.

Ahmed N, Audebert H, Turc G, Cordonnier C, Christensen H, Sacco S, et al. Consensus statements and recommendations from the ESO-Karolinska Stroke Update Conference, Stockholm 11–13 November 2018. Eur Stroke J. 2019;4:307–17.

15.

Andrianjafy H, Wajzer L. Hypersignal vasculaire ou « signe du spaghetti » en IRM séquence Flair: Un signe précoce d'accident vasculaire cérébral ischémique. Annales françaises de médecine d'urgence. 2014;4(255). https://doi.org/10.1007/s13341-014-0414-6.

16.

Zaharchuk G. Arterial spin-labeled perfusion imaging in acute ischemic stroke. Stroke. 2014;45:1202–7.

17.

Turc G, et al. European Stroke Organisation (ESO) - European Society for Minimally Invasive Neurological Therapy (ESMINT) guidelines on mechanical thrombectomy in acute ischemic stroke. J Neurointerv Surg. 2019:1–30. https://doi.org/10.1136/neurintsurg-2018-014569.

18.

Romano DG, Cioni S, Vinci SL, Pero G, Comelli C, Comai A, et al. Thromboaspiration technique as first approach for endovascular treatment of acute ischemic stroke: initial experience at nine Italian stroke centers. J Neurointerv Surg. 2017;9:6–10.

19.

Zaidat OO, Yoo AJ, Khatri P, Tomsick TA, von Kummer R, Saver JL, et al. Recommendations on angiographic revascularization grading standards for acute ischemic stroke: a consensus statement. Stroke. 2013;44:2650–63.

20.

Vitek JJ, Roubin GS, Al-Mubarek N, New G, Iyer SS. Carotid artery stenting: technical considerations. Am J Neuroradiol. 2000;21:1736–43.

21.

Jauch EC, Saver JL, Adams HP Jr, Bruno A, Connors JJ(B), Demaerschalk BM, et al. Guidelines for the early management of patients with acute ischemic stroke: a guideline for healthcare professionals from the American Heart Association/American Stroke Association. Stroke. 2013;44:870–947.

22.

Leng X, Leung TW, Lawrence Wong KS. Antiplatelet therapy after stroke: should it differ in the acute and chronic phase after stroke. Curr Opin Neurol. 2018;31:14–22.

23.

Barnett H, et al. Benefit of carotid endarterectomy in patients with symptomatic moderate or severe stenosis. North American Symptomatic Carotid Endarterectomy Trial Collaborators. N Engl J Med. 1998;339:1415–25.

24.

Pirson FAV, et al. Repeated Endovascular Thrombectomy in Patients with Acute Ischemic Stroke: Results from a Nationwide Multicenter Database. Stroke. 2020;51:526–32. https://doi.org/10.1161/STROKEAHA.119.027525.

25.

Kim SJ, Nogueira RG, Haussen DC. Current understanding and gaps in research of carotid webs in ischemic strokes: a review. JAMA Neurol. 2019;76:355–61.

26.

Krasteva MP, Diamantaras AA, Siller T, Mordasini P, Heldner MR. Symptomatic carotid web in a female patient. SAGE Open Med Case Rep. 2020;8:2050313X2094054.
Ethics declarations
Ethical Approval
The paper does not report on primary research. All data analyzed were collected as part of routine diagnosis and treatment.
Consent to Participate
Not applicable.
Consent for Publication
Informed consent was obtained from the patient. We thank the patient and her family for their kind cooperation.
Conflict of Interest
The authors declare that they have no conflict of interest.
Additional information
Publisher's Note
Springer Nature remains neutral with regard to jurisdictional claims in published maps and institutional affiliations.
This article is part of the Topical Collection on Medicine
About this article
Cite this article
Giammello, F., Dell'Aera, C., Cotroneo, M. et al. Intravenous Thrombolysis and Three Mechanical Thrombectomies in 15 Days in a Patient with Carotid Web: a Case Report. SN Compr. Clin. Med. 3, 710–714 (2021). https://doi.org/10.1007/s42399-021-00793-8
Accepted:

Published:

Issue Date:
Keywords
Carotid web

Early arterial reocclusion

Repeated endovascular treatment

Carotid stenting

Antiplatelet therapy