Abstract
Open posterior elbow dislocations (OPED) in children are rare, and are often accompanied by neurovascular injury. The purpose of this study is to report the case of a 10-year-old boy who sustained an OPED, which was an associated medial epicondyle fracture and distal radius fracture, without any neurovascular injury. Injuries were managed under general anesthesia. The outcome after 24 months was good. The current case is the first reported case of pediatric OPED without any neurovascular complication. The wrist must be checked systematically in OPED. Loss of extension and pronation must be considered at the midterm outcomes. Condylar osteochondrosis evolution requires a long-term evaluation.
Access options
Buy single article
Instant access to the full article PDF.
US$ 39.95
Tax calculation will be finalised during checkout.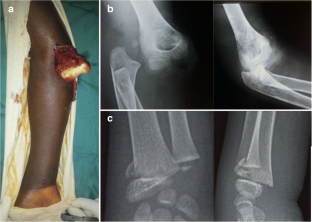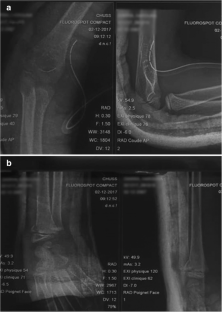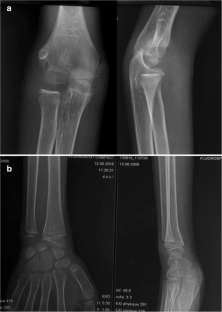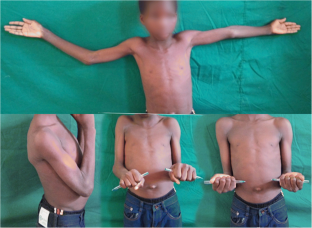 Data availability
The data sets generated and/or analyzed during the current study are available from the corresponding author on reasonable request.
References
1.

Isaac S, Danial I, Modi A. Isolated posterior elbow dislocation in a one-year-old child: a case report. Acta Orthop Belg. 2009;75(1):133–5.

2.

Lui D, Boran S, Lenehan B, Jones D, Fogarty E. Open postero-medial dislocation of the elbow in a 11-year old. A case report Injury Extra. 2007;38:365–8.

3.

Bachy M, Leroux J, Pegot A, Abu Amara S, Lechevallier J, Bachy B. Luxation ouverte du coude avec ischémie distale: une urgence thérapeutique. Arch Pediatr. 2012;19:624–7. https://doi.org/10.1016/j.arcped.2012.03.007.

4.

Redjil N, Dabiré M, Weber P. Open elbow dislocation associated with distal ischemia in children about one case and review of the literature. Pan Afr Med J. 2015;(21):128. https://doi.org/10.11604/pamj.2015.21.128.6553.

5.

Polat G, Karademira G, Akgüla T, Ceylan H. Pediatric open elbow dislocation without fracture: a case report. Int J Surg Case Rep. 2014;5:1064–7. https://doi.org/10.1016/j.ijscr.2014.10.086.

6.

al-Qattan MM, Zuker R, Weinberg M, McKee N, McCall J. The use of shunting catheter for a ruptured brachial artery following open elbow dislocation. J Hand Surg. 1994;19B(6):788–90.

7.

Canale S, Beaty J. Fractures and dislocations in children, elbow dislocation. In: Canale S, Beaty J, editors. Campbell's operative orthopaedics. 12th ed. Philadelphia: Elsevier; 2013. p. 1390–9.

8.

Kassé AN, Diallo M, Sané JC, Thiam B, Bousso A, Sy MH. Open anterior transverse (divergent) dislocation of the elbow joint. A case report and review of the literature. JBJS Case Connector. 2014;4(2):e34–7.

9.

Nazli Y, Colak N, Uras I, Komurcu M, Cakir O. Brachial artery transection associated with open elbow dislocation in a 12-year-old: a case report. Vasc. 2013;21(1):27–30. https://doi.org/10.1258/vasc.2011.cr0282.

10.

O'Driscoll SW. Classification and evaluation of recurrent instability of the elbow. Clin Orthop Relat Res. 2000;370:34–43.
Acknowledgements
The authors would like to thank Dr. Sory Sidimé, Dr. Ange Bonaventure Sawadogo, and Mr. Seydou Diarra for their help.
Code availability (software application or custom code)
Not Applicable.
Ethics declarations
Disclosure of potential conflicts of interest
None. The study was not supported by any funding.
Research involving human participants and/or animals
All procedures performed in this study were in accordance with our hospital investigation guidelines and with the 1964 Helsinki declaration and its later amendments.
Informed Consent
The patient's parents were informed that data concerning the case would be submitted for publication. They agreed to this.
Additional information
Publisher's Note
Springer Nature remains neutral with regard to jurisdictional claims in published maps and institutional affiliations.
This article is part of the Topical Collection on Surgery
About this article
Cite this article
Diallo, M., Soulama, M., Ouattara, H. et al. Pediatric Open Posteromedial Fracture Dislocation of the Elbow Joint: A Case Report and Literature Review. SN Compr. Clin. Med. (2021). https://doi.org/10.1007/s42399-021-00757-y
Keywords
Elbow

Open dislocation

Child

Outcome