Abstract
Bronchial Dieulafoy lesion (BDL) is a rare cause of hemoptysis that is difficult to diagnose. Identification is critical since treatment is challenging and biopsy can be fatal. Treatment options include bronchial artery embolization (BAE), bronchoscopy intervention, and surgery. BAE is first-line treatment, but success rates are currently between 40 and 53%. This case report describes the use of Onyx for treatment of a BDL after multiple failed particle embolizations. BAE with Onyx offers advantages over other embolization techniques and should be considered for use in treatment of BDL.
Access options
Buy single article
Instant access to the full article PDF.
US$ 39.95
Tax calculation will be finalised during checkout.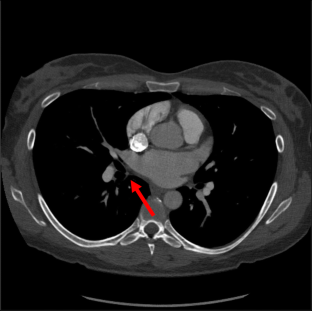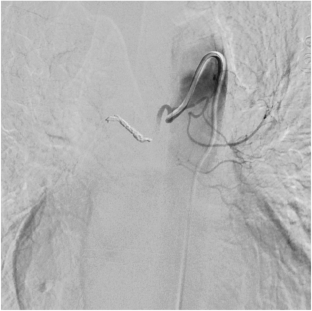 References
1.

Qian X, Du Q, Wei N, Wang M, Wang H, Tang Y. Bronchial Dieulafoy's disease: a retrospective analysis of 73 cases. BMC Pulm Med. 2019;19(1):104. Published 2019 Jun 6. https://doi.org/10.1186/s12890-019-0863-1.

2.

Guimaraes M, Wooster M. Onyx (ethylene-vinyl alcohol copolymer) in peripheral applications. Semin Intervent Radiol. 2011;28:350–6.

3.

Onyx Liquid Embolic System: Instructions for Use. Micro Therapeutics, Inc. https://www.accessdata.fda.gov/cdrh_docs/pdf3/P030004c.pdf. Accessed Feb 26th, 2020.

4.

Raissi D, Yu Q, Mardini SH. Upper gastrointestinal bleed embolization with Onyx®: the " tattoo effect ". J Clin Imaging Sci. 2018;8:46. Published 2018 Nov 15. https://doi.org/10.4103/jcis.JCIS_64_18.

5.

Baxter M, Aly EH. Dieulafoy's lesion: current trends in diagnosis and management. Ann R Coll Surg Engl. 2010;92(7):548–54. https://doi.org/10.1308/003588410X12699663905311.

6.

Sweerts, Nicholson A, Goldstraw P, Corrin B. Dieulafoy's disease of the bronchus. Thorax. 1995;50(6):697–698.

7.

Parrot A, Antoine M, Khalil A, et al. Approach to diagnosis and pathological examination in bronchial Dieulafoy disease: a case series. Respir Res. 2008;9(1):58. Published 2008 Aug 5. https://doi.org/10.1186/1465-9921-9-58.

8.

O'Dell CM, Gill AE, Hawkins MC. Bronchial artery embolization for the treatment of acute hemoptysis. Tech Vasc Interv Radiol. 2017;20(4):263–5.

9.

Löschhorn C, Nierhoff N, Mayer R, Zaunbauer W, Neuweiler J, Knoblauch A. Dieulafoy's disease of the lung: a potential disaster for the bronchoscopist. Respiration. 2006;73:562–5.

10.

Ayx I, Müller-Wille R, Wohlgemuth WA, Pfeifer M, Lepiorz M, Hubauer H, et al. Treatment of acute hemoptysis by bronchial artery embolization with the liquid embolic agent ethylene vinyl alcohol copolymer. JVIR. 2017;28(6):825–31.

11.

Zhou P, Yu W, Chen K, Li X, Xia Q. A case report and review of literature of Dieulafoy's disease of bronchus: a rare life-threatening pathologic vascular condition. Medicine (Baltimore). 2019;98(7):e14471. https://doi.org/10.1097/MD.0000000000014471.
Ethics declarations
Conflict of Interest
The authors declare that they have no conflict of interest.
Ethical Approval
For this type of study, formal consent is not required and was performed under a waiver of informed consent by the University of Wisconsin Institutional Review Board.
Consent
Consent of publication was obtained for every individual person's data included in the study.
Additional information
Publisher's Note
Springer Nature remains neutral with regard to jurisdictional claims in published maps and institutional affiliations.
This article is part of the Topical Collection on Imaging
About this article
Cite this article
Swietlik, J.F., Niemann, D., Zavaletta, V. et al. Bronchial Dieulafoy Lesion Embolization with Onyx: a Case Report. SN Compr. Clin. Med. (2021). https://doi.org/10.1007/s42399-021-00752-3
Keywords
Bronchial Dieulafoy lesion

Hemoptysis

Onyx

Bronchial artery embolization