Abstract
Chronic prolonged dislocation of the patella is a challenging condition for an arthroplasty surgeon. It usually presents as severe arthritis of the knee with a valgus and fixed flexion deformity. It often requires total knee replacement, but the challenge is to achieve satisfactory patella tracking and avoid recurrent dislocation. Many different options to manage this condition have been described in the literature, but to our knowledge the use of GRAFTJACKET allograft to achieve satisfactory patella tracking has not been reported before. We have achieved satisfactory patella tracking with this technique and wish to share our experience of this rare but challenging condition.
We're sorry, something doesn't seem to be working properly.
Please try refreshing the page. If that doesn't work, please contact support so we can address the problem.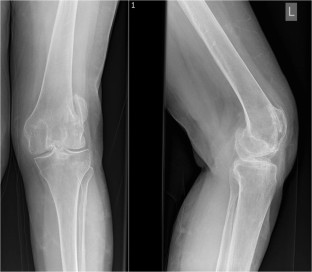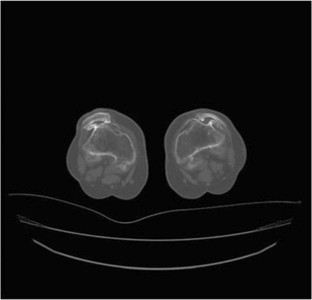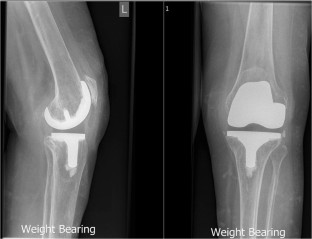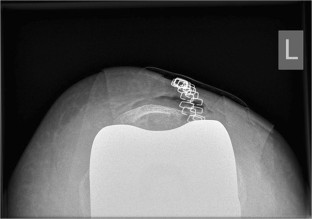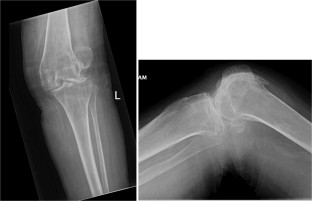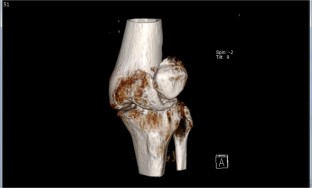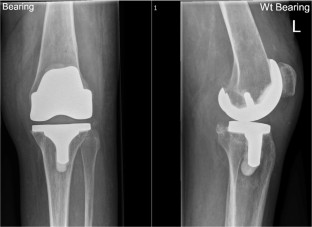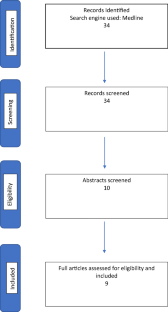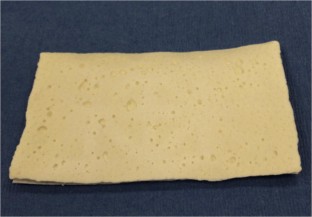 References
1.

Green JP, Waugh W. Congenital dislocation of the patella. J Bone Joint Surg. 1968;50 B(2):285–9.

2.

Bullek DB, Scuderi GR, Insall JN. Management of the chronic irreducible patellar dislocation in total knee arthroplasty. J Arthroplast. 1996;11:339–45.

3.

Insall JN, Bullough PG, Burstein AH. Proximal "tube" realignment of the patella for chondromalacia patellae. Clin Orthop Relat Res. 1979;14:63–9.

4.

Kumagai K, Kubo M, Maeda T, Araki S, Shioji S, Okumura N, et al. Total knee arthroplasty for treatment of osteoarthritis with prolonged patella dislocation. Arthroplast Today. 2017;3(1):25–8.

5.

Matsushita T, Kuroda R, Kubo S, Mizuno K, Matsumoto T, Kurosaka M. Total knee arthroplasty combined with medial patellofemoral ligament reconstruction for osteoarthritic knee with preoperative valgus deformity and chronic patella dislocation. J Arthroplasty. 2011;26(3):505.

6.

Kamada K, Matsumoto T, Takayama K, Araki D, Hashimoto S, Hayashi S, et al. Mobile bearing total knee arthroplasty for valgus knee osteoarthritis with permanent patella dislocation: a case report and review of the literature. Orthopaedics. 2017;226:1–5.

7.

Hudson J, Reddy VRM, Krikler SJ. Total knee arthroplasty for neglected permanent post-traumatic patella dislocation—case report. Knee. 2003;10(2):207–12.

8.

In Y, Kong CG, Sur YJ, Choi SS. TKA using subvastus approach and lateral retinacular release in patients with permanent post-traumatic patellar dislocation: a report of two cases. Knee Surg Sports Traumatol Arthrosc. 2009;17(3):254–9.

9.

Albuquerque RP, Sousa F, Pedro GT, Loures FB, Cobra H, Barretto JM, et al. Total knee arthroplasty in patients with permanent patella dislocation. Report of two case series and literature review. Rev Bras Ortop. 2018;53(4):503–9.

10.

Reddy RK, Kondreddi V. Treatment of habitual dislocation of patella in an adult arthritic knee. Indian J Orthop. 2013;47(6):630–3.

11.

Kim K. Computer assisted total knee arthroplasty for osteoarthritis to secondary to congenital dislocation of the patella: a case report. Int J Surg Case Rep. 2018;53:303–8.

12.

Hau RCY, Newman JH. Knee replacement for osteoarthritis secondary to chronic patellar dislocation and trochlear dysplasia. Knee. 2008;15(6):447–50.

13.

Miller MD, Hausman M, Jokl P, Lindsey RW. Permanent post-traumatic patella dislocation. J Trauma. 1998;28(9):1389–92.

14.

Malkin SAS. Dislocation of the patella. Br Med J. 1932;16(2):91–4.

15.

Noda M, Saegusa Y, Kashiwagi N, Seto Y. Surgical treatment for permanent dislocation of the patella in adults. Orthopaedics. 2011;34(12):e948–51.

16.

McCarroll HR, Schwartzmann JR. Lateral dislocation of the patella. Correction by simultaneous transplantation of the tibial tubercle and semitendinosus tendon. J Bone Joint Surg Am. 1945;27(3):446–52.

17.

Yamanaka H, Kawamoto T, Tamai H, Suzuki M, Kobayashi T, Eguchi Y, et al. Total knee arthroplasty in a patient with bilateral congenital dislocation of the patella treated with a different method in each knee. Case Rep Orthop. 2015;5.

18.

Longo UG, Lamberti A, Maffulli N, Denaro V. Tendon augmentation grafts: a systematic review. Br Med Bull. 2010;94(1):165–88.

19.

Coons DA, Alan Barber F. Tendon graft substitutes-rotator cuff patches. Sports Med Arthrosc. 2006;14(3):185–90.

20.

Mavrogenis AF, Angelini A, Pala E, Sakellariou VI, Ruggieri P, Papagelopoulos PJ. Reconstrunction of the extensor mechanism after major knee resection. Orthopedics. 2012;(5):e672–80.
Ethics declarations
Conflict of Interest
The authors declare that they have no conflict of interest.
Additional information
Publisher's Note
Springer Nature remains neutral with regard to jurisdictional claims in published maps and institutional affiliations.
Source institution: Castle Hill Hospital, Hull
This article is part of the Topical Collection on Surgery
About this article
Cite this article
Chaudhry, F.A., Symes, T. Computer-Navigated Total Knee Replacement with GRAFTJACKET (Allograft) to Improve Patella Tracking in Osteoarthritic Valgus Knee with Chronic Patella Dislocation. SN Compr. Clin. Med. 3, 637–645 (2021). https://doi.org/10.1007/s42399-021-00737-2
Accepted:

Published:

Issue Date:
Keywords
Chronic dislocation of patella

Osteoarthritis

GRAFTJACKET

Patella tracking