Abstract
Pollution due to heavy metals in the aquatic environment remains a widespread concern. Heavy metal like cadmium (Cd) is associated with reduced absorption of nutrients, decreased cell growth, chlorosis, and necrosis of roots. In the present study, the effects of varied Cd concentrations on the macro and micronutrients (zinc (Zn), manganese (Mn), iron (Fe), copper (Cu), potassium (K), calcium (Ca), and sodium (Na)) of duckweed plant species namely Lemna minor and Lemna gibba were investigated. Plant nutrients like Zn, Cu, Mn, and Fe were increased to 1460 mg/kg, 40 mg/kg, 1276 mg/kg, and 98.3 mg/kg respectively, for L. minor when compared with control and 1621.7 mg/kg, 28.3 mg/kg, 1081.7 mg/kg and 63.3 mg/kg respectively, in case of L. gibba with the increase in treatment time when treated with Cd. Na and K concentrations were found to be decreased with increasing metal concentration and treatment period. Statistical analysis (two-way ANOVA) also confirms the individual effect of metal concentration and treatment interval as well as a combined effect of both factors together on macro and micronutrient concentrations. The effect of Cd stress conditions on the various characteristic functional groups was also assessed with the help of Fourier-transform infrared spectroscopy (FTIR). FTIR spectra of both control and metal treated plants exhibited minor changes after the phytoremediation process. The study showed that the contents of essential macro and micronutrients (Zn, Cu, Mn, and Fe) were not significantly reduced by Cd even at a high concentration in the cultivation medium.
Access options
Buy single article
Instant access to the full article PDF.
US$ 39.95
Tax calculation will be finalised during checkout.
Subscribe to journal
Immediate online access to all issues from 2019. Subscription will auto renew annually.
US$ 79
Tax calculation will be finalised during checkout.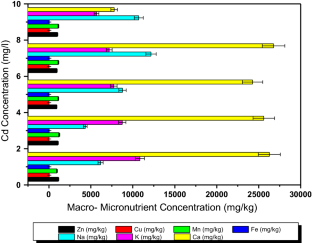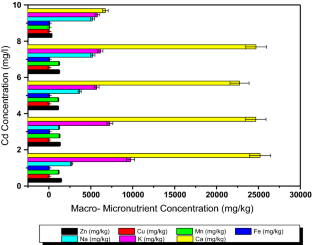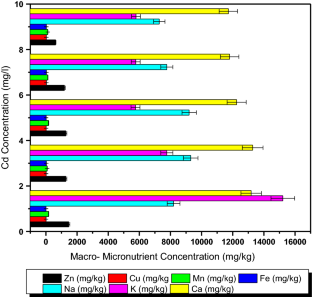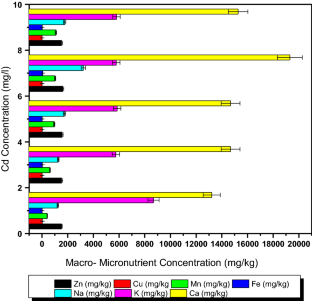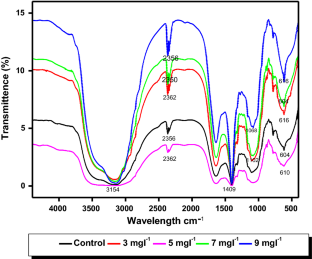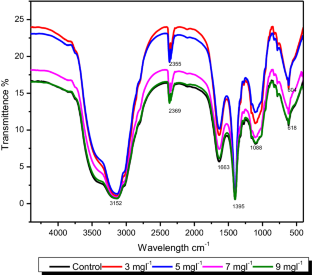 References
Adamczyk-Szabela D, Lisowska K, Romanowska-Duda Z (2020) Combined cadmium-zinc interactions alter manganese, lead, copper uptake by Melissa officinalis. Sci Rep 10:1675. https://doi.org/10.1038/s41598-020-58491-9

Ahmed MB, Zhou JL, Ngo HH, Guo W, Thomaidis NS, Xu J (2017) Progress in the biological and chemical treatment technologies for emerging contaminant removal from wastewater: a critical review. J Hazard Mater 323:274–298

Asefi M, Zamani-Ahamadmahmoodi R (2015) Mercury concentrations and health risk assessment for two fish species, Barbus grypus and Barbus luteus from the maroon river, Khuzestan province. Iran Environ Monit Assess 187:653

Axtell NR, Sternberg SPK, Claussen K (2003) Lead and nickel removal using microspora and Lemna minor. Biores Technol 89:41–48

Balen B, Tkalec M, Šikić S, Tolić S, Cvjetko P, Pavlica M, Vidaković-Cifrek Ž (2011) Biochemical responses of Lemna minor experimentally exposed to cadmium and zinc. Ecotoxicology 20:815–826. https://doi.org/10.1007/s10646-011-0633-1

Bauddh K, Singh RP (2015) Assessment of metal uptake capacity of castor bean and mustard for phytoremediation of nickel from contaminated soil. Bioremediat J 19(2):124–138

Bortey-Sam N, Nakayama SMM, Ikenaka Y, Akoto O, Baidoo E, Mizukawa H, Ishizuka M (2015) Health risk assessment of heavy metals and metalloids in drinking water from communities near gold mines in Tarkwa. Ghana Environ Monit Assess 187:397

Chan NW (2012) Managing urban rivers and water quality in Malaysia for sustainable water resources. Int J Water Resour Dev 28(2):343–354

Chaoui A, Mazhoudi S, Ghorbal MH, El Ferjani E (1997) Cadmium and zinc induction of lipid peroxidation and effects on antioxidant enzyme activities in bean (Phaseolus vulgaris L.). Plant Sci 127(2):139–147

Chaudhary E, Sharma P (2019) Chromium and cadmium removal from wastewater using duckweed-Lemna gibba L. and ultrastructural deformation due to metal toxicity. Int J Phytoremediat 21(3):279–286

Chaudhuri D, Majumder A, Misra AK, Bandyopadhyay K (2014) Cadmium removal by Lemna minor and Spirodela polyrhiza. Int J Phytoremediat 16(11):1119–1132

Dražić G, Mihailović N, Stojanović Z (2004) Cadmium toxicity: the effect on macro- and micro-nutrient contents in soybean seedlings. Biol Plant 48:605–607

D'Souza L, Devi P, Shridhar MPD, Naik CG (2008) Use of fourier transform infrared (FTIR) spectroscopy to study cadmium-induced changes in Padinatetrastromatica (Hauck). Anal Chem Insights 3:117739010800300000

Fischer G, Braun S, Thissen R, Dott W (2006) FT-IR spectroscopy as a tool for rapid identification and intra-species characterization of airborne filamentous fungi. J Microbiol Methods 64(1):63–77

Ghori NH, Ghori T, Hayat MQ, Imadi SR, Gul A, Altay V, Ozturk M (2019) Heavy metal stress and responses in plants. Int J Environ Sci Technol. https://doi.org/10.1007/s13762-019-02215-8

Goswami C, Majumder A, Misra AK, Bandyopadhyay K (2014) Arsenic uptake by Lemna minor in hydroponic system. Int J Phytoremediat 16(12):1221–1227

Gulgun C, Inci T, Feride S (2006) 17 [beta]-Estradiol induced compositional, structural and functional changes in rainbow trout liver, revealed by FT-IR spectroscopy: a comparative study with nonylphenol. Aquatic Toxicol (Amsterdam, Netherlands) 77:53–63

Harrison SJ, Lepp NW, Phipps DA (1983) Copper uptake by excised roots: III. Effect of manganese on copper uptake. Zeitschrift fürPflanzenphysiologie 109(4):285–289

Hasan SH, Talat M, Rai S (2007) Sorption of cadmium and zinc from aqueous solutions by water hyacinth (Eichchornia crassipes). BioresTechnol 98(4):918–928

Hurd NA, Sternberg SP (2008) Bioremoval of aqueous lead using Lemna minor. Int J Phytoremediat 10:278–288

Jayasri MA, Suthindhiran K (2017) Effect of zinc and lead on the physiological and biochemical properties of aquatic plant Lemna minor: its potential role in phytoremediation. Appl Water Sci 7:1247–1253

Kumar SR, Arumugam T, Anandakumar C, Balakrishnan S, Rajavel D (2013) Use of plant species in controlling environmental pollution. Bull Environ Pharmacol Life Sci 2:52–63

Kusin FM, Muhammad SN, Zahar MSM, Madzin Z (2016a) Integrated river basin management: incorporating the use of abandoned mining pool and implication on water quality status. Desalin Water Treat 57(60):29126–29136

Kusin FM, Zahar MSM, Muhammad SN, Mohamad ND, Zin ZM, Sharif SM (2016b) Hybrid off-river augmentation system as an alternative raw water resource: the hydrogeochemistry of abandoned mining ponds. Environ Earth Sci 75(3):1–15

Medda S, Mondal NK (2017) Chromium toxicity and ultrastructural deformation of Cicer arietinum with special reference of root elongation and coleoptile growth. Ann Agrar Sci 15(3):396–401

Megateli S, Semsari S, Couderchet M (2009) Toxicity and removal of heavy metals (cadmium, copper, and zinc) by Lemna gibba. Ecotoxicol Environ Saf 72(6):1774–1780

Mishra VK, Tripathi BD (2008) Concurrent removal and accumulation of heavy metals by the three aquatic macrophytes. BioresTechnol 99(15):7091–7097

Mishra NS, Reddy R, Kuila A, Rani A, Mukherjee P, Nawaz A, Pichiah S (2017) A review on advanced oxidation processes for effective water treatment. Curr World Environ 12(3):470

Morkunas I, Woźniak A, Mai VC, Rucińska-Sobkowiak R, Jeandet P (2018) The role of heavy metals in plant response to biotic stress. Molecules (Basel, Switzerland) 23(9):2320

Mountouris A, Voutsas E, Tassios D (2002) Bioconcentration of heavy metals in aquatic environments: the importance of bioavailability. Mar Pollut Bull 44:1136–1141

Nair LD, Sar KS, Arora A, Mahapatra D (2013) Fourier transform infrared spectroscopy analysis of few medicinal plants of Chhattisgarh, India. J Adv Pharm Educ Res 3(3):196–200

Namasivayam C, Ranganathan K (1995) Removal of Pb (II), Cd (II), Ni (II) and mixture of metal ions by adsorption onto 'waste' Fe (III)/Cr (III) hydroxide and fixed bed studies. Environ Technol 16(9):851–860

Parlak KU, Yilmaz DD (2013) Ecophysiological tolerance of Lemna gibba L. exposed to cadmium. Ecotoxicol Environ Saf 91:79–85

Pogrzeba M, Rusinowski S, Krzyżak J (2018) Macroelements and heavy metals content in energy crops cultivated on contaminated soil under different fertilization-case studies on autumn harvest. Environ Sci Pollut Res Int 25(12):12096–12106

Rezvani M, Zaefarian F, Miransari M, Nematzadeh GA (2012) Uptake and translocation of cadmium and nutrients by Aeluropus littoralis. Arch Agron Soil Sci 58:1413–1425

Rivelli AR, Puschenreiter M, Maria SD (2018) Assessment of cadmium uptake and nutrient content in sunflower plants grown under Cd stress. Plant Soil Environ 60:80–86

Romero-Puertas MC, McCarthy I, Sandalio LM, Palma JM, Corpas FJ, Gómez M, Del Rio LA (1999) Cadmium toxicity and oxidative metabolism of pea leaf peroxisomes. Free Radic Res 31(sup1):25–31

Sandalio LM, Dalurzo HC, Gómez M, Romero-Puertas MC, Rio LA (2001) Cadmium-induced changes in the growth and oxidative metabolism of pea plants. J Exp Bot 52:2115–2126

Sarwar N, Saifullah A, Malhi SS, Zia MH, Naeem A, Bibi S, Farid G (2010) Role of mineral nutrition in minimizing cadmium accumulation by plants. J Sci Food Agric 90:925–937

Sasmaz A, Obek E (2012) The accumulation of silver and gold in Lemna gibba L. exposed to secondary effluents. Chemie der ErdeGeochem 72(2):149–152

Schutzendubel A, Polle A (2002) Plant responses to abiotic stresses: heavy metal-induced oxidative stress and protection by mycorrhization. J Exp Bot 53(372):1351–1365

Shackira AM, Jos TP (2019) Cd2+ influences metabolism and elemental distribution in roots of Acanthus ilicifolius L. Int J Phytoremediat. https://doi.org/10.1080/15226514.2019.1577356

Shah K, Kumar RG, Verma S, Dubey RS (2001) Effect of cadmium on lipid peroxidation, superoxide anion generation and activities of antioxidant enzymes in growing rice seedlings. Plant Sci 161(6):1135–1144

Siedlecka A (1995) Some aspects of interactions between heavy metals and plant mineral nutrients. Acta Soc Bot Pol 64(3):265–272

Siedlecka A, BaszyńAski T (1993) Inhibition of electron flow around photosystem I in chloroplasts of Cd-treated maize plants is due to Cd-induced iron deficiency. Physiol Plant 87(2):199–202

Siedlecka A, Krupa Z (1996) Interaction between cadmium and iron. Accumulation and distribution of metals and changes in growth parameters of Phaseolus vulgaris L. seedlings. Acta Soc Bot Pol 65(3–4):277

Singh SK, Kraemer M, Trebouet D (2012) Studies on treatment of a thermo-mechanical process effluent from paper industry using ultrafiltration for water reuse. Desalin Water Treat 49:208–217

Singh S, Parihar P, Singh R, Singh VP, Prasad SM (2016) Heavy metal tolerance in plants: role of transcriptomics, proteomics, metabolomics, and ionomics. Front Plant Sci 6:1143

Uysal Y (2013) Removal of chromium ions from wastewater by duckweed, Lemna minor L. by using a pilot system with continuous flow. J Hazard Mater 263:486–492

Velichkova KN, Sirakov IN, Slavcheva-Sirakova DT (2019) Bioaccumulation, growth and photosynthetic response of a new found in bulgaria invasive species Lemna minuta and L. valdiviana to heavy metal pollution. Planta Daninha. https://doi.org/10.1590/s0100-83582019370100119

Verma R, Suthar S (2015) Lead and cadmium removal from water using duckweed—Lemna gibba L.: impact of pH and initial metal load. Alex Eng J 54(4):1297–1304

Wallace A, Wallace GA, Cha JW (1992) Some modifications in trace metal toxicities and deficiencies in plants resulting from interactions with other elements and chelating agents—the special case of iron. J Plant Nutr 15(10):1589–1598

Yan X, Jin-qin W, Jin H, Feng-ying L, Ming W (2018) The response of duckweed (Lemna minor L.) roots to Cd and its chemical forms. J Chem. https://doi.org/10.1155/2018/7274020
Acknowledgements
This study is financially supported by Union Grant Commission—Basic Scientific Research (BSR) Fellowship.
Additional information
Publisher's Note
Springer Nature remains neutral with regard to jurisdictional claims in published maps and institutional affiliations.
Supplementary Information
Below is the link to the electronic supplementary material.
About this article
Cite this article
Chaudhary, E., Sharma, P. Effect of cadmium on nutrients concentration in duckweed: a case of Lemna minor and Lemna gibba. Environmental Sustainability (2021). https://doi.org/10.1007/s42398-020-00155-5
Received:

Revised:

Accepted:

Published:
Keywords
Lemna minor
Lemna gibba

Cadmium

Heavy metal

Phytoremediation

Water pollution