Abstract
Leaf crinkle disease is one of the important diseases which causes considerable yield loss in urdbean (Vigna mungo (L.) Hepper). Though the disease is considered to be caused by viral pathogen, its etiological agent has not been characterized yet. In the present study, rate of disease transmission has been studied using the seeds collected from mechanically inoculated plants under controlled insect-free environmental conditions. A high disease incidence ranging from 86.32 to 100% was observed in the plants grown from seeds collected from symptomatic plants grown in insect proof cages in the glasshouse at 50 DAS. The results also showed that weight of 100 seeds (seed index) collected from diseased plants of glasshouse was 3.52 g as compared to 4.76 g for healthy seeds. The reduction in seed weight was 26.05% in seeds obtained from diseased plants. Seed germination was 58% in the seeds collected from diseased plant as compared to 89% in the seeds collected from healthy plants. It is evident from the present study that the disease is highly seed transmissible and affects seed quality and germination. The outcome of this study would help in developing management strategies against the menace caused by this disease.
Access options
Buy single article
Instant access to the full article PDF.
US$ 39.95
Tax calculation will be finalised during checkout.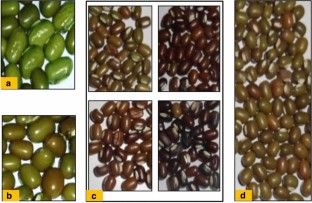 References
Ahmad Z, Bashir M, Mtsueda T (1997) Evaluation of legume germplasm for seed borne viruses in harmonizing agricultural productivity and conservation of biodiversity. In: Breeding and Ecology Proc. 8th Sabrao J Cong Annu Meeting Korean Breeding Soc Seoul Korea, pp 117–120

All India Coordinated Research Project on MULLaRP, Project Coordinator's Report (2018) Indian Institute of Pulses Research, Kanpur 208 024, India

Baranwal VK, Jain P, Saritha RK, Jain RK, Gautam NK (2015) Detection and partial characterization of Cowpea mild mottle virus in mungbean and urdbean by deep sequencing and RT-PCR. Crop Prot 75:77–79

Bashir M, Mughal SM, Malik BA (1991) Assessment of yield losses due to leaf crinkle virus in urdbean (Vigna mungo (L) Hepper). Pak J Bot 23:140–142

Beniwal SPS, Chaubey SN (1979) Urdbean leaf crinkle diseases: effect on yield contributing factors, total yield and seed characters ofurdbean (Vigna mungo). Seed Res 7:125–181

Beniwal SPS, Bharathan N (1980) Beetle transmission of urdbean leaf crinkle virus. Indian Phytopathol 33:600–601

Bhardwaj SV, Dubey GS (1986) Studies on the relationship of urdbean leaf crinkle disease and its vectors Aphis crassivora and Acerthosiphon pisum. J Phytopathol 15:83–88

Bindra OS (1971) Studies on arthropods in relation to plant disease in Punjab. In: International symposium plant pathology, IARI, New Delhi, pp 20–22

Biswas KK, Tarafdar A, Kumar A, Dikshit HK, Malathi VG (2009) Multiple infection in urdbean (Vignamungo) in natural condition by begomovirus, tospovirus and urdbean leaf crinkle virus complex. Indian Phytopathol 62:975–982

Biswas KK, Biswas K, Malathi VG, Chattopadhyay C (2012) Evaluation of urdbean cultivars for identification ofresistance to leaf crinkle disease by mechanical sap inoculation. Indian Phytopathol 65:416–417

Brar JS, Rataul HS (1987) Evidence against the transmission of urdbean leaf crinkle disease (ULCD) in mash, Vigna mungo (L.) through insects- a field approach. Indian J Entomol 49:57–63

Dhingra KL (1975) Transmission of urdbean leaf crinkle virus by two aphid species. Indian Phytopathol 28:80–82

Dhingra KL, Chenulu VV (1981) Studies on the transmission of urdbean leaf crinkle and chickpea leaf reduction viruses by Aphis crassivora Koch. Indian Phytopathol 34:38–42

Dubey GS, Sharma I (1985) Seed transmission of urdbean leaf crinkle virus. Seed Sci Technol 13:149–153

Dubey AK, Sinha P, Baranwal VK, Mishra S, Saritha RK (2019) Temperature influence on leaf crinkle disease expression in urdbean (Vigna mungo (L.) Hepper) and potential distribution of the disease in India. Crop Prot 120:84–90

Dubey AK, Singhal P, Dubey SK, Nabi S, Un, Yadav MK, saritha RK, Baranwal VK (2020) Effect of stage of mechanical inoculation on leaf crinkle disease development in urdbean (Vigna mungo L.) under controlled conditions. J Pharmacogn Phytochem 9(1):1136–1139

Ilyas MB, Haq MA, Iftikhar K (1992) Studies on the responses of growth components of urdbean against leaf crinkle virus. Pak Phytopathol 4:51–56

Iquebal MA (2017) Deep sequencing of RNAs from Vigna mungo plants showing crinkle symptoms reveals the multiple virus infection (abstract). In: Proceedings of 9th International Virology Congress and Expo, March 13–14, 403 2017, London, UK, Virol Mycol, vol 6, p 1 (Suppl)

Kadian OP (1980) Studies on leaf crinkle disease of urdbean (Vigna mungo (L.) Hepper) mungbean (V. radiata (L.) Wilczek) and its control. Ph.D. thesis, Department of Plant Pathology, Haryana Agriculture University, Hisar

Kanimozhi T, Ganapathy, Rajinimala N (2009) Seed transmission of ULCV in Mungbean and Urdbean plants infected with both MYMV and ULCV. Arch Phytopathol Plant Prot 42(5):401–408

Khatri L, Bhatia DS, Chohan JS (1971) Brief account of the work done on disease of kharif pulse crops at the Dept. of Botany and Pl. Path., PAU, Ludhiana during 1970–71. Fifth All India Pulse Improvement Programme Workshop, Hisar

Kolte SJ, Nene YL (1973) Studies on the symptoms and mode of transmission of leaf crinkle virus of urdbean (Phaseolus mungo). Indian Phytopathol 25:401–404

Narayanasamay P, Jaganathan T (1975) Seed transmission of urdbean leaf crinkle virus. Phytopathology 82:107–110

Nariani TK (1960) Yellow mosaic of mung (Phaseolus aureus L.). Indian Phytopathol 13:24–29

Negi H, Vishunavat K (2004) Role of seed-borne inoculation of leaf crinkle virus in the development and yield of urdbean. Ann Plant Prot Sci 12:452–453

Nene YL (1972) A survey of viral disease of pulse crops in Uttar Pradesh. G.B. Univ. Agric Tech Res Bull No 4, p 191

Reddy CR (1988) Studies on urdbean (Vigna mungo (L.) Hepper) leaf crinkle virus. Ph.D. Thesis, Tamil Nadu Agricultural University, Coimbatore, India, p 168

Reddy C, Tonapi VA, Navi SS, Jayarajan R (2005) Influence of plant age on infection and symptomological studies on urdbean leaf crinkle viruse in urdbean (Vigna mungo). Int J Agric Sci 1:1–6

Rishi N (1990) Seed and crop improvement of northern Indian pulses (Pisum and Vigna) through control of seed-borne mosaic viruses. Final technical report (US-India Fund) Dept. Plant Pathology, CCS Haryana Agric. Univ, Hisar, p 122

Sharma PN, Sharma A, Sharma OP, Sharma SK, Garg ID (2014) Association of an unusual filamentous virus with leaf crinkle disease of urdbean in Himachal Pradesh. J Mycol Plant Pathol 44(3):257–263

Sharma PN, Sharma A, Singh M (2015) Effect of leaf crinkle disease on yield and quality of urdbean (Vigna mungo L. Hepper) in Himachal Pradesh. Himachal J Agric Res 41(1):80–82

Williams PJ, Grewal JS, Amin KS (1968) Serious and new diseases of pulse crops in India in 1966. Plant Dis Rep 52:300–304
Acknowledgements
Authors gratefully acknowledge facilities provided by Head, Division of Plant Pathology and Director, ICAR-Indian Agricultural Research Institute, New Delhi. Authors also acknowledge financial support provided by outreach programme of ICAR-Indian Agricultural Research Institute, New Delhi and experimental field provided by ICAR-National Bureau of Plant Genetic Resources, New Delhi and Division of Genetics, ICAR-Indian Agricultural Research Institute, New Delhi.
Ethics declarations
Conflict of interest
On behalf of all authors, the corresponding author states that there is no conflict of interest.
Additional information
Publisher's note
Springer Nature remains neutral with regard to jurisdictional claims in published maps and institutional affiliations.
About this article
Cite this article
Dubey, A.K., Saritha, R.K., Nabi, S.U. et al. Seed transmission and effect of leaf crinkle disease on seed quality in urdbean (Vigna mungo L. Hepper) under controlled environment. Indian Phytopathology (2021). https://doi.org/10.1007/s42360-020-00316-w
Received:

Revised:

Accepted:

Published:
Keywords
Urdbean

Crinkle

Seed quality

Seed transmission

Disease incidence