Abstract
CuO modified CaTiO3 ceramics exhibit logarithmic increase of resistance with decreasing temperature, which makes the compound well suited for use as a negative temperature coefficients resistance thermistor material in temperature sensing device applications. The source powder production, the experimental set-up, the process parameters and the resulting properties for each are presented and compared. Ca1−XCuXTiO3 (0.1, 0.3, 0.5 and 0.7) synthesized by High Energy Ball Mill. The phase purity of the source powder and the films was assessed by X-ray diffraction. The electrical properties were analysed by measuring the resistance–temperature characteristics. Steinhart and Hart model and time response analysis used for the verification and potential towards the thermistor industry. Experimental result shows potential of all samples in thermistor industry because of exponential electrical resistance with temperature. Time response analysis revels materials response potential to temperature also variation of response time due to effect of doping concentration variation. The sensitivity (β value found to be in the range of 4482–8001 K which is comparable to other potential thermistor industry material already in use. The aim of this experiment to introduce new thermistor material with matching electrical parameters.
This is a preview of subscription content, log in to check access.
Access options
Buy single article
Instant access to the full article PDF.
US$ 39.95
Price includes VAT for USA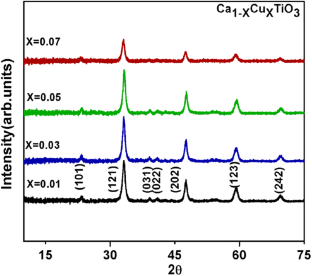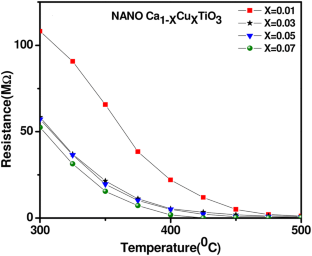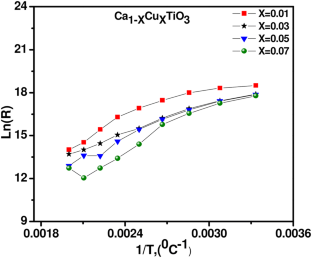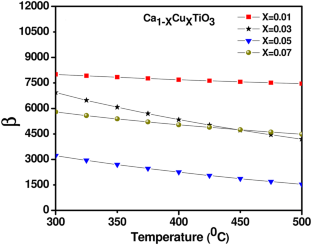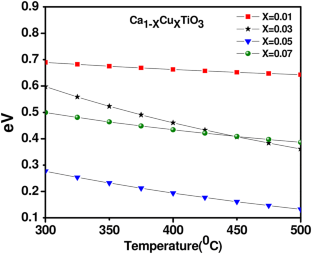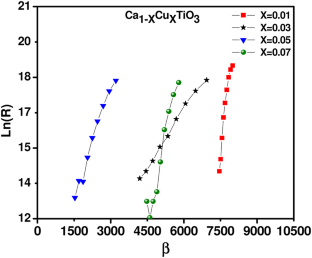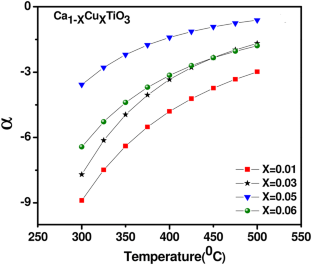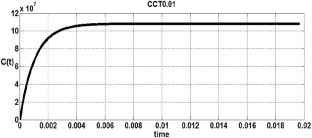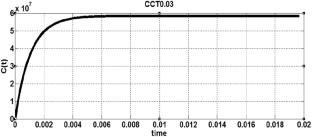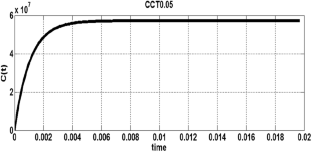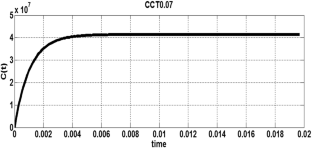 References
1.

L.H. Oliveira, A.P. de Moura, F.A. La Porta, I.C. Nogueira, E.C. Aguiar, T. Sequinel, I.L.V. Rosa, E. Longo, J.A. Varela, Mater. Res. Bull. 81, 1 (2016)

2.

M.S. Khalil, F.F. Hammad, Egypt. J. Sol. 25, 175 (2002)

3.

B. Cheng, Y.-H. Lin, H. Yang, J. Lan, C.-W. Nan, X. Xiao, J. He, Am. Ceram. Soc. 92, 2776 (2009)

4.

S. Sahoo, J. Adv. Ceram. 7, 99 (2018)

5.

R. Nathan Katz, Advanced Ceramics: NTC Thermistors [Online] https://www.Ceramicindustry.com/articles/83817-advanced-ceramics-ntc-thermistors. (2001)

6.

Thermistor application notes, NTC Thermistor Theory. [Online].Error! Hyperlink reference not valid., Finland

7.

V.D. Maric, M.D. Lukovic, L.D. Zivanov, O.S. Aleksic, A.B. Menicanin, IEEE Trans. Instrum. Meas. 57, 2568 (2008)

8.

NTC thermistor design guide for discrete components & probes, Quality thermistor Inc, USA

9.

E.A. de Vasconcelos, S.A. Khan, W.Y. Zhang, H. Uchida, T. Katsube, Sens. Actuator A 83, 167 (2000)

10.

Temperature sensor for health, science & industry, Cornerstone sensor, USA

11.

Thermistor application note, Measurment specialities, Temperature product group, USA

12.

V. Maric, M. Lukovic, L. Zivanov, O. Aleksic, A. Menicanin, Instrum. Meas. Technol. IEEE 57, 11 (2006)

13.

Y. Cong, Z. Wang-Chao, S. Bin, Z. Hang-Xia, Comput. Sci. Netw. Technol. IEEE 2011(4), 2209–2213 (2011)

14.

J.S. Steinhart, S.R. Hart, Calibration curves for thermistors. Deep Sea Res. Oceanogr. Abstr. 15, 497–503 (1968)

15.

E. Gaffet, M. Abdellaoui, N. Malhouroux-Gaffet, Mater. Trans., JIM 36, 198 (1995)

16.

C. Suryanarayana, Mechanical alloying and milling. Prog. Mater Sci. 46, 1–184 (2001)

17.

S. Sahoo et al., J. Adv. Ceram. 3, 117 (2014)

18.

S. Sahoo et al., J. Adv. Ceram. 2, 291 (2013)

19.

C.L. Yuan, X.Y. Liu, J.W. Xu, X.W. Zhang. C.R. Zhou, Intell. Comput. Integr. Syst. IEEE 445 (2010)

20.

K.A. Stella, K. Krishnankutty, Phys. Technol. Sens. (ISPTS) IEEE 301, 301–304 (2012)

21.

BetaTHERM Sensors Temperature solutions, NTC Thermistor theory, Finland, 1–21

22.

I. Brunets, O. Mrooz, O. Shpotyuk, H. Altenburg, in 24th International Conference on Microelectronics, Serbia, IEEE, vol 2, 503–506 (2004)

23.

G.M. Gouda, C.L. Nagendra, Phys. Technol. Sens. IEEE 125 (2012)

24.

C.H.M. Murtry, W.T. Terrell, W.T. Benecki, IEEE Trans. Ind. Appl. 2, 461–464 (1966)

25.

C.L. Yuan, X.Y. Liu, J.W. Xu, X.W. Zhang, C.R. Zhou, Bull. Mater. Sci. 35, 425 (2012)

26.

K. Park, D.Y. Bang, J.G. Kim, J.Y. Kim, C.H. Lee, B.H. Choi, J. Korean Phys. Soc. 41, 251 (2002)

27.

E.A. de Vasconcelos, S.A. Khan, W.Y. Zahang, H. Uchida, T. Katsube, Sens. Actuators, A 83, 167 (2000)

28.

C. Yuan, X. Liu, M. Liang, C. Zhou, H. Wang, Sens. Actuators, A 167, 291 (2011)

29.

Z.P. Nenova, T.G. Nenova, IEEE Trans. Instrum. Meas. 58, 441 (2009)

30.

R.N. Jadhav, S.N. Mathad, V. Puri, Ceram. Int. 38, 5181 (2012)

31.

G.M. Gouda, C.L. Nagendra, Sens. Actuators, A 155, 263 (2009)

32.

T.K. Roy, D. Sanyal, D. Bhowmick, A. Chakrabarti, Mater. Sci. Semicond. Process. 16, 332 (2013)

33.

C.C. Wang, S.A. Akbar, W. Chen, J.R. Schorr, Sens. Actuator A 58, 237 (1997)

34.

YUKUTO NTC Thermistor, JOYIN, Taiwan

35.

P. Padmini, N.S. Hari, T.R.N. Kutty, Sens. Actuators, A 50(1–2), 39–44 (1995)

36.

NTC thermistors, KEYSTONE thermometrics corporation, USA

37.

T. Nagai, M. Itoh, IEEE Trans. Ind. Appl. 26, 1139–1143 (1990)

38.

O. Aleksic, B. Radojcic, R. Ramovic, in 25th International Conference on Microelectronics, Balgrade, Serbia, IEEE, vol 580. (2006)

39.

Intoduction to NTCs: NTC Thermistor, Philips Components, California

40.

S.G.E. Wissmar, M. Kolahdouz, Y. Yamamoto, B. Tillack, C. Vieder, J.Y. Andersson, H.H. Radamsson, in International Semiconductor Device Research Symposium, vol. 1 (IEEE, College Park, MD, USA 2007). https://doi.org/10.1109/ISDRS.2007.4422465

41.

S. Jagtap, S. Rana, U. Mulik, D. Amalanekar, Microelectron. Int. 24, 7 (2007)

42.

W.L. Brogan, Modern Control Theory (Pearson Education, London, 1974)

43.

I.J. Nagrath, Control System Engineering (New Age International, New Delhi, 2006)

44.

N.S. Nise, Control System Engineering (Wiley, Hoboken, 2004)

45.

K. Ogata, Modern Control Engineering (Prentice Hall, Upper Saddle River, 2010)

46.

E.D. Boalt, in Proceeding of the 11th WSEAS International Conference on Systems, vol 424. (2007)

47.

N.T.C. Thermistors, General Technical Information (EPCOS, Munich, 2009)

48.

Thermistors in single supply temperature sensing circuits, Microchip Technology Inc. (1999)
Additional information
Publisher's Note
Springer Nature remains neutral with regard to jurisdictional claims in published maps and institutional affiliations.
About this article
Cite this article
Sahoo, S. CuO Modified CaTiO3 for NTCR Thermistor Application. Trans. Electr. Electron. Mater. (2020). https://doi.org/10.1007/s42341-020-00214-y
Received:

Revised:

Accepted:

Published:
Keywords
Electrical resistance

NTCR thermistor

Sensitivity

Time response