Abstract
The use of veterinary drugs on farm animals has the potential of generating drug residues in edible animal products that may affect public health. Veterinary drug residues in 144 samples including beef, chicken, and egg were measured using ultra-high-performance liquid chromatography in tandem with a triple quadrupole mass spectrometer. Sixty-three percent of the samples had quantifiable multiple detections of veterinary drug residues. The mean amounts of the tetracyclines (tetracycline, oxytetracycline, and chlortetracycline) residues in the samples were 81.35 μg/kg, 76.94 μg/kg, and 234.43 μg/kg, respectively. The mean β-lactam (amoxicillin, cefazolin, and penicillin G) residues were 35.76 μg/kg, 47.02 μg/kg, and 41.02 μg/kg respectively. The mean residues of the sulphonamides (sulfamethoxazole, sulfadoxine, and sulfathiazole) were 103.98 μg/kg, 46.05 μg/kg, and 68.63 μg/kg respectively. The mean fluoroquinolone (enrofloxacin) concentration was 30.19 μg/kg. The mean residue concentrations of salbutamol, erythromycin, prednisone, ketoprofen, and haloperidol were 6.32, 77.18, 23.66, 14.94, and 9.62 μg/kg respectively. The exposure estimations conducted on residues whose concentrations exceeded their maximum residue limits shows that consumers are at risk of acute exposure to tetracycline in egg, and cefazolin, penicillin G, sulphamethoxazole, salbutamol, prednisone, and haloperidol which may be injurious to the health and wellbeing.
Access options
Buy single article
Instant access to the full article PDF.
US$ 39.95
Tax calculation will be finalised during checkout.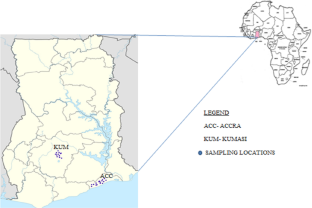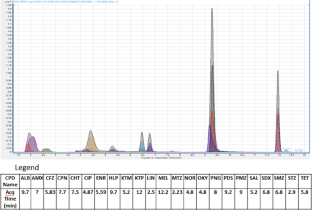 References
1.

Srivastava RK (2020) Influence of sustainable agricultural practices on healthy food cultivation. Springer, Cham, pp 95–124. https://doi.org/10.1007/978-3-030-38196-7_5

2.

Darko G, Mensah JK, Dapaah SS, Odei J (2015) Estimated dietary exposure to veterinary residues in chicken and eggs. Int J Food Contam 2:16. https://doi.org/10.1186/s40550-015-0022-2

3.

Karatzi K, Protogerou A, Kesse-Guyot E, Fezeu LK, Carette C, Blacher J, Levy BI, Galan P, Hercberg S, Czernichow S (2014) Associations between dietary patterns and skin microcirculation in healthy subjects. Arterioscler Thromb Vasc Biol 34:463–469. https://doi.org/10.1161/ATVBAHA.113.302411

4.

Ture M, Fentie T, Regassa B (2019) Veterinary drug residue: the risk. Public Health Signif Manage. https://doi.org/10.19080/JDVS.2019.13.555856

5.

Falowo AB, Akimoladun OF (2020) Veterinary drug residues in meat and meat products: occurrence, detection and implications. Vet Med Pharm IntechOpen. https://doi.org/10.5772/intechopen.83616

6.

Beyene T, Tesega B (2014) Rational veterinary drug use: Its significance in public health. J Vet Med Anim Heal 6:302–308. https://doi.org/10.5897/JVMAH2014.0332

7.

Beyene T (2015) Veterinary drug residues in food-animal products: its risk factors and potential effects on public health. J Vet Sci Technol 07:1–7. https://doi.org/10.4172/2157-7579.1000285

8.

Ferri M, Ranucci E, Romagnoli P, Giaccone V (2017) Antimicrobial resistance: a global emerging threat to public health systems. Crit Rev Food Sci Nutr 57:2857–2876. https://doi.org/10.1080/10408398.2015.1077192

9.

Borquaye LS, Ekuadzi E, Darko G, Ahor HS, Nsiah ST, Lartey JA, Mutala AH, Boamah VE, Woode E (2019) Occurrence of antibiotics and antibiotic-resistant bacteria in landfill sites in Kumasi, Ghana. J Chem 2019:1–10. https://doi.org/10.1155/2019/6934507

10.

Boamah V, Agyare C (2016) Antibiotic practices and factors influencing the use of antibiotics in selected poultry farms in Ghana. J Antimicrob Agents. https://doi.org/10.4172/2472-1212.1000120

11.

Turkson P (2009) Use of drugs and antibiotics in poultry production in Ghana. Ghana J Agric Sci 41:23–33. https://doi.org/10.4314/gjas.v41i1.46142

12.

Donkor ES, Newman MJ, Tay SCK, Dayie NTKD, Bannerman E, Olu-Taiwo M (2011) Investigation into the risk of exposure to antibiotic residues contaminating meat and egg in Ghana. Food Control 22:869–873. https://doi.org/10.1016/j.foodcont.2010.11.014

13.

Omotoso AB, Omojola AB (2015) Fluoroquinolone residues in raw meat from open markets in Ibadan, Southwest, Nigeria. Int J Heal Anim Sci Food Saf. https://doi.org/10.13130/2283-3927/4739

14.

Darko G, Borquaye LS, Acheampong A, Oppong K (2017) Veterinary antibiotics in dairy products from Kumasi, Ghana. Cogent Chem. https://doi.org/10.1080/23312009.2017.1343636

15.

FD Clerk (2014) United States Department of Agriculture Food Safety and Inspection Service, Office of Public Health Science United States Department of Agriculture Food Safety and Inspection Service, Office of Public Health Science. 1–36.

16.

European Medicines Association (2015) VICH topic GL49: Studies to evaluate the metabolism and residues kinetics of veterinary drugs in human food-producing animals: validation of analytical methods used in residue depletion studies - Revision at step 9 – for implementation, Bruxelles (Belgium). http://www.vichsec.org.

17.

The European Commission (2010) Commission Regulation (EU) No 37/2010 of 22 December 2009 on pharmacologically active substances and their classification regarding maximum residue limits in foodstuffs of animal origin. Off J Eur Union L15:1–72

18.

European Medicines Agency (2015) Guidance for Industry Studies to Evaluate the Metabolism and Residue Kinetics of Veterinary Drugs in Food-Producing Animals

19.

Mingle CL, Darko G, Asare-Donkor NK, Borquaye LS, Woode E (2020) Patterns in protein consumption in Ghanaian cities. Sci Afr. https://doi.org/10.1016/j.sciaf.2020.e00684

20.

JECFA, Evaluation of certain veterinary drug residues in food. Pilot of new approaches to estimate dietary exposure to veterinary drug residues. Seventy-eighth meeting of the Joint FAO/WHO Expert Committee on Food Additives, Geneva, 2014. http://www.fao.org/fileadmin/user_upload/agns/pdf/jecfa/Dietary_Exposure_Assessment_Methodologies_for_Residues_of_Veterinary_Drugs.pdf.

21.

FDA (2018) Summary report on antimicrobials sold or distributed for use in food-producing animals. Cent Vet Med 2018:1–14

22.

Mund MD, Khan UH, Tahir U, Mustafa BE, Fayyaz A (2017) Antimicrobial drug residues in poultry products and implications on public health: a review. Int J Food Prop 20:1433–1446. https://doi.org/10.1080/10942912.2016.1212874

23.

EFSA (2014) Scientific opinion on chloramphenicol in food and feed. EFSA J. https://doi.org/10.2903/j.efsa.2014.3907

24.

WHO, Who | Jecfa, Fao. (2014).

25.

Stachel CS, Radeck W, Gowik P (2003) Zilpaterol—a new focus of concern in residue analysis. Anal Chim Acta 493:63–67. https://doi.org/10.1016/S0003-2670(03)00863-8

26.

Regal P, Díaz-Bao M, Barreiro R, Vázquez BI, Cepeda A (2017) Confirmation of β-agonist residues in bovine retina and liver using HPLC-MS/MS and evaluation of matrix-dependent problems. Food Addit Contam Part A Chem Anal Control Expo Risk Assess 34:598–607. https://doi.org/10.1080/19440049.2016.1271144

27.

Zhang L, Wu P, Jin Q, Ye H, Huang X, Liu S (2017) Simultaneous determination of eight tranquilizers in pork by ultra-performance liquid chromatography coupled with electrospray tandem mass spectrometry. Food Anal Methods 10:354–362. https://doi.org/10.1007/s12161-016-0591-6

28.

FAO (2015) OMS, CODEX, Maximun Residue Limits (MRLs) and Risk Management Recommendations (RMRs) for residues of veterinary drugs in foods CAC/MRL 2–2015. Codex Aliment. Int Food Stand 2:22

29.

Lee HC, Chen CM, Wei JT, Chiu HY (2018) Analysis of veterinary drug residue monitoring results for commercial livestock products in Taiwan between 2011 and 2015. J Food Drug Anal 26:565–571. https://doi.org/10.1016/j.jfda.2017.06.008

30.

Serge S, Touwendsida SB, Aly S, Marie Louise S, Alfred ST (2015) Screening of antibiotics residues in beef consumed in Ouagadougou, Burkina Faso. Afr J Food Sci 9:367–371. https://doi.org/10.5897/ajfs2015.1291

31.

Ibrahim IA, Junaidu AU, Garba MK (2009) Multiple antibiotic residues in meat from slaughtered cattle in Nigeria, internet. J Vet Med 8(1):2009. https://doi.org/10.5580/A11167

32.

Er B, Kaynak Onurdǎ F, Demirhan B, Özgen Özgacar S, Bayhan Öktem A, Abbasoǧlu U (2013) Screening of quinolone antibiotic residues in chicken meat and beef sold in the markets of Ankara, Turkey. Poult Sci 92:2212–2215. https://doi.org/10.3382/ps.2013-03072

33.

Hakem A, Titouche Y, Houali K, Yabrir B, Malki O, Chenouf N, Yahiaoui S, Labiad M, Ghenim H, Kechin-Bounar S, Chirila F, Lapusan A, Fit N (2013) Screening of antibiotics residues in poultry meat by microbiological methods. Bull Univ Agric Sci Vet Med Cluj-Napoca Vet Med 70:77–82. https://doi.org/10.15835/buasvmcn-vm:70:1:9832

34.

Yamaguchi T, Okihashi M, Harada K, Konishi Y, Uchida K, Do MHN, Bui HDT, Nguyen TD, Do Nguyen P, Van Chau V, Van Dao KT, Nguyen HTN, Kajimura K, Kumeda Y, Bui CT, Vien MQ, Le NH, Hirata K, Yamamoto Y (2015) Antibiotic residue monitoring results for pork, chicken, and beef samples in Vietnam in 2012–2013. J Agric Food Chem 63:5141–5145. https://doi.org/10.1021/jf505254y
Supplementary Information
Below is the link to the electronic supplementary material.
About this article
Cite this article
Mingle, C.L., Darko, G., Borquaye, L.S. et al. Veterinary Drug Residues in Beef, Chicken, and Egg from Ghana. Chemistry Africa (2021). https://doi.org/10.1007/s42250-020-00225-5
Received:

Accepted:

Published:
Keywords
Maximum residue limit

Multi-drug residue analysis

Global estimate of acute dietary exposure

Global estimate for chronic dietary exposure