Abstract
This study presents a simple and robust three-dimensional human hepatic tissue model to emulate steatotic and fibrotic conditions and provide an in vitro model for drug testing and mechanistic studies. Using a photolithographic biofabrication method with a photomask featuring hexagonal units, liver cells, including a human hepatic cell line (HepG2-C3A) and a human hepatic stellate cell line (LX-2) were embedded in gelatin methacryloyl hydrogel. Hepatic steatosis was induced by supraphysiological concentration of free fatty acids; hepatic fibrosis was induced by transforming growth factor-β1. Induction of steatosis was confirmed by Oil Red O and BODIPY staining and was inhibited with toyocamycin and obeticholic acid. Induction of fibrosis was confirmed by immunostaining for collagen type I and alpha smooth muscle actin and inhibited by rapamycin and curcumin treatment. This model was further preliminarily validated using primary human hepatocytes in a similar setup. These constructs provide a viable, biologically relevant, and higher throughput model of hepatic steatosis and fibrosis and may facilitate the study of the mechanisms of disease and testing of liver-directed drugs.
Access options
Buy single article
Instant access to the full article PDF.
US$ 39.95
Tax calculation will be finalised during checkout.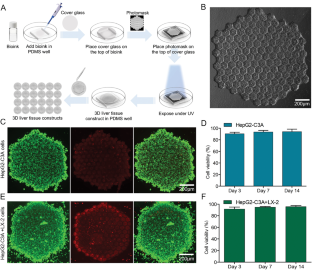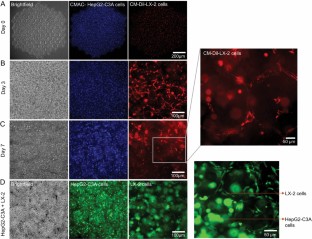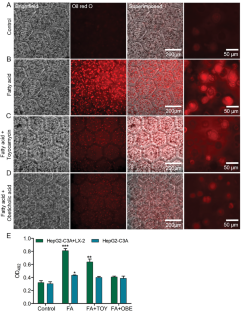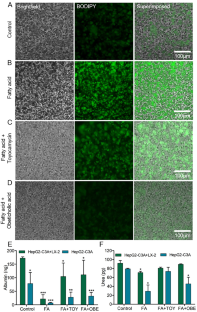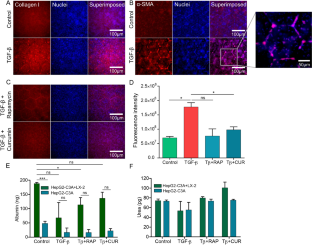 Availability of data and materials
The datasets that support the findings of this study are available from the corresponding authors upon reasonable request. All requests for raw and analyzed data and materials will be promptly reviewed by the Brigham and Women's Hospital and University of Florida to verify whether the request is subject to any intellectual property or confidentiality obligations. Any data and materials that can be shared will be released via a Material Transfer Agreement.
Funding
YSZ received funding from National Institutes of Health (K99CA201603, R00CA201603, R21EB025270, R21EB026175, R01EB028143, R03EB027984), National Science Foundation (1935105), Brigham Research Institute New England Anti-Vivisection Foundation, and American Fund for Alternatives to Animal Research (AFAAR). AZ received funding from National Institutes of Health (K08DK113244, R01MD012579). SD received funding from National Institutes of Health (R01MD012579-UT20664DS).
Ethics declarations
Ethical approval
This article does not contain any studies with human or animal subjects performed by any of the authors.
Conflict of interest
The authors have no relevant conflicts of interest to declare.
Consent to participate
Consent to participate is not applicable in this study.
Electronic supplementary material
Below is the link to the electronic supplementary material.
About this article
Cite this article
Maharjan, S., Bonilla, D., Sindurakar, P. et al. 3D human nonalcoholic hepatic steatosis and fibrosis models. Bio-des. Manuf. 4, 157–170 (2021). https://doi.org/10.1007/s42242-020-00121-4
Received:

Accepted:

Published:

Issue Date:
Keywords
Nonalcoholic fatty liver disease (NAFLD)

Gelatin methacryloyl (GelMA)

Photocrosslinking

Steatosis

Fibrosis

Free fatty acids

Transforming growth factor-β1 (TGF-β1)