Zusammenfassung
Die 3 Hauptmethoden zur Erstellung einer genauen Ohrkartografie werden vorgestellt. Es sind dies die Applikation von peripheren Schmerzreizen und die Suche der dazu entsprechenden Ohrareale, die resonanzmäßige Festlegung von Ohrpunkten auf sehr geringe oder z. T. auch deutliche Schwingungen und Erfahrungswerte für psychische und emotionale Reflexpunkte.
Die gefundenen Zonen, Areale und Punkte müssen in ein Standardohr eingetragen werden, welches wegen der Notwendigkeit der internationalen Vergleichbarkeit ein Raster aufweisen sollte.
Access options
Buy single article
Instant access to the full article PDF.
US$ 39.95
Tax calculation will be finalised during checkout.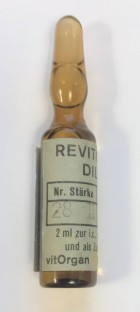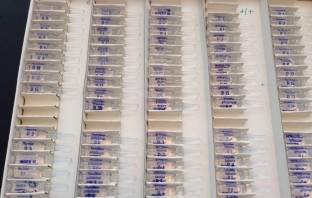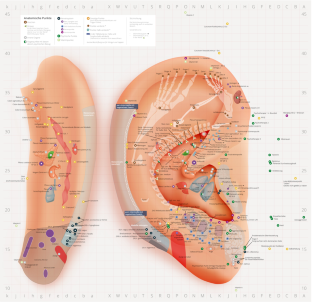 Literatur
1.

Wirz-Ridolfi A (2020) Geschichte der Ohrakupunktur und der Ohrkartographie. Z Akupunkt Aurikulomed. https://doi.org/10.1007/s15009-020-5658-1

2.

Nogier P (1969) Lehrbuch der Auriculotherapie. Maisonneuve, Sainte-Ruffine

3.

Nogier P, Bourdiol R, Bahr F (1974) loci auriculomedicinae. Maisonneuve, Sainte-Ruffine (Bahr bis 2019)

4.

Bahr F, Wojak W (2016) Das Koordinatenohr (2 D) — Unser Beitrag Zur Nomenklatur In Der Ohrakupunktur. Z Akupunkt Aurikulomed 42:12–18. https://doi.org/10.1007/s11298-016-5372-1

5.

Bachmann G (1957) Bericht über den Vortrag von P. Nogier über Reflexpunkte am Ohr beim 1. Kongress französischer Akupunkteure 1956, erschienen in der Deutschen Zeitschrift für Akupunktur 1957. Haug, Stuttgart

6.

Litscher G, Bahr F, Litscher D (2015) Neue Strategien in der RAC ("Reflex Auriculocardiac") Forschung – Hochauflösende Darstellung von Pulsatorischen Oberflächenveränderungen im Labor. Z Akupunkt Aurikulomed. https://doi.org/10.1007/s15009-015-5318-z

7.

Moser M, Frühwirth M, Messerschmidt D, Goswami N, Dorfer L, Bahr F, Opitz G (2017) Investigation of a microtest for circulatory autonomic nervous system responses. Front Physiol. https://doi.org/10.3389/fphys.2017.00448

8.

Litscher G (2020) Ein Projektkurzbericht zur Dynamischen Pulsreaktion in COVID-19-Pandemie-Zeiten. Z Akupunkt Aurikulomed. https://doi.org/10.1007/s15009-020-5685-y
Ethics declarations
Interessenkonflikt
F. Bahr gibt an, dass kein Interessenkonflikt besteht.
Die wesentlichen Untersuchungen an Versuchspersonen waren 1973/1974, die Deklaration von Helsinki bez. Ethikkommission gab es erst seit 1975. Die damalige Hauptperson war mit den Untersuchungen einverstanden. Weitere Angaben beruhen auf Erfahrungswerten durch Praxisbeobachtungen.
About this article
Cite this article
Bahr, F. Der Weg zu einer genauen und international vergleichbaren Ohrkartografie. Dtsch Z Akupunkt 64, 61–64 (2021). https://doi.org/10.1007/s42212-020-00346-5
Accepted:

Published:

Issue Date: