Abstract
Plant defensins are small, cationic, cysteine-rich peptides with well conserved four disulphide bridges between an α-helix and three anti-parallel β-strands, produced by plants as a first line of innate immunity against the invading fungal pathogens. Some of the plant defensins exhibit strong antibacterial and anti-insect activities in vitro as well as in vivo. TvD1, a defensin from Tephrosia villosa was characterized in our previous studies with demonstrated inhibitory effect against many plant pathogenic fungi and some insects. To further enhance its activity, α-TvD1, a peptide variant of TvD1, was generated through site directed mutagenesis. It showed enhanced antifungal and Tenebrio molitor α-amylase inhibitory activity under in vitro condition. In the present study, we compared the antifungal and anti-insect activities of α-TvD1 with the native TvD1 in transgenic tobacco plants. α-TvD1 transgenic plants showed enhanced tolerance against the oomycetes pathogen Phytophthora parasitica var. nicotianae and the fungal pathogens Alternaria alternata and Rhizoctonia solani. Also, it showed enhanced anti-insect activity against the 1st and 2nd instar larvae of the generalist herbivore, Spodoptera litura. These results demonstrated that α-TvD1 appears to be a potent antimicrobial gene that can be used for generating superior transgenic crops with enhanced resistance against many phytopathogens and insect pests.
This is a preview of subscription content, log in to check access.
Access options
Buy single article
Instant access to the full article PDF.
US$ 39.95
Price includes VAT for USA
Subscribe to journal
Immediate online access to all issues from 2019. Subscription will auto renew annually.
US$ 99
This is the net price. Taxes to be calculated in checkout.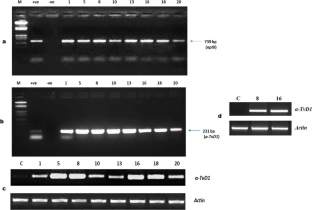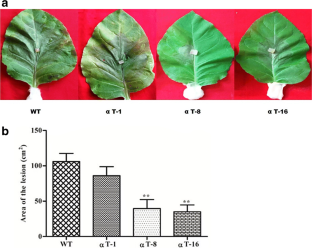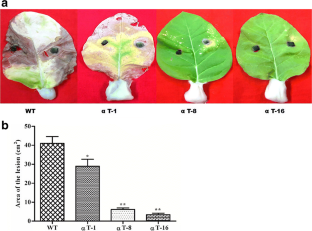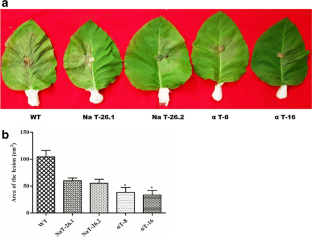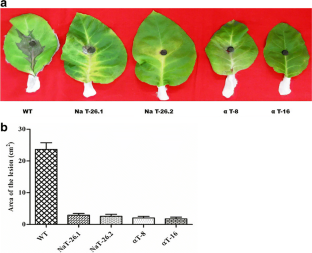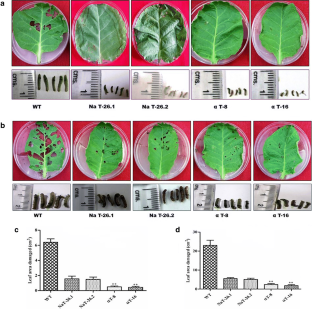 References
Abdallah NA, Shah D, Abbas D, Madkour M (2010) Stable integration and expression of a plant defensin in tomato confers resistance to fusarium wilt. GM Crops 1:344–350

Anderson NA (1982) The genetics and pathology of Rhizoctonia solani. Annu Rev Phytopathol 20:329–347

Bryksin AV, Matsumura I (2010) Overlap extension PCR cloning: a simple and reliable way to create recombinant plasmids. Biotechniques 48:463–465

Carvalho AO, Gomes MV (2011) Plant defensins and defensin-like peptides - biological activities and biotechnological applications. Curr Pharm Des 17:4270–4293

Chen GH, Hsu MP, Tan CH, Sung HY, Kuo CG, Fan MJ, Chen HM, Chen S, Ching-San Chen C-S (2005) Cloning and characterization of a plant defensin VaD1 from azuki bean. J Agric Food Chem 53:982–988

De Oliveira ME, Taveira GB, de Oliveira CA, Gomes VM (2019) Improved smallest peptides based on positive charge increase of the γ-core motif from PνD1 and their mechanism of action against Candida species. Int J Nanomedicine 14:407–420

Doyle JJ, Doyle JL (1987) A rapid DNA isolation procedure for small quantities of fresh leaf tissues. Phytochem Bull 19:11–15

Ghag SB, Shekhawat UKS, Ganapathi TR (2012) Petunia floral defensins with unique prodomains as novel candidates for development of Fusarium wilt resistance in transgenic banana plants. PLoS One 7:e39557

Halpin C (2005) Gene stacking in transgenic plants – the challenge for 21st century plant biotechnology. Plant Biotechnol J 3:141–155

Herms DA, Mattson WJ (1992) The dilemma of plants : to grow or defend. Q Rev Biol:283–335

Horsch RB, Fry JE, Hoffmann NL, Eichholtz D, Rogers SG, Fraley RT (1985) A simple and general method for transferring genes into plants. Science 227:1229–1231

Huang X, Wang J, Du Z, Zhang C, Li L, Xi Z (2013) Enhanced resistance to stripe rust disease in transgenic wheat expressing the rice chitinase gene RC24. Transgenic Res 22:939–947

Islam KT, Velivelli SLS, Berg RH, Oakley B, Shah DM (2017) A novel bi-domain plant defensin MtDef5 with potent broad-spectrum antifungal activity binds to multiple phospholipids and forms oligomers. Sci Rep 7:16157

Janssen BJC, Schirra HJ, Lay FT, Anderson MA, Craik DJ (2003) Structure of Petunia hybrida defensin 1, a novel plant defensin with five disulfide bonds. Biochemistry 42:8214–8222

Jha S, Chattoo BB (2010) Expression of a plant defensin in rice confers resistance to fungal phytopathogens. Transgenic Res 19:373–384

Lacerda AF, Vasconcelos EAR, Pelegrini PB, Grossi de Sa MF (2014) Antifungal defensins and their role in plant defense. Front Microbiol 5:116

Lay F, Anderson M (2005) Defensins - components of the innate immune system in plants. Curr Protein Pept Sci 6:85–101

Lay FT, Ryan GF, Caria S, Phan TK, Veneer PK, White JA, Kvansakul M, Hulett MD (2019) Structural and functional characterization of the membrane-permeabilizing activity of Nicotiana occidentalis defensin NoD173 and protein engineering to enhance oncolysis. FASEB J 33:6470–6482

Lin KF, Lee TR, Tsai PH, Hsu MP, Chen CS, Lyu PC (2007) Structure-based protein engineering for alpha-amylase inhibitory activity of plant defensin. Proteins 68:530–540

Luo JS, Yang Y, Gu T, Wu Z, Zhang Z (2019) The Arabidopsis defensin gene AtPDF2.5 mediates cadmium tolerance and accumulation. Plant Cell Environ. https://doi.org/10.1111/pce.13592

Pelegrini PB, Franco OL (2005) Plant gamma-thionins: novel insights on the mechanism of action of a multi-functional class of defense proteins. Int J Biochem Cell Biol 37:2239–2253

Pennings SC, Siska EL, Bertness MD (2001) Latitudinal differences in plant palatibility in Atlantic coast salt marshes. Ecology 82:1344–1359

Portieles R, Ayra C, Gonzalez E, Gallo A, Rodriguez R, Chacón O, López Y, Rodriguez M, Castillo J, PujolM Enriquez G, Borroto C, Trujillo L, Thomma BP, Borrás-Hidalgo O (2010) NmDef02, a novel antimicrobial gene isolated from Nicotiana megalosiphon confers high-level pathogen resistance under greenhouse and feld conditions. P Biotech J 8:678–690

Ramamoorthy V, Zhao X, Snyder AK, Xu JR, Shah DM (2007) Two mitogen-activated protein kinase signalling cascades mediate basal resistance to antifungal plant defensins in Fusarium graminearum. Cell Microbiol 9:1491–1506

Sarkar P, Jana K, Sikdar SR (2017) Overexpression of biologically safe Rorippa indica defensin enhances aphid tolerance in Brassica juncea. Planta 246:1029–1044

Sher Khan R, Iqbal A, Malak R, Shehryar K, Attia S, Ahmed T, Khan MA, Arif M, Mii M (2019) Plant defensins: types, mechanism of action and prospects of genetic engineering for enhanced disease resistance in plants. 3 Biotech 9:192. https://doi.org/10.1007/s13205-019-1725-5

Spelbrink RG, Dilmac N, Allen A, Smith TJ, Shah DM, Hockerman GH (2004) Differential antifungal and calcium channel-blocking activity among structurally related plant defensins. Plant Physiol 135:2055–2067

Stotz HU, Thomson J, Wang Y (2014) Plant defensins. Plant Signal Behav 4:1010–1012

Swathi AT, Divya K, Jami SK, Kirti PB (2008) Transgenic tobacco and peanut plants expressing a mustard defensin show resistance to fungal pathogens. Plant Cell Rep 27:1777–1786

Tedford EC, Miller TL, Nielsen M (1990) A detached-leaves technique for detecting Phytophthora parasitica var. nicotianae in tobacco. Plant Dis 74:313–316

Terras FRG, Schoofs HME, De Bolle MFC, Leuven FV, Rees SB, Vanderleyden J, Cammue BPA, Broekaert WF (1992) Analysis of two novel classes of plant antifungal proteins from radish (Raphanus sativus L.) seeds. J Biol Chem 267:15301–15309

Terras F, Eggermont K, Kovaleva V, Raikhel NV, Osborn RW, Kester A, Rees SB, Torrekens S, Leuven FV, Vanderleyden J (1995) Small cysteine-rich antifungal proteins from radish: their role in host defense. Plant Cell Online 7:573–588

Thomma BPHJ, Cammue BPA, Thevissen K (2002) Plant defensins. Planta 216:193–202

van der Weerden NL, Anderson MA (2013) Plant defensins: common fold, multiple functions. Fungal Biol Rev 26:121–131

Vi TXT, Le HD, Nguyen VTT, Van Le S, Chu HM (2017) Expression of the ZmDEF1 gene and α-amylase inhibitory activity of recombinant defensin against maize weevils. Turk J Biol 41:98–104

Vi TXT, Nguyen TNL, Pham TTN, Nguyen HQ, Nguyen THY, Tu QT, Le VS, Chu HM (2019) Overexpression of the ZmDEF1 gene increases the resistance to weevil larvae in transgenic maize seeds. Mol Biol Rep 46:2177–2185

Vijayan S, Guruprasad L, Kirti PB (2008) Prokaryotic expression of a constitutively expressed Tephrosia villosa defensin and its potent antifungal activity. Appl Microbiol Biotechnol 80:1023–1032

Vijayan S, Imani J, Tanneeru K, Guruprasad L, Kogel KH, Kirti PB (2012) Enhanced antifungal and insect α-amylase inhibitory activities of alpha-TvD1, a peptide variant of Tephrosia villosa defensin (TvD1) generated through in vitro mutagenesis. Peptides 33:220–229

Vijayan S, Singh NK, Shukla P, Kirti PB (2013) Defensin (TvD1) from Tephrosia villosa exhibited strong anti-insect and anti-fungal activities in transgenic tobacco plants. J Pest Sci 86:337–344

Wang B, Yu J, Zhu D, Zhao Q (2011) Maize defensin ZmDEF1 is involved in plant response to fungal phytopathogens. African J Biotech 10:16128–16137

Wijaya R, Neumann GM, Condron R, Hughes AB, Polya GM (2000) Defense proteins from seed of Cassia fistula include a lipid transfer protein homologue and a protease inhibitory plant defensin. Plant Sci 159:243–255

Wong J, Xia L, Ng T (2007) A review of Defensins of diverse origins. Curr Protein Pept Sci 8:446–459

Yount NY, Yeaman MR (2004) Multidimensional signatures in antimicrobial peptides. Proc Natl Acad Sci U S A 101:7363–7368
Acknowledgements
The authors are grateful to AP-Netherlands Biotechnology Programme (rechristened as Agri Biotech Foundation, PJTS Agricultural University Campus, Hyderabad). The authors are grateful to the Facilities under DST-FIST, DBT-CREBB and UGC-SAP of the School of Life Sciences used in the Investigation. AS, VS, PS and SR acknowledge DBT, UGC, CSIR, and DST-INSPIRE, India for fellowships respectively.
Ethics declarations
Conflict of interest
The authors declare that they have no conflict of interest.
Ethical approval
This article does not contain any studies with human participants or animals performed by any of the authors.
Additional information
Publisher's note
Springer Nature remains neutral with regard to jurisdictional claims in published maps and institutional affiliations.
Key message
Ectopic expression of α-TvD1, a peptide variant of Tephrosia villosa defensin imparts enhanced fungal tolerance in tobacco plants as compared to native TvD1 establishing its potential role in crop transformations.
Electronic supplementary material
About this article
Cite this article
Sharma, A., Sambasivam, V., Shukla, P. et al. An in vitro generated variant of Tephrosia villosa defensin (α-TvD1) enhances biotic stress tolerance in transgenic tobacco. J Plant Pathol (2020). https://doi.org/10.1007/s42161-020-00591-6
Received:

Accepted:

Published:
Keywords
Defensin variant

Transgenic tobacco plant

Native TvD1

Insect α-amylase

Necrotic lesion