Abstract
Large spatial data are becoming more and more popular in environmental science and other related fields. Observations are often made over a substantial fraction of the surface of the Earth over a long period of time. It is necessary to model spatio-temporal random processes on the sphere which is challenging both conceptually and computationally. Convolution modeling method can be utilized to generate a random field with valid covariance structure on spheres. A latent dynamic process is defined on a grid covering the globe. The data vector is first projected onto the low-dimensional space spanned by those grids at each available time point. The resulting time series are fitted with seasonal ARIMA models. Forecasting is made by convolving the latent dynamic processes at all grid points using von Mises–Fisher kernel function. The procedure is illustrated by the total ozone data collected by Total Ozone Mapping Spectrometer during a 12-year period of time.
This is a preview of subscription content, log in to check access.
Access options
Buy single article
Instant access to the full article PDF.
US$ 39.95
Price includes VAT for USA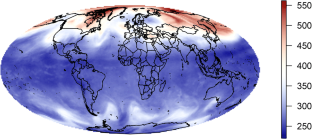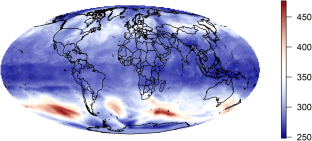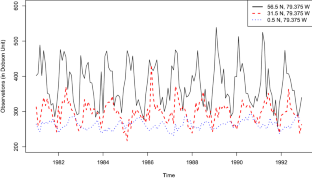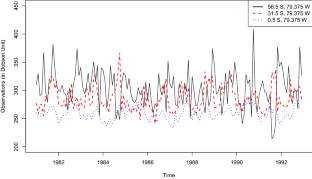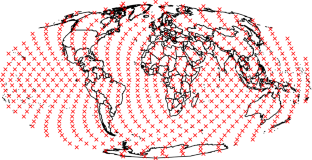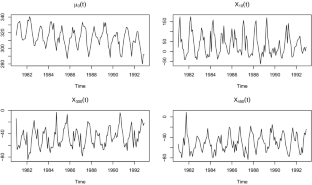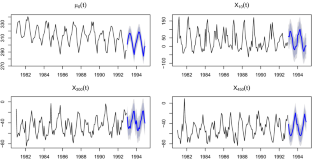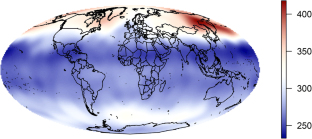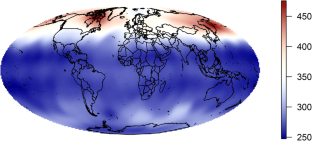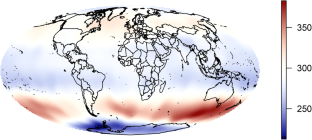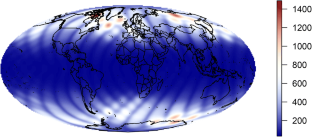 References
Barry, R. P., & Ver Hoef, J. M. (1996). Blackbox kriging: Spatial prediction without specifying variogram models. Journal of Agricultural, Biological, and Environmental Statistics, 1, 297–322.

Calder, C. A., Holloman, C., & Higdon, D. (2002). Exploring space-time structure in ozone concentration using a dynamic process convolution model. In C. Gatsonis, R. E. Kass, A. Carriquiry, A. Gelman, D. Higdon, D. Pauler, & I. Verdinelli (Eds.), Case Studies in Bayesian Statistics 6 (pp. 165–176). New York: Springer.

Castruccio, S., & Genton, M. G. (2015). Beyond axial symmetry: An improved class of models for global data. Stat, 3, 48–55.

Castruccio, S., & Genton, M. G. (2016). Compressing an ensemble with statistical models: An algorithm for global 3D spatio-temporal temperature. Technometrics, 58, 319–328.

Cressie, N. (1993). Statistics for spatial data. New York: Wiley.

Cressie, N., & Johannesson, G. (2008). Fixed rank kriging for very large spatial data sets. Journal of the Royal Statistical Society: Series B, 70, 209–226.

De Iaco, S., Palma, M., & Posa, D. (2019). Choosing suitable linear coregionalization models for spatio-temporal data. Stochastic Environmental Research and Risk Assessment, 33, 1419–1434.

Gelfand, A. E., Diggle, P., Guttorp, P., & Fuentes, M. (2010). Handbook of spatial statistics. Boca Raton: CRC Press.

Gneiting, T. (2013). Strictly and non-strictly positive definite functions on spheres. Bernoulli, 19, 1327–1349.

Heaton, M. J., Datta, A., Finley, A. O., Furrer, R., Guinness, J., & Guhaniyogi, R. (2019). A case study competition among methods for analyzing large spatial data. Journal of Agricultural, Biological and Environmental Statistics, 24, 398–425.

Heaton, M. J., Katzfuss, M., Berrett, C., & Nychka, D. W. (2014). Constructing valid spatial processes on the sphere using kernel convolutions. Environmetrics, 25, 2–15.

Hegglin, M. I., Fahey, D. W., Mack, M., Montzka, S. A., & Nash, E. R. (2014). Twenty questions and answers about the ozone layer: 2014 update, scientific assessment of ozone depletion: 2014. Technical report, World Meteorological Organization, Geneva, Switzerland

Higdon, D. (1998). A process-convolution approach to modelling temperatures in the North Atlantic Ocean. Environmental and Ecological Statistics, 5, 173–190.

Higdon, D. (2002). Space and space time modeling using process convolutions. In A. C. In, V. Barnett, P. C. Chatwin, & A. H. El-Shaarawi (Eds.), Quantitative methods for current environmental issues (pp. 37–56). London: Springer.

Higdon, D., Swall, J., & Kern, J. (1999). Non-stationary spatial modeling. Bayesian statistics 6 (pp. 761–768). Oxford: Oxford University Press.

Huang, C., Zhang, H., & Robeson, S. M. (2011). On the validity of commonly used covariance and variogram functions on the sphere. Mathematical Geosciences, 43, 721–733.

Hyndman, R. J., & Khandakar, Y. (2008). Automatic time series forecasting: The forecast package for R. Journal of Statistical Software, 26, 1–22.

Jeong, J., & Jun, M. (2015). A class of Matérn-like covariance functions for smooth processes on a sphere. Spatial Statistics, 11, 1–18.

Jeong, J., Jun, M., & Genton, M. G. (2017). Spherical process models for global spatial statistics. Statistical Science, 32, 501–513.

Jones, R. H. (1962). Stochastic processes on a sphere. The Annals of Mathematical Statistics, 34, 213–218.

Jun, M., & Stein, M. L. (2007). An approach to producing space-time covariance functions on spheres. Technometrics, 49, 468–479.

Jun, M., & Stein, M. L. (2008). Nonstationary covariance models for global data. The Annals of Applied Statistics, 2, 1271–1289.

Kern, J. (2000). Bayesian process-convolution approaches to specifying spatial dependence structure. PhD thesis, Duke University

Li, Y., & Zhu, Z. (2016). Modeling nonstationary covariance function with convolution on spheres. Computational Statistics and Data Analysis, 104, 233–246.

NASA Goddard Ozone & Air Quality. https://ozoneaq.gsfc.nasa.gov/data/toms/. Accessed 30 May 2016.

Porcu, E., Alegria, A., & Furrer, R. (2018). Modeling temporally evolving and spatially globally dependent data. International Statistical Review, 86, 344–377.

Porcu, E., Bevilacqua, M., & Genton, M. G. (2016). Spatio-temporal covariance and cross-covariance functions of the great circle distance on a sphere. Journal of the American Statistical Association, 111, 888–898.

Ripley, B. D. (2005). Spatial statistics. New York: Wiley.

Rodrigues, A., & Diggle, P. J. (2010). A class of convolution-based models for spatio-temporal processes with non-separable covariance structure. Scandinavian Journal of Statistics, 37, 553–567.

Sansó, B., Schmidt, A. M., & Nobre, A. A. (2008). Bayesian spatio-temporal models based on discrete convolutions. The Canadian Journal of Statistics, 36, 239–258.

Shumway, R. H., & Stoffer, D. S. (2017). Time series analysis and its applications: With R examples (4th ed.). Berlin: Springer.

Stein, M. L. (1999). Interpolation of spatial data: Some theory for kriging. New York: Springer.

White, P., & Porcu, E. (2019). Towards a complete picture of covariance functions on spheres cross time, Electronic Journal of Statistics, 13, 2566–2594.
Ethics declarations
Conflict of interest
On behalf of all authors, Zhengyuan Zhu states that there is no conflict of interest.
About this article
Cite this article
Li, Y., Zhu, Z. Spatio-temporal modeling of global ozone data using convolution. Jpn J Stat Data Sci 3, 153–166 (2020). https://doi.org/10.1007/s42081-019-00069-5
Received:

Accepted:

Published:

Issue Date:
Keywords
Spatio-temporal data

Kernel function

Convolution

Total ozone