Abstract
Purpose
To explore the value of DWI morphological characteristics and ADC value in differentiating malignant and benign lesions of the liver at 3.0 T.
Materials and methods
In this study, 310 patients with the same number of liver lesions confirmed by histopathology with high signal on DWI were collected. For each lesion, two radiologists independently measured the ADC values and evaluated the DWI morphological characteristics. The differences of the quantitative and qualitative MRI features determined by the readers were assessed. The ADC values of the malignant and benign liver lesions were compared. Besides, Chi-square tests were used to compare the proportion of differences in the DWI morphological characteristics between malignant and benign liver lesions. ROC curve was used to evaluate the diagnostic efficacy of ADC value and DWI morphological features.
Results
No significant differences were observed in the quantitative and qualitative MRI features determined by the readers. The ADC values for malignant liver lesions were lower than those for benign lesions (statistically significant, P < 0.05). There was significant difference in the proportion of DWI morphological features between benign and malignant liver lesions. The proportion of morphological characteristics of ring and nodular high signal intensity was higher in malignant liver lesions. In benign lesions, the proportion of flaky and homogeneous high signal morphological features was higher. The AUC of DWI morphological features + ADC value was significantly higher than those of ADC value or DWI morphological features (P = 0.0277, P < 0.0001).
Conclusions
The combined application of DWI morphological features and ADC value is the most valuable in differentiating malignant and benign liver lesions.
Access options
Buy single article
Instant access to the full article PDF.
US$ 39.95
Tax calculation will be finalised during checkout.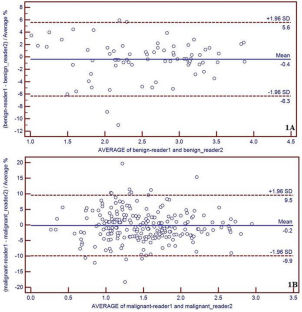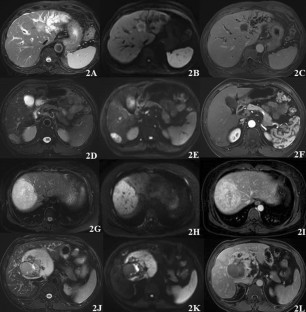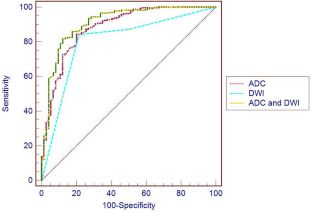 Funding
This study was supported by National Natural Science Foundation of China (No. 81771785). The funders had no role in research design, data collection and analysis, decision to publish or preparation of the manuscript.
Ethics declarations
Conflict of interest
The authors declare that they have no conflict of interest.
Ethical approval
All procedures performed in studies involving human participants were in accordance with the ethical standards of the institutional and/or national research committee and with the 1964 Helsinki declaration and its later amendments or comparable ethical standards.
Additional information
Publisher's Note
Springer Nature remains neutral with regard to jurisdictional claims in published maps and institutional affiliations.
About this article
Cite this article
Zhang, H., Sheng, F., Pan, J. et al. High signal liver focal lesions on DWI: the differential diagnostic value of morphological characteristics and ADC value. Chin J Acad Radiol (2021). https://doi.org/10.1007/s42058-021-00052-8
Received:

Revised:

Accepted:

Published:
Keywords
Liver lesion

Diffusion-weighted imaging

DWI

Magnetic resonance imaging

MRI

Morphological characteristics