Abstract
Objective
Type 1 diabetes mellitus (T1DM) constitutes a real challenge in everyday practice for both physicians and patients. Due to the complexity of the disease and its unpredictable nature, structured education and training programs are nowadays implemented that ensure active patient involvement and self-care behaviors to achieve adequate glycemic control, prevent diabetic complications, and improve the quality of life of patients. These programs provide patients with the necessary knowledge and skills to self-monitor and self-manage the disease and its associated metabolic conditions. The aim of the study was to evaluate the effect of a structured 12-month education program that motivated patients to follow a healthy Mediterranean diet and exercise regularly as well as to adjust carbohydrate intake and insulin dose according to their needs.
Design
The education group (EG) was comprised of 62 patients (45 males) with type 1 DM, mean age 36 ± 4.2 years and BMI 24.2 ± 3.1 kg/m2. An age- and BMI-matched control group (CG, n = 25, mean age 41 ± 6.4 years, BMI 25.7 ± 4.2 kg/m2) was composed of patients referred but not enrolled in the project.
Results
At the end of this program, HbA1C levels were significantly decreased (8.5 ± 2.1% vs. 7.08 ± 0.79%, p < 0.0001) as was also the incidence of hypoglycemic episodes (p < 0.05). Regarding daily glucose fluctuations, significant improvement (p < 0.05) was observed, as reflected in low, high, and daily median glucose values. On the other hand, the above parameters remained stable in the CG.
Conclusions
These results strongly support the need for long-lasting structured education group courses for adult diabetic patients keen to change their habits in order to achieve self-management of the disease.
Access options
Buy single article
Instant access to the full article PDF.
US$ 39.95
Tax calculation will be finalised during checkout.
Subscribe to journal
Immediate online access to all issues from 2019. Subscription will auto renew annually.
US$ 79
Tax calculation will be finalised during checkout.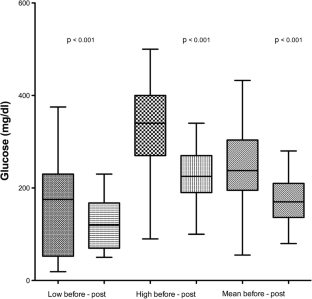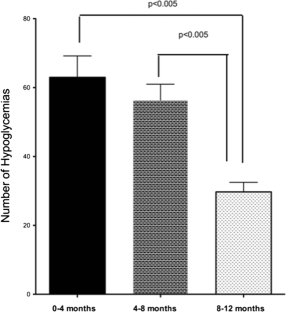 References
1.

Guariguata L, Whiting DR, Hambleton I et al (2014) Global estimates of diabetes prevalence for 2013 and projections for 2035. Diabetes Res Clin Pract 103:137–149

2.

Patterson CC, Dahlquist GG, Gyürüs E, Green A, Soltész G, EURODIAB Study Group (2009) Incidence trends for childhood type 1 diabetes in Europe during 1989-2003 and predicted new cases 2005-20: a multicentre prospective registration study. Lancet 373:2027–2033

3.

Shrivastava SR, Shrivastava PS, Ramasamy J (2013) Role of self-care in management of diabetes mellitus. J Diabetes Metab Disord 12:14

4.

DAFNE Study Group (2002) Training in flexible, intensive insulin management to enable dietary freedom in people with type 1 diabetes: dose adjustment for normal eating (DAFNE) randomized controlled trial. BMJ 325:746–749

5.

Hopkins D, Lawrence I, Mansell P et al (2012) Improved biomedical and psychological outcomes 1 year after structured education in flexible insulin therapy for people with type 1 diabetes: the U.K. DAFNE experience. Diab Care 35:1638–1642

6.

Haas L, Maryniuk M, Beck J et al (2014) Standards revision task force: national standards for diabetes self-management education and support. Diabetes Care 37:S144–S153

7.

Philis-Tsimikas A, Fortmann A, Lleva-Ocana L et al (2011) Peer-led diabetes education programs in high-risk Mexican Americans improve glycemic control compared with standard approaches: a project Dulce promotora randomized trial. Diabetes Care 34:1926–1931

8.

Abolfotouh MA, Kamal MM, El-Bourgy MD, Mohamed SG (2011) Quality of life and glycemic control in adolescents with type 1 diabetes and the impact of an education intervention. Int J Gen Med 4:141–152

9.

Mannucci E, Pala L, Rotella CM (2005) Long-term interactive group education for type 1 diabetic patients. Acta Diabetol 42:1–6

10.

Forlani G, Nuccitelli C, Caselli C et al (2013) A psychological support program for individuals with type 1 diabetes. Acta Diabetol 50:209–216

11.

Verbeek S, Vos RC, Mul D, Houdijk ME (2011) The influence of an educational program on the HbA(1c)-level of adolescents with type 1 diabetes mellitus: a retrospective study. J Pediatr Endocrinol Metab 24:15–19

12.

Sawtell M, Jamieson L, Wiggins M et al (2015) Implementing a structured education program for children with diabetes: lessons learnt from an integrated process evaluation. BMJ Open Diabetes Res Care 3:e000065

13.

Ricci-Cabello I, Ruiz-Pérez I, Nevot-Cordero A et al (2013) Health care interventions to improve the quality of diabetes care in African Americans: a systematic review and meta-analysis. Diabetes Care 36:760–768

14.

Pillay J, Armstrong MJ, Butalia S et al (2015) Behavioral programs for type 1 diabetes mellitus: a systematic review and meta-analysis. Ann Intern Med 63:836–847

15.

Rickheim PL, Weaver TD, Flader JL, Kendall DM (2002) Assessment of group versus individual diabetes education. Diabetes Care 25:269–274

16.

Parchman ML, Pugh JA, Romero RL, Bowers KW (2007) Competing demands or clinical inertia: the case of elevated glycosylated hemoglobin. Ann Fam Med 5:196–201

17.

Teleb M, Popp Switzer M et al (2016) Glycemic control and excess cardiovascular mortality in type 1 diabetes. Curr Cardiol Rep 18:29

18.

Jaiswal M, Fingerlin TE, Urbina EM et al (2013) Impact of glycemic control on heart rate variability in youth with type 1 diabetes: the SEARCH CVD study. Diabetes Technol Ther 15:977–983

19.

Little SA, Leelarathna L, Barendse SM et al (2014) Severe hypoglycaemia in type 1 diabetes mellitus: underlying drivers and potential strategies for successful prevention. Diabetes Metab Res Rev 30:175–190

20.

Awoniyi O, Rehman R, Dagogo-Jack S (2013) Hypoglycemia in patients with type 1 diabetes: epidemiology, pathogenesis, and prevention. Curr Diab Rep 13:669–678

21.

Martyn-Nemeth P, Schwarz Farabi S, Mihailescu D et al (2016) Fear of hypoglycemia in adults with type 1 diabetes: impact of therapeutic advances and strategies for prevention - a review. J Diab Complic 30:167–177

22.

Rodrigues Vilela V, de Castro Ruiz Marques A, Schamber CR, Bazotte RB (2014) Hypoglycemia induced by insulin as a triggering factor of cognitive deficit in diabetic children. Sci World J 61:6534

23.

Hoffman RP (2004) Practical management of type 1 diabetes mellitus in adolescent patients: challenges and goals. Treat Endocrinol 3:27–23

24.

Zachariah S, Sheldon B, Shojaee-Moradie F et al (2011) Insulin detemir reduces weight gain as a result of reduced food intake in patients with type 1 diabetes. Diabetes Care 34:1487–1491

25.

Grey M, Liberti L, Whittemore R (2015) Costs of development and maintenance of an Internet program for teens with type 1 diabetes. Health Technol (Berl) 5:127–133

26.

Whittemore R, Jaser SS, Jeon S et al (2012) An Internet coping skills training program for youth with type 1 diabetes: six-month outcomes. Nurs Res 61:395–404

27.

Herbert LJ, Collier S, Stern A et al (2016) A pilot test of the self-management and research technology project: a text message-based diabetes self-management program for adolescents. J Child Health Care 20:456–464

28.

Årsand E, Muzny M, Bradway M et al (2015) Performance of the first combined smartwatch and smartphone diabetes diary application study. J Diabetes Sci Technol 9:556–563

29.

Yeoh E, Choudhary P, Nwokolo M, Ayis S, Amiel SA (2015) Interventions that restore awareness of hypoglycemia in adults with type 1 diabetes: a systematic review and meta-analysis. Diabetes Care 38:1592–1609

30.

Nebel IT, Klemm T, Fasshauer M et al (2004) Comparative analysis of conventional and an adaptive computer-based hypoglycaemia education programs. Patient Educ Couns 53:315–318

31.

Barnett D. Joslin EP (1998) MD: a centennial portrait. Joslin Diabetes. One Joslin Place, Boston, Massachusetts, USA
Ethics declarations
All procedures performed in studies involving human participants were in accordance with the ethical standards of the institutional and/or national research committee and with the 1964 Declaration of Helsinki and its later amendments or comparable ethical standards. The ethics committee of the AHEPA Hospital approved the study and written informed consent was obtained from all participants.
Conflict of interest
The authors declare that they have no conflict of interest.
About this article
Cite this article
Mouslech, Z., Somali, M., Sarantis, L. et al. Significant effect of group education in patients with diabetes type 1. Hormones 17, 397–403 (2018). https://doi.org/10.1007/s42000-018-0054-0
Received:

Accepted:

Published:

Issue Date:
Keywords
Diabetes education program

Type 1 diabetes

Glycemic control

Hypoglycemia

Weight