Key summary points
AbstractSection
Aim
This study examined the associations of four types of food consumption behaviors (fruits, vegetables, meat, and egg) on sleep-related measurements among Chinese older adults.
AbstractSection
Findings
Fruits, meat, and egg consumption behaviors were positively associated with sleep quality; nevertheless, vegetables consumption was associated only with sufficient sleep duration, but not with sleep quality.
AbstractSection
Message
Older adults should be aware that sleep quality and duration might be related to their dietary habits.
Abstract
Purpose
China has faced rapid growth of its older adult population, shifting dietary landscape, and sleep-related problems. However, knowledge regarding the associations of dietary behavior on sleep-related outcomes with longitudinal data remains limited. This study investigates the relationships of dietary habits with sleep quality and duration.
Methods
Using data from the Chinese Longitudinal Health Longevity Survey (CLHLS), older adults were included in the 9-year span between 2005 and 2014 (age ≥ 60; n = 62,552). Self-reported dietary habits, sleep quality, and sleep duration (hours) were assessed. Four types of dietary behaviors were identified: vegetables, fruits, egg, and meat. Cox proportional hazard models were used to explore the potential association between dietary habits and sleep status. The outcomes were self-reported sleep quality and sufficient sleep duration (7–8 h daily).
Results
In the study sample, the median age was 87 years old, and approximately 57.2% of the study participants were female. More than 60% of the older adult population had good quality sleep, and almost 40% of participants slept 7–8 h a day. In the fully adjusted Cox models, daily fruits, meat, and egg consumption were positively associated with sleep quality (all p < 0.05). Compared with participants who rarely consumed or did not consume vegetables, more frequent consumption was positively associated with sufficient sleep duration (all p < 0.0001) but was not associated with sleep quality.
Conclusion
Older adults should be aware that sleep quality and duration might be related to their dietary habits.
Access options
Buy single article
Instant access to the full article PDF.
US$ 39.95
Tax calculation will be finalised during checkout.
Subscribe to journal
Immediate online access to all issues from 2019. Subscription will auto renew annually.
US$ 79
Tax calculation will be finalised during checkout.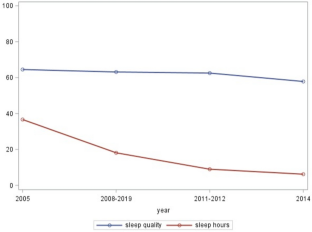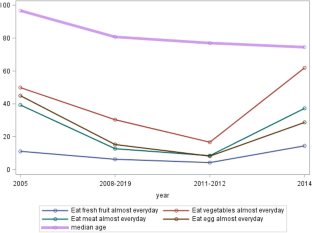 References
1.

Gu L, Rosenberg MW, Zeng J (2017) Changing caregiving relationships for older home-based Chinese people in a transitional stage: Trends, factors and policy implications. Arch Gerontol Geriatr 70:219–229

2.

Banister J, Bloom DE, Rosenberg L (2010) Population aging and economic growth in China. https://core.ac.uk/download/pdf/6518505.pdf. Accessed 27 Feb 2020

3.

Wu F, Guo Y, Kowal P et al (2013) Prevalence of major chronic conditions among older Chinese adults: the Study on Global AGEing and adult health (SAGE) wave 1. PLoS ONE 8(9):e74176

4.

Zhao C, Wong L, Zhu Q et al (2018) Prevalence and correlates of chronic diseases in an elderly population: a community-based survey in Haikou. PLoS ONE 13(6):e0199006

5.

Tang J, Liao Y, Kelly BC et al (2017) Gender and regional differences in sleep quality and insomnia: a general population-based study in Hunan Province of China. Sci Rep 7:43690

6.

Luo J, Zhu G, Zhao Q et al (2013) Prevalence and risk factors of poor sleep quality among Chinese elderly in an urban community: results from the Shanghai aging study. PLoS ONE 8(11):e81261

7.

Haseli-Mashhadi N, Dadd T, Pan A et al (2009) Sleep quality in middle-aged and elderly Chinese: distribution, associated factors and associations with cardio-metabolic risk factors. BMC Public Health 9:130

8.

Lee YH, Chang YC, Chiang T et al (2019) Living arrangements and sleep-related outcomes among older adults in china: a panel analytic approach. Int J Aging Hum Dev 91(2):111–126

9.

Koyanagi A, Garin N, Olaya B et al (2014) Chronic conditions and sleep problems among adults aged 50 years or over in nine countries: a multi-country study. PLoS ONE 9(12):e114742

10.

Gu D, Sautter J, Pipkin R et al (2010) Sociodemographic and health correlates of sleep quality and duration among very old Chinese. Sleep 33(5):601–610

11.

Lee YH, Chang Y-C, Lee Y-T et al (2018) Dietary patterns with fresh fruits and vegetables consumption and quality of sleep among older adults in mainland China. Sleep Biol Rhythms 16(3):293–305

12.

Lee YH, Chang YC, Liu CT et al (2019) Evaluating the associations of consumption of non-red meat protein sources and flavor preferences on sleeping patterns among older adults in China. Sleep Biol Rhythms 17(1):79–92

13.

Lee YH, Chang YC, Shelley M et al (2020) A panel analysis of the Mahjong card game and social activity with sleep-related measurements among Chinese older adults. Sleep Biol Rhythms 18(2):109–119

14.

Masood S, Cappelli C, Li Y et al (2015) Cigarette smoking is associated with unhealthy patterns of food consumption, physical activity, sleep impairment, and alcohol drinking in Chinese male adults. Int J Public Health 60(8):891–899

15.

Zhang B, Zhai FY, Du SF et al (2014) The China Health and Nutrition Survey, 1989–2011. Obes Rev 15(Suppl 1):2–7

16.

Zhai FY, Du SF, Wang ZH et al (2014) Dynamics of the Chinese diet and the role of urbanicity, 1991–2011. Obes Rev 15(Suppl 1):16–26

17.

Sedgwick P (2014) Cross sectional studies: advantages and disadvantages. The BMJ 348:g2276

18.

Kim J (2012) Survival analysis. Pediatr Rev 33(4):172–174

19.

Zeng Y (2012) Towards deeper research and better policy for healthy aging—using the unique data of chinese longitudinal healthy longevity survey. China Econ Rev 5(2–3):131–149

20.

Zeng Y, Feng Q, Hesketh T et al (2017) Survival, disabilities in activities of daily living, and physical and cognitive functioning among the oldest-old in China: a cohort study. Lancet 2017:1619–1629

21.

Hirshkowitz M, Whiton K, Albert SM et al (2015) National Sleep Foundation's sleep time duration recommendations: methodology and results summary. Sleep Health 1(1):40–43

22.

Bin YS (2016) Is sleep quality more important than sleep duration for public health? Sleep 39(9):1629–1630

23.

Hoefelmann LP, Lopes ADS, Silva KSD et al (2012) Lifestyle, self-reported morbidities, and poor sleep quality among Brazilian workers. Sleep Med 13(9):1198–1201

24.

Kruger AK, Reither EN, Peppard PE et al (2014) Do sleep-deprived adolescents make less-healthy food choices? Br J Nutr 111(10):1898–1904

25.

Duke CH, Williamson JA, Snook KR et al (2017) Association between fruit and vegetable consumption and sleep quantity in pregnant women. Matern Child Nutr 21(5):966–973

26.

Lin HH, Tsai PS, Fang SC et al (2011) Effect of kiwifruit consumption on sleep quality in adults with sleep problems. Asia Pac J Clin Nutr 20(2):169–174

27.

Payne ME, Steck SE, George RR et al (2012) Fruit, vegetable, and antioxidant intakes are lower in older adults with depression. J Acad Nutr Diet 112(12):2022–2027

28.

Velioglu YS, Mazza G, Gao L (1998) Antioxidant activity and total phenolics in selected fruits, vegetables, and grain products. J Agric Food Chem 46(10):4113–4117

29.

Li D, Siriamornpun S, Wahlqvist ML et al (2005) Lean meat and heart health. Asia Pac J Clin Nutr 14(2):113–119

30.

Struijk EA, Banegas JR, Rodríguez-Artalejo F et al (2018) Consumption of meat in relation to physical functioning in the Seniors-ENRICA cohort. BMC Med 16(1):50

31.

O'Connor LE, Paddon-Jones D, Wright AJ et al (2018) A Mediterranean-style eating pattern with lean, unprocessed red meat has cardiometabolic benefits for adults who are overweight or obese in a randomized, crossover, controlled feeding trial. Am J Clin Nutr 108(1):33–40

32.

Hu FB, Stampfer MJ, Rimm EB et al (1999) A prospective study of egg consumption and risk of cardiovascular disease in men and women. JAMA 281(15):1387–1394

33.

Shin JY, Xun P, Nakamura Y et al (2013) Egg consumption in relation to risk of cardiovascular disease and diabetes: a systematic review and meta-analysis. Am J Clin Nutr 98(1):146–159
Acknowledgements
Data used for this research were provided by the Chinese Longitudinal Healthy Longevity Survey (CLHLS) managed by the Center for Healthy Aging and Development Studies, Peking University. CLHLS is supported by funds from the U.S. National Institutes on Aging (NIA), the China Natural Science Foundation, the China Social Science Foundation, and the United Nations Population Fund.
Funding
The authors did not receive any funding resources for the research, authorship, and publication of this manuscript.
Ethics declarations
Conflict of interest
The authors do not have conflict of interest.
Ethics of clearance
As this study used the public domain de-identified and secondary CLHLS dataset, it was exempted from Institutional Review Board (IRB) review at the authors' institutions. This present research did not involve any human participants and/or animals.
Informed consent
The CLHLS investigators obtained informed consent from all study participants before they conducted face-to-face interviews for data collection.
Additional information
Publisher's Note
Springer Nature remains neutral with regard to jurisdictional claims in published maps and institutional affiliations.
About this article
Cite this article
Fan, H., Lee, YH., Chang, YC. et al. Associations of dietary habits and sleep in older adults: a 9-year follow-up cohort study. Eur Geriatr Med 12, 123–131 (2021). https://doi.org/10.1007/s41999-020-00377-0
Received:

Accepted:

Published:

Issue Date:
Keywords
Diet

Sleep quality

Sleep hours

Older adult

China