Abstract
Dental fear and anxiety pose a major challenge in rendering dental treatment for children. It becomes difficult to communicate with an anxious or fearful child, which is essential to build trust and rapport with the dentist. Pain threshold is also lowered in a child who is fearful or anxious making it even more difficult for a dentist to deal with the child. Therefore, understanding fear/anxiety, their manifestations and management is the key step in creating an environment of harmony between the child and the dentist. Nitrous oxide, being anxiolytic, is used in dentistry for allaying fear and anxiety, thereby creating a positive feeling, which in turn helps in building a positive dental attitude. Therefore, nitrous oxide is also considered as a behavior guidance technique. Besides reducing fear and anxiety it also has other advantages. In addition, to practice this technique effectively and safely, it is imperative to understand the indications and contraindications of its use.
Access options
Buy single article
Instant access to the full article PDF.
US$ 39.95
Tax calculation will be finalised during checkout.
Subscribe to journal
Immediate online access to all issues from 2019. Subscription will auto renew annually.
US$ 79
Tax calculation will be finalised during checkout.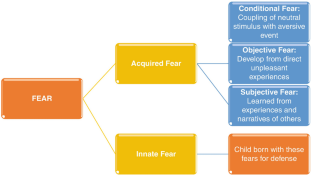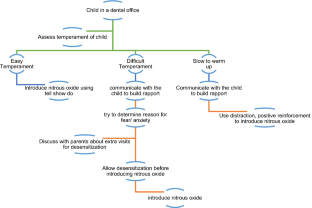 Further reading
1.

Gupta K, Emmanouil D, Sethi A (eds) (2020) Nitrous oxide in pediatric dentistry: a clinical handbook. Rationale for using nitrous oxide in pediatric dentistry. https://doi.org/10.1007/978-3-030-29618-6_1

2.

Maren S, Holmes A (2016) Stress and fear extinction. Neuropsychopharmacology 41(1):58–79

3.

Shim YS, Kim AH, Jeon EY, An SY (2015) Dental fear & anxiety and dental pain in children and adolescents; a systemic review. J Dent Anesth Pain Med 15(2):53–61

4.

Cianetti S, Lombardo G, Lupatelli E, Pagano S, Abraha I, Montedori A et al (2017) Dental fear/anxiety among children and adolescents. A systematic review. Eur J Paediatr Dent 18(2):121–130

5.

Behavior guidance for the pediatric dental patient. Reference Manual V 40: 6 2018–19 American Academy of Pediatric Dentistry. http://www.aapd.org/media/Policies_Guidelines/BP_BehavGuide.pdf. Accessed 8 Feb 2019

6.

Emmanouil D, Kupietzky A (2014) Nitrous oxide/oxygen inhalation sedation in children. Behavior management in dentistry for children. 2nd ed. Philadelphia: W.B. Saunders Co. p. 145–58

7.

Ulrich K (2015) N2O/O2 sedation in pediatric dentistry. Pocket Dent 426

8.

Armfield JM, Heaton LJ (2013) Management of fear and anxiety in the dental clinic: a review. Aust Dent J 58(4):407 (quiz 531)

9.

Tsao JC, Lu Q, Kim SC, Zeltzer LK (2006) Relationships among anxious symptomatology, anxiety sensitivity and laboratory pain responsivity in children. Cogn Behav Ther 35(4):207–215

10.

Loeppky WP, Milnes AR (2007) When is it appropriate to use nitrous oxide and oxygen inhalation for children? J Can Dent Assoc 73(6):495–495a

11.

Hosey MT (2002) Managing anxious children: the use of conscious sedation in paediatric dentistry. Int J Paediatr Dent 12(5):359–372

12.

Wald C (1983) Nitrous oxide—are there any real contraindications? Quintessence Int Dent Dig 14(2):213–218
Additional information
Publisher's Note
Springer Nature remains neutral with regard to jurisdictional claims in published maps and institutional affiliations.
About this article
Cite this article
Gupta, K., Ritwik, P. Rationale and pre-requisites for use of nitrous oxide in pediatric dentistry. Clin Dent Rev 5, 2 (2021). https://doi.org/10.1007/s41894-020-00090-y
Received:

Accepted:

Published:
Keywords
Nitrous oxide

Anxiolysis

Behavior guidance

Dental fear

Dental anxiety

Indications/contraindications of nitrous oxide

Advantages/disadvantages of nitrous oxide

Inhalation sedation