Abstract
Research Question
What was the impact on crime victims' satisfaction and respect for the justice system of diverting from prosecution first or second time offenders to the Birmingham Turning Point Project, and how might police communication have enhanced that impact?
Data
Interviews were conducted with 101 of the 142 crime victims in the sample (completion rate = 71%) drawn in Birmingham, UK, after their prosecution-ready case had entered into a randomized controlled trial comparing a police-led desistance contract with prosecution in court as usual, with all victims in diverted cases told why the diversion decision had been made. Interviews were also completed with 48 victims (out of 70 attempted, completion rate = 69%) whose case had been diverted to the same program at an earlier stage of the experiment when there was no consistent victim communication strategy.
Methods
Responses by interviewed victims were compared by treatment group. An additional comparison was made to responses of victims from cases assigned to Turning Point at the earlier stage of the experiment.
Findings
Forty-five percent more victims in the Turning Point than in the prosecution sample were satisfied (72.5% vs. 50%; d = .52) with the way their case had been handled. Victims whose case had been prosecuted reported experiencing a more negative impact of the case on their respect for the justice system, compared with those whose case had been diverted (d = .58). In the Turning Point sample from the earlier stage without comprehensive victim communication, only 54% of victims were satisfied with the diversion treatment compared with 72.5% of those who had received a consistent explanation of the reasons for assignment to Turning Point.
Conclusions
Victims can be more satisfied with diversion than with court, but communication of the rationale for diversion seems essential.
This is a preview of subscription content, log in to check access.
Access options
Buy single article
Instant access to the full article PDF.
US$ 39.95
Price includes VAT for USA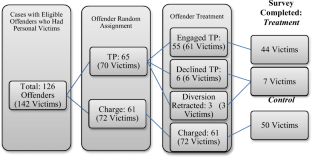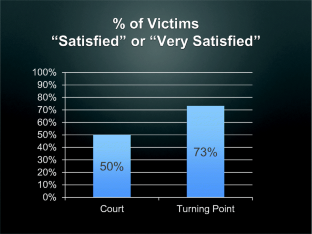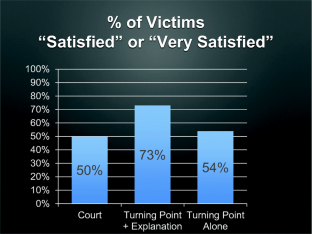 Notes
1.

Neither an exhaustive archive of all policing experiments to date including diversion (Neyroud, 2017), nor studies in systematic reviews of diversion (Petrosino et al. 2010), nor a literature search produced any experimental or rigorous quasi-experimental research on this question (aside from restorative justice studies: Shapland et al. 2011; Strang 2002).

2.

The amount of information about the case and arrested person has also been found in a range of studies to have a powerful effect on the perception of the outcome. For example, people who were randomly assigned to receive a brief newspaper account of an incident were much more likely to find sentencing too lenient than those who received a full summary of the court documents; in the more informed group, the vast majority did not find the sentence too lenient (Doob and Roberts 1984).

3.

I.e., have a case that would normally be prosecuted, that was not eligible for cautions or any other out-of-court option, and in which there was sufficient evidence to charge.

4.

Historic was defined as at least 3 years ago for juveniles or 5 years ago for adults.

5.

Additional criteria included the following: (4) are not being charged with a sexual assault against a minor, a hate crime, domestic violence, or an offense requiring special court orders such as an immigration or driving offense; (5) have a fixed address in the city of Birmingham; (6) are not on court bail for another incident; and (7) are not excluded by police custody sergeants for any discretionary reason. Participants did not have to admit the offense or express remorse to be included.

6.

All procedures performed in these surveys were approved by the University of Maryland's institutional review board for review of human subjects protections, and informed consent was obtained from all individual victims included in the study.

7.

In the case of juvenile victims, informed consent was requested from the parent or guardian and informed assent from the juvenile. Where the parent or guardian declined to allow their child to be interviewed, the researcher asked to interview the parent or guardian instead about their child's experience. In addition, in one case, the victim could not speak English so his wife completed the survey on his behalf. Interviews of secondary victims on behalf of the primary victim took place in eight cases: five cases in the treatment group (secondary victims: three mothers and two fathers) and three cases in the control group (secondary victims: one mother, one father, and one wife). Reasons for not giving permission for their juvenile to participate included the following: the child did not wish to answer, the parent did not want to upset their child by reminding them about the incident, and their child was too busy.

8.

Some victim contact policies were already established in UK policy, including timelines for a required victim update and following a victim contact plan selected by the victim.

9.

While in the USA this is generally a prosecutor's decision, in the UK, police sergeants make the decision to charge, divert into an out-of-court disposal, or drop the case for most summary offenses, i.e., most offenses that would not result in a likely custodial sentence. In the UK, people arrested on low-level crimes with little arrest history are most often handled with a caution or other out-of-court disposal. In a small number of cases where the person was going to receive a postal charge (charged by the police with the crime and required to appear in court, but never physically arrested and brought into custody), investigation sergeants made the eligibility screening decision.

10.

Efforts were made to reduce bias in surveys. For example, any day when survey respondents were attempted, all remaining survey respondents in that sample were attempted to ensure equal chances of response. All surveys were conducted by the same trained person to eliminate inter-surveyor differences. The survey instrument randomly assigned answer orders when possible.

11.

No neutral option was offered to victims to force a positive or negative choice. Research suggests that many victims answer neutrally regarding satisfaction but in follow-up questions answer negatively, possibly due to a desire to appear socially acceptable, or a lack of a clear image or justification for preferred outcomes. This was found in the pilot period for the present study when some victims initially answered neutrally when asked about their satisfaction in semi-structured interviews, but proceeded to voice clear dissatisfaction throughout the interview.

12.

Based on t tests. This variable was added to a sensitivity analysis using logit in the overall models. In addition, dummy variables measuring interactions between demographic characteristics and treatment status on the outcome variables were included in a logit model to see if they impacted the outcome, and none were significant, although this test was low-powered.

13.

There were also no significant differences in treatment as assigned in the full sample of all arrested people, except that victims with cases with arrested people who were white were significantly more likely to have their cases treated as assigned—95% of victims' cases with arrested people who were white were treated as assigned, versus 79% of cases with non-white arrested people (significant at p < .05).

14.

Community orders are any sentence that involves action beyond simply a fine, but does not involve incarceration. These outcomes can vary considerably, including rehabilitative and supervision orders. Notably, a number of victims in the current study reported knowing the person arrested in their case received a community order, but not knowing what that meant or entailed.

15.

This test is experimental with randomization into the treatment and control groups; therefore, theoretically there is no need to include control variables. Randomization should hold all other variables constant, and the groups should be equal. The sample size is relatively small (n = 142) and there was 30% non-response; however, so a logit model was used with a binary satisfaction dependent variable ("satisfied"/"very satisfied" = 1, "dissatisfied"/"very dissatisfied" = 0). Additional possible explanatory variables are included in the model (a dummy variable for whether the offense included a violent offense, as well as the gender, race, and age of both the offenders and victims). In this model, satisfaction remained significant (p = .02) whereas none of the demographic characteristics was significant. In addition, a t test was also run without the eight cases in which a secondary victim (parent or spouse) responded to the survey on behalf of the primary victim, to see if the surrogate respondents impacted the effect found. The model remained significant when these cases were removed (p = .01).

16.

The rate of satisfaction of victims with cases in court in this survey was slightly lower than the overall rates found in other British crime surveys (e.g., in the British Crime Survey 2007–2008, victims reported being 60% satisfied with the criminal justice system; Smith 2010). This may be because the cases in the Turning Point study sample were selected because they were not serious enough to receive a likely custodial sentence, and criminal justice officials may provide less attention to these lower-level cases than to cases they perceive as more severe.

17.

While some cases were dropped because the evidence was not strong enough or the offense was not serious enough to warrant sanction, some were dropped because of failure of police to appear or to present any evidence (which could be due to error or prioritizing other cases, or due to not having the evidence). Some of these may be appropriate for alternative interventions.
References
Alliance for Safety and Justice (ASJ). (2019). Crime survivors speak: the first-ever national survey of victims' views on safety and justice. Retrieved https://allianceforsafetyandjustice.org/wp-content/uploads/2019/04/Crime-Survivors-Speak-Report-1.pdf

Applegate, B. K., Cullen, F. T., Turner, M. G., & Sundt, J. L. (1996). Assessing public support for three-strikes-and-you're-out laws: global versus specific attitudes. Crime & Delinquency, 42(4), 517–534.

Andrews, D. A. and Bonta, J. (2010). The psychology of criminal conduct, 5th edn. New Providence, NJ: 60.

Ariel, B., Sherman, L., & Vila, J. (2012). Random assignment without tears: how to stop worrying and love the Cambridge Randomizer. Journal of Experimental Criminology, 8(2), 193–208.

Bowers, W. J., Vandiver, M., & Dugan, P. H. (1994). New look at public opinion on capital punishment: what citizens and legislators prefer. Am J Crim L, 22, 77.

Campbell, R., Wasco, S. M., Ahrens, C. E., Sefl, T., & Barnes, H. E. (2001). Preventing the "Second rape" rape survivors' experiences with community service providers. Journal of Interpersonal Violence, 16(12), 1239–1259.

Carr, P. J., Napolitano, L., & Keating, J. (2007). We never call the cops and here is why: a qualitative examination of legal cynicism in three Philadelphia neighborhoods. Criminology, 45(2), 445–480.

Conway, M. R., & Lohr, S. L. (1994). A longitudinal analysis of factors associated with reporting violent crimes to the police. Journal of Quantitative Criminology, 10, 23–29.

Cullen, F. T., Fisher, B. S., & Applegate, B. K. (2000). Public opinion about punishment and corrections. Crime and Justice, 27, 1–79.

Doob, A. N., & Roberts, J. V. (1984). Social psychology, social attitudes, and attitudes toward sentencing. Canadian Journal of Behavioural Science/Revue canadienne des sciences du comportement, 16(4), 269.

Erez, E., & Tontodonato, P. (1992). Victim participation in justice and satisfaction with justice. Justice Quarterly, 9(3), 393–427.

Felson, R. B., Messner, S. F., Hoskin, A. W., & Deane, G. (2002). Reasons for reporting and not reporting domestic violence to the police. Criminology, 40(3), 617–648.

Felson, R. B., & Paré, P. (2008). Gender and the victim's experience with the criminal justice system. Social Science Research, 37, 202–219.

Flanagan, T. J. (1996a). Community corrections in the public mind. Federal Probation, 60(3).

Flanagan, T. J. (1996b). Public opinion on crime and justice: history, development and trends. In T. Flanagan & D. R. Longmire (Eds.), Americans view crime and justice: a national public opinion survey (pp. 1–15). Thousand Oaks, CA: Sage.

Franklyn, R. (2012). Satisfaction and willingness to engage with the criminal justice system. Ministry of Justice, Crown Copyright.

Harrell, E. (2011). Workplace Violence, 1993-2009: National Crime Victimization Survey and the Census of Fatal Occupational Injuries. Bureau of Justice Statistics Special Report. NCJ 233231.

Hickman, L. J., & Simpson, S. S. (2003). Fair treatment or preferred outcome? The impact of police behavior on victim reports of domestic violence incidents. Law and Society Review, 37(3), 607–634.

Hough, M., Bradford, B., Jackson, J., & Roberts, J. V. (2013). Attitudes to sentencing and trust in justice: exploring trends from the crime survey for England and Wales. In Ministry of Justice Analytical Series. London, UK: Ministry of Justice ISBN 9781840995923.

Hough, M., & Roberts, J. (1998). Attitudes to crime and punishment: findings from the British Crime Survey. London: HMSO.

Jackson, J., Bradford, B., Hough, M., Myhill, A., Quinton, P., & Tyler, T. R. (2012). Why do people comply with the law? Legitimacy and the influence of legal institutions. British Journal of Criminology, 52(6), 1051–1071.

Jansson, K. (2015). Public confidence in the criminal justice system. London: Ministry of Justice.

Jonathan-Zamir, T., & Weisburd, D. (2009). Does police performance increase in importance for the public during times of security threats, and do evaluations of procedural justice decline in importance? In Findings from a quasi-experimental study of antecedents of police legitimacy in Israel. Jerusalem: Hebrew University.

Kirk, D. S., & Matsuda, M. (2011). Legal cynicism, collective efficacy, and the ecology of arrest. Criminology, 49(2), 443–472.

Langton, L., Berzofsky, M., Krebs, C. P., & Smiley-McDonald, H. (2012). Victimizations not reported to the police, 2006-2010. Washington, DC: US Department of Justice, Office of Justice Programs, Bureau of Justice Statistics.

Laub, J., & Sampson, R. (2003). Shared beginnings, divergent lives: delinquent boys to age 70. Cambridge: Harvard University Press.

Laxminarayan, M., Bosmans, M., Porter, R., and Sosa, L. (2013). Victim satisfaction with criminal justice. Victim and Offenders, International Victimology Institute Tilburg.

Maruna, S., & King, A. (2004). Public opinion and community penalties. In A. Bottoms, S. Rex, & G. Robinson (Eds.), Alternatives to prison: options for an insecure society (pp. 83–112). Abingdon: Routledge.

Mattinson, J., & Mirrlees-Black, C. (2000). Attitudes to crime and criminal justice: findings from the 1998 British Crime Survey. London: Great Britain Home Office Research Development and Statistics Directorate Information and Publications Group.

Maxson, C. L., Hennigan, K., & Sloane, D. C. (2003). Factors that influence public opinion of the police. Washington, DC: US Department of Justice, Office of Justice Programs, National Institute of Justice.

Mazerolle, L., Bennett, S., Davis, J., Sargeant, E., & Manning, M. (2013). Legitimacy in policing: a systematic review. Campbell Systematic Reviews, 2013, 1.

Mears, D. P., Pickett, J. T., & Mancini, C. (2015). Support for balanced juvenile justice: assessing views about youth, rehabilitation, and punishment. Journal of Quantitative Criminology, 31(3), 459–479.

Nagin, D. S. (2013). Deterrence in the twenty-first century. Crime and Justice, 42(1), 199–263.

Nagin, D., Cullen, F., & Jonson, C. (2009). Imprisonment and reoffending. In M. Tonry (Ed.), Crime and justice. Chicago: University of Chicago Press.

Neyroud, P.W. (2017). Learning to field test in policing: using an analysis of completed randomised controlled trials involving the police to develop a grounded theory on the factors contributing to high levels of treatment integrity in police field experiments. PhD Thesis, Institute of Criminology, University of Cambridge.

Orth, U. (2002). Secondary victimization of crime victims by criminal proceedings. Social Justice Research, 15, 4.

Petrosino, A., Turpin-Petrosino, C., & Guckenburg, S. (2010). Formal system processing of juveniles: effects on delinquency. Juvenile and Family Court Journal, 57(2), 1–10.

Pew. (2016). National survey key findings – federal sentencing & prisons. Washington, D.C.: Pew Research Center.

Pew. (2014). Public opinion on juvenile justice in America. Washington, D.C.: Pew Research Center.

Pew. (2012). Public opinion on sentencing and corrections policy in America. Washington, D.C.: Pew Research Center.

Piantadosi, S. (2005). Clinical trials: a methodologic perspective (2nd ed.). Hokoken: John Wiley & Sons, Inc.

Rossetti, P., Cumbo, E., Forbes, A., and Bell, L. (2010). 'Victims' justice? What victims and witnesses really want from sentencing'. London: Victim Support.

Sampson, R. J., & Bartusch, D. J. (1998). Legal cynicism and (subcultural?) tolerance of deviance: The neighborhood context of racial differences. Law and Society Review, 777–804.

Sanders, T., & Roberts, J. (2000). Public attitudes toward conditional sentencing: results of a national survey. Canadian Journal of Behavioural Science, 32(4), 199–207.

Shapland, J., Robinson, G., & Sorsby, A. (2011). Restorative justice in practice: evaluating what works for victims and offenders. New York: Routledge.

Shapland, J., Willmore, J. and Duff, P. (1985). Victims in the criminal justice system. Aldershot: Gower.

Sherman, L. (2011). Al Capone, the sword of Damocles, and the police–corrections budget ratio. Criminology & Public Policy, 10, 195–206.

Sherman, L. W., Gottfredson, D. C., MacKenzie, D. L., Eck, J., Reuter, P., & Bushway, S. (1997). Preventing crime: What works, what doesn't, what's promising: A report to the United States Congress. Washington, DC: National Institute of Justice.

Sherman, L.W., Neyroud, P.W., Slothower, M.P., Hobday, J., Murray, A., Ariel, B., et al. (2020). Diversion versus prosecution of arrestees: The Birmingham (UK) turning point experiment. Cambridge Journal of Evidence-Based Policing. Current issue.

Sherman, L. W., & Neyroud, P. W. (2012). Offender desistance policing and the sword of Damocles. London: Civitas.

Skogan, W. G. (2009). Concern about crime and confidence in the police: reassurance or accountability? Police Quarterly, 12(3), 301–318.

Skogan, W. G. (2006). Asymmetry in the impact of encounters with police. Policing and Society, 16(02), 99–126.

Slothower, M., Sherman, L. W., & Neyroud, P. (2015). Tracking quality of police actions in a victim contact program: a case study of training, tracking, and feedback (TTF) in evidence-based policing. International Criminal Justice Review, 25(1), 98–116.

Smith, D. (2010). Public confidence in the criminal justice system: findings from the British Crime Survey 2002/03 to 2007/08. London: Ministry of Justice.

Smith, D. (2007). Victims of crime want punishment - but not always prison. London: Ministry of Justice.

Strang, H. (2002). Repair or revenge: victims and restorative justice. Clarendon studies in criminology. New York: Oxford University Press.

Sunshine, J., & Tyler, T. R. (2003). The role of procedural justice and legitimacy in shaping public support for policing. Law and Society Review, 37(3), 513–548.

Thielo, A., Cullen, F., Cohen, D., & Chouhy, C. (2016). Rehabilitation in a red state: public support for correctional reform in Texas. Criminology & Public Policy, 15(1), 137–170.

Tyler, T. R. (2004). Enhancing police legitimacy. The Annals of the American Academy of Political and Social Science, 593(1), 84–99.

Tyler, T. R. (1990). Why people obey the law. Princeton: Princeton University Press.

Tyler, T. R., & Fagan, J. (2008). Legitimacy and cooperation: why do people help the police fight crime in their communities. Ohio St J Crim L, 6, 231.

Tyler, T. R., & Huo, Y. J. (2002). Trust in the law: encouraging public cooperation with the police and courts. New York: Russell-Sage.

Tyler, T. R., & Wakslak, C. J. (2004). Profiling and police legitimacy: procedural justice, attributions of motive, and acceptance of police authority. Criminology, 42(2), 253–282.

Ullman, S. E. (2010). Talking about sexual assault: society's response to survivors. Washington, DC: American Psychological Association.

Van Dijk, J, Van Kesteren, J, & Smit, P. (2007). Criminal victimization in international perspective: key findings from the 2004–2005 ICVS and EU ICS. The Hague: Ministry of Justice, WODC.

Victim Support/Make Justice Work (2012). Out in the open: what victims really think about community sentencing. London.

Zawitz, M. W. (1993). Highlights from 20 years of surveying crime victims: the National Crime Victimization Survey, 1973-92 (Vol. 104, No. 6). US Department of Justice, Office of Justice Programs, Bureau of Justice Statistics.
Acknowledgments
The author acknowledges the support of the Monument Trust (UK) in making this study possible, as well as the support of the Department of Criminology & Criminal Justice at the University of Maryland, where special thanks are due to Professors Denise Gottfredson, Laura Dugan, and Lawrence W. Sherman.
Additional information
Publisher's Note
Springer Nature remains neutral with regard to jurisdictional claims in published maps and institutional affiliations.
About this article
Cite this article
Slothower, M.P., Joyce, T. Victims' Satisfaction With Arrestee Diversion from Prosecution to a Police-Led, Out-of-Court Desistance Contract: a Randomized Controlled Trial. Camb J Evid Based Polic 4, 56–76 (2020). https://doi.org/10.1007/s41887-020-00042-3
Keywords
Diversion

Sanctioning

Victim satisfaction

Legitimacy

Court