Abstract
Healthcare in Saudi Arabia incurs huge expenditure to the government as the public hospitals and clinics constitute about 80% of all health infrastructure. This is creating problems in funding a number of specialized healthcare units like those for treating and managing drug addiction. This paper seeks to examine the investment obstacle in drugs addiction treatment in Saudi Arabia. To support and conclude our findings, we have carried out a survey of various government and private hospitals and health centers in Riyadh, the capital of Saudi Arabia. A descriptive approach was applied to analyses the collected data. We found out that the government policy of offering free services in public hospitals, costing a large part of the government budget is responsible for most of the problems to fund specialized health programs like that of drug addicts. We hope our findings in this paper can be used by the public and private health sectors for having a balanced approach to healthcare without draining the public funding.
Access options
Buy single article
Instant access to the full article PDF.
US$ 39.95
Tax calculation will be finalised during checkout.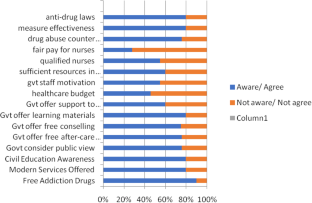 References
1.

Saudi Budget 2017 (2017) Kingdom of Saudi Arabia, Public Statement Copy. http://english.alarabiya.net/en/business/economy/2016/12/22/The-full-details-you-need-to-know-on-Saudi-budget-2017.html. Accessed 1 Jan 2017

2.

American Hospital Association (2017) Fast facts on US hospitals. http://www.aha.org/research/rc/stat-studies/fast-facts.shtml

3.

Boslaugh S (2013) Health care systems around the world: a comparative guide. SAGE Publications Inc, Thousand Oaks

4.

Expenditures and Financing. (n.d.). Healthcare Development Strategies in the Kingdom of Saudi Arabia, 44–60

5.

Henningfield JE (2007) Addiction treatment: science and policy for the twenty-first century. Johns Hopkins University Press, Baltimore

6.

Alomran M (2019) Implementation of strategic management practices in healthcare sector in Saudi Arabia. Int J Bus Adm Stud 5(3):131–144

7.

Mandil A, BinSaeed A, Ahmad S, Yamani M, Turkil N, Al-Enzi M, Abdul-Karim M, Al-Hamad R, Alnowaiser H (2014) Pattern of tobacco consumption and influencing factors among male school children in Riyadh, Saudi Arabia. J Addict Res Ther. https://doi.org/10.4172/2155-6105.1000192

8.

Isralowitz R, Findley PA (2016) Mental health andaddiction care in the middle east. Springer, Cham

9.

Yamin M (2015) Health management in crowded events: Hajj and Kumbh. BIJIT BVICAM's Int J Inf Technol 7(1):791–794

10.

Askari H, Iqbal Z, Mirakhor A (2015) Introduction to Islamic economics: theory and application. Wiley, Hoboken

11.

Osman A, Shawoosh M (2003) Heroin addiction in Saudi Arabia—not merely a behavioural problem. Ann Saudi Med 23(6):419–421

12.

Stevens A (2014). An integrated approach to the treatment of drug dependence drug dependence : the english experience. Textbook of addiction treatment: international perspectives, pp. 1231–1238

13.

Ya A (2016) National drug information center program at Ministry of Health in Saudi Arabia. Adv Pharmacoepidemiol Drug Saf 05(01):1–7

14.

Rasmussen S (2000) Addiction treatment: theory and practice. Sage Publications, Thousand Oaks

15.

Soyer R, In Schumann S (2015) Treatment versuspunishment for drug addiction: Lessons from Austria, Poland, and Spain. In: Eason G, Noble B, Sneddon IN (eds) On certain integrals of Lipschitz-Hankel type involving products of Bessel functions. Philosophical Transactions of the Royal Society A, vol. A247, pp. 529-551, April 1955. (references)
About this article
Cite this article
Alodhailah, N.A. Investment obstacles in drug addiction treatment in Saudi Arabia. Int. j. inf. tecnol. 12, 1017–1023 (2020). https://doi.org/10.1007/s41870-020-00428-6
Received:

Accepted:

Published:

Issue Date:
Keywords
Healthcare

Public

Obstacles

Drugs

Addiction

Treatment

Private

Budget

Kingdom of Saudi Arabia