Abstract
This work concerns the rainy season delay in Western of Africa toward Dakar area in the country of Senegal. Since 2006, continuous dry air intrusions from Western Sahara have been recorded in the lower layers at the beginning of the monsoon season from Western Sahara. This dust by indirect effect tends to inhibit convective systems. Here, we present one among several cases where convection was inhibited by dry air intrusions near the coastlines in 2012 between 23 and 24 July in Dakar, Senegal. Meanwhile, Tambacounda (East of Senegal) recorded 75 mm of rainfall, unlike Dakar where there has been only traces of rain. For these days, the convective activity monitoring is carried from ORL data and METEOSAT images. The in situ data, such as radiosondes and lidar pictures, clearly show that the dry air is located in the low layers between 200 and 400 m. The AERONET data confirm that this dry layer is composed of dust with 2.2 microns of size. HYPLIT-4 back-trajectory model and NCAR/NCEP reanalysis indicate that the dry air in Dakar area is from Western Sahara (Morocco). They also show subsiding movements, accompanied by a strong North wind and a weak Easterly wind during these 2 days in Dakar. The results of this study clearly show that the dry air tends to slow down the Eastern movements of waves and inhibit some convective cells like those of July 23–24.
Access options
Buy single article
Instant access to the full article PDF.
US$ 39.95
Tax calculation will be finalised during checkout.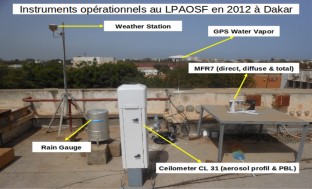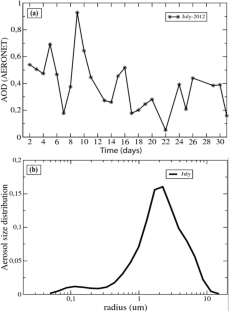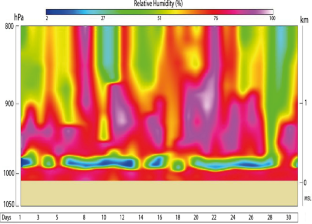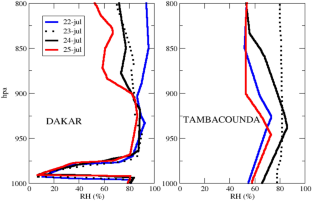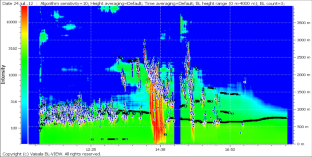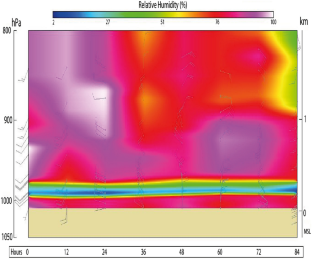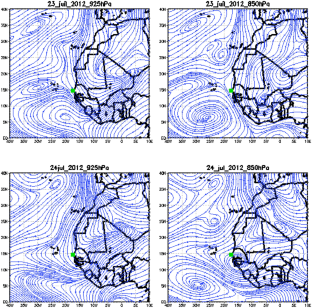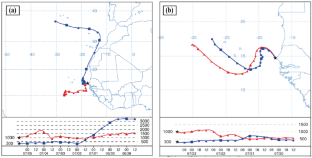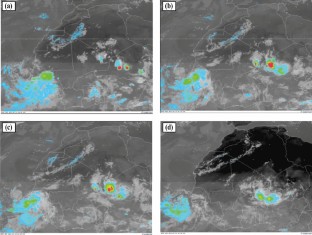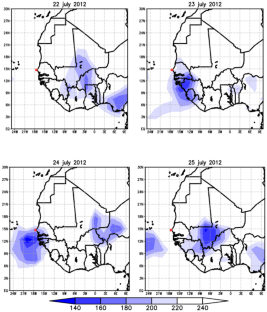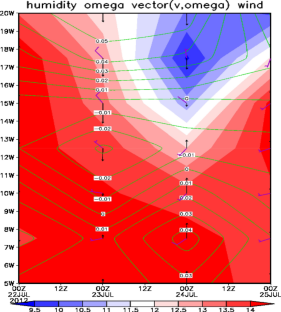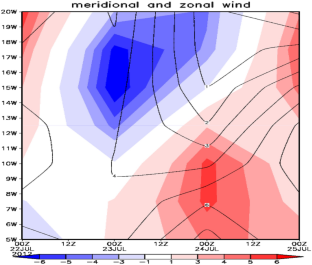 References
Ackerman AS, Kirkpatrick MP, Stevens DE, Toown OB (2004) The impact of humidity above stratiform clouds on indirect aerosol climate forcing. Nature 432:1014–1017

Albrecht BA (1989) Aerosols, cloud microphysics, and fractional cloudiness. Science 245:1227–1230

Andreae MO (1991) Biomass burning: its history, use, and distribution and its impact on environmental quality and global climate. In: Levine JS (ed) Global biomass burning Atmospheric, climatic, and biospheric implications. MIT Press, Cambridge, pp 3–21

Brown RG, Zhang C (1997) Variability of midtropospheric moisture and its effect on cloud-top height distribution during TOGA COARE. J Atmos Sci 54:2760–2774

Carlson T, Prospero J (1972) The large scale movements of saharan air outbreaks over the northern equatorial atlantic. J Appl Meteorol 11:283–297

Charlson RJ, Schwartz SE, Hales JM, Cess RD, Coakley JA, Hansen JE, Hofmann DJ (1992) Climate forcing by anthropogenic aerosols. Science 255:423–430

Chiapello I, Bergametti G, Gomes L, Chatenet B, Dulac F, Pimenta J, Santos Suares E (1995) An additional low layer transport of Sahelian and Saharan dust over the North-Eastern Tropical Atlantic. Geophys Res Lett 22:3191–3194

Draxler RR (1996) Trajectory optimization for ballon flight planning. Weather Forecasting 11:111–114

Draxler RR, Hess GD (1998) An overview of the HYSPLIT-4 modelling system for trajectories, dispersion and deposition. Aust Meteor Mag 47:295–308

Emeis S, Harris M, Banta RM (2007) Boundary layer anemometry by optical remote sensing for wind energy applications. Meteorol Z 16:337–347

Fiolleau T, Tomasini M, Roca R, Lafore J-P, Laurent H, Lebel T, Piriou C,Ramage K (2009) Climatology of mesoscale convective systems from satellite. AMMAEU report, D.2.1.C.g. http://www.amma-eu.org/

Holben B, Eck T, Sluster I, Tanre D, Buis J, Setzer A, Vermote E, Reagan J, Kaufman Y, Nakajima T, Lavenu F, Jankoviak I, Smirmov Z (1998) Aeronet-a federated instrument network and data archive for aerosol characterisation. Rem Sen Environ 66:1–16

IPCC (2001) Intergovermental Panel of Climate Change. Climate Change 2001. The Scientific Basis

Johnson RH, Ciesielski PE, Cotturone JA (2001) Multiscale variability of the atmospheric mixed layer over the western Pacific warm pool. J Atmos Sci 58:2729–2750

Kalnay E, Kanamitsu M, Kistler R, Collins W, Deaven D, Gandin L, Joseph D (1996) The NCEP/NCAR 40-year reanalysis project. Bull Am Meteor Soc 77(3):437–471

Karyampudi VM, Palm SP, Reagen JA, Fang H, Grant WB, Hoff RM, Moulin C, Pierce HF, Torres O, Browell EV, Melfi SH (1999) Validation of the saharan dust plume conceptual model using lidar, meteosat, and ecmwf data. Bull Am Meteorol Soc 80:1045–1075

Lafore J-P, Moncrieff MW (1989) A numerical investigation of the organization and interaction of the convective and stratiform regions of tropical squall lines. J Atmos Sci 46:521–544

Lafore JP, Asencio N, Bouniol D, Couvreux F, Flamant C, Guichard F, Hall N, Janicot S, Kocha C, Lavaysse C, Leroux S, Poan E, Peyrillé P, Roca R, Roehrig R, Roux F, Saïd F (2012) Le Système de Mousson Ouest-Africain. La Météorologie, N° Special AMMA. 11–16. https://doi.org/10.4267/2042/48127

Lebel T, Parker DJ, Flamant C, Bourlès B, Marticorena B, Mougin E, Peugeot C, Diedhiou A, Haywood J, Ngamini JB, Polcher J, Redelsperger J-L, Thorncroft CD (2010) The AMMA field campaigns: multiscale and multidisciplinary observations in the West African region. Quart J Roy Meteorol Soc 136:8–33. https://doi.org/10.1002/qj.486

Liebmann B, Smith CA (1996) Description of a complete( interpolated) Outgoing Longwave Radiation dataset. Bull Amer Meteor Soc 77:1275–1277

Mapes BE, Zuidema P (1996) Radiative-dynamical consequences of dry tongues in the tropical troposphere. J Atmos Sci 53:620–638

Marticorena B, Haywood J, Coe H, Formenti P, Liousse C, Mallet M, Pelon J (2011) Tropospheric aerosols over West Africa: highlights from the Amma international program. Atmos Sci Lett 12:19–23

Parsons DB, Yoneyama K, Redelsperger JL (2000) The evolution of the tropical western Pacific atmosphere–ocean system following the arrival of a dry intrusion. Quart J Roy Meteor Soc 126:517–548

Prospero JM, Glaccum RA, Nees RT (1981) Atmospheric transport of soil dust from Africa to South America. Nature 289:570–572

Redelsperger JL, Lafore JP (1988) A three-dimensional simulation of a tropical squall line: convective organization and thermodynamic vertical transport. J Atmos Sci 45:1334–1356

Redelsperger JL, Parsons DB, Guichard F (2002) Recovery processes and factors limiting cloud-top height following the arrival of a dry intrusion observed during TOGA COARE. J Atmos Sci 59:2438–2457

Roca R, Lafore J-P, Piriou C, Redelsperger J-L (2005) Extratropical dry-air intrusions into the West African monsoon midtroposphere: an important factor for the convective activity over the sahel. J Atmos Sci 62:390–407

Roca R, Deme A, Ly M, Hourdin F (2012) Extra-tropical dry air intrusions in the West African monsoon mid-troposphere. WMO, Forecasters' Handbook for West Africa, Editor: D. Parker. En révision

Rotunno R, Klemp JB, Weisman ML (1988) A theory for strong, long-lived squall lines. J Atmos Sci 45:463–485

Sherwood SC (1999) Convective precursors and predictability in the tropical western Pacific. Mon Wea Rev 127:2977–2991

Sommeria G, Testud J (1984) COPT-81—a field experiment designed for the study of dynamics and electrical-activity of deep convection in continental tropical regions. Bull Amer Meteor Soc 65:4–10

Twomey S (1977) The influence of pollution on the shortwave albedo of clouds. J Atmos Sci 34(7):1149–1154. https://doi.org/10.1175/1520-0469(1977)034%3c1149:TIOPOT%3e2.0.CO;2
About this article
Cite this article
Ndao, S., Badiane, D., Drame, M.S. et al. Impact of Dry Air Intrusion During the Monsoon West Africa: The Case Study of 23–24 July 2012 in Dakar, Senegal. Aerosol Sci Eng (2021). https://doi.org/10.1007/s41810-021-00092-8
Received:

Revised:

Accepted:

Published:
Keywords
West Africa Monsoon

Dry air intrusion

Convection