Abstract
In this study, sodium caseinate (6–8%), pectin (0–2%), Zedo gum (0–2%), and Poulk extract (5–25%) were used to produce an optimal bioactive edible film. According to the results, changing the amounts of sodium caseinate, pectin, and Zedo gum affected the physicochemical properties of the films significantly. Developed bioactive films were more effective on Gram-positive bacteria (Staphylococcus aureus PTCC 1431) than Gram-negative bacteria (Escherichia coli PTCC 1763). Poulk extract concentration had a significant effect on the antioxidant activity of developed films (p < 0.05). Furthermore, the interactions between the variables had significantly affected the moisture content (MC), solubility, and water vapor permeability (WVP) of the films. Numerical optimization based on the maximum antimicrobial activity, antioxidant activity, and lightness, as well as the minimum MC, WVP, and solubility, were selected the optimum formulation. Based on these results, the optimal formulation was obtained when sodium caseinate, pectin, Zedo gum, and Poulk extract were 6.74%, 0.89%, 0.37%, and 5.85%, respectively. The morphological characterization of the optimal film by FE-SEM analysis showed typical properties of sodium caseinate films. FTIR analysis used to investigate the interactions of components and functional groups of the optimal formulation. The tensile test of the optimally developed film indicated resistance up to 0.4 MPa stress. Thermal properties of the optimal film investigated by DSC analysis, which indicated temperature resistance of developed bio-composite.
We're sorry, something doesn't seem to be working properly.
Please try refreshing the page. If that doesn't work, please contact support so we can address the problem.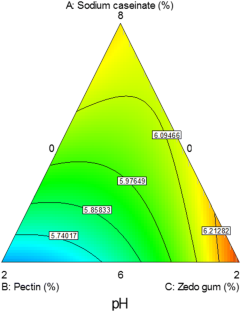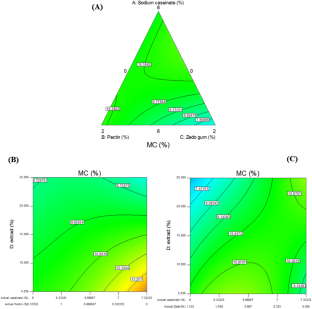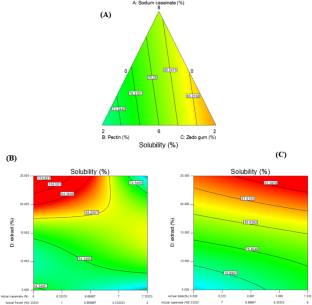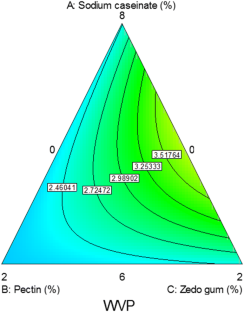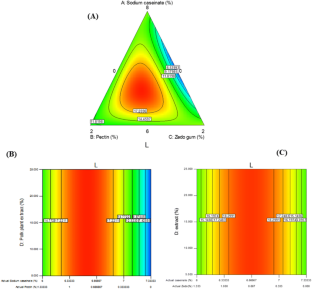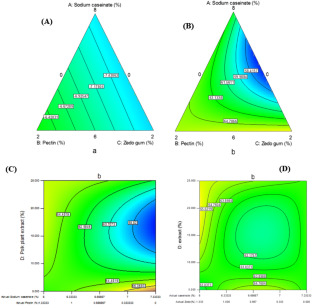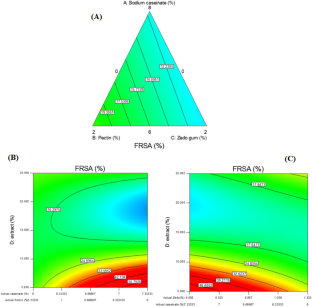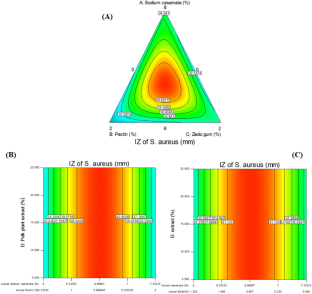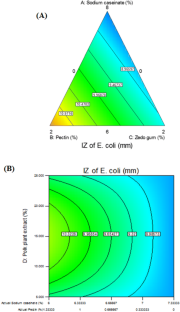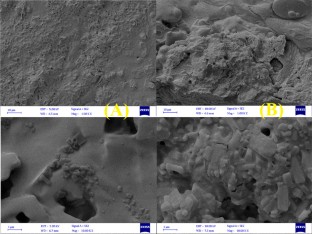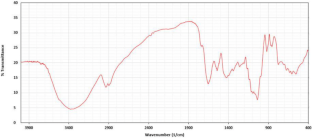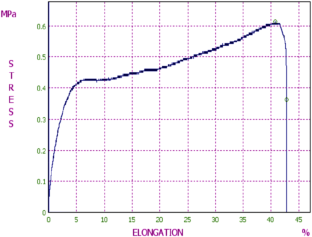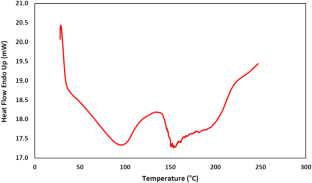 References
1.

Othman SH, Edwal SAM, Risyon NP, Basha RK, Talib RA (2017) Water sorption and water permeability properties of edible film made from potato peel waste. Food Sci Technol (Campinas) 37:63–70

2.

Khwaldia K, Perez C, Banon S, Desobry S, Hardy J (2004) Milk proteins for edible films and coatings. Crit Rev Food Sci Nutr 44:239–251

3.

Gennadios A (2002) Formation and properties of casein films and coatings. Protein-based films and coatings. CRC Press, Boca Raton

4.

Silva MAD, Bierhalz ACK, Kieckbusch TG (2009) Alginate and pectin composite films crosslinked with Ca2+ ions: effect of the plasticizer concentration. Carbohydr Polym 77:736–742

5.

Espitia PJP, Du W-X, de Jesús Avena-Bustillos R, Soares NDFF, McHugh TH (2014) Edible films from pectin: physical–mechanical and antimicrobial properties—a review. Food Hydrocolloids 35:287–296

6.

Fadavi G, Ghiasi M, Zargarran A, Mohammadifar MA (2017) Some physicochemical and rheological properties of Zedo (Farsi) gum exudates from Amygdalus scoparia. Nutr Food Sci Res 4:33–40

7.

Abichandani M, Nahar L, Singh P, Chitnis R, Nazemiyeh H, Delazar A, Sarker S (2010) Antibacterial and free-radical-scavenging properties of Stachys schtschegleevii (Lamiaceae). Arch Biol Sci 62:941–945

8.

Chitsaz M, Mohamadi H, Naseri M, Kamalinejad M (2006) Study the anti-bacterial of Stachys schtschegleevii in in-vitro condition. Shahed University, Tehran

9.

Schou M, Longares A, Montesinos-Herrero C, Monahan F, O'Riordan D, O'sullivan M (2005) Properties of edible sodium caseinate films and their application as food wrapping. LWT Food Sci Technol 38:605–610

10.

Jouki M, Mortazavi SA, Yazdi FT, Koocheki A (2014) Characterization of antioxidant–antibacterial quince seed mucilage films containing thyme essential oil. Carbohyd Polym 99:537–546

11.

Peng Y, Wu Y, Li Y (2013) Development of tea extracts and chitosan composite films for active packaging materials. Int J Biol Macromol 59:282–289

12.

Rhim JW, Hong SI, Park HM, Ng PK (2006) Preparation and characterization of chitosan-based nanocomposite films with antimicrobial activity. J Agric Food Chem 54:5814–5822

13.

Astm E (1992) Standard test methods for water vapour transmission of material. American Society for Testing and Materials, Philadelphia

14.

Li JH, Miao J, Wu JL, Chen SF, Zhang QQ (2014) Preparation and characterization of active gelatin-based films incorporated with natural antioxidants. Food Hydrocolloids 37:166–173

15.

Emam-Djomeh Z, Moghaddam A, Yasini Ardakani SA (2015) Antimicrobial activity of pomegranate (Punica granatum L.) peel extract, physical, mechanical, barrier and antimicrobial properties of pomegranate peel extract-incorporated sodium caseinate film and application in packaging for ground beef. Packag Technol Sci 28:869–881

16.

Golkar A, Taghavi SM, Aghili Dehnavi F (2018) The emulsifying properties of Persian gum (Amygdalus scoparia Spach) as compared with gum Arabic. Int J Food Prop 21:416–436

17.

Ghasempour Z, Alizadeh M, Bari MR (2012) Optimisation of probiotic yoghurt production containing Zedo gum. Int J Dairy Technol 65:118–125

18.

Salaün F, Mietton B, Gaucheron F (2005) Buffering capacity of dairy products. Int Dairy J 15:95–109

19.

Bourtoom T, Chinnan MS (2008) Preparation and properties of rice starch–chitosan blend biodegradable film. LWT Food Sci Technol 41:1633–1641

20.

Pirouzifard M, Yorghanlu RA, Pirsa S (2019) Production of active film based on potato starch containing Zedo gum and essential oil of Salvia officinalis and study of physical, mechanical, and antioxidant properties. J Thermoplast Compos Mater. https://doi.org/10.1177/0892705718815541

21.

Higuchi T, Aguiar A (1959) A study of permeability to water vapor of fats, waxes, and other enteric coating materials. J Pharm Sci 48:574–583

22.

Chick J, Hernandez R (2002) Physical, thermal, and barrier characterization of casein-wax-based edible films. J Food Sci 67:1073–1079

23.

Emam-Djomeh Z, Moghaddam A, Yasini Ardakani SA (2015) Antimicrobial activity of pomegranate (Punica granatum L.) peel extract, physical, mechanical, barrier and antimicrobial properties of pomegranate peel extract-incorporated sodium caseinate film and application in packaging for ground beef. Packag Technol Sci 28:869–881

24.

Parris N, Coffin DR (1997) Composition factors affecting the water vapor permeability and tensile properties of hydrophilic zein films. J Agric Food Chem 45:1596–1599

25.

Taqi A, Mutihac L, Stamatin I (2014) Physical and barrier properties of apple pectin/cassava starch composite films incorporating Laurus nobilis L. oil and oleic acid. J Food Process Preserv 38:1982–1993

26.

Mehdizadeh T, Tajik H, Mehdi S (2012) Antibacterial antioxidant and optical properties of edible starch–chitosan composite film containing pomegranate peel extract. Rassoul Oromiehie 23:315–323

27.

Moradi M, Tajik H, Rohani SMR, Oromiehie AR, Malekinejad H, Aliakbarlu J, Hadian M (2012) Characterization of antioxidant chitosan film incorporated with Zataria multiflora Boiss essential oil and grape seed extract. LWT Food Sci Technol 46:477–484

28.

Abdollahi M, Rezaei M, Farzi G (2012) A novel active bionanocomposite film incorporating rosemary essential oil and nanoclay into chitosan. J Food Eng 111:343–350

29.

Ebrahimabadi AH, Ebrahimabadi EH, Djafari-Bidgoli Z, Kashi FJ, Mazoochi A, Batooli H (2010) Composition and antioxidant and antimicrobial activity of the essential oil and extracts of Stachys inflata Benth from Iran. Food Chem 119:452–458

30.

Trejo-González L, Rodríguez-Hernández A-I, del Rocío López-Cuellar M, Martínez-Juárez V-M, Chavarría-Hernández N (2018) Antimicrobial pectin-gellan films: effects on three foodborne pathogens in a meat medium, and selected physical-mechanical properties. CyTA J Food 16:469–476

31.

Joukar F, Hosseini SMH, Moosavi-Nasab M, Mesbahi GR, Behzadnia A (2017) Effect of Farsi gum-based antimicrobial adhesive coatings on the refrigeration shelf life of rainbow trout fillets. LWT 80:1–9

32.

Shan B, Cai YZ, Brooks JD, Corke H (2007) Antibacterial properties and major bioactive components of cinnamon stick (Cinnamomum burmannii): activity against foodborne pathogenic bacteria. J Agric Food Chem 55:5484–5490

33.

Pranoto Y, Salokhe VM, Rakshit SK (2005) Physical and antibacte rial properties of alginate-based edible film incorporated with garlic oil. Food Res Int 38:267–272

34.

Black JG (1996) Microbiology: principles and applications. Prentice Hall, Upper Saddle River

35.

Sonboli A, Salehi P, Ebrahimi SN (2005) Essential oil composition and antibacterial activity of the leaves of Stachys schtschegleevii from Iran. Chem Nat Compd 41:171–174

36.

Mariotti J, Costa J, Bianchini A, Bernardini A, Casanova J (1997) Composition and variability of the essential oil of Stachys glutinosa L. from Corsica (France). Flavour Fragr J 12:205–209

37.

Pereda M, Ponce A, Marcovich N, Ruseckaite R, Martucci J (2011) Chitosan–gelatin composites and bi-layer films with potential antimicrobial activity. Food Hydrocolloids 25:1372–1381

38.

Siripatrawan U, Harte BR (2010) Physical properties and antioxidant activity of an active film from chitosan incorporated with green tea extract. Food Hydrocolloids 24:770–775

39.

Paluszkiewicz C, Stodolak E, Hasik M, Blazewicz M (2011) FT-IR study of montmorillonite–chitosan nanocomposite materials. Spectrochim Acta Part A Mol Biomol Spectrosc 79:784–788

40.

Amiri S, Mokarram RR, Khiabani MS, Bari MR, Khaledabad MA (2019) Exopolysaccharides production by Lactobacillus acidophilus LA5 and Bifidobacterium animalis subsp. lactis BB12: optimization of fermentation variables and characterization of structure and bioactivities. Int J Biol Macromol 123:752–765
Additional information
Publisher's Note
Springer Nature remains neutral with regard to jurisdictional claims in published maps and institutional affiliations.
About this article
Cite this article
Sadeghnezhad, Z., Amiri, S., Rezazadeh-Bari, M. et al. Physical and Morphological Characteristics of Edible Composite Film of Sodium Caseinate/Pectin/Zedo Gum Containing Poulk (Stachys schtschegleevii) Extract: Optimizing Bioactivity and Physicochemical Properties. J Package Technol Res 4, 187–203 (2020). https://doi.org/10.1007/s41783-020-00094-w
Received:

Accepted:

Published:

Issue Date:
Keywords
Edible film

Bio-composite

Bioactive

Morphology

Structure