Abstract
Recently, many trials to perform new films are used as food packaging to better quality and/or higher safety products. Zeolite-X [Faujasite-NaX (ZX)] and ZX modified by ionic exchange with silver nanoparticles (ZX-AgNPs) were characterized by Fourier transform infrared (FTIR) spectroscopy and transmission electron microscopy (TEM), and were then employed in the starch composite films at 0, 0.5, and 1% concentrations. The prepared films were investigated for its effect on the shelf life of laboratory pasteurized milk by detection of pH and using clot on boiling test, the antimicrobial activity, and the migration of silver to milk during refrigeration storage detected using Inductively Coupled Emission Spectrometer (ICAP). Then, we explored the impact of experimental feeding of packaged milk to laboratory rats on the hematological, biochemical parameters, and pathological effects. The results revealed that the ZX-AgNPs films showed significant reduction in the count of aerobic bacteria, psychrotrophes, coliforms, yeast, and mold, and nearly complete inhibition to Staphylococcal count at 5th day at 4 °C of storage period (2 weeks). The highest migration amount of silver recorded at 15th day was 0.497 ± 0.005 mg/l for 1% ZX-AgNPs films. Also, there are non-significant pathological lesions in the liver and kidney or clinicopathological changes of their functions as well as total protein, albumen, globulin, and blood picture at this migration amount. Therefore, the study was recommended to use ZX-AgNPs films at 0.5% as food packaging due to the existence of AgNPs which reinforcement for ZX also, nearly no silver migration occurred and by extension no hazards plus its antimicrobial characteristics which mainly ameliorate the food safety and the expiry duration of food products.
Access options
Buy single article
Instant access to the full article PDF.
US$ 39.95
Tax calculation will be finalised during checkout.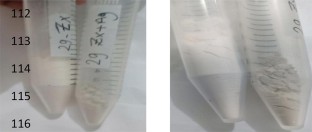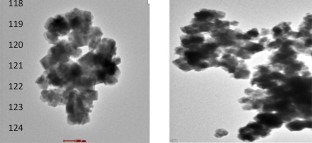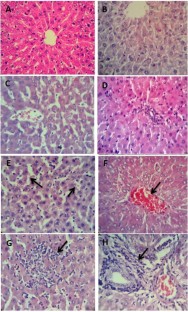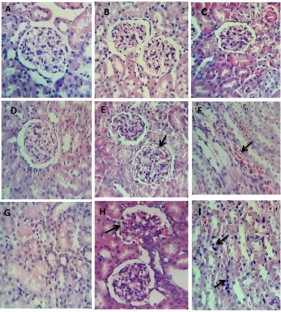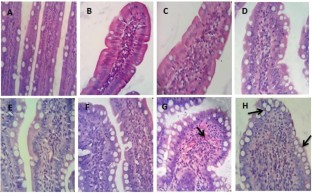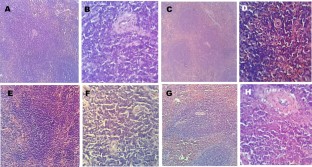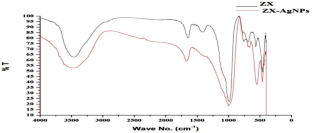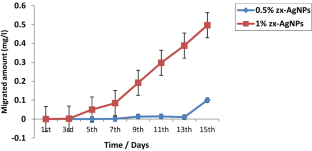 References
1.

Abd-Elsatar AG, Farag MM, Youssef HF, Salih SA, Mounier MM, El-Meliegy E (2019) Different zeolite systems for colon cancer therapy: monitoring of ion release, cytotoxicity and drug release behavior. Progress Biomater. https://doi.org/10.1007/s40204-019-0115-8

2.

Antic A (1999) Does Tribomechanically activated zeolite (TMAZ) enter into circulation from the gut and its effect in mice with transplanted tumor. Bsc Thesis, faculty of pharmacy and biochemistry. University of Zagrab Croatia, pp 7–33

3.

AOAC "Association of Official Analytical Chemists" (2001) International official methods of analysis method 2001.05. S. aureus count plate method for rapid detection of Staph. aureus in selected foods. J AOAC Int 84:1431

4.

APHA "American Public Health Association" (1998) Standard methods for examination of dairy products, 20th edn. APHA, Washington DC, pp 144, 147–144148

5.

Bancroft JD, Gamble M (2008) Theory and practice of histological techniques, 6th edn. Elsevier Health Science, Churchill

6.

Belibi PC, Daou TJ, Ndjaka JMB, Michelin L, Brendlé J, Nsomd B, Durand B (2013) Tensile and water barrier properties of cassava starch composite films reinforced by synthetic zeolite and beidellite. J Food Eng 115(3):339–346

7.

Belli B (2012) Eating nano: processed foods and food packaging already contain nanoparticles-some of wich could be harmful to our health. Environ Mag Website. https://doi.org/10.1111/j.175-3841.2008.00933.x

8.

Blanco J, Tomás-Hernández S, García T, Mulero M, Gómez M, Domingo JL et al (2018) Oral exposure to silver nanoparticles increases oxidative stress markers in the liver of male rats and deregulates the insulin signalling pathway and p53 and cleaved caspase 3 protein expression. Food Chem Toxicol 115:398–404

9.

Bitencourt CM, Fávaro-Trindade CS, Sobral PJA, Carvalho RA (2014) Gelatin-based films additivated with curcuma ethanol extract: antioxidant activity and physical properties of films. Food Hydrocolloids 40:145–152

10.

CDC (Centers for Disease Control and Prevention) (2008) Outbreak of Listeria monocytogenes infections associated with pasteurized milk from a local dairy—Massachusetts, 2007. MMWR Morb Mortal Wkly Rep 57:1097–1100

11.

Choi O, Deng KK, KimJrRossSurampalliHu NJLLRYZ (2008) The inhibitory effect of silver nanoparticles, silver ions, and silver chloride colloids on microbial growth. Water Res 42(12):3066–3074

12.

CNBC (2014) Global nano-enabled packaging market for food and beverages industry will reach $15. 0 Billion in 2020: PersistenceMarket Research. CNBC Springer, Cham

13.

Cushen M, Kerry J, Morris M, Cruz-Romero M, Cummins E (2013) Migration and exposure assessment of silver from a PVC nanocomposite. Food Chem 1–4:389–397

14.

Demirci S, Ustaoğlu Z, Yılmazer GA, Sahin F, Baç N (2014) Antimicrobial properties of Zeolite-X and Zeolite-A ion-exchanged with silver, copper, and zinc against a broad range of microorganisms. Appl Biochem Biotechnol 172:1652–1662

15.

Dogan H, Koral M, Inan TY (2009) Ag/Zn zeolite containing antibacterial coating for food-packaging substrates. J Plastic Film Sheet 25:207–220. https://doi.org/10.1177/8756087909354479

16.

Doumas BT, Watson WA, Biggs HG (1971) Albumin standards and the measurement of serum albumin with bromcresol green. Clin Chim Acta 31:87–96

17.

EL Mahdy MM, Salah ELdin TA, Aly HS, Mohammed FF, Shaalan MI (2014) Evaluation of hepatic and genotoxic potential of silver nanoparticles in albino rats. Exp Toxicol Pathol 67:21–29

18.

Emamifar A (2011) Applications of antimicrobial polymer nanocomposites in food packaging. In: Hashim A (ed) Advances in nanocomposite technology. IntechOpen, Iran. https://doi.org/10.5772/18343

19.

Fasken JE, McClure AD (1940) The phosphatase test in pasteurization of milk. Can J Comp Med Vet Sci 4(5):128–133, 136–137

20.

Fortunati E, Verma D, Luzi F, Mazzaglia A, Torre L, Balestra GM (2017) Novel nanoscaledmaterials from lignocellulosic sources: potentialapplications in the agricultural sector, in handbook of ecomaterials. Springer, Cham

21.

Fortunati E, Mazzaglia A, Balestra GM (2018) Sustainable control strategies for plant protection and food packaging sectors by natural substances and novel nanotechnological approaches. J Sci Food Agric 99:986–1000

22.

Gadhave RV, Das A, Mahanwar PA, Gadekar PT (2018) Starch based bio-plastics: the future of sustainable packaging. Open J Polym Chem 8:21–33

23.

Garey HE, Reed AM, Advansource Biomaterials Corporation (2010) Excellent mechanical and biocompatibility properties; medical devices; silver incorporated during polymerization; glass powder; polycarabonateurethane. United States patent US 7,772,296

24.

Gherkhbolagh MH, Alizadeh Z, Asari MJ, Sohrabi M (2018) In vivo induced nephrotoxicity of silver nanoparticles in rat after oral administration. J Res Med Dent Sci 6(1):43–51

25.

Guo LY, Yuan WY, Lu ZS, Li CM (2013) Polymer/nanosilver composite coatings forantibacterial applications. Colloids Surf A Physicochem Eng Aspects 439:69–83

26.

Harrigan WF, MeCance ME (1976) Laboratory methods in food: dairy microbiology. Academic Press, New York

27.

Hopra I (2007) The increasing use of silver-based products as antimicrobial agents: a useful development or a cause for concern? J Antimicrob Chemother 59:587–590

28.

ISO/CD (1997) Milk and milk products: enumeration of coliforms. Part2—MPN technique. Int Org Standardiz 20:5541–5542

29.

Ivkovic S, Deutsch U, Silberbach A, Walraph E, Mannel M (2004) Dietary supplementation with an activated zeolite clinoptilolite inimmunodeficiency: effects on the immune system. Adv Ther 21:135–147. https://doi.org/10.1007/BF02850340

30.

Jackson KA, Biggerstaff M, Tobin-D'Angelo M, Sweat D, Klos R, Nosari J, Garrison O, Boothe E, Saathoff-Huber L, Hainstock L, Fagan RP (2011) Multistate outbreak of Listeria monocytogenesassociated with Mexican-style cheese made from pasteurized milk among pregnant. Hispanic women J Food Prot 74:949–953

31.

Javanmardi S, Divband B (2017) Beneficial effects of Ag-exchanged zeolite nanocomposite on excisional wound in rats. Iran J Vet Surg 12(26):1–73

32.

Jia J, Li F, Zhou H, Bai Y, Liu S, Jiang Y et al (2017) Oral exposure to silver nanoparticles or silver ions may aggravate fatty liver disease in overweight mice. Environ Sci Technol 51(16):9334–9343

33.

Jung WK, Koo HC, Kim SH, Kim KW, Shin S, Park YH (2008) Antibacterial activity and mechanism of action of the silver ion in Staphylococcus aureus and Escherichia coli. Appl Environ Micro 74:2171–2178

34.

Kaneko JJ (1989) Clinical biochemistry of domestic animals, 4th edn. Academic Press lnc, New York, pp 146–159, 612–647

35.

Katsoulos PD, Zarogiannis S, Roubies N, Christodoulopoulos G (2009) Effect of long-term dietary supplementation with clinoptilolite on performanceand selected serum biochemical values in dairy goats. Am J Vet Res 70:346–352. https://doi.org/10.2460/ajvr.70.3.346

36.

Khachlouf K, Hamed H, Gdoura R, Gargouri A (2018) Effects of zeolite supplementation on dairy cow production and ruminal parameters—a review. Ann Anim Sci 18(4):857–877

37.

Kleiner M, Flegar- MZ, Zadro R, Breljak D, Stanovic S, Janda SR, Marusic M, Radacic M, Boranic M (2001) The toxic effect of zeolite clinoptilolite on serum chemistry and hematopoiesis in mice. Food Chem Toxicol 39:717–727

38.

Koch J, Dworak R, Prager R, Becker B, Brockmann S, Wicke A, Wichmann-Schauer H, Hof H, Werber D, Stark K (2010) Large listeriosis outbreak linked to cheese made from pasteurized milk, Germany, 2006–2007. Foodborne Pathog Dis 7:1581–1584

39.

Koster S, Rennen M, Leeman W, Houben G, Muilwijk B, van Acker F et al (2014) A novel safety assessment strategy for non-intentionally added substances (NIAS) in carton food contact materials. Food Addit Contam Part A 31:422–443

40.

Kwakye-Awuah B, Williams C, Kenward MA, Radecka I (2008) Antimicrobial action and efficiency of silver-loaded zeolite X. J Appl Microbiol 104:1516–1524

41.

Lamprecht M, Bogner S, Steinbauer K, Schuetz B, Geilberger JF, Leber B et al (2015) Effects of zeolite supplementation on parameters of intestinalbarrier integrity, inflammation, redoxbiology and performance in aerobicallytrained subjects. J Int Soc Sports Nutr 12:40–51. https://doi.org/10.1186/s12970-015-0101-z

42.

Le AQ, Dang VP, Nguyen ND, Vu CT, Nguyen QH (2016) Preparation of polypropylene/silver nano-zeolite plastics and evaluation of antibacterial and mechanical properties. Int J Compos Mater 6(4):89–94

43.

Lin Q-B, Liang X-Z, Su Q-Z, Shan L-J, Wang Z-W (2017) Effect of graphene on themigration of two ultraviolet absorbents from graphene-LDPE composite films into a fattyfood simulant. Food Packag Shelf Life 12:9–15

44.

Mabbott NA, Donaldson DS, Ohno H, Williams IR, Mahajan A (2013) Microfold (M) cells: important immunosurveillance posts in theintestinal epithelium. Mucosal Immunol 6:666–677. https://doi.org/10.1038/mi.2013.30

45.

Maneewattanapinyo P, Banlunara W, Thammacharoen C et al (2011) An evaluation of acute toxicity of colloidal silver nanoparticles. J Vet Med Sci 73:1417–1423

46.

Matsumura Y, Yoshikata K, Kunisaki S, Tsuchido T (2003) Mode of bactericidal action of silver zeolite and its comparison with that of silver nitrate. Appl Environ Microbiol 69(7):4278–4281. https://doi.org/10.1128/AEM.69.7.4278-4281.2003

47.

Meena NS, Sahni YP, Thakur D, Singh RP (2018) Applications of nanotechnology in veterinary therapeutics. J Entomol Zool Stud 6:167–75. https://www.entomoljournal.com/archives/2018/vol6issue2/PartC/6-1-85-412.pdf

48.

Milenkovic J, Hrenovic J, Matijasevic D, Niksic M, Rajic N (2017) Bactericidal activity of Cu-, Zn-, and Ag-containing zeolites toward Escherichia coli isolates. Environ Sci Pollut Res 24:20273–20281. https://doi.org/10.1007/s11356-017-9643-8

49.

Mohri M, Seifi HA, Daraei F (2008) Effects of short-term supplementation of clinoptilolite in colostrum and milk on hematology, serum proteins, performance, and health in neonatal dairy calve. Food Chem Toxicol 46(6):2112–2117

50.

Oliveria JS, Parmelee CE (1976) Rapid enumeration of psychrotrophic bacteria in raw and pasteurized milk. J Milk Food Technol 39(4):269–272

51.

Parang Z, Moghadamnia D (2018) Effects of silver nanoparticles on the functional tests of liver and its histological changes in adult male rats. Nanomed Res J 3(3):146–153

52.

Patton CJ, Crouch SR (1977) Biochemical determination of urea. Anal Chem 49:464–469

53.

Pavelić K, Čolić M, Subotić B (2001) Chapter 32-O-01 biomedical application of zeolites. In: Proceedings of the 13th international zeolite conference, vol 135. Elsevier, Amsterdam

54.

Pavelic SK, Medica JS, Gumbarevic D, Filoševic A, Pržulj N, Pavelic K (2018) Critical review on zeolite clinoptilolite safety and medical applications in vivo. Front Pharmacol 9:1350. https://doi.org/10.3389/fphar.2018.01350

55.

Peelman N, Ragaert P, De Meulenaer B, Adons D, Peeters R, Cardon L, Van Impe F (2013) Application of bioplastics for food packaging. Trends Food Sci Technol 32(2):128–141

56.

Reitman S, Frankel S (1957) Am J Clin Path 28:5663

57.

Ramazan D, Yokus B, Demirel DE, Ketani MA, Baran M (2011) Effects of dietary zeolite on serum contents and feeding performance in rats. Int J Agric Biol 13(3):346–350

58.

Robinson RK (2002) Dairy microbiology handbook: the microbiology of milk and milk products, 3rd edn. Wiley, Chichester

59.

Ruihong Z, Fen G, Yongqi H, Huanqi Z (2006) Self-assembly synthesis of organized mesoporous alumina by precipitation method in aqueous solution. Microporous Mesoporous Mater 93:212–216

60.

Saengmee-anupharb S, Srikhirin T, Thaweboon B, Thaweboon S, Amornsakchai T, Dechkunakorn S, Suddhasthira T (2013) Antimicrobial effects of silver zeolite, silver zirconium phosphate silicate and silver zirconium phosphate against oral microorganisms. Asian Pac J Trop Biomed 3(1):47–52. https://doi.org/10.1016/S2221-1691(13)60022-2

61.

Schmid D, Fretz R, Winter P, Mann M, Hoger G, Stoger A, Ruppitsch W, Ladstatter J, Mayer N, De Martin A, Allerberger F (2009) Outbreak of staphylococcal food intoxication afterconsumption of pasteurized milk products, June 2007. Austria Wien Klin Wochenschr 121:125–131

62.

Singh S, Park IS, Shin Y, Lee YS (2015) Comparative study on antimicrobial efficiency of AgSiO2, ZnAg, and Ag-Zeolite for the application of fishery plastic container. J Mater Sci Eng 4:2169–2169

63.

Singh S, Lee M, Park L, Shin Y, Lee YS (2016) Antimicrobial seafood packaging: a review. J Food Sci Technol 53(6):2505–2518

64.

Souza AF, Behrenchsen L, Souza SJ, Yamashita F, Leimann FV, Shirai MA (2018) Production and characterization of starch composite films with silverloaded zeolite. Int Food Res J 25(3):1309–1314

65.

Stensberg MC, Wei Q, McLamore ES, Porterfield DM, Wei A, Sepúlveda MS (2011) Toxicological studies on silver nanoparticles: challenges and opportunities in assessment, monitoring and imaging. Nanomedicine (Lond) 6(5):879–898. https://doi.org/10.2217/nnm.11.78

66.

Sambale F, Wagner S, Stahl F, Khaydarov RR, Scheper T, Bahnemann D (2015) Investigations of the toxic effect of silver nanoparticles on mammalian cell lines. J Nanomater 16(1):6

67.

Tiwari DK, Jin T, Behari J (2011) Dose-dependent in-vivo toxicity assessment of silver nanoparticle in Wistar rats. Toxicol Mech Methods 21(1):13–24. https://doi.org/10.3109/15376516.2010.529184

68.

Wu Y, Wu Q, Zhou Y, Ahmad H, Wang T (2013) Effects of clinoptilolite on growth performance and antioxidant status in broilers. Biol Trace Elem Res 155:228–235. https://doi.org/10.1007/s12011-013-9777-6

69.

Wu L-B, Su Q-Z, Qin-Bao L, Wei-Dong P, Chao-Fang C, Zhi-Wei W, Hu C-Y (2017) Impact of migration test method on the release of silver from nano-silver polyethylene composite films into an acidic food simulant. Food Packag Shelf Life. https://doi.org/10.1016/j.fpsl.2017.08.012

70.

Youssef HF, El-Naggar ME, Fouda FK, Youssef AM (2019) Antimicrobial packaging film based on biodegradable CMC/PVA-zeolite doped with noble metal cations. Food Packag Shelf Life 22:100378. https://doi.org/10.1016/j.fpsl.2019.100378

71.

Youssef HF, Abdel-Aziz MS, Fouda FK (2017) Evaluation of antimicrobial activity of different silver-exchangednano and micronized zeolites prepared by microwave technique. J Porous Mater 24:947–957. https://doi.org/10.1007/s10934-016-0334-5
Ethics declarations
Conflict of interest
The authors declare that they have no competing interest.
Additional information
Publisher's Note
Springer Nature remains neutral with regard to jurisdictional claims in published maps and institutional affiliations.
About this article
Cite this article
Elsherif, W.M., El Hendy, A.H.M., Elnisr, N.A. et al. Ameliorative Effect of Zeolite Packaging on Shelf Life of Milk. J Package Technol Res 4, 171–186 (2020). https://doi.org/10.1007/s41783-020-00093-x
Received:

Accepted:

Published:

Issue Date:
Keywords
Zeolite-X

ZX-AgNPs

Packaging technology

Silver migration

Pasteurized milk