Virtual Supervision of Student Teachers as a Catalyst of Change for Educational Equity in Rural Areas
Abstract
This paper presents an in vivo naturalistic case study of an education college in a Midwestern state university that implemented Cisco TelePresence high-definition teleconference technology in supervising student teachers in rural schools. Guided by a clinical supervision triad model, this approach includes synchronous virtual observation and video-based non-synchronous reflective practice within a triad of university supervisor, student teacher, and cooperating teacher. Results demonstrate that important factors for implementing virtual supervision in rural schools include multiple personnel involvement in teacher education programs and K12 schools and collaboratively developed goals, procedures, and outcomes. It also finds out that virtual supervision serves as a lens to the rural world for student teachers and a catalyst for educational equity for rural schools and districts. Technological aspects of supervision such as equipment description and costs are also provided.
Keywords
Virtual supervision 
Student teaching 
Rural education 
Educational equity 
In vivo naturalistic case study 
As the student populations in U.S. schools have become increasingly diverse (Banks 2006; Darling-Hammond 2010; Sleeter 2014), approaches to educational inequity have tended to focus on the problems of urban schools. According to the OECD (2012), educational equity means that personal or social circumstances such as gender, ethnic origin, or family background should not be obstacles to achieving full educational potential (fairness) and that all individuals should reach at least a basic minimum level of skills (inclusion). The OECD definition of educational equity mentions factors such as gender, ethnic origin, and family background hindering fairness and inclusion (OECD 2012), and it is true that these problems are common to both urban and rural schools. However, what tends to go unremarked in urban-centered models of educational equity are factors unique to rural schools: extreme geographic isolation (NCEE 2014), underdeveloped technological infrastructure, the impact of an agricultural economy on student attendance and mobility, and increased poverty accompanied by serious depopulation (Monk 2007).
In political respects, many of the factors hindering educational equity in rural schools stem from an urban-rural divide, yet this aspect of educational equity has not been well studied. In general, educational inequities resulting from the urban-rural divide have received less study than those resulting from racial, ethnic, linguistic, or gender-based discrimination. When rural inequity has been studied, emphasis has generally fallen on funding problems (see, for example, Johnson and Strange 2005; Malhoit 2005)—indeed, "rural educational equity" in this context has come to mean "equal funding between urban and rural districts" (Malhoit 2005, p. 6). But rural student populations are distinctly disadvantaged in terms of access to many resources, not just those dependent on state funding formulas. For example, few teacher education programs adequately address the needs of rural schools, producing teachers who are unfamiliar with rural students and families. The majority of preservice teachers are trained in urban areas, often with the expectation that they will be working in urban or suburban schools; their student teaching experiences similarly tend to occur in urban or suburban schools. Those teachers who do go to rural schools are more likely to be from lower-ranked colleges than their urban peers, to have lower levels of educational attainment, and to have less experience in the classroom as well (Monk 2007, p. 159). Thus it should be no surprise that, when searching for teaching positions, newly graduated teachers may not even consider applying to small, rural districts.
Although urban-based teacher education programs could begin to address the problems of rural educational inequity by increasing student teacher placement opportunities in rural schools, thereby increasing the experience of both urban teachers and teacher educators with the unique problems facing rural schools, the logistical difficulties involved in supervising those student teachers tend to stand in the way. One way to address both equity and logistical problems is through technology-based virtual supervision. This research reports an in vivo naturalistic case study (Reigeluth and Frick 1999) on the use of virtual supervision as a pedagogical tool to link the gap between urban-based teacher preparation and rural teaching practice. On the one hand, teacher educators have been reporting the challenge of managing the time and travel to supervise preservice teachers in the field (Conderman et al. 2005). On the other hand, it is not a new challenge that preservice teachers do not get adequate supervision when they are in the field (Buck et al. 1992).
The next section provides a review of literature on traditional supervision and virtual supervision in teacher education. Then, the case study research method and specific data collection methods and analysis are described, followed by the report of results, discussion, limitation of the study, and its implications.
Supervision and Virtual Supervision in Teacher Education
Supervision of student teachers in their classroom field experiences as a coherent, theorized process dates to the early 1960s and the first experiments in clinical supervision during the summer teacher training programs at Harvard University (Krajewski and Anderson 1980; Zeichner 1980). It was from those experiences that Goldhammer first formulated his model of clinical supervision (Goldhammer 1966, 1969) that has informed ideas and practices of face-to-face supervision ever since. Key to Goldhammer's model of supervision is not following specific procedures, although he does advocate a structured process of observation and discussion, but developing a relationship between teacher and supervisor "built on mutual trust" (Krajewski and Anderson 1980, p. 421). With the principle of mutual trust at the center, the teacher and supervisor can establish goals and objectives through mutual agreement, which will then become the basis upon which the supervisor can observe the teacher's behavior in the classroom and discuss that behavior with the teacher (Krajewski and Anderson 1980, p. 422).
By the 1970s and 1980s, the concept of triad (student teacher-supervisor-cooperating teacher) had emerged from research on teacher education, particularly that which noted problems in student teacher training. For example, early on in the development of clinical supervision, it was observed that it was easy for the supervisor to analyze problems student teachers experienced in the classroom, but difficult to affect changes in the student teacher's behavior in the classroom (Goldhammer 1966, p. 663). Recognizing that supervisors spend relatively little time with student teachers, suspicion fell on cooperating teachers as the "socializing agents" (Karmos and Jacko 1977), turning student teaching into "an exercise in adapting new personnel into old patterns" (Salzello and Van Fleet 1977, p. 28). Whether seen as personally responsible, or as one of a number of people operating under the constraints of an inherently conservative ecosystem (Doyle and Ponder 1975; Copeland 1980), the cooperative teacher's role came under greater scrutiny, and scholars began to seriously consider the roles of all three members of the triad.
Since the emergence of the supervisory triad, research has generally taken one of two approaches: instrumental studies, which aim to improve the triad as a functioning unit (e.g., Byrd and Fogleman 2012; Slick 1997, 1998), and critical studies (such as Smyth 1988; Turner-Muecke 1987; Garman 1990), which attempt to examine the social and political grounds of the triad's legitimacy as an educational tool. An important angle in both approaches has been the introduction of critical reflection based on the ideas of Schon, van Manen, and Mezirow (Turner-Muecke 1987; Liu 2015) particularly in the context of electronically mediated supervision contexts, such as the use of ePortfolios (Thomas and Liu 2012; Liu 2017). Moreover, organizations such as the American Association of Teacher Education (AACTE), the National Council for Accreditation of Teacher Education (NCATE), and the Council of Chief State School Officers (CCSSO) have released policy briefs supporting clinical supervision in teacher preparation (AACTE 2010; CCSSO 2012; NCATE 2010). However, the vast majority of research on supervision and the triad has focused on urban and suburban settings, in which electronic technology supplements an essentially face-to-face process, the issues and challenges specific to rural supervision largely going unremarked.
At the same time, it has repeatedly been observed that the geographical barrier between urban-based teacher education programs and rural schools itself hinders educational accessibility and equity (Fry and Bryant 2006; Gruenhagen et al. 1999; Malhoit 2005). This can be a particular problem for supervision in rural areas, in which the travel cost to both student teacher and university, the time lost to the faculty supervisor due to travel, and the stress stemming from delays and cancelations caused by traffic and weather (particularly in the winter months) have all be marked as major reasons to employ distance learning technology in service to supervision (Garrett and Dudt 1998). One alternative to this challenge is virtual supervision: using distance education methods (synchronous or asynchronous) to supervise student teachers as a supplemental approach to face-to-face supervision (Branburg 2001; Brintnall 2002; Hager et al. 2012). Synchronous virtual supervision of preservice teachers is not a new concept in teacher education, dating back at least to the EDNET efforts in UT (Thurston and Sebastian 1996) and GA (Gruenhagen et al. 1999), and continuing through several efforts focused on counseling education (Chapman et al. 2011; Coursol 2004) and special education (Billingsley and Scheuermann 2014; Dymond et al. 2008; Falconer and Lignugaris-Kraft 2002; Seabrooks et al. 2000). However, synchronous virtual supervision has not been adopted by teacher education programs widely; projects focusing on preservice teachers have tended to emphasize asynchronous technology, such as email (e.g., Brintnall 2002; Roddy 1999), online discussion boards (Babinski et al. 2001; Edens 2000), and compressed video (Branburg 2001; Fry and Bryant 2006) that do not allow direct distance supervision. Projects using synchronous technology such as teleconference have appeared only recently (Billingsley and Scheuermann 2014; Rock et al. 2012; Venn et al. 2001).
Research on virtual supervision has been hampered by multiple conceptual issues in the definition of both virtual and supervision, such as treating synchronous teleconferencing technology and asynchronous email communication as equally virtual and equating individual advising and reflection activities with classroom observation. In many cases, these conceptual problems have been compounded by a tendency for the research design and implementation to overemphasize the description of technical systems at the expense of outcomes analysis (Hager et al. 2012). Moreover, in a metastudy of virtual supervision studies, Billingsley and Scheuermann also found numerous problems with small samples and weak methodologies—quantitative studies relying on descriptive data, qualitative studies reporting participants' statements without analysis, and the use of statistical methods within a study not employing controls (Billingsley and Scheuermann 2014, p. 10). All these problems render it difficult to say with certainty that virtual supervision produces better results than face-to-face supervision. Nevertheless, there is "tremendous potential" in the technology (Billingsley and Scheuermann 2014, p. 14) for the practice of supervision, particularly in offsetting some of the drawbacks associated with supervision and teaching in rural areas (Monk 2007). Furthermore, research does suggest that virtual supervision can be at least as effective as face-to-face supervision (Falconer and Lignugaris-Kraft 2002, p. 373) and can address logistical problems stemming from the sheer distance between university-based teacher education programs and rural schools, such as the difficulty teacher educators face in traveling long distances to conduct classroom observations.
However, it remains to be seen whether virtual supervision can address the rural equity issues discussed above: providing more extensive resources to rural schools and communities, developing greater knowledge of rural issues among the students and faculty of teacher education programs, including student teacher supervisors who might not have personal experiences in rural areas or knowledge about the culture there, and stimulating preservice teachers to consider student teaching and employment in rural areas. Further research is needed to study the impact of virtual supervision on student teacher learning, especially on the aspects of gains in teaching rural students, and in improving educational equity for the rural schools. We therefore designed the present study to address the following questions
1.

What are the key elements in collaborative projects to improve rural educational inequity?

 

2.

Which aspects of rural educational inequity are most amenable to improvement through virtual supervision?

 
Conceptual Framework
In order to enhance prospective teachers' performance, organizations such as the American Association of Teacher Education (AACTE), the National Council for Accreditation of Teacher Education (NCATE), and the Council of Chief State School Officers (CCSSO) emphasized the importance of clinical supervision in teacher preparation (AACTE 2010; CCSSO 2012; NCATE 2010), focusing on the creation of a triad comprising university faculty (supervisors), clinical faculty in P-12 classrooms (cooperating teachers), and prospective teachers. In addition, research on teacher professional development emphasizes the importance of collaboration and mutual trust between university-based teacher educators, school administrators, and K-12 teachers in constructing and implementing successful programs (see, for example, Cochran-Smith and Lytle 1993; Cochran-Smith and Lytle 2006; Liu et al. 2016). Considering student teacher preparation to be a novice level of professional development, we therefore incorporated into our framework the process for developing collaboration with professional development schools proposed in NCATE (2001), Standard III, Collaboration (pp. 23–24).
Finally, NCATE (
2010
) proposes ten design principles for clinically based teacher preparation, some of which address broad philosophical and pedagogical approaches of the entire teacher education program, and others of which focus on institutional and technical support of the field experience. For the purposes of this project, we chose to adopt the NCATE standards that directly linked to the problems of rural supervision: Standard 5 (candidates learn in an interactive professional community), Standard 8 (technology applications foster high-impact preparation), and Standard 10 (strategic partnerships are imperative for powerful clinical preparation) (NCATE
2010
, pp. 5–6). We then developed general technological requirements and a collaborative process to detail those requirements, create and pursue a testing protocol, and assess the results within the framework of NCATE 2010 Standards 5, 8, and 10), using the clinical supervision triad as the central element (Fig. 
1
).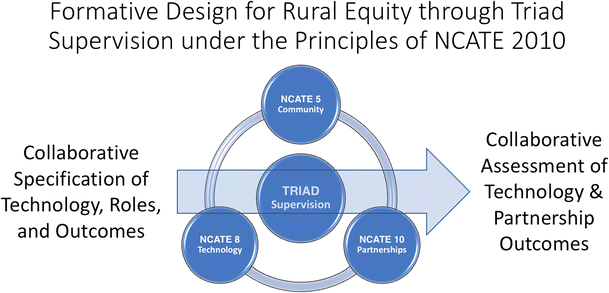 The overriding goal was not just to find solutions for the technical difficulties in supervising student teachers placed in rural schools, but to see whether those solutions could be leveraged to improve rural educational inequity, and if so, which aspects of rural educational inequity are best addressed through technology.
After several rounds of discussion and examination of the affordances of different platforms for distance supervision, the team settled on Cisco high-definition TelePresence technology for real-time observation of the placement classroom (virtual supervision), supplemented with video-based asynchronous reflective dialog within the triad of the university supervisor, the student teacher, and the cooperating teacher, and a final conversation among the three parties. The high-resolution and high-bandwidth affordances of TelePresence were significantly greater than any other system. During virtual observation, the supervisor was able to see the classroom from the TelePresence room at the university via a camera with a bird's-eye view installed in the classroom; the placement classroom was similarly equipped with a TelePresence device, as well as a Smartboard. The student teacher's voice, as well as each individual student's voice, was projected very clearly at the supervisor's end. The student teacher was able to control the camera in the classroom in order to show the supervisor Smartboard activities. At the same time, the student teacher and her entire class of children were able to see the supervisor back in the university TelePresence room.
Methods
This study adopts an in vivo naturalistic case study methodology, in which evaluation is done during application (Reigeluth and Frick 1999, p. 6), to examine an implementation of virtual supervision in terms of its technical procedures, multi-dimensional partnership building, and more importantly, the learning outcomes and redistribution of resources for education equity. A case study methodology, according to Stake (1995) and Yin (2003), is one that focuses on a bounded system; an individual case is an example of an individual element in this bounded system. Merriam (1988) defined case study as "an intensive, holistic description, and analysis of a single instance, phenomenon, or social unit" (p. 21). The research question of this study primarily concerns the factors contributing to trust partnership building in the process of virtual supervision and the impact of virtual supervision on educational equity. As the research question focuses mainly on "how" and "what" question, this case study is explanatory. The case study methodology allows the researchers to conduct an intensive description and analysis of a single individual or group through an in-depth investigation of a topic; therefore, it does not aim at producing scientific generalization (Yin 2003). Instead, it aims to "expand and generalize theories" (Yin 2003, p. 10). Before we chose the case, we asked ourselves the question "what is this case a case of?" (Stake 1995). A case in this study is defined as the virtual supervision project in the bounded system of a teacher education program in a state university in the Midwest.
Participants and Context of the Study
This research was conducted at a suburban university-based teacher education program in a state university in the Midwest (hereafter known as Coldriver University) that enrolls students from across the state and proclaims a commitment to preparing future teachers to teach for diversity. The basic model of the teacher education program, whether the students will eventually teach in early childhood or K-12 schools, uses a combination of university-based coursework, short-term practicum field placements in K-12 schools, and one semester student teaching placement after coursework and practicums are completed. Preservice teachers are primarily supervised in field placements face-to-face in a triad model (student teacher, cooperating teacher, and university supervisor) typical to many U.S. university teacher education programs (Lombardi 2001). This is true in both short-term practicum placements during the coursework period and during the semester of student teaching, during which the preservice teachers engage in actual teaching practice under a cooperating teacher in a regular K-12 classroom.
Planning for student teaching field placement starts with preservice teachers mapping out the schools they prefer to be placed. Placement in their preferred school is not guaranteed; for practical reasons (see below) placement schools are limited to no more than 75 miles from the university campus, and the Coldriver University Office of Field Experiences has to work with different programs and local schools to ensure that goals from all parties are addressed. Thus, for example, if a student comes from a distant portion of the state they will not be able to return to their home region for student teaching. The majority of student teacher placements are in suburban and rural communities within the 75-mile radius.
Supervision is performed by a university-based faculty member required to make a minimum of four visits of at least 1 h in length to observe each student teacher during the student teaching semester. Supervising four to five undergraduate preservice teachers during the student teaching semester is equivalent to three-credit load or one-course load, for the faculty member. As a teaching-oriented university, the teaching load for faculty is 12 credits per semester. Some faculty supervisors are assigned to supervise two to three course loads during a semester, which means that they supervise eight to 15 students with 32 to 45 field visits over the 15 weeks of each semester. Because most of the communities where the placement schools are located are quite small, it is rare that more than one or two student teachers are placed in a given school, meaning that the supervisors may work with multiple cooperating teachers in multiple schools each semester, with significant travel time to factor into the observation time, further complicated by severe snowstorm weathers in the winter. This is a major reason for limiting placement to a 75-mile radius around the university campus, leaving many remote schools out of the opportunity to have student teachers.
The supervisor is required to confer regularly with the student teacher and the cooperating teacher through three-way (student teacher, cooperating teacher, and university supervisor) or two-way (university supervisor and student teacher or cooperating teacher) conferences. However, in reality, it is somewhat difficult to have a real three-way conference because as soon as an observation is completed, while the student teacher meets with the supervisor, the cooperating teacher has to resume the teacher role to work with the students. Due to the lack of common time for post-teaching conferences, the three-way triad, although technically exists, does not achieve its real potential of dialog and collaborative reflection (Liu 2017) to support preservice teachers' development.
Beginning in 2011, the Coldriver teacher education program adopted a strategy of using technology to better support the goal of diversifying student teacher placement outside the 75-mile radius of face-to-face supervision. After examining multiple approaches, the college settled on Cisco TelePresence technology to support synchronous virtual supervision. Cisco TelePresence using high-resolution, high-bandwidth technology pioneered throughout the state for real-time distance conferencing that simulates all participants sharing the same meeting space. The technology thus supports richer visual and audio data for the supervisor than lower-resolution, low-bandwidth solutions (audio teleconferencing, cellphone-based video conferencing, or traditional NTSC video conferencing), plus opens the same high-resolution, high-bandwidth channel as a potential resource for the placement school. The project was piloted in Spring 2013 in collaboration with a relatively remote middle school; that pilot forms the case for this study, participants including the student teacher, the cooperating teacher, and the university supervisor, as well as the middle school principal and the district superintendent of the placement school.
Data Sources, Data Analysis, and Validity
Data for this study were drawn from recorded and streamlined observation videos and post-teaching conference videos, and interviews of the student teacher and their classroom cooperating teacher, the university supervisor, the school district superintendent, and the middle school principal. The observations were ongoing throughout the spring semester 2013 and the interviews were conducted at the end of the spring semester. Specifically, there were four streamlined observation videos and four post-teaching conference videos. All participants, including the student teacher, the cooperating teacher, the supervisor, the district superintendent, and the placement school principal, were interviewed twice, one at the beginning of the semester and one at the end of the semester.
All data sources were coded with guided coding following the conceptual framework as well as the coding and memoing procedures of grounded theory (Glaser and Strauss 1967) to analyze virtual classroom observation, artifacts, and interviews with participants. We employed investigator triangulation (Creswell 2007). The first three researchers coded the data separately to ensure inter-rater reliability, a research method for triangulation commonly employed to improve the validity of the coding procedure. We coded the data separately and then compared codes until 100% agreement was reached regarding how text should be coded and then abstracted into larger themes.
According to Creswell (2007), prolonged engagement, multiple sources of data, methods, investigators, and theories are able to provide corroborating evidence. For the validity of descriptions and interpretations, we used data triangulation of multiple sources of evidence, including observations, interviews, student records, the teacher's notes on students, and the students' journals and pictures, in order to verify the repeatability of our observation and interpretation (Stake 2005). Field notes and transcripts of interviews and observations were used to clarify meanings Creswell (2007), and we employed member checking (Merriam 1988) by having the participants read and confirm our descriptions and interpretations.
Findings
Findings for Question 1
What are the key elements in collaborative projects to improve rural educational inequity? For this question we identified two key findings: (1) teams should put trust at the center of the design and (2) there is no substitute for collaboratively developing goals, procedures, and outcome measures. Both of these findings support the use of virtual supervision, properly developed, to improve rural education equity, as will be detailed in the discussion.
Putting Trust at the Center of the Design
"Formative and design experiments represent an approach to research that may be particularly appealing to teachers because it invites teachers to enter into a collaborative relationship with researchers. Research respect teachers' autonomy in the context of an investigation and form a mutually respectful relationship with them …." (Bradley and Reinking 2011, p. 308).
From the very beginning, multiple participants from both the university teacher education program and the local middle school were engaged in multiple conversations about the potential, the goals, the purpose, and procedures of the virtual supervision project. The school district superintendent, the middle school principal, the cooperating teachers at the middle school, the university supervisor, and the university field experience office representative met multiple times before the start of the project. They came to an agreement that a mutual and trust relationship is key to the design and implementation of the virtual supervision. This relationship was built on previous face-to-face communication between the university supervisor and the middle school principal. According to the supervisor,
I met the principal during my first face-to-face visit. Amid casual conversation we chatted about the drive here and I commented on the hilly area and how it must be awful in the winter. Once the discussion turned to the weather the principle and I transitioned into a discussion about what an ideal situation this was for a virtual observation.
(Supervisor Interview, 05/25/2013)
During an interview with the middle school principal and the district superintendent, both agreed that it is vital to have some initial communication and mutual understanding about the overall vision of preparing future teachers between the school district and the university teacher education program. The principal commented that,
I know her [the supervisor] and the program from previous supervision. I had conversations with the association dean from the College. I understand that these folks are dedicated to preparing quality teachers. Therefore, I am open to alternatives to support the good work.
(Principal Interview, 06/26/2013).
The district superintendent also highlighted in the interview that it was vital to bring different stakeholders on board, "They [the university program and the middle school] got the collaborative culture going. The board is supportive and the visionary leadership is not afraid of trying new things" (Interview, 06/26/2013). Similarly, the classroom cooperating teacher, said, "I felt I am comfortable and ready to try new things since I was informed what was going on and what potential benefit this new process could bring about" (Interview, 01/20/2013).
Based on the initial communication, the stakeholders worked together to decide the roles and responsibilities of each other. According to the university supervisor,
An important piece that the University program and the supervisors need to be mindful of is that without a face-to-face connection a relationship of trust must still be maintained. The human element cannot be completely removed as the technology increases. As a University Supervisor I have the role of being a liaison between all involved parties. Somewhat of a "Host" that communicates and interacts with each stakeholder in this process.
(Supervisor Interview, 05/25/2013)
At the end of the semester, the classroom cooperating teacher echoed by saying she was well aware of her role in this project and she appreciated being part of it:
I appreciate being considered an important player in the whole process. My role is to communicate with the supervisor and the school administrators about what's going on in the classroom and the support we need in order to make the virtual supervision goes on smoothly.
(Cooperating Teacher Interview, 06/26/2013)
The school principal also provided his perspectives about school administrators' leadership and organizational roles:
We are already looking outside of ourselves. We have built a foundation of innovation such as introducing online courses to our students from other larger school district. We've already done a lot and see the benefit of it. From a small rural school perspective, we really saw ourselves as being ready. For this specific project, my role is make sure to provide any needed resources from our side, including technical support for the smooth long distance connection with the university, a plan B in case the technology does not work, sufficient information to parents and other teachers in the building.
(School Principal Interview, 06/26/2013)
Finally, a comment from the district superintendent summarized well the importance of the building a trust relationship among all stakeholders: "They [teachers] are problem solving people by nature. They emphasized the trust relationship among the whole team. It really enhanced everyone's game: It's a window to the world. It enhances university supervision and it enhances teacher recruitment for our district." (Superintendent Interview, 06/26/2013).
Collaboratively Develop Goals, Procedures, and Outcome Measures
Based on the mutual understanding among the different stakeholders described above, the team adopted the NCATE (National Council for Accreditation of Teacher Education)
Standards for Professional Development Schools
(
2001
) Standard III: Collaboration to guide the design and development of this virtual supervision project. The team first met before the start of the semester to develop the goals of the project. In addition to "development of clinical practice of knowledge, skills, and dispositions in teaching for student teachers," the team resolved to add three more goals specific to this innovative project: (1) development of knowledge in virtual supervision technology, process, and procedures, (2) student learning experience is key to guide the implementation, and (3) inquiry for future collaboration through virtual communication. Table
1
shows a continuum of partnership development for the virtual supervision project involving the co-construction of project goals, project procedures, and collaborative reflection on future development, as informed by Standard III NCATE (
2001
, pp. 23–24).
Table 1
Adapted from NCATE (2001): Standards for professional development schools, standard III: collaboration, pp. 23–24
A continuum of partnership development for virtual supervision

Goal

Beginning

Developing

Integrating

Sustaining and generative

Goals that benefit all parties

Communication of beliefs, commitments, plans among administrators

Communication among the triad and technology support

The goals of partnership are integrated into the implementation of virtual supervision

Communication on systemic changes in policy and practice

1. Development of clinical practice of knowledge, skills, and dispositions in teaching for student teachers

1. Face-to-face meetings at the initial stage to explore the potential

1. Technology test

1. Virtual supervision

1. Reflection on learning outcomes within the triad

2. Development of knowledge in virtual supervision technology, process, and procedures

2. Communication among technology infrastructure supporting personnel

2. Clarification of roles and responsibilities among partners

2. Ongoing communication

2. Reflection on technological challenges and solutions

3. Student learning experience is key

3. Backup plans

 

3. Data analysis based on goals

3. Making and implementing improvement plans

4. Inquiry for future collaboration through virtual communication

 
 
 

4. Determining the scope of second stage implementation
Findings for Question 2
Which aspects of rural educational inequity are most amenable to improvement through virtual supervision? For this question we identified two findings: (1) that virtual supervision can provide the student teacher with a lens to the rural world and (2) that the virtual supervision technology, developed through the collaborative supervision process, can also bring new contacts and resources into the rural schools. Both of these findings support the use of virtual supervision to improve rural educational inequities, as will be detailed in the discussion.
A Lens to the Rural World for Student Teachers
In general, the student teacher gained a deep understanding of teaching in rural areas. It was a challenge for her to adapt to the new environment with which she had little personal experience. With the support of the cooperating teacher and the supervisor, this experience equipped the student teacher with an understanding of the life experiences of students living in rural areas. She commented,
I never lived in a small rural area like this. The student teaching experience gave me the opportunity to learn what life styles students here have and what they are interested to learn. When I taught a literacy lesson on expressing opinions, during the classroom discussion time I let the students to integrate their life experiences of living in rural areas. They gave me very good ideas of their opinions of pros and cons in living in rural areas.
(Student Teacher Interview, 05/25/2013)
According to the supervisor, "The TelePresence technology literally is a lens into these schools. We were able to place more students to these schools than we would have" (Supervisor Interview, 05/25/2013).
In addition to providing the opportunity to place more student teachers in remote rural areas, the affordance of the video-recorded lessons through the TelePresence technology provided a common ground for communication among the student teachers, their classroom cooperating teachers, and the supervisor. After watching the videos, the supervisor was able to ask specific questions and provide constructive feedback. For example, after observing the student teacher's writing lesson on expressing opinions, the three parties watched the video-recorded lesson together. The supervisor suggested the student teacher to encourage students to develop writing topics based on their life experiences, such as farming, as an extension of their classroom discussion on rural life experience, and then push them toward higher-order thinking by linking their life experiences to the larger socioeconomic context with lesson topics on resources and environmental protection. Revisiting her classroom teaching by watching the video helped the student teacher understand the strengths and weakness of her teaching, which was vital to keep her open-minded to the supervisor's suggestions. As the student teacher commented, "Once I watched the video I understood what you [the supervisor] had been saying. It really made sense to me" (Post-Teaching TelePresence Triad Conference).
Equally important, the cooperating teacher valued the sense of community and felt their voices were respected and professional knowledge was valued during the supervision process.
I was able to take notes during the lesson along with your (the supervisor) notes and we had the recorded video to revisit the lesson as well. There were so many opportunities for communication and feedback!
(Cooperating Teacher Interview, 06/26/2013)
The principal echoed the value of virtual supervision in co-construction of knowledge in teaching for diversity as well:
The engagement with virtual supervision really provided recognition to our teachers regarding their knowledge and experiences in working with the students from our community.
(Principal Interview, 06/26/2013)
In addition, virtual supervision increased opportunities for observation and engagement in conversation regarding the teaching, which is the ultimate goal the partners set up at the beginning. With these collaborative reflections, the student teacher was able to design specific lessons with strategies to integrate the students' life experiences into the curriculum.
A Catalyst for Educational Equity for Remote Schools and Districts
The partner school district is located in the west edge of the Midwest state in which the university is located. With barely 400 students, the district has been isolated in its geographic location, posing challenges for recruiting new teachers accessing curriculum resources and pedagogical support from state university campuses, especially relative to more favorably located districts. During the supervision process, educational equity became a common theme in the conversation. The school district administrators and the participating teacher strongly believe virtual supervision enhanced educational equity for the following primary reasons:
First, it enables the school district to accept more student teachers in their school district, thus improving their potential for future new teacher recruitment. Facing constant recruitment challenges, the principal highlighted the importance of providing diverse teaching experiences to student teachers in rural areas. The more student teachers learn about teaching and learning in a rural classroom, the less anxiety they would have for teaching in such an environment and the more likely they will decide to teach and remain teaching in these schools.
Second, it builds for the rural school a strong partnership with access to university curriculum and pedagogical resources—as the principal commented, "this partnership and technology provides a huge amount of resources for the school, something that wouldn't normally be available in a tiny town." (Interview, 06/26/2013).
Third, it provides a window for the students to see the outside world, generating support for the project from the school board as well as parents. The superintendent emphasized that,
This is a window to for our kids to the world. It's really real to them. It sends the message to them that they are well connected to the world and they will be able to communicate with people in the future.
(Interview, 06/26/3013)
Finally, the TelePresence technology functioned as a catalyst for further innovative projects. In fact, inspired by the virtual supervision projects, the teachers and the district administrators indicated that they feel ready to pursue other innovation to better support their students in spite of the district's limited resources. For example, due to a lack of qualified teachers, the school district was unable to offer AP psychology classes. Instead of accepting this situation passively, the district is now partnering with another school district to offer the AP classes taught by the other district through TelePresence. This is the beginning, as the superintendent highlighted, saying "We are problem solving people by nature. We want to do the best for our kids and the virtual technology really enhanced everyone's game." (Interview, 06/26/2013).
Discussion
Although there are clear parallels between the roots of educational inequities of urban minority populations and those of rural communities, the geographic isolation of the latter is both an obvious barrier to improvement as well as an element amenable to technological intervention. Our study reveals that high-definition, high-bandwidth teleconferencing technology currently provides affordances with the greatest potential to decrease the geographic isolation of rural school staff and students, as well as rural communities in general. Moreover, using the supervision of student teachers as the core activity for implementing TelePresence technology provides an excellent opportunity to enhance the experience of novice teachers with rural communities, building the rural teacher corps at the same time. This finding confirms what Billingsley and Scheuermann (2014) found in their study that videoconferencing "effectively solves the problem of locating a sufficient number of appropriate field placements for pre-service teachers and serves a need for placing quality teachers in rural or distant locations" (p. 268). Beyond simple videoconferencing, however, the high-resolution, high-bandwidth affordances of TelePresence also enhanced linkages to the outside world for the students and staff of the placement school, an effect that has not been reported for simple videoconference technology.
Importance of Mutual Trust and Collaboration among Stakeholders
However, as the findings above show, successful implementation of this kind of solution requires the same social support that a face-to-face supervision program requires, particularly the development of a relationship of mutual trust among the triad of the student teacher, the cooperating teacher, and the supervision. In keeping with the conceptual framework, the team built a broad collaborative system between the placement school, the district, and the teacher education program. The ongoing and open conversation is vital to enable the collaborative team to co-construct the goals, the implementation procedures, and assess the outcomes of the virtual supervision. As all the team members expressed in this project, they felt they were on the same page, aiming at the same goals and supporting each other. Furthermore, in an unexpected but positive outcome of the project, the stakeholders were able to expand their roles as they themselves defined those roles, which bode well for future engagement on all sides.
Pedagogical Value for Student Teachers and Schools
In addition, this research sheds light on the broader pedagogical potential of TelePresence-based virtual supervision to transform supervision processes, proving to be a catalyst for change in community building and student learning. Seeing the power of the technology to link student teachers and their cooperating with their university-based supervisors encouraged the school and district administrators to explore new learning opportunities for the students. Moreover, the general sense of isolation felt by students and staff of the rural schools was significantly decreased, no small factor in encouraging further efforts by the district to reach for new resources for the school and the community. This result suggests the potential of TelePresence technology in general and virtual supervision in particular, in increasing the opportunities for teacher professional development in rural areas, addressing the barriers to effective rural professional development identified by Gallo (2013) rooted in the isolation of the schools and communities. In general, although rural teacher professional development has received some attention, it is usually framed in terms of improving the quality of teaching in rural areas; inequity in rural teacher professional development has been little studied. In addition to Gallo, Rushing (2012) provides one of the few examples to explicitly address inequity for the teachers themselves as an issue to be considered. This is an area that clearly requires more attention.
In terms of developing the ability of teacher candidates to teach for diversity and educational equity, synchronous long distance observation and the synchronous post-teaching triad meetings based on video-recorded lesson reflection are able to provide meaningful discussions among the student teacher, the classroom cooperating teacher, and the university supervisor. By reviewing the student teaching video in synchronous meetings, the triads were able to maintain the focus on student learning and stimulate reflective practice by the student teachers. Although this is possible with any video-based reflection, the TelePresence technology's ability to handle video for an entire observation session means that the source video for collaborative reflection was more authentic to the classroom setting. In other words, rather than being composed of discrete moments selected by the student teacher to demonstrate competence, the TelePresence-based video reflection included the entire context. This discourages the common habit of student teachers to "sunshine" their classroom experiences (Thomas and Liu 2012) by "cherrypicking" (Liu 2015) the best moments for collaborative reflection.
Conclusion
This study provides a close look at the process of implementing TelePresence-based virtual supervision based on a trust relationship between a school district and a university teacher education program and considers the impact of virtual supervision on educational equity for previously isolated schools and districts. A relationship of trust must be maintained in the triad even in the absence of a face-to-face connection. The human element cannot be eliminated even as the use of distance technology increases. By addressing up front both the potential problems and the potential benefits for all parties concerned, schools, districts, children, and parents can become willing partners in virtual supervision, to the point they feel empowered to employ the technology directly for student learning. The results of this study provide evidence on the use of virtual supervision technology as a pedagogical tool to transform supervision processes. Furthermore, it offers pedagogical suggestions for clinical supervision in virtual supervision in terms of the importance of community building, the procedures of video-based collaborative reflection within the supervision triad, and theory and practice of teaching for diversity.
Since conducting this pilot study, several of the authors have begun to work on the next cycle of project development following the process of formative design (McKinney and Reeves 2012) and informed by the findings of this study. A strong focus in the next round is to reinforce the participants' ability to redefine their educational roles through virtual supervision and the supporting technologies. We are particularly excited by the ability of the TelePresence technology to connect rural schools with each other, allowing them to offer classes (such as the AP Psychology class mentioned above) that would be unsustainable for one rural school alone; this unanticipated result of the project is now a deliberate feature. Shared courses through distance technology have been possible for quite some time in this state, which pioneered distance education in the early twentieth century via radio technology, but it has always been created by a central organization such as the university system or the state education department, then marketed to school districts. A decentralized distance education network such as that enabled by TelePresence technology brings new possibilities for school-school collaboration, so this will be planned for from the beginning. School-school collaboration of this kind will also be subject to study, even though it is a by-product of the virtual supervision project, because it has great potential to enable the schools to address rural educational inequities themselves, based on their own needs and priorities.
Implications
Virtual supervision is a pedagogical tool to supplement tradition face-to-face supervision, especially in geographically isolated schools, where it holds promise to address broader educational equity issues. Based on the pilot study, it is clear that when virtual supervision is used, four practical considerations need to be kept in mind, for both school districts and university teacher education programs:
1.

Establish a collaborative working climate supported by mutual trust.

 

2.

Address the cost of the technology up front.

 

3.

Be realistic about the need for technical support and plan for malfunctions.

 

4.

Prioritize student learning.

 
Establish a Collaborative Working Climate Supported by Mutual Trust
It is important for partners to examine the working culture before engaging in collaboration. As for the school district, the climate must include support from the school board. A trust relationship must be maintained throughout the design and implementation process even in the absence of a face-to-face connection. The human element cannot be eliminated even as the use of distance technology increases. It is critical to have the right participants/stakeholders who are open-minded and willing to learn the required technology as early adopters for all aspects of a virtual supervision program and build the capacity of the organization thereafter.
Address the Cost of the Technology Up Front
The cost of TelePresence technology is relatively high. One important factor that enabled this pilot study is that the technology was available both at Coldriver University and the school due to grants funded by the technology provider, Cisco Systems. State departments of education should also set up competitive grants for K-12 schools and universities to apply for innovative technology and implementation. In order to encourage more preservice teachers to student teach in remote schools, scholarships and stipends could be considered as incentives.
Be Realistic About the Need for Technical Support and Plan for Malfunctions
All partners should examine their levels of readiness for this type of partnership that is facilitated through TelePresence technology, including adequate technical support on both ends. Furthermore, teleconference technologies are great pedagogical tools, but malfunctions are always possible, so backup plans are vital to the success of the endeavor. All participants should be willing to be flexible and act as problem solvers.
Prioritize Student Learning
Finally, all parties need to remain aware of the children's learning environment, prioritize student learning, and protect student interests. Consent is always needed from students' parents to include their children in the view of the camera, especially in recorded videos. By quickly addressing potential problems and potential benefits for all parties concerned, schools, districts, children, and parents can become willing partners in virtual supervision, empowered to employ the technology directly for student learning.
Notes
Compliance with Ethical Standards
Conflict of Interest
The authors declare that there is no conflict of interest.
Copyright information
© Association for Educational Communications & Technology 2018