Abstract
How has the Japanese manufacturing sector fared in productivity and technological learning in recent years? To answer this, we summarized the manufacturing industry into 3-digit sub-sector (25 sub-sectors) and evaluated the entire manufacturing industry. Our study covers 15 years of production cycles (2000–2014). Using data envelopment analysis and loglinear learning models, we empirically estimated the productivity and technological learning of these industries. The result shows negative (− 0.6%) total factor productivity (TFP) growth between 2000 and 2014. TFP was particularly affected by 2001, and 2008/2009 financial crisis. TFP regress also deepened in recent years (2011–2014) which we blamed on both internal and external shocks in the system. We showed that positive TFP observed in other years resulted from technical progress and efficiency improvement. Industry-level results were consistent with the annual mean result which suggest a common economic downturn. Estimated progress ratios from learning models show that individual industry exhibits unique learning rates, with some industries showing technological learning (i.e., decreasing unit cost of production) between 2000 and 2007 and others between 2010 and 2014. Industries viz. production machinery, electrical devices and circuit, chemical, pharmaceutical, and food manufacturing showed sustained learning between 2001 and 2013, implying huge cost saving as outputs expand. The overall result, however, showed that learning got worst and was lost at some point between 2008 and 2014. We conclude that productivity differentials explained by learning rates show that technological progress and innovations in Japanese manufacturing were capital intensive and cost inefficient and that Japanese manufacturing industry has not fully regained its competitiveness as the world's leading manufacturing hub. We argued that for productivity improvement in Japanese manufacturing industries, there is a need for policy thrust to restore and ensure sustained learning within and across the industries.
Access options
Buy single article
Instant access to the full article PDF.
US$ 39.95
Tax calculation will be finalised during checkout.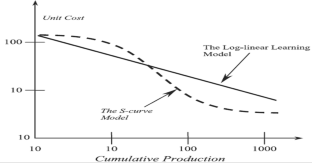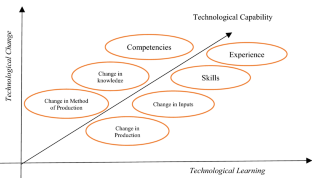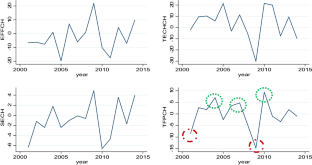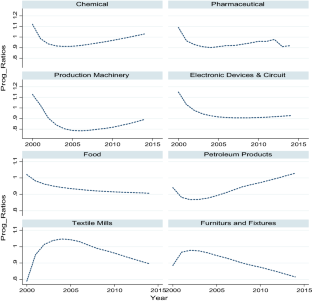 Notes
1.

All variables except number of employees are measured in yen.

2.

The value of \(\lambda\) indicates the technical biases associated with production expansion. \(\lambda = 1\) indicate neutrality in technological progress whereas \(\lambda > 1\), suggests that capital labour ratio proportionally increases as output expands (see Pramongkit et al. 2000; Karaoz and Mesut 2005).

3.
References
Adhikari DR (2005) National factors and employment relations in Japan. Japan Institute of Labour Policy and Training, Tokyo

Ahearne AG, Shinada N (2005) Zombie firms and economic stagnation in Japan. Institute of Economic Research Hi-Stat Discussion paper series; No. d05-95, Hitotsubashi University, Tokyo. http://hdl.handle.net/10086/13991. Retrived 15 June 2017

Andress FJ (1954) The learning curve as a production tool. Harvard Business Review (January–February), pp 87–97

Argote L (2013) Organizational learning; creating, retaining, and transferring knowledge, 2nd edn. Springer, New York

Arrow K (1962) The economic implications of learning-by-doing. Rev Econ Stud 29(3):155–173

Asgari Behrooz, Gonzalez-Cortez Jose Luis (2012) Measurement of technological progress through analysis of learning rates: the case of the manufacturing industry in Mexico. Ritsumeikan J Asia Pac Stud 3:101–119

Asgari B, Yen LW (2009) Accumulated knowledge and technical progress in terms of learning rate; a comparative analysis of the manufacturing industry and service industry in Malaysia. Asian J Technol Innov 17(2):71–99

Badiru BA (1992) Computational survey of univariate and multivariate learning curve models. In: IEEE transaction on engineering management, pp 176–188

Baily MN, Hulten C, Cambell D (1992) Productivity dynamics in manufacturing plants, Brookings papers: microeconomics. University of Maryland, Maryland

Banker RD, Charnes A, Cooper WW (1984) Some models for estimating technical and scale inefficiencies in data envelopment analysis. Manag Sci 30:078–1092

Barreto-Gomez TL (2001) Technological learning in energy optimization models and deployment of emerging technologies. Thesis (doctoral). Swiss Federal Institute of Technology, Zurich

Braguinsky S, Ohyama A, Okazak T, Syverson C (2015) Acquisitions, productivity, and profitability: evidence from the Japanese cotton spinning industry. Am Econ Rev 105(7):2086–2119

Byun T, Kim K, Choi H (2012) Comparative analysis of the total factor productivity of manufacturing in Northeast Asian Metropolitan Areas. Growth Change 43(1):167–177

Carlsson B (1996) Technological systems and economic performance. In: Dodgson M, Rothwell R (eds) The handbook of industrial innovation. Edward Elgar, Broadheath, pp 33–53

Charnes A, Cooper WW, Rhodes E (1978) Measuring the efficiency of decision-making units. Eur J Oper Res 2(6):429–444

Coelli TJ, Rao PD, O'Donnel CJ, Battese GE (2005) An introduction to efficiency and productivity analysis. Springer Science, New York

Cooper WW, Seiford LM, Tone K (2007) Data envelopment analysis; a comprehensive text with models, applications, references, and DEA-solver software. Springer, New York

Fare R, Grosskopf S, Norris M, Zhang Z (1994) Productivity growth, technical progress and efficiency change in industrialized countries. Am Econ Rev 84(1):63–83

Fukao K (2013) Explaining Japan's unproductive two decades. Asian Econ Policy Rev 8(2):193–213

Fukao K, Kwon HU (2006) Why did Japan's TFP growth slow down in the lost decade? An empirical analysis based on firm-level data of manufacturing firms. Jpn Econ Rev 57(2):195–228

Hattori R, Maeda E (2000) The Japanese employment system (summary). Bank of Japan Monthly Bulletin, Tokyo

Ikemoto Y (1986) Technical progress and the level of technology in Asian countries. Dev Econ XXXIV(4):368–390

Jackson D (1998) Technological change, the learning curve and profitability. Edward Elgar Publishing Limited, Cheltenham

Jajri I (2007) The determinant of total factor productivity growth in Malaysia. J Econ Cooper 28(3):41–58

Japan Statistics (2014) Annual Report on the Consumer Price Index, Japan 2014. Statistical Bureau of Japan, Tokyo. http://www.stat.go.jp/english/data/cpi/report/2014np/pdf/2014np-e.pdf. Retrieved 8 May 2017

Jurgen E, Kadokawa K (2010) The evolution of regional labor productivities in Japanese manufacturing, 1968–2004. Reg Stud 44(9):1189–1205

Karaoz M, Mesut A (2005) Dynamic technological learning trends in Turkish manufacturing industries. Technol Forecast Soc Chang 27(7):866–885

Kawakami A, Miyagawa T, Takizawa M (2011) Revisiting productivity differences and firm turnover: Evidence from product-based TFP measures in the Japanese manufacturing industries. RIETI Discussion Paper Series 11-E-064, Tokyo

Kim S (2016) Factor determinants of total factor productivity growth for the Japanese manufacturing industries. Contemp Econ Policy 34(3):572–586

Kim S, Lee K (2015) Returns to scale, markup and total factor productivity for the Japanese manufacturing industry*. Korea World Econ 16(2):195–222

Krawiec F, Thornton J, Edesses M (1980) An investigation of learning and experience curve. Solar Energy Research Institute, Colorado

Kwon HU, Inui T (2003) R&D and Productivity growth in Japanese manufacturing firms. Cabinet Office, Economic and Social Research Institute; ESRI Discussion Paper Series No. 44, Tokyo

Liu Y, Westelius N (2016) The impact of demographics on productivity and inflation in Japan. International Monetary Fund (IMF-Working Paper-WP/16/237)

Mahadevan R (2002) A DEA approach to understanding the productivity growth of Malaysia's manufacturing industries. Asia Pac J Manag 19:587–600

Maisom A, Arshard M (1992) Pattern of total factor productivity growth in Malaysia manufacturing industries, 1973–1989. Universiti Pertanian Malaysia, Serdang

Majundar S, Asgari B (2017) Performance analysis of listed companies in the UAE-Using DEA Malmquist index approach. Am J Oper Res 7(2):133–151

METI (2010) Japan's Manufacturing Industry. Ministry of Economy Trade and Industry, Tokyo

Milana C, Nascia L, Zeli A (2013) Decomposing multifactor productivity in Italy from 1998 to 2004: evidence from large firms and SMEs using DEA. J Prod Anal 40:99–109. https://doi.org/10.1007/s11123-013-0337-z

Mitra A, Sato H (2007) Agglomeration economies in Japan: technical efficiency, growth, and unemployment. RURDS 19(3):197–209

Miyagawa T, Sakuragawa Y, Takizawa M (2005) Productivity and the business cycle in Japan; evidence from Japanese industry data. The Research Institute of Economy, Trade, and Industry (RIETI) Discussion Paper Series 05-E-022

Moore T, Mirzaei A (2016) The impact of the global financial crisis on industry growth. Manch Sch 84(2):159–180

Najmabadi F, Lall S (1995) Developing industrial technology; lessons for policy and practice. The World Bank, Washington, DC

OECD (2001) Measurement of aggregate and industry-level productivity growth. Organization for Economic Co-operation and Development, Paris

OECD (2011a) ISIC Rev. 3 Technology intensity definition; Classification of manufacturing industries into categories based on R&D intensities. OECD Directorate for science, technology, and industry, economic analysis, and statistics division, Paris

OECD (2011b) China's emergence as a market economy: achievements and challenges. Organization for Economic Corporation and Development (OECD), Beijing

Okada Y (2005) Competition and productivity in Japanese manufacturing industries. J Jpn Int Econ 19(4):586–616

Platt L, Wilson G (1999) Technological development and the poor/marginalized; context. Intervention and participation. Technovation 19(6–7):393–401

Pramongkit P, Shawyun T, Boonmark S (2000) Analysis of technological learning for Thai manufacturing. Technovation 20(4):189–195

Rogers M (1998) The Definition and Measurement of Productivity. Melbourne Institute Working Paper No. 9/98, Parksville

Solow RM (1956) A contribution to the theory of economic growth. Q J Econ 70(1):65–94

SriPoorni RS, Manonmani M (2014) Factors influencing productivity across the Southern States of India—an application of the discriminant function. Int J Commer Bus Manag 3(4):2319–2828

Syverson C (2011) What determines productivity? J Econ Lit 49(2):326–365

Takii K (2011) Persistent productivity differences between firms. RIETI discussion paper series 11-E-048. The Research Institute of Economy, Trade, and Industry

Taylor ML (1961) The learning curve—a basic cost prediction tool. Natl Assoc Acc Bull 21–26

The Economist (2009) The collapse of manufacturing. http://www.economist.com/node/13144864. Retrieved 11 May 2017

Tim C (1996) A guide to DEAP version 2.1: a data envelopment analysis computer program-CEPA working papers. University of New England, Armidale

Tomiura A (1997) Productivity in Japan's manufacturing industry. Int J Prod Econ 52(1–2):239–246

US-EPA (2016) Cost reduction through Learning in manufacturing industries and in the manufacture of mobile sources. Working assignment No. 3-09. Fairfax: the United States Environmental Protection Agency

World Bank (2012) The role of emerging-market economy demand during the post-2005 boom. World Bank, Washington, DC

World Bank (2016) Data, The World Bank. Retrieved from The World Bank. http://data.worldbank.org/indicator/NV.IND.MANF.ZS?locations=JP. Retrieved 16 Feb 2017

Wright TP (1936) Factors affecting the cost of airplanes. J Aeronaut Sci 3:122–128

Wyer R (1953) Learning curve helps figure profits, control cost. Natl Assoc Cost Acc Bull 35(4):490–502

Yelle LE (1979) The learning curve: historical review and comprehensive survey. Decis Sci 10(2):302–328

Yoshino N, Taghizadeh-Hesary F (2015) Japan's lost decade: Lessons for other economies. Asian Development Bank Institute (ADBI Working Paper 521), Tokyo
Acknowledgements
We thank Japan Ministry of Economy, Trade and Industry (METI) for publishing and making data on manufacturing industries of Japan openly free for research. And Japan International Cooperation Agency (JICA) for generously providing scholarship fund to Mr. ADUBA Joseph Junior during his study at Ritsumeikan Asia Pacific University, under the ABE initiatives program.
Additional information
Publisher's Note
Springer Nature remains neutral with regard to jurisdictional claims in published maps and institutional affiliations.
Appendices
Appendix A: Test for return to scale production technologies
Panel A: Output-value added
lnva
Coef.
St.Err.
t value
p value
(95% Conf. Interval)
Sig
lnl
6.924
0.713
9.71
0.000
5.526
8.323
***
lnk
0.425
0.053
8.07
0.000
0.322
0.528
***
Constant
− 8.912
1.073
− 8.30
0.000
− 11.016
− 6.809
***
Mean dependent var
14.621
SD dependent var
1.393
Number of obs
375.000
Chi square
2140.085
Prob > Chi2
0.000
Akaike crit. (AIC)
− 49.022
lnva
Coef.
Std.Err.
z
p > z
(95% Conf. Interval)
IRS/DRS test
7.349
0.665
11.050
0.000
6.046
8.653
Chi2
91.15
Prob > Chi2
0.000
Panel B: Output-revenue
lnR
Coef.
St.Err.
t value
p value
(95% Conf. Interval)
Sig
lnl
6.004
0.788
7.61
0.000
4.458
7.549
***
lnk
0.499
0.054
9.16
0.000
0.392
0.606
***
Constant
− 4.923
1.194
− 4.12
0.000
− 7.264
− 2.582
***
Mean dependent var
16.189
SD dependent var
1.414
Number of obs
375.000
Chi square
1333.981
Prob > Chi2
0.000
Akaike crit. (AIC)
− 430.461
lnR
Coef.
Std.Err.
z
P > z
(95% Conf. Interval)
IRS/DRS test
6.503
0.740
8.790
0.000
5.052
7.953
Chi2
55.27
Prob > Chi2
0.0000
Appendix B: Estimated technical efficiency using VRS production technology assumption
| Manufacturing industry | 00 | 01 | 02 | 03 | 04 | 05 | 06 | 07 | 08 | 09 | 10 | 11 | 12 | 13 | 14 |
| --- | --- | --- | --- | --- | --- | --- | --- | --- | --- | --- | --- | --- | --- | --- | --- |
| Business oriented machinery | 77 | 76 | 68 | 64 | 64 | 53 | 54 | 46 | 42 | 50 | 49 | 39 | 36 | 34 | 37 |
| Ceramic, stone and clay products | 43 | 40 | 38 | 35 | 34 | 27 | 28 | 26 | 26 | 31 | 30 | 25 | 26 | 25 | 27 |
| Chemical and allied products | 84 | 83 | 81 | 75 | 80 | 72 | 75 | 75 | 78 | 85 | 89 | 87 | 81 | 81 | 79 |
| Electrical machinery, equipment and supplies | 100 | 100 | 100 | 100 | 100 | 63 | 72 | 64 | 59 | 69 | 70 | 64 | 66 | 69 | 74 |
| Electronic parts, devices and electronic circuits | 75 | 64 | 65 | 59 | 58 | 43 | 45 | 44 | 40 | 50 | 48 | 46 | 47 | 44 | 49 |
| General-purpose machinery | 67 | 66 | 62 | 60 | 64 | 36 | 40 | 37 | 39 | 44 | 40 | 36 | 36 | 32 | 37 |
| Information and comm. electronic equipment | 93 | 99 | 96 | 99 | 94 | 86 | 89 | 87 | 90 | 97 | 95 | 65 | 61 | 57 | 51 |
| Iron and steel | 60 | 57 | 54 | 52 | 57 | 54 | 59 | 62 | 70 | 63 | 74 | 68 | 55 | 56 | 62 |
| Production machinery | 64 | 57 | 51 | 54 | 58 | 47 | 51 | 48 | 45 | 43 | 45 | 39 | 39 | 35 | 43 |
| Transport equipment | 100 | 100 | 100 | 100 | 100 | 100 | 100 | 100 | 100 | 100 | 100 | 100 | 100 | 100 | 100 |
| Beverages, tobacco and feed | 75 | 75 | 69 | 70 | 65 | 47 | 46 | 41 | 46 | 60 | 61 | 42 | 43 | 41 | 43 |
| Food | 75 | 83 | 83 | 77 | 76 | 69 | 72 | 68 | 75 | 94 | 92 | 85 | 86 | 83 | 88 |
| Furniture and fixtures | 75 | 77 | 74 | 71 | 66 | 54 | 60 | 52 | 56 | 68 | 59 | 58 | 62 | 56 | 59 |
| Leather tanning, leather products and fur skins | 100 | 100 | 100 | 100 | 100 | 100 | 100 | 100 | 100 | 100 | 100 | 100 | 100 | 100 | 100 |
| Lumber and wood products | 79 | 80 | 88 | 76 | 69 | 59 | 72 | 53 | 55 | 66 | 60 | 58 | 60 | 59 | 62 |
| Miscellaneous manufacturing industries | 71 | 79 | 66 | 63 | 51 | 41 | 48 | 50 | 54 | 63 | 49 | 39 | 44 | 37 | 39 |
| Printing and allied industries | 63 | 65 | 58 | 51 | 49 | 39 | 41 | 37 | 39 | 54 | 45 | 38 | 40 | 36 | 35 |
| Pulp, paper and paper products | 41 | 40 | 39 | 36 | 34 | 27 | 29 | 28 | 29 | 38 | 35 | 30 | 30 | 30 | 32 |
| Textile mill products | 45 | 43 | 39 | 37 | 37 | 25 | 30 | 27 | 29 | 53 | 45 | 27 | 29 | 26 | 27 |
| Fabricated metal and products | 53 | 54 | 53 | 45 | 51 | 43 | 45 | 44 | 44 | 56 | 51 | 45 | 48 | 44 | 48 |
| Non-ferrous metals and products | 43 | 42 | 38 | 36 | 37 | 36 | 51 | 53 | 46 | 49 | 59 | 49 | 45 | 43 | 46 |
| Petroleum and coal products | 100 | 100 | 100 | 100 | 100 | 100 | 100 | 100 | 100 | 100 | 100 | 100 | 100 | 100 | 100 |
| Plastic products | 71 | 67 | 57 | 52 | 55 | 46 | 48 | 42 | 41 | 46 | 41 | 37 | 41 | 38 | 40 |
| Ruber products | 39 | 46 | 40 | 33 | 32 | 26 | 28 | 27 | 29 | 31 | 30 | 26 | 27 | 23 | 25 |
| Industry average | 70 | 70 | 67 | 64 | 64 | 54 | 58 | 55 | 55 | 63 | 61 | 54 | 54 | 52 | 54 |
Appendix C: Summary of Malmquist productivity index by industrial groups*
 
2001
2002
2003
2004
2005
2006
2007
2008
2009
2010
2011
2012
2013
2014
Panel A: High tech industries
Business oriented machinery
 EFFCH
0.981
0.887
0.939
1.016
0.825
1.016
0.850
0.911
1.197
0.985
0.783
0.935
0.947
1.082
 TECHCH
0.961
1.098
1.112
1.053
1.216
0.966
1.115
0.946
0.698
1.217
1.201
0.923
1.094
0.902
 TFPCH
0.942
0.974
1.044
1.070
1.003
0.982
0.947
0.862
0.835
1.199
0.940
0.863
1.036
0.976
Electronic dev. and electronic circuits
 EFFCH
0.848
1.019
0.911
0.984
0.741
1.050
0.872
1.012
1.256
0.839
0.772
1.026
0.946
1.150
 TECHCH
0.961
1.098
1.123
1.043
1.216
0.966
1.115
0.946
0.698
1.217
1.201
0.923
1.094
0.902
 TFPCH
0.815
1.118
1.023
1.027
0.901
1.014
0.971
0.957
0.876
1.021
0.927
0.947
1.036
1.037
Info. and comm. Electronic equipment
 EFFCH
0.707
0.915
0.901
1.032
0.863
1.027
0.968
0.954
1.186
0.846
0.840
0.997
0.885
0.993
 TECHCH
0.984
1.098
1.089
1.072
1.216
0.966
1.115
0.946
0.698
1.217
1.201
0.923
1.094
0.902
 TFPCH
0.695
1.004
0.982
1.106
1.050
0.992
1.078
0.902
0.828
1.030
1.009
0.921
0.968
0.896
Pharmaceutical industries
 EFFCH
0.970
0.942
0.858
0.993
0.847
1.050
0.962
1.013
1.308
0.886
0.792
1.067
0.955
1.077
 TECHCH
0.998
1.098
1.085
1.078
1.216
0.966
1.115
0.946
0.698
1.217
1.201
0.923
1.094
0.902
 TFPCH
0.968
1.034
0.930
1.070
1.030
1.014
1.072
0.959
0.913
1.078
0.951
0.985
1.045
0.972
Panel B: Medium high-tech industries
General-purpose machinery
 EFFCH
0.950
0.891
0.948
1.025
0.661
1.090
0.942
1.040
1.121
0.929
0.890
0.990
0.893
1.172
 TECHCH
0.961
1.098
1.114
1.050
1.216
0.966
1.115
0.946
0.698
1.217
1.201
0.923
1.094
0.902
 TFPCH
0.913
0.978
1.056
1.077
0.803
1.053
1.050
0.984
0.782
1.131
1.069
0.915
0.977
1.057
Production machinery
 EFFCH
0.892
0.903
1.045
1.079
0.811
1.092
0.932
0.938
0.954
1.056
0.861
0.996
0.900
1.231
 TECHCH
0.961
1.098
1.116
1.048
1.216
0.966
1.115
0.946
0.698
1.217
1.201
0.923
1.094
0.902
 TFPCH
0.857
0.992
1.166
1.130
0.985
1.055
1.039
0.887
0.666
1.285
1.033
0.920
0.985
1.110
Electrical machinery, equip.
 EFFCH
0.963
0.945
1.099
0.853
0.517
1.180
0.902
0.920
1.313
0.873
0.743
1.125
1.019
1.106
 TECHCH
0.961
1.098
1.121
1.044
1.216
0.966
1.115
0.946
0.698
1.217
1.201
0.923
1.094
0.902
 TFPCH
0.925
1.037
1.233
0.890
0.629
1.140
1.005
0.871
0.916
1.063
0.892
1.039
1.115
0.997
Chemical
 EFFCH
0.970
0.942
0.858
0.993
0.847
1.050
0.962
1.013
1.308
0.886
0.792
1.067
0.955
1.077
 TECHCH
0.998
1.098
1.085
1.078
1.216
0.966
1.115
0.946
0.698
1.217
1.201
0.923
1.094
0.902
 TFPCH
0.968
1.034
0.930
1.070
1.030
1.014
1.072
0.959
0.913
1.078
0.951
0.985
1.045
0.972
Transport equipment
 EFFCH
1.026
0.995
0.894
0.940
0.814
1.073
0.982
0.958
1.278
0.876
0.838
1.070
0.878
1.001
 TECHCH
0.982
1.098
1.097
1.067
1.216
0.966
1.115
0.946
0.698
1.217
1.201
0.923
1.094
0.902
 TFPCH
1.007
1.093
0.981
1.004
0.989
1.036
1.095
0.906
0.892
1.066
1.006
0.988
0.961
0.903
Panel C: Medium low-tech industries
Iron and steel
 EFFCH
0.913
0.976
0.934
1.132
0.888
1.017
1.046
1.171
0.924
1.001
0.876
0.910
1.038
1.117
 TECHCH
1.016
1.098
1.075
1.087
1.216
0.966
1.115
0.946
0.698
1.217
1.201
0.923
1.094
0.902
 TFPCH
0.927
1.071
1.004
1.230
1.079
0.982
1.166
1.107
0.645
1.218
1.052
0.840
1.136
1.008
Petroleum and coal products
 EFFCH
1.000
1.000
1.000
1.000
1.000
1.000
1.000
1.000
1.000
1.000
1.000
1.000
1.000
1.000
 TECHCH
1.108
1.050
1.026
1.104
1.189
1.013
1.100
0.905
0.716
1.196
1.180
0.974
1.000
0.925
 TFPCH
1.108
1.050
1.026
1.104
1.189
1.013
1.100
0.905
0.716
1.196
1.180
0.974
1.113
0.925
Plastic products
 EFFCH
0.937
0.850
0.903
1.074
0.828
1.040
0.890
0.972
1.123
0.878
0.916
1.094
0.925
1.061
 TECHCH
0.961
1.098
1.116
1.044
1.216
0.966
1.115
0.946
0.698
1.217
1.201
0.923
1.000
0.902
 TFPCH
0.901
0.933
1.008
1.121
1.006
1.004
0.992
0.920
0.784
1.069
1.100
1.010
1.012
0.957
Rubber products
 EFFCH
1.178
0.888
0.806
0.976
0.803
1.084
0.969
1.065
1.091
0.978
0.840
1.045
0.870
1.088
 TECHCH
0.981
1.098
1.095
1.069
1.216
0.966
1.115
0.946
0.698
1.217
1.201
0.923
1.000
0.902
 TFPCH
1.155
0.975
0.883
1.044
0.976
1.047
1.080
1.008
0.762
1.191
1.009
0.965
0.952
0.982
Non-ferrous metals and products
 EFFCH
0.843
0.914
0.888
1.054
0.979
1.405
1.040
0.890
1.116
0.921
0.785
0.975
0.922
1.186
 TECHCH
1.009
1.098
1.076
1.086
1.216
0.966
1.115
0.946
0.698
1.217
1.201
0.923
0.979
0.902
 TFPCH
0.851
1.003
0.955
1.144
1.190
1.357
1.159
0.842
0.779
1.121
0.942
0.901
1.009
1.070
Fabricated metal and products
 EFFCH
1.014
0.982
0.858
1.090
0.870
1.067
0.977
0.994
1.265
0.870
0.802
1.094
0.935
1.092
 TECHCH
0.961
1.098
1.123
1.041
1.216
0.966
1.115
0.946
0.698
1.217
1.201
0.923
1.013
0.902
 TFPCH
0.974
1.078
0.964
1.134
1.057
1.030
1.088
0.941
0.883
1.059
0.963
1.010
1.024
0.985
Panel D: Low-tech industries
Food
 EFFCH
1.042
0.953
0.851
0.960
0.798
1.049
0.930
1.144
1.329
0.877
0.854
1.051
0.902
1.083
 TECHCH
0.961
1.098
1.126
1.039
1.216
0.966
1.115
0.946
0.698
1.217
1.201
0.923
0.941
0.902
 TFPCH
1.001
1.046
0.958
0.997
0.970
1.013
1.037
1.083
0.927
1.067
1.025
0.971
0.987
0.977
Beverages, Tobacco and Feed
 EFFCH
0.961
0.902
0.978
0.988
0.766
0.961
0.872
1.133
1.419
0.841
0.680
1.100
0.918
1.161
 TECHCH
1.009
1.098
1.077
1.085
1.216
0.966
1.115
0.946
0.698
1.217
1.201
0.923
0.949
0.902
 TFPCH
0.970
0.990
1.054
1.072
0.931
0.928
0.972
1.072
0.991
1.023
0.817
1.016
1.004
1.047
Textile mill products
 EFFCH
0.957
0.902
0.956
0.995
0.693
1.164
0.910
1.055
1.874
0.843
0.599
1.080
0.885
1.067
 TECHCH
0.961
1.098
1.120
1.041
1.216
0.966
1.115
0.946
0.698
1.217
1.201
0.923
1.000
0.902
 TFPCH
0.919
0.990
1.072
1.036
0.842
1.124
1.014
0.998
1.308
1.026
0.719
0.998
0.969
0.962
Lumber and wood products
 EFFCH
0.976
1.083
0.861
0.950
0.862
1.193
0.747
1.030
1.216
0.897
0.968
1.043
0.984
1.046
 TECHCH
0.961
1.098
1.126
1.039
1.216
0.966
1.115
0.946
0.698
1.217
1.201
0.923
0.999
0.902
 TFPCH
0.938
1.189
0.970
0.987
1.047
1.152
0.832
0.974
0.849
1.092
1.162
0.963
1.077
0.944
Furniture and fixtures
 EFFCH
0.967
0.942
0.963
1.003
0.798
1.094
0.885
1.066
1.223
0.872
0.973
1.082
0.900
1.067
 TECHCH
0.961
1.098
1.126
1.039
1.216
0.966
1.115
0.946
0.698
1.217
1.201
0.923
1.002
0.902
 TFPCH
0.929
1.033
1.084
1.042
0.970
1.057
0.987
1.009
0.854
1.061
1.169
1.000
0.985
0.963
Pulp, paper and paper products
 EFFCH
0.943
1.000
0.867
0.951
0.795
1.087
0.931
1.084
1.330
0.842
0.821
1.099
0.997
1.087
 TECHCH
0.999
1.098
1.087
1.076
1.216
0.966
1.115
0.946
0.698
1.217
1.201
0.923
1.002
0.902
 TFPCH
0.942
1.098
0.942
1.024
0.966
1.050
1.038
1.026
0.928
1.025
0.986
1.015
1.091
0.981
Printing and allied industries
 EFFCH
1.026
0.900
0.872
0.981
0.788
1.044
0.909
1.056
1.386
0.830
0.837
1.066
0.907
0.972
 TECHCH
0.961
1.098
1.121
1.045
1.216
0.966
1.115
0.946
0.698
1.217
1.201
0.923
1.000
0.902
 TFPCH
0.986
0.988
0.978
1.025
0.958
1.008
1.013
0.999
0.968
1.011
1.005
0.984
0.993
0.877
Leather tan., products and fur skins
 EFFCH
0.546
0.963
0.967
1.805
0.788
0.782
1.135
0.784
1.314
0.985
0.847
1.026
0.954
1.418
 TECHCH
0.961
1.098
1.126
1.039
1.216
0.966
1.115
0.946
0.698
1.217
1.201
0.923
0.954
0.902
 TFPCH
0.525
1.057
1.089
1.874
0.958
0.756
1.265
0.742
0.917
1.199
1.017
0.948
1.044
1.279
Miscellaneous manufacturing industries
 EFFCH
1.094
0.831
0.964
0.831
0.804
1.150
1.052
1.082
1.169
0.774
0.797
1.130
0.838
1.045
 TECHCH
0.963
1.098
1.113
1.058
1.216
0.966
1.115
0.946
0.698
1.217
1.201
0.923
0.999
0.902
 TFPCH
1.054
0.912
1.073
0.878
0.977
1.111
1.173
1.024
0.816
0.942
0.957
1.044
0.917
0.943
Ceramic, stone and clay products
 EFFCH
0.913
0.957
0.933
0.818
0.880
1.084
0.927
1.024
1.168
0.945
0.797
1.080
0.944
1.105
 TECHCH
0.981
1.098
1.096
1.070
1.216
0.966
1.115
0.946
0.698
1.217
1.201
0.923
1.094
0.902
 TFPCH
0.895
1.050
1.022
0.875
1.070
1.047
1.033
0.968
0.815
1.151
0.957
0.997
1.034
0.997
About this article
Cite this article
Aduba, J.J., Asgari, B. Productivity and technological progress of the Japanese manufacturing industries, 2000–2014: estimation with data envelopment analysis and log-linear learning model. Asia-Pac J Reg Sci 4, 343–387 (2020). https://doi.org/10.1007/s41685-019-00131-w
Received:

Accepted:

Published:

Issue Date:
Keywords
Efficiency

Productivity

Total-factor-productivity

Learning-by-doing

Technological learning

Manufacturing Industry
JEL Classification