Abstract
Response surface methodology is a widely used mathematical tool for optimization and recently fast growing toward wastewater treatment process optimization. Paper mill wastewater treatment by electrocoagulation using RSM has been found widespread with use of central composite design. The present research work deals with the comparison of central composite design and hybrid central composite design for treatment of paper mill wastewater by electrocoagulation. The advantages and drawbacks of both designs were described, and detailed statistical evaluation of applied models was performed. The set of experimental runs was determined by using RSM-based central composite design and hybrid central composite design to evaluate the individual and interactive impacts of process parameters on treatment effectiveness. The impact of essential process factors pH (Asghar et al. 2014; Ashrafi et al. 2015; Azadi et al. 2015; Bellebia et al. 2011; Box and Behnken 1960; Box and Wilson 1951; Chen et al. 2000; Chollom et al. 2019), conductivity (3.15–10 mS/cm), electrode distance (1–2.5 cm), and current density (5–20 mA/cm2) on three response parameters of chemical oxygen demand, color, and total dissolved solid was evaluated. Regression coefficient and p value for all response variables are > 0.90 and < 0.05 respectively. For both designs, central composite design and hybrid central composite design indicate that both models are statistically significant and are in well agreement with predicted and experimental data. Comparison of the distribution of responses in the design region between central composite design and a hybrid central composite design in single curve is represented by fraction of design space. Derringer desirability for all response optimizations over optimum operating conditions is determined at hundred design point for global solution.
This is a preview of subscription content, log in to check access.
Access options
Buy single article
Instant access to the full article PDF.
US$ 39.95
Price includes VAT for USA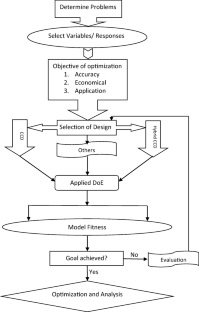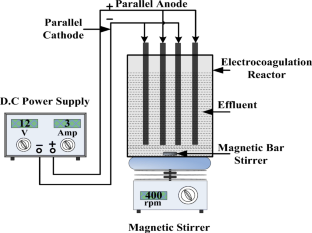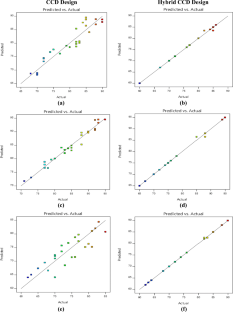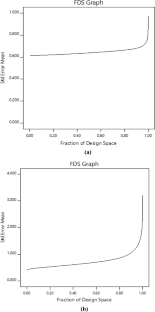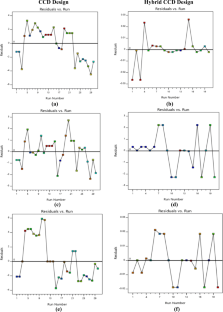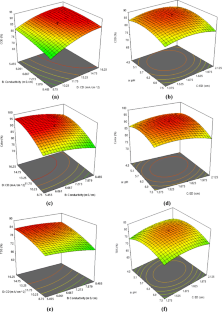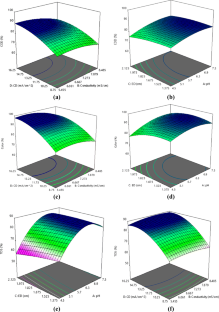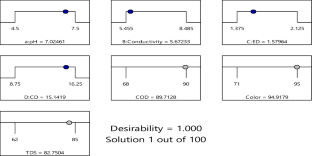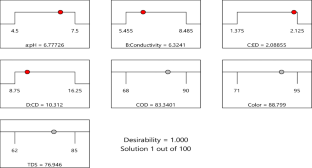 References
Ahmadi M, Vahabzadeh F, Bonakdarpour B, Mofarrah E, Mehranian M (2005) Application of the central composite design and response surface methodology to the advanced treatment of olive oil processing wastewater using Fenton's peroxidation. J Hazard Mater 123(1–3):187–195. https://doi.org/10.1016/j.jhazmat.2005.03.042

Altin A, Altin S, Yildirim O (2017) Treatment of kraft pulp and paper mill wastewater by electro-Fenton/electrocoagulation process. J Environ Prot Ecol 18(2):652–661

APHA (2012) Standard methods for the examination of water and waste water, 22st edn. American Public Health Association, Washington

Asghar A, Raman AAA, Daud WMAW (2014) A comparison of central composite design and Taguchi method for optimizing Fenton process. Sci World J 869120:14. https://doi.org/10.1155/2014/869120

Ashrafi O, Yerushalmi L, Haghighat F (2015) Wastewater treatment in the pulp and paper industry: a review of treatment processes and the associated greenhouse gas emission. J Environ Manag 158:146–157. https://doi.org/10.1016/j.jenvman.2015.05.010

Azadi AM, Kariminia H-R, Safari S (2015) Removal of lignin, COD, and color from pulp and paper wastewater using electrocoagulation. Desalin Water Treat. https://doi.org/10.1080/19443994.2015.1040461

Bajpai S, Gupta SK, Dey A, Jha MK, Bajpai V, Joshi S, Gupta A (2012) Application of central composite design approach for removal of chromium (VI) from aqueous solution using weakly anionic resin: modelling, optimization, and study of interactive variables. J Hazard Mater 227–228:436–444. https://doi.org/10.1016/j.jhazmat.2012.05.016

Bellebia S, Kacha S, Bouyakoub AZ, Derriche Z (2011) Experimental investigation of chemical oxygen demand and turbidity removal from cardboard paper mill effluents using combined electrocoagulation and adsorption processes. Environ Prog Sustain. https://doi.org/10.1002/ep.10556

Box GEP, Behnken DW (1960) Some new three level designs for the study of quantitative variables. Technometrics. 2:455–476

Box GEP, Wilson KB (1951) On the experimental attainment of optimum conditions. J Roy Statist Soc Ser B 13(1):1–45 https://www.jstor.org/stable/2983966

Chen X, Chen G, Yue PL (2000) Separation of pollutants from restaurant wastewater by electrocoagulation. Sep Purif Technol 19:65–76. https://doi.org/10.1016/S1383-5866(99)00072-6

Chollom MR, Rathilal S, Swalaha FM, Bakare BF, Tetteh EK (2019) Comparison of response surface methods for the optimization of an upflow anaerobic sludge blanket for the treatment of slaughterhouse wastewater. Environ Eng Res 25(1):114–122. https://doi.org/10.4491/eer.2018.366

Crosier RB, 1993. Response surface design comparisons: technical report. U. S. Army Edgewood Research, Development and Engineering Center, SCBRD-RTM, Bldg. E3160 Aberdeen Proving ground, Maryland, MD 21010-5423

Derringer G, Suich R (1980) Simultaneous optimization of several response variables. J Qual Technol 12:214–219. https://doi.org/10.1080/00224065.1980.11980968

Gao WJ, Han MN, Chunbao X, Liao BQ, Hong Y, Cumin J, Dagnew M (2016) Performance of submerged anaerobic membrane bioreactor forthermomechanical pulping wastewater treatment. J Water Process Eng 13:70–78

Guvenc SY, Okut Y, Ozak M, Haktanir B, Bilgili MS (2016) Process optimization via response surface methodology in the treatment of metal working industry wastewater with electrocoagulation. Water Sci Technol 75(3–4):833–846. https://doi.org/10.2166/wst.2016.557

Hiwarkar AD, Singh S, Srivastava VC, Thakur C, Mall ID, Lo SL (2017) Electro-chemical mineralization of recalcitrant indole by platinum-coated titanium electrode: multi-response optimization, mechanistic and sludge disposal study. Int J Environ Sci Technol 15:349–360.

Jaafarzadeh N, Omidinasab M, Ghanbari F (2016) Combined electrocoagulation and UV-based sulfate radical oxidation process for treatment of pulp and paper wastewater. Process Saf Environ 102:462–472. https://doi.org/10.1016/j.psep.2016.04.019

Karichappan T, Venkatachalam S, Jeganathan P (2014) Optimization of electrocoagulation process to treat grey wastewater in batch mode using response surface methodology. J Environ Sci Health A 12(1):12–29. https://doi.org/10.1186/2052-336X-12-29

Khaloo SS, Zolfaghari H, Gholamnia R (2014) Response surface methodology for optimization of 4-nitrophenol degradation by a heterogeneous Fenton-like reaction on nano-zero-valent iron, Desalin. Desalin Water Treat 56(8):2206–2213. https://doi.org/10.1080/19443994.2014.959061

Kiefer JC, and Brown LD, 1985. Jack Carl Kiefer collected papers III Design of Experiments. Springer-Verlag. ISBN 978-0-387-96004-3

Mahesh S, Prasad B, Mall ID, Mishra IM (2006) Electrochemical degradation of pulp and paper mill wastewater part 1. COD and color removal. Ind Eng Chem Res 45(8):2830–2839. https://doi.org/10.1021/ie0514096

Mehmood K, Rehman SKU, Wang J, Farooq F, Mahmood Q, Jadoon AM, Javed MF, Ahmad I (2019) Treatment of pulp and paper industrial effluent using physicochemical process for recycling. Water 11:2393. https://doi.org/10.3390/w11112393

Modirshahla N, Behnajady MA, Mohammadi-Aghdam S (2008) Investigation of the effect of different electrodes and their connections on the removal efficiency of 4-nitrophenol from aqueous solution by electrocoagulation. J Hazard Mater 154(1–3):778–786. https://doi.org/10.1016/j.jhazmat.2007.10.120

Myers RH, Montgomery DC, Vining GG, Borror CM, Kowalski SM (2004) Response surface methodology: a retrospective and literature survey. J Qual Technol 36(1):53–77. https://doi.org/10.1080/00224065.2004.11980252

Myers RH, Montgomery DC, Anderson-Cook CM (2009) Response surface methodology process and product optimization using designed experiments, 3rd edn. John Wiley & Sons, Inc, Hoboken

Patel A, Arora N, Pruthi V, Pruthi PA (2017) Biological treatment of pulp and paper industry effluent by oleaginous yeast integrated with production of biodiesel as sustainable transportation fuel. J Clean Prod 142:2858–2864

Punathil S, Kumar V, Thakur CK, Ghosh P (2019) Taguchi optimization of COD removal by heterogeneous Fenton process using copper ferro spinel catalyst in a fixed bed reactor. RTD, kinetic and thermodynamic study. J Environ Chem Eng 7(1):102859. https://doi.org/10.1016/j.jece.2018.102859

Puro L, Kallioinen M, Manttari M, Natarajan G, Cameron DC, Nystrom M (2010) Performance of RC and PES ultrafiltration membranes in filtration of pulp mill process waters. Desalination 264:249–255

Roquemore G (1976) Hybrid designs for quadratic response surfaces. Technometrics 18:419–423. https://doi.org/10.1080/00401706.1976.10489473

Soloman PA, Basha CA, Velan M, Balasubramanian N, Marimuthu P (2009) Augmentation of biodegradability of pulp and paper industry wastewater by electrochemical pre-treatment and optimization by RSM. Sep Purif Technol 69(1):109–117. https://doi.org/10.1016/j.seppur.2009.07.002

Thakur C, Srivastava VC, Mall ID (2009) Electrochemical treatment of a distillery wastewater: parametric and residue disposal study. Chem Eng J 148:496–505. https://doi.org/10.1016/j.cej.2008.09.043

Thakur C, Srivastava VC, Mall ID, Hiwarkar AD (2017) Mechanistic study and multi-response optimization of the electrochemical treatment of petroleum refinery wastewater. CLEAN - Soil Air Water 46(3):1700624. https://doi.org/10.1002/clen.201700624

Ugurlu M, Karaoglu MH, Kula I (2006) Experimental investigation of chemical oxygen demand, lignin and phenol removal from paper mill effluents using three-phase three-dimensional electrode reactor. Pol J Environ Stud 15(4):647–654

Varank G, Guvenc SY, Gurbuz G, Engin GO (2016) Statistical optimization of process parameters for tannery wastewater treatment by electrocoagulation and electrofenton techniques. Desalin Water Treat 57:1–14. https://doi.org/10.1080/19443994.2016.1157042

Wirojanagud W, Tantemsapaya N, Chalokpanrat P, Suwannakom S (2010) Impact of seepage from land treatment of pulp and paper effluent on water quality and aquaculture. Environ Eng Res 15(3):163–166. https://doi.org/10.4491/eer.2010.15.3.16

Yuzhong Z, Chunming M, Feng Y, Ying K, Hong L (2009) The treatment of wastewater of paper mill with integrated membrane process. Desalination 236:349–356

Zahran A, Anderson-Cook CM, Myers RH (2003) Fraction of design space to assess prediction capability of response surface designs. J Qual Technol 35:377–386. https://doi.org/10.1080/00224065.2003.11980235

Zaroual Z, Chaair H, Essadki AH, El Ass K, Azzi M (2009) Optimizing the removal of trivalent chromium by electrocoagulation using experimental design. Chem Eng J 148:488–495. https://doi.org/10.1016/j.cej.2008.09.040

Zolgharnein J, Bagtash M, Asanjarani N (2014) Hybrid central composite design approach for simultaneous optimization of removal of alizarin red S and indigo carmine dyes using cetyltrimethylammonium bromide-modified TiO2 nanoparticles. J Environ Chem Eng 2:988–1000. https://doi.org/10.1016/j.jece.2014.03.017
Ethics declarations
Conflict of Interest
The authors declare that they have no conflict of interest.
Additional information
Publisher's Note
Springer Nature remains neutral with regard to jurisdictional claims in published maps and institutional affiliations.
About this article
Cite this article
Pandey, N., Thakur, C. Statistical Comparison of Response Surface Methodology–Based Central Composite Design and Hybrid Central Composite Design for Paper Mill Wastewater Treatment by Electrocoagulation. Process Integr Optim Sustain (2020). https://doi.org/10.1007/s41660-020-00123-w
Received:

Revised:

Accepted:

Published:
Keywords
Paper mill

Central composite design

Hybrid central composite design

Derringer desirability

Fraction of design space