Abstract
In India, there has been a shift from using unclaimed bodies to voluntary body donation for anatomy dissections in medical colleges. This study used in-depth qualitative interviews to explore the deeper intent, values and attitudes towards body donation, the body and death, and expectations of the body donor (N = 12), as well as their next of kin (N = 7) and representative religious scholars (N = 12). All donors had enrolled in a body bequest programme in a medical school in South India. This study concludes that body donors are philanthropists with deep-rooted values of altruism and service, who are often willing to forgo traditional religious and cultural death rituals. The next of kin are often uncomfortable with the donor's decision, and this suggests that it is important that dialogue/counselling occurs at the time of the bequest, if the donor's wishes are to be respected. Religious injunctions are often misinterpreted; this implies that religious leaders/scholars can play a significant role in addressing these misconceptions which are barriers to body donation. Body bequest programmes in India may be enhanced by positioning body donation as 'daana'—giving without any expectation of return for a higher purpose, including ceremonies of respect in medical colleges. Furthermore, increased public engagement and awareness about body bequest programmes are also important to enhance participation. When medical students internalise what body donors expect of them, i.e. altruism, empathy with patients and becoming 'good doctors', it will help to ensure that the donation was not in vain and that the dead truly teach the living.
This is a preview of subscription content, log in to check access.
Access options
Buy single article
Instant access to the full article PDF.
US$ 39.95
Price includes VAT for USA
Subscribe to journal
Immediate online access to all issues from 2019. Subscription will auto renew annually.
US$ 99
This is the net price. Taxes to be calculated in checkout.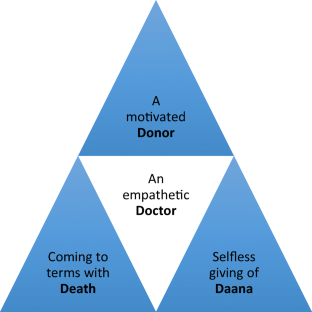 References
Ajita, Rajkumari, and Y. Ibochouba Singh. 2007. Body donation and its relevance in anatomy learning. Journal of the Anatomical Society of India 56 (1): 2–7.

Ali, A., Z.N. Khan, W. Konczalik, P. Coughlin, and EI Sayed S. 2015. The perception of anatomy teaching among UK medical students. Bulletin of the Royal College of Surgeons of England 97 (9): 397–400. https://doi.org/10.1308/rcsbull.2015.397.

Anand, Arun. 2018. Body-organ donation: Towards a healthy society. first edition. New Delhi: Prabhat Prakashan 144 pp.

Arnold, David. 1993. Colonizing the body: State medicine and epidemic disease in nineteenth-century India. first edition. Berkeley, CA: University of California Press, 366 pp.

Ballala, Kirthinath, Avinash Shetty, and Surekha Bhat Malpe. 2011. Knowledge, attitude and practices regarding whole body donation among medical professionals in a hospital in India. Anatomical Sciences Education 4 (3): 142–150. https://doi.org/10.1002/ase.220.

Bhattacharya, Jayanta. 2011. The first dissection controversy: Introduction to anatomical education in Bengal and British India. Current Science 101 (9): 1227–1232.

Bolt, Sophie, Eric Venbrux, Rob Eisinga, Jan B.M. Kuks, Jan G. Veening, and Peter O. Gerrits. 2010. Motivation for body donation to science: More than an altruistic act. Annals of Anatomy 192 (2): 70–74. https://doi.org/10.1016/j.aanat.2010.02.002.

Bradley, Elizabeth H., Leslie A. Curry, and Kelly J. Devers. 2007. Qualitative data analysis for health services research: Developing taxonomy, themes, and theory. Health Services Research 42: 1758–1772. https://doi.org/10.1111/j.1475-6773.2006.00684.x.

Chakraborty, Sanjoy Kumar, Habib Khan, Shaikhul Islam, and B.M. Ali Yousuf. 2010. Body donation and its significance in anatomy learning in Bangladesh-a review. Bangladesh Journal of Anatomy 8: 85–88. https://doi.org/10.3329/bja.v8i2.7023.

Copeman, Jacob, and Deepa S. Reddy. 2012. The didactic death: Publicity, instruction and body donation. HAU: Journal of Ethnographic Theory 2 (2): 59–83. https://doi.org/10.14318/hau2.2.005.

Cornwall, Jon, Gary F. Perry, Graham Louw, and Mark D. Stringer. 2012. Who donates their body to science? An international, multicenter, prospective study. Anatomical Sciences Education 5: 208–216. https://doi.org/10.1002/ase.1278.

da Rocha, Andrea Oxley, Diane Alícia Tormes, Natassia Lehmann, Rafael Santos Schwab, and Raphael Teixeira Canto. 2012. The body donation program at the Federal University of Health Sciences of Porto Alegre: A successful experience in Brazil. Anatomical Sciences Education 6: 199–204. https://doi.org/10.1002/ase.1335.

Dope, Santoshkumar A., Prashant Amanrao Bhusari, P.R. Kulkarni, and C.V. Diwan. 2015. Body donation-the life after death. Medpulse 2 (4): 216–220.

Ghosh, Sanjub Kumar. 2017. Paying respect to human cadavers: We owe this to the first teacher in anatomy. Annals of Anatomy 211: 129–134. https://doi.org/10.1016/j.aanat.2017.02.004.

Gillman, John. 1999. Religious perspectives on organ donation. Critical Care Nursing Quarterly 22 (3): 19–29. https://doi.org/10.1097/00002727-199911000-00005.

Golchet, G., J. Carr, and M.G. Harris. 2000. Why don't we have enough cornea donors? A literature review and survey. Optometry 71 (5): 318–328.

Government of Karnataka 1957. The Karnataka Anatomy Act, 1957., Act 23 of 1957, Clause 4A(b) http://www.lawsofindia.org/pdf/karnataka/1957/1957KR23.pdf.

Grow, Brian, and John Shiffman. 2017. The Body Trade: Cashing in on the donated dead. Reuters, 24 October 2017. https://www.reuters.com/investigates/special-report/usa-bodies-brokers/. Accessed 18 April 2020.

Hafferty, Frederic W. 1988. Cadaver stories and the emotional socialization of medical students. Journal of Health and Social Behavior 29 (4): 344–356. https://doi.org/10.2307/2136868.

Hassaballah, A.M. 1996. Definition of death, organ donation and interruption of treatment in Islam. Nephrology, Dialysis, Transplantation 11 (6): 964–965. https://doi.org/10.1093/ndt/11.6.964.

Jones, David Gareth. 2014. Unclaimed bodies are anatomy's shameful inheritance. New Scientist, 15 April 2014. https://www.newscientist.com/article/mg22229654-500-unclaimed-bodies-are-anatomys-shameful-inheritance. Accessed 27 May 2019.

Jones, David Gareth. 2016. Anatomy in ethical review. Clinical Anatomy 29: 2–3. https://doi.org/10.1002/ca.22646.

Jones, David Gareth, and Maja I. Whitaker. 2012. Anatomy's use of unclaimed bodies: Reasons against continued dependence on an ethically dubious practice. Clinical Anatomy 25 (2): 246–254. https://doi.org/10.1002/ca.21223.

Korf, Horst-Werner, Helmut Wicht, Robert L. Snipes, Jean-Pierre Timmermans, Friedrich Paulsen, Gabriele Rune, and Eveline Baumgart-Vogt. 2008. The dissection course - necessary and indispensable for teaching anatomy to medical students. Annals of Anatomy 190 (1): 16–22. https://doi.org/10.1016/j.aanat.2007.10.001.

Lala, Menaita. 2016. Cadaveric oath and its relevance in anatomy. International Journal of Advances in Case Reports 3 (6): 282–285.

Lin, Steven C., Julia Hsu, and Victoria Y. Fan. 2009. Silent virtuous Taiwanese teachers. British Medical Journal 339: 1438–1439. https://doi.org/10.1136/bmj.b5001.

Mines, Diane P., and Sarah E. Lamb. 2010. Everyday life in South Asia. Bloomington, IN: Indiana University Press, 584 pp.

Mutalik, Maitreyee. 2015. Review of body snatching to body donation: past and present: A comprehensive update. International Journal of Pharma and Bio Sciences 6 (3) (B): 428–439.

Pabst, Reinhard, Andreas Schmiedl, S. Schrieber, Thomas Tschernig, and Vera Christina Pabst. 2017. Ceremonies of gratitude following the dissection course: A report on procedures in departments of anatomy in German speaking countries. Annals of Anatomy 210: 18–24. https://doi.org/10.1016/j.aanat.2016.10.009.

Pampilly, Varghese Sebatian. 2005. Cadavers for anatomical dissection. Indian Journal of Medical Ethics 2 (1): 16. https://doi.org/10.20529/IJME.2005.008.

Park, Jong‐Tae, Yoonsun Jang, Min Sun Park, Calvin Pae, Jinyi Park, Kyung‐Seok Hu, Jin‐Seo Park, Seung‐Ho Han, Ki‐Seok Koh, and Hee‐Jin Kim. 2011. The trend of body donation for education based on Korean social and religious culture. Anatomical Sciences Education 4 (1): 33–38. https://doi.org/10.1002/ase.198.

Pather, Nalini, and Kenneth William Ashwell. 2017. A moment of hope: Thanksgiving service for families of donors. In Commemoration and Memorials: Exploring the Human Face of Anatomy, first edition, ed. Goran Štrkalj and Nalini Pather, 173–180. Singapore: World Scientific. https://doi.org/10.1142/9789813143159_0012.

Pati, Biswamoy, and Mark Harrison. 2011. The social history of health and medicine in colonial India. first edition. Delhi: Primus Books, 242 pp.

Patil, A.B. 2015. Body donation: A life after life. Journal of Biological and Scientific Opinion 3 (6): 287–289.

Perappadan, Bindu Shajan, and Saurabh Trivedi. 2019. The unravelling of a kidney racket. The Hindu, 27 July 2019. https://www.thehindu.com/sci-tech/health/the-unravelling-of-a-kidney-racket/article28725737.ece. Accessed 18 April 2020

Prakash, Latha V. Prabhu, Anu V. Ranade, Sampath Madhyastha, and Gajendra Singh. 2006. Donation of bodies for cadaveric dissection in medical colleges. Journal of Punjab Academy of Forensic Medicine & Toxicology 6: 17–19.

Rady, Mohamed Y., Joseph L. Verheijde, and Muna S. Ali. 2009. Islam and end-of-life practices in organ donation for transplantation: new questions and serious sociocultural consequences. HEC Forum 21 (2): 175–205. https://doi.org/10.1007/s10730-009-9095-8.

Ray, Sanjana. 2018. Decoding India's secret trade of bone smuggling. The Quint, 5 December 2018. https://www.thequint.com/explainers/decoding-indias-secret-trade-in-bone-smuggling. Accessed 27 May 2019

Richardson, Ruth, and Brian Hurwitz. 1995. Donors' attitudes towards body donation for dissection. Lancet 346 (8970): 277–279. https://doi.org/10.5555/uri:pii:S0140673695921664.

Riederer, Beat M., and José Luis Bueno-López. 2014. Anatomy, respect for the body and body donation-a guide for good practice. European Journal of Anatomy 18 (4): 361–368.

Riederer, Beat M., S. Bolt, Eric Brenner, José Luis Bueno-López, A.R.M. Chirculescu, D.C. Davies, Raffaele De Caro, P.O. Gerrits, Stephen McHanwell, Diogo Pais, Friedrich Paulsen, Odile Plaisant, Erdogan Sendemir, I. Stabile, and Bernard J. Moxham. 2012. The legal and ethical framework governing body donation in Europe. European Journal of Anatomy 16 (1): 1–21.

Rizzolo, Lawrence J. 2002. Human dissection: An approach to interweaving the traditional and humanistic goals of medical education. Anatomical Record 269 (6): 242–248. https://doi.org/10.1002/ar.10188.

Rokade, Shrikant A., and B.H. Bahetee. 2013. Body donation in India: A review. International Journal of Research in Medical Sciences 1 (3.000): 173–177. https://doi.org/10.5455/2320-6012.ijrms20130814.

Rokade, Shrikant A., and Anjan P. Gaikawad. 2012. Body donation in India: Social awareness, willingness, and associated factors. Anatomical Sciences Education 5 (2): 83–89. https://doi.org/10.1002/ase.1263.

Saha, Anubha, Aniruddha Sarkar, and Shyamash Mandal. 2015. Body donation after death: The mental setup of educated people. Journal of Clinical and Diagnostic Research 9 (6): AC05–AC09. https://doi.org/10.7860/JCDR/2015/12246.6011.

Sawant, S.P., Shaguphta Tasnim Shaikh, and Avinash De Sousa. 2015. The cadaveric oath- an important bioethical perspective in anatomy. National Journal of Clinical Anatomy 4 (4): 210–211.

Sayers, Matthew R. 2013. The S´rāddha Rite. In Feeding the Dead: Ancestor Worship in Ancient India. New York: Oxford University Press. https://doi.org/10.1093/acprof:oso/9780199917471.003.0005.

Schmitt, Rudolf. 2005. Systematic metaphor analysis as a method of qualitative research. Qualitative Report 10 (2): 358–394.

Şehirli, Ümit S., Erdinç Saka, and Özlem Sarikaya. 2004. Attitudes of Turkish anatomists toward cadaver donation. Clinical Anatomy 17 (8): 677–681. https://doi.org/10.1002/ca.20056.

Shaikh, Shaguphta T. 2015. Cadaver dissection in anatomy: The ethical aspect. Anatomy and Physiology 5: 007. https://doi.org/10.4172/2161-0940.S5-007.

Strauss, Anselm, and Juliet M. Corbin. 1990. Basics of qualitative research: Grounded theory procedures and techniques. Thousand Oaks, CA: Sage Publications.

Subasinghe, Sandeepani Kanchana, and David Gareth Jones. 2015. Human body donation programs in Sri Lanka: Buddhist perspectives. Anatomical Sciences Education 8 (5): 484–489. https://doi.org/10.1002/ase.1525.

Talarico, Ernest F. Jr. 2013. A change in paradigm: Giving back identity to donors in the anatomy laboratory. Clinical Anatomy 26 (2): 161–172. https://doi.org/10.1002/ca.22103.

Trianosky, Gregory. 1990. What is virtue ethics all about? American Philosophy Quarterly 27 (4): 335–344.

Wilson, Liz. 2003. Introduction: Passing on: The social life of death in south Asian religions. In The Living and the Dead: Social Dimensions of Death in South Asian Religions, first edition, ed. Liz Wilson, 1–12. Albany, NY: State University of New York Press.

Winkelmann, Andreas, and Fritz H. Güldner. 2004. Cadavers as teachers: The dissecting room experience in Thailand. British Medical Journal 329 (7480): 1455–1457. https://doi.org/10.1136/bmj.329.7480.1455.

Zhang, Luqing, Ming Xiao, Mufeng Gu, Yongjie Zhang, Jianliang Jin, and Jiong Ding. 2014. An overview of the roles and responsibilities of Chinese medical colleges in body donation programs. Anatomical Sciences Education 7 (4): 312–320. https://doi.org/10.1002/ase.1422.
Acknowledgements
This study was accepted and presented in the format of a poster at the 6th National Bioethics Conference, organised in January 2017 in Pune, India. The participants of this study are acknowledged for the time that they spent and the personal views that they shared to make this study possible. Dr. Mario Vaz, Head, Division of Health and Humanities and Department of the History of Medicine, St. John's Medical College, is thanked for his valuable feedback and advice at various stages in this study and for reviewing the manuscript multiple times.
Funding
The Institutional Ethics Committee (IEC) of St. John's National Academy of Health Sciences (SJNAHS) provided a grant for the conduct of this study.
Ethics declarations
Conflict of Interest
The authors declare that they have no conflict of interest.
Ethical Approval
All procedures performed in studies involving human participants were in accordance with the ethical standards of the institutional and/or national research committee and with the 1964 Helsinki declaration and its later amendments or comparable ethical standards.
Informed Consent
Informed consent was obtained from all individual participants included in the study. Additional informed consent was obtained from all individual participants for whom identifying information is included in this article.
Additional information
Publisher's Note
Springer Nature remains neutral with regard to jurisdictional claims in published maps and institutional affiliations.
About this article
Cite this article
Sasi, A., Hegde, R., Dayal, S. et al. 'Life after Death – the Dead shall Teach the Living': a Qualitative Study on the Motivations and Expectations of Body Donors, their Families, and Religious Scholars in the South Indian City of Bangalore. ABR 12, 149–172 (2020). https://doi.org/10.1007/s41649-020-00117-3
Received:

Revised:

Accepted:

Published:

Issue Date:
Keywords
Body donation

Anatomy dissection

Medical students

Humane doctor

Daana

India