Abstract
Objectives
This study sought to assess intrapulpal temperature rise following two dentin hypersensitivity (DH) treatment protocols using the 810-nm diode laser.
Materials and methods
In this randomized clinical trial, 45 maxillary and mandibular incisors and premolars were randomly divided into three groups primary phase (no intervention), 1 W diode laser for 10 s (group 1), and 0.5 W diode laser for 60 s (group 2). In all groups, the access cavity was prepared, and the thermocouple was placed in the pulp chamber and fixed by Cavit. Intrapulpal temperature was measured immediately after access cavity preparation and every minute for 10 min in the primary phase. In the second phase group 1, the temperature was measured with 2-s intervals after irradiation for 10 s and group 2, with 15-s intervals after irradiation for 60 s. Data were analyzed using repeated measures ANOVA and t test (P ≤ 0.05).
Results
The mean stabilized baseline temperature was 32 °C. The mean temperature rise was < 5 °C, with no significant difference between groups 1 and 2 (P = 0.6). However, 17% and 11% of teeth in groups 1 and 2, respectively, showed a temperature rise > 5 °C. In both experimental groups, the stabilized temperature after laser irradiation was significantly higher than the baseline temperature (P < 0.05), with no significant difference between the two groups (P > 0.05). Time to stabilize temperature after irradiation in group 1 was significantly shorter than that in group 2 (P < 0.05).
Conclusion
Both the tested protocols seem to be safe regarding intrapulpal temperature rise. However, considering the slight overheating observed in a small percentage of teeth in both groups, caution must be taken in the use of these protocols for the treatment of DH.
Access options
Buy single article
Instant access to the full article PDF.
US$ 39.95
Tax calculation will be finalised during checkout.
Subscribe to journal
Immediate online access to all issues from 2019. Subscription will auto renew annually.
US$ 79
Tax calculation will be finalised during checkout.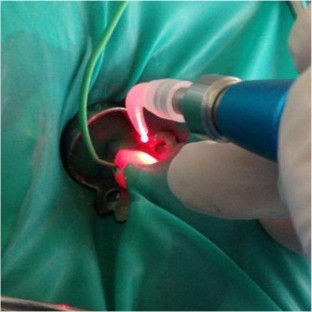 References
1.

Kehua Q, Yingying F, Hong S, Menghong W, Deyu H, Xu F (2009) A cross-sectional study of dentine hypersensitivity in China. Int Dent J 59(6):376–380

2.

Haneet RK, Vandana LK (2016) Prevalence of dentinal hypersensitivity and study of associated factors: a cross-sectional study based on the general dental population of Davangere, Karnataka, India. Int Dent J 66(1):49–57

3.

Rees JS (2000) The prevalence of dentine hypersensitivity in general dental practice in the UK. J Clin Periodontol 27(11):860–865

4.

Liu HC, Lan WH, Hsieh CC (1998) Prevalence and distribution of cervical dentin hypersensitivity in a population in Taipei, Taiwan. J Endod 24(1):45–47

5.

Rees JS, Jin LJ, Lam S, Kudanowska I, Vowles R (2003) The prevalence of dentine hypersensitivity in a hospital clinic population in Hong Kong. J Dent 31(7):453–461

6.

Miglani S, Aggarwal V, Ahuja B (2010) Dentin hypersensitivity: recent trends in management. J Conserv Dent 13(4):218–224

7.

Coldren LA, Corzine SW, Mashanovitch ML (2012) Diod lasers and photonic integrated circuits, 2nd ed. Wiley, 45–49

8.

Gojkov-Vukelic M, Hadzic S, Zukanovic A, Pasic E, Pavlic V (2016) Application of diode laser in the treatment of dentine hypersensitivity. Mediev Archaeol 70(6):466–469

9.

Klunboot U, Arayathanitkul K, Chitaree R, Emarat N (2012) The temperature effects of diode laser on pulpal tissues for the teeth whitening treatment. Procedia Eng 32:722–726

10.

White JM, Fagan MC, Goodis HE (1994) Intrapulpal temperatures during pulsed Nd:YAG laser treatment of dentin in vitro. J Periodontol 65(3):255–259

11.

Sari T, Celik G, Usumez A (2015) Temperature rise in pulp and gel during laser-activated bleaching: in vitro. Lasers Med Sci 30(2):577–582

12.

Burkes EJ Jr, Hoke J, Gomes E, Wolbarsht M (1992) Wet versus dry enamel ablation by Er:YAG laser. J Prosthet Dent 67(6):847–851

13.

Yassaei S, Soleimanian A, Nik ZE (2015) Effects of diode laser debonding of ceramic brackets on the enamel surface and pulpal temperature. J Contemp Dent Pract 16(4):270–274

14.

Zach L, Cohen G (1965) Pulp response to externally applied heat. Oral Surg Oral Med Oral Pathol 19:515–530

15.

Miserendino LJ, Abt E, Wigdor H, Miserendino CA (1993) Evaluation of thermal cooling mechanisms for laser application to teeth. Lasers Surg Med 13(1):83–88

16.

Al-Karadaghi TS, Al-Saedi AA, Al-Maliky MA, Mahmood AS (2016) The effect of bleaching gel and (940 nm and 980 nm) diode lasers photoactivation on intrapulpal temperature and teeth whitening efficiency. Aust Endod J 42(3):112–118

17.

De Alencar MM, Frigo L, Favero GM, Lopes-Martins RA, Brugnera JA (2011) In vitro analysis of human tooth pulp chamber temperature after low-intensity laser therapy at different power outputs. Lasers Med Sci 26(2):143–147

18.

Krmek SJ, Miletic I, Simeon P, Mehicic GP, Anic I, Radisic B (2009) The temperature changes in the pulp chamber during cavity preparation with the Er:YAG laser using a very short pulse. Photomed Laser Surg 27(2):351–355

19.

Sydney GB, Barletta FB, Sydney RB (2002) In vitro analysis of effect of heat used in dental bleaching on human dental enamel. Braz Dent J 13(3):166–169

20.

Umana M, Heysselaer D, Tielemans M, Compere P, Zeinoun T, Nammour S (2013) Dentinal tubules sealing by means of diode lasers (810 and 980 nm): a preliminary in vitro study. Photomed Laser Surg 31(7):307–314

21.

Liu Y, Gao J, Gao Y, Xu S, Zhan X, Wu B (2013) In vitro study of dentin hypersensitivity treated by 980-nm diode laser. J Lasers Med Sci 4(3):111–119

22.

de-Melo MA, Passos VF, Alves JJ, Barros EB, Santiago SL, Rodrigues LK (2011) The effect of diode laser irradiation on dentin as a preventive measure against dental erosion: an in vitro study. Lasers Med Sci 26(5):615–621

23.

Chang JC, Wilder-Smith P (1998) Laser-induced thermal events in empty and pulp-filled dental pulp chambers. Lasers Surg Med 22(1):46–50

24.

Santis LR, Silva TM, Haddad BA, Goncalves LL, Goncalves SE (2017) Influence of dentin thickness on intrapulpal temperature under simulated pulpal pressure during Nd:YAG laser irradiation. Lasers Med Sci 32(1):161–167

25.

Zach L, Cohen G (1962) Thermogenesis in operative techniques: comparison of four methods. J Prosthet Dent 12(5):977–984

26.

Aldo Brugnera Junio AEG, Pinheiro T (2003) LLLT in treating dentinary hypersensibility: a histologic study and clinical application.;4950:46–53

27.

Brannstrom M (1992) Etiology of dentin hypersensitivity. Proc Finn Dent Soc 88(Suppl 1):7–13

28.

Lin PY, Cheng YW, Chu CY, Chien KL, Lin CP, Tu YK (2013 Jan) In-office treatment for dentin hypersensitivity: a systematic review and network meta-analysis. J Clin Periodontol 40(1):53–64

29.

Umberto R, Claudia R, Gaspare P, Gianluca T, del Alessandro V (2012) Treatment of dentine hypersensitivity by diode laser: a clinical study. Int J Dent 2012:858950

30.

Aranha AC, Pimenta LA, Marchi GM (2009) Clinical evaluation of desensitizing treatments for cervical dentin hypersensitivity. Braz Oral Res 23(3):333–339

31.

Dilsiz A, Canakci V, Ozdemir A, Kaya Y (2009) Clinical evaluation of Nd:YAG and 685-nm diode laser therapy for desensitization of teeth with gingival recession. Photomed Laser Surg 27(6):843–848

32.

Sgolastra F, Petrucci A, Severino M, Gatto R, Monaco A (2013) Lasers for the treatment of dentin hypersensitivity: a meta-analysis. J Dent Res 92(6):492–499

33.

Kodonas K, Gogos C, Tziafa C (2009) Effect of simulated pulpal microcirculation on intrachamber temperature changes following application of various curing units on tooth surface. J Dent 37(6):485–490

34.

Rizzante FA, Maenosono RM, Duarte MA, Furuse AY, Palma-Dibb RG, Ishikiriama SK (2016) In vitro evaluation of dentin hydraulic conductance after 980 nm diode laser irradiation. J Periodontol 87(3):320–326

35.

Graziela Ribeiro Batista DCB, Torres CRG (2011) Analysis of the pulp chamber temperature of teeth submitted to light activation with and without bleaching gel. World J Dentist 2(1):23–27

36.

Klaric E, Rakic M, Sever I, Tarle Z (2015) Temperature rise during experimental light-activated bleaching. Lasers Med Sci 30(2):567–576

37.

De Moor RJ, Verheyen J, Verheyen P, Diachuk A, Meire MA, De Coster PJ et al (2015) Laser teeth bleaching: evaluation of eventual side effects on enamel and the pulp and the efficiency in vitro and in vivo. ScientificWorldJournal. 835405(10):22

38.

Eldeniz AU, Usumez A, Usumez S, Ozturk N (2005) Pulpal temperature rise during light-activated bleaching. J Biomed Mater Res B Appl Biomater 72(2):254–259

39.

Yilanci H, Yildirim ZB, Ramoglu SI (2017) Intrapulpal temperature increase during Er:YAG laser-aided debonding of ceramic brackets. Photomed Laser Surg 35(4):217–222

40.

Isman E, Oksayan R, Sokucu O, Usumez S (2014) Temperature changes of pulp chamber during in vitro laser welding of orthodontic attachments. ScientificWorldJournal 14:589461

41.

Mahant RH, Chokshi S, Vaidya R, Patel P, Vora A, Mahant P (2016) Comparison of the amount of temperature rise in the pulp chamber of teeth treated with QTH, second and third generation LED light curing units: an in vitro study. J Lasers Med Sci 7(3):184–191

42.

de Oliveira C, Zanin F, Cassoni A, Rodrigues JA, Silveira L Jr, Pacheco MT et al (2017) Analysis of human tooth pulp chamber temperature after 670 nm laser irradiation: in vitro study. Photomed Laser Surg 35(10):515–519

43.

Khouja F, Abdelaziz M, Bortolotto T, Krejci I (2017) Intra-pulpal and subsurface temperature rise during tooth irradiation with 808 nm diode laser: an in vitro study. Eur J Paediatr Dent 18(1):56–60

44.

Kreisler M, Al-Haj H, D'Hoedt B (2002) Intrapulpal temperature changes during root surface irradiation with an 809-nm GaAlAs laser. Oral Surg Oral Med Oral Pathol Oral Radiol Endod 93(6):730–735

45.

Artese L, Rubini C, Ferrero G, Fioroni M, Santinelli A, Piattelli A (2002) Vascular endothelial growth factor (VEGF) expression in healthy and inflamed human dental pulps. J Endod 28(1):20–23
Ethics declarations
Conflict of interest
The authors declare that they have no conflict of interest.
Ethical approval
This clinical trial was approved in the Ethics Committee of Islamic Azad University, School of Dentistry, and Tehran Faculty (IR.IAU.DENTAL.REC.1395.37) and registered in the Iranian Registry of Clinical Trials (IRCT20170923036331N3).
Informed consent
All patients signed informed consent forms prior to enrollment.
Additional information
Publisher's note
Springer Nature remains neutral with regard to jurisdictional claims in published maps and institutional affiliations.
About this article
Cite this article
Khalilak, Z., Vatanpour, M. & Bineshmarvasti, D. Intrapulpal temperature rise following two dentin hypersensitivity treatment protocols using diode laser: a randomized clinical trial. Laser Dent Sci (2021). https://doi.org/10.1007/s41547-020-00111-w
Received:

Accepted:

Published:
Keywords
Dentin hypersensitivity

Diode laser

Intrapulpal temperature