Abstract
Vascular wilt caused by Fusarium oxysporum is one of the most devastating diseases that affect cape gooseberry plants. In order to contribute to its management, the objective of this work was to evaluate the plant activator acibenzolar-S-methyl (ASM) as a reducer of vascular wilt symptoms in cape gooseberry. Sixty-day-old plants were sprayed twice with eleven concentrations of ASM ranging from 10 to 200 mg L−1, respectively. The phytotoxic effect was assessed for a period of eight weeks. The appearance of symptoms such as stunting, a decrease in the shoot and roots dry weight, leaf malformation and defoliation was associated with the ASM concentration. The two lowest concentrations of ASM assessed (10 and 20 mg L−1) were selected to evaluate their effectiveness against F. oxysporum in greenhouse conditions. Both concentrations reduced vascular colonization and necrosis generated by seven isolates of F. oxysporum, and in consequence, the area under the disease progress curve (AUDPC) decreased significantly during the eight weeks of evaluation. These results suggest that ASM induces resistance to F. oxysporum in cape gooseberry under greenhouse conditions.
Access options
Buy single article
Instant access to the full article PDF.
US$ 39.95
Tax calculation will be finalised during checkout.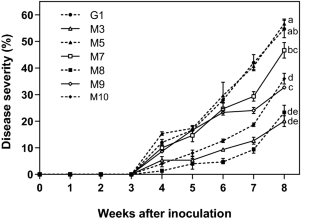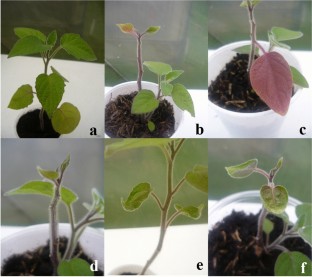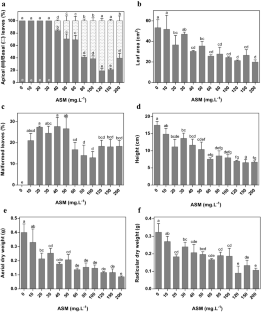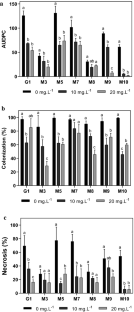 References
Analdex (2019) Exportaciones de uchuva 2018. Recuperado de https://www.analdex.org/wp-content/uploads/2019/03/2019-03-04-Informe-de-exportaciones-de-uchuva-2018.pdf

Animashaun BO, Popoola AR, Enikuomehin OA, Aiyelaagbe IOO, Imonmion JE (2017) Induced resistance to Fusarium wilt (Fusarium oxysporum) in tomato using plant growth activator, acibenzolar-S-methyl. Niger J Biotechnol 32(1):83. https://doi.org/10.4314/njb.v32i1.12

Assis F, Moraes J, Assis G, Parolin FJ (2015) Induction of caterpillar resistance in sunflower using silicon and acibenzolar-S-methyl. J Agric Sci Technol 17(3):543–550

Catharina L, Carels N (2018) Specific enzyme functionalities of Fusarium oxysporum compared to host plants. Gene 676:219–226. https://doi.org/10.1016/j.gene.2018.07.003

Chinnasri B, Sipes BS, Schmitt DP (2006) Effects of inducers of systemic acquired resistance on reproduction of Meloidogyne javanica and Rotylenchulus reniformis in pineapple. J Nematol 38(3):319–325

Cole DL (1999) The efficacy of acibenzolar-S-methyl, an inducer of systemic acquired resistance, against bacterial and fungal diseases of tobacco. Crop Prot. 18(4):267–273. https://doi.org/10.1016/S0261-2194(99)00026-5

Correa RSB, Moraes JC, Auad AM, Carvalho GA (2005) Silicon and acibenzolar-S-methyl as resistance inducers in cucumber, against the whitefly Bemisia tabaci (Gennadius) (Hemiptera: Aleyrodidae) biotype B. Neotrop Entomol 34(3):429–433. https://doi.org/10.1590/S1519-566X2005000300011

Cotes A, Jiménez P, Rodríguez M, Díaz A, Zapata J, Gomez M, Cruz L (2012) Estrategias de control biológico de Fusarium oxysporum en el cultivo de uchuva (Physalis peruviana). Produmedios

de Sain M, Rep M (2015) The role of pathogen-secreted proteins in fungal vascular wilt diseases. Int J Mol Sci 16(10):23970–23993. https://doi.org/10.3390/ijms161023970

Di Pietro A, Madrid MP, Caracuel Z, Delgado-Jarana J, Roncero MIG (2003) Fusarium oxysporum: exploring the molecular arsenal of a vascular wilt fungus. Mol Plant Pathol 4(5):315–325. https://doi.org/10.1046/j.1364-3703.2003.00180.x

Elmer WH (2006) Effects of acibenzolar-S-methyl on the suppression of Fusarium wilt of cyclamen. Crop Prot 25(7):671–676. https://doi.org/10.1016/j.cropro.2005.09.010

Estupiñán H, Ossa J (2007) Efecto del agente causal de la marchitez vascular de la uchuva (Physalis peruviana L.) el hongo Fusarium oxysporum Schlecht, sobre algunas solanáceas y otras especies cultivadas afectadas por formas especiales del microorganismo. Pontificia Universidad Javeriana

Gao QM, Zhu S, Kachroo P, Kachroo A (2015) Signal regulators of systemic acquired resistance. Front Plant Sci 6:1–12. https://doi.org/10.3389/fpls.2015.00228

García-Valderrama D (2018) Control del marchitamiento vascular de la uchuva basado en mezclas de microorganismos rizosféricos provenientes de suelos potencialmente supresivos. Universidad Nacional de Colombia

Gordon TR (2017) Fusarium oxysporum and the Fusarium wilt syndrome. Annu Rev Phytopathol 55:23–39. https://doi.org/10.1146/annurev-phyto-080615-095919

Heil M, Hilpert A, Kaiser W, Linsenmair KE (2000) Reduced growth and seed set following chemical induction of pathogen defence: does systemic acquired resistance (SAR) incur allocation costs? J Ecol 88(4):645–654. https://doi.org/10.1046/j.1365-2745.2000.00479.x

Iriti MA, Rossoni M, Borgo Mi B, Faoro F (2004) Benzothiadiazole enhances resveratrol and anthocyanin biosynthesis in grapevine, meanwhile improving resistance to Botrytis cinerea. J Agric Food Chem 52:4406–4413. https://doi.org/10.1021/jf049487b

Itako AT, Tolentino Júnior JB, Da Silva Júnior TAF, Soman JM, Maringoni AC (2015) Chemical products induce resistance to Xanthomonas perforans in tomato. Braz J Microbiol 46(3):701–706. https://doi.org/10.1590/S1517-838246320140177

Jiménez P, Sánchez T, Forero P (2012) Etiologia de la enfermedad causada por F. oxysporum en el cultivo de uchuva. In: Estrategias de Control Biológico de Fusarium oxysporum en el cultivo de uchuva, pp 13–22. http://hdl.handle.net/20.500.12324/12610

Kenney JR, Grandmont ME, Mauck KE (2020) Priming melon defenses with acibenzolar-S-methyl attenuates infections by phylogenetically distinct infected hosts. Viruses 12:6–9. https://doi.org/10.3390/v12030257

Leslie JF, Summerell BA (2006) The Fusarium laboratory manual, 1st edn. Blackwell Publishing Ltd, Oxford, London

Mandal B, Mandal S, Csinos AS, Martinez N, Culbreath AK, Pappu HR (2008) Biological and molecular analyses of the acibenzolar-S-methyl-induced systemic acquired resistance in flue-cured tobacco against Tomato spotted wilt virus. Phytopathology 98(12):196–204. https://doi.org/10.1094/PHYTO-98-2-0196

Mejía DM, Rodas EI, Patiño LF, González EP (2009) Efecto del acibenzolar-S-metil sobre el desarrollo de la virosis causada por potyvirus en tomate de árbol. Agron Colomb 27(1):87–93

Moreno-Velandia CA, Izquierdo-García LF, Ongena M, Kloepper JW, Cotes AM (2019) Soil sterilization, pathogen and antagonist concentration affect biological control of Fusarium wilt of cape gooseberry by Bacillus velezensis Bs006. Plant Soil 435(1–2):39–55. https://doi.org/10.1007/s11104-018-3866-4

Nair CB, Anith KN, Sreekumar J (2007) Mitigation of growth retardation effect of plant defense activator, acibenzolar-S-methyl, in amaranthus plants by plant growth-promoting rhizobacteria. World J Microbiol Biotechnol 23(8):1183–1187. https://doi.org/10.1007/s11274-006-9333-z

Nascimento KJT, Araujo L, Resende RS, Schurt DA, da Silva WL, de Rodrigues FÁ (2016) Silicon, acibenzolar-S-methyl and potassium phosphite in the control of brown spot in rice. Bragantia 75(2):212–221. https://doi.org/10.1590/1678-4499.281

Nelson P, Toussoun T, Marasas W (1983) Fusarium species. An illustrated manual for identification. The Pennsylvania State University Press, University Park

Olivares-Tenorio ML, Dekker M, Verkerk R, van Boekel MAJS (2016) Health-promoting compounds in cape gooseberry (Physalis peruviana L.): review from a supply chain perspective. Trends Food Sci Technol 57:83–92. https://doi.org/10.1016/j.tifs.2016.09.009

Palazzini JM, Ramirez ML, Alberione EJ, Torres AM, Chulze SN (2009) Osmotic stress adaptation, compatible solutes accumulation and biocontrol efficacy of two potential biocontrol agents on Fusarium head blight in wheat. Biol Control 51(3):370–376. https://doi.org/10.1016/j.biocontrol.2009.07.008

Pandey D, Rajendran SRCK, Gaur M, Sajeesh PK, Kumar A (2016) Plant defense signaling and responses against necrotrophic fungal pathogens. J Plant Growth Regul 35:1159–1174. https://doi.org/10.1007/s00344-016-9600-7

Pappu HR, Csinos AS, McPherson RM, Jones DC, Stephenson MG (2000) Effect of acibenzolar-S-methyl and imidacloprid on suppression of tomato spotted wilt Tospovirus in flue-cured tobacco. Crop Prot 19(5):349–354. https://doi.org/10.1016/S0261-2194(00)00028-4

Ramadan MF (2011) Bioactive phytochemicals, nutritional value, and functional properties of cape gooseberry (Physalis peruviana): an overview. Food Res Int 44(7):1830–1836. https://doi.org/10.1016/j.foodres.2010.12.042

Ramos I (2013) Inducción de genes de defensa por acibenzolar‐S‐metil y su efecto en el control del marchitamiento vascular causado por Fusarium oxysporum en uchuva (Physalis peruviana). Pontificia Universidad Javeriana

Resende MLV, Nojosa GBA, Cavalcanti LS, Aguilar MAG, Silva LHCP, Perez JO, Andrade GCG, Carvalho GA, Castro RM (2002) Induction of resistance in cocoa against Crinipellis perniciosa and Verticillium dahliae by acibenzolar-S-methyl (ASM). Plant Pathol 51(5):621–628. https://doi.org/10.1046/j.1365-3059.2002.00754.x

Roncero MIG, Di Pietro A, Ruiz-Roldán MC, Huertas González MD, García-Maceira FI, Méglecz E, Ruiz-Rubio M (2000) Papel de enzimas líticas de la pared celular en la patogenicidad de Fusarium oxysporum. Rev Iberoamericana Micol 17:47–53

Sánchez M, Forero P (2009) Reporte de especies del género Fusarium asociadas a la uchuva (Physalis peruviana) y descripción de la etiología relacionada con la fusariosis. Universidad Militar Nueva Granada

Shwartz I, Levy M, Ori N, Bar M (2016) Hormones in tomato leaf development. Dev Biol 419(1):132–142. https://doi.org/10.1016/j.ydbio.2016.06.023

Simbaqueba J, Catanzariti AM, González C, Jones DA (2018) Evidence for horizontal gene transfer and separation of effector recognition from effector function revealed by analysis of effector genes shared between cape gooseberry- and tomato-infecting formae speciales of Fusarium oxysporum. Mol Plant Pathol 19(10):2302–2318. https://doi.org/10.1111/mpp.12700

Smith-Becker J, Keen NT, Becker JO (2003) Acibenzolar-S-methyl induces resistance to Colletotrichum lagenarium and cucumber mosaic virus in cantaloupe. Crop Prot 22(5):769–774. https://doi.org/10.1016/S0261-2194(03)00044-9

Soylu S, Baysal Ö, Soylu EM (2003) Induction of disease resistance by the plant activator, acibenzolar-S-methyl (ASM), against bacterial canker (Clavibacter michiganensis subsp. michiganensis) in tomato seedlings. Plant Sci 165(5):1069–1075. https://doi.org/10.1016/S0168-9452(03)00302-9

Townsend G, Heuberger J (1943) Methods for estimating losses caused by diseases in fungicide experiments. Plant Dis Rep 27:340–343

Tripathi D, Raikhy G, Kumar D (2019) Chemical elicitors of systemic acquired resistance—salicylic acid and its functional analogs. Curr Plant Biol 17:48–59. https://doi.org/10.1016/j.cpb.2019.03.002

Urrea R, Cabezas L, Sierra R, Cárdenas M, Restrepo S, Jiménez P (2011) Selection of antagonistic bacteria isolated from the Physalis peruviana rhizosphere against Fusarium oxysporum. J Appl Microbiol 111(3):707–716. https://doi.org/10.1111/j.1365-2672.2011.05092.x

Validov SZ, Kamilova FD, Lugtenberg BJJ (2011) Monitoring of pathogenic and non-pathogenic Fusarium oxysporum strains during tomato plant infection. Microb Biotechnol 4(1):82–88. https://doi.org/10.1111/j.1751-7915.2010.00214.x

Wang D, Pajerowska-Mukhtar K, Culler AH, Dong X (2007) Salicylic acid inhibits pathogen growth in plants through repression of the auxin signaling pathway. Curr Biol 17(20):1784–1790. https://doi.org/10.1016/j.cub.2007.09.025

Warneys R, Gaucher M, Robert P, Aligon S, Anton S, Aubourg S, Degrave A (2018) Acibenzolar-S-methyl reprograms apple transcriptome toward resistance to rosy apple aphid. Front Plant Sci 871:1–16. https://doi.org/10.3389/fpls.2018.01795

Xing K, Zhu X, Peng X, Qin S (2015) Chitosan antimicrobial and eliciting properties for pest control in agriculture: a review. Agron Sustain Dev 35(2):569–588. https://doi.org/10.1007/s13593-014-0252-3

Yong-Hong G, Yang B, Xuan L, Mei L (2008) Induces resistance against Fusarium and pink rots by acibenzolar-S-methyl in harvested muskmelon (cv Yindi). Agric Sci China 7:58–64. https://doi.org/10.1016/S1671-2927(08)60022-X

Zhang Z, Bi Y, Ge Y, Wang J, Deng J, Xie D, Wang Y (2011) Multiple pre-harvest treatments with acibenzolar-S-methyl reduce latent infection and induce resistance in muskmelon fruit. Sci Hortic 130:126–132. https://doi.org/10.1016/j.scienta.2011.06.024
Acknowledgements
The authors thank Pontificia Universidad Javeriana for financial support.
Funding
This study was funded by Pontificia Universidad Javeriana (ID PPTA 4207, ID PRY 3940).
Ethics declarations
Conflict of interest
The authors declare that they have no conflict of interest.
Human and animals rights
This manuscript does not contain research involving human participants and/or animals.
Informed consent
All authors consent to this submission.
Additional information
Publisher's Note
Springer Nature remains neutral with regard to jurisdictional claims in published maps and institutional affiliations.
Supplementary Information
Below is the link to the electronic supplementary material.
About this article
Cite this article
Mejía, C., Farfán, D., Montaña, J.S. et al. Acibenzolar-S-methyl induces protection against the vascular wilt pathogen Fusarium oxysporum in cape gooseberry (Physalis peruviana L.). J Plant Dis Prot (2021). https://doi.org/10.1007/s41348-021-00427-0
Received:

Accepted:

Published:
Keywords
Acibenzolar-S-methyl

Cape gooseberry

Disease control

Fusarium oxysporum

Phytotoxicity