Abstract
Abnormalities in the marine fishes are encountered around the world. The saddleback syndrome a deformity in the dorsal fin of the fish. They could be due to various environmental changes, predation and also could be due to anthropogenic activities like marine pollution induced due to heavy metal pollution etc. A multi species and multi gears fishery exists in India. Visakhapatnam fishing harbor is a major fish landing center in the south east coast of India. Different types of marine fishes are commonly landed here. On continuous observation of the marine fish landings of Visakhapatnam, the above syndrome was recorded in black pomfret (Parastromateus niger). The dorsal fin of the observed specimen of P. niger was having severe deformity in the form of shortening of the neural spines and complete loss of pterygiophores associated with four dorsal spines. The seven soft rays were observed to be missing in the above specimen. The X-ray radiography conformed the deformity in the above specimen. The deformity appears to be there from the early developmental stage. The deformed specimen was compared with a normal specimen. The possible factors and various causative agents of the saddleback syndrome for the observed specimen are discussed in this paper.
Access options
Buy single article
Instant access to the full article PDF.
US$ 39.95
Tax calculation will be finalised during checkout.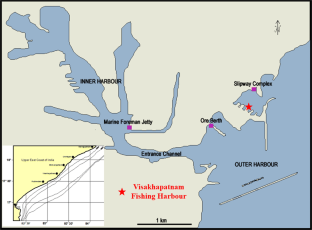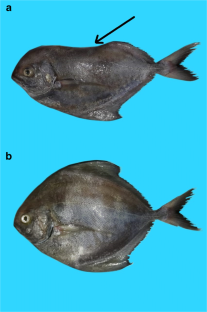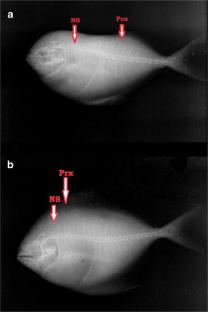 Data Availability
All the relevant data have been presented in the manuscript.
References
Alfonso JM, Montero D, Robaina L, Astorga N, Izquierdo MS, Gines R (2000) Association of a lordosis-scoliosis-kyphosis deformity in gilthead sea bream (Sparus aurata) with family structure. Fish Physiol 22:159–163

AL-Mamry JM, Jawad LA, Al-Habsi SH (2010) First record of dorsal and anal fin deformities in silver pomfret, Pampus argenteus (Stromaridae, Actinopterygii). Ann Biol 32:73–77

Almatar S, Chen W (2010) Deformities in silver pomfret Pampus argenteus caught from Kuwait waters. Chin J Oceanol Limnol 28:1227–1229

Anon (2018) Hand Book of Fisheries Statistics, DAHD &F, Govt. of India, 1–71

Archana A, Babu R (2013) Seasonal variations of physico-chemical parameters in coastal waters of Visakhapatnam, East coast of India. Middle-East J Sci Res 14(2):161–167

Boglione C, Gisbert E, Gavaia P, Witten P, Moren M, Fontagne S, Koumoundouros G (2013) Skeletal anomalies in reared European fish larvae and juveniles. Part 2: Main typologies, occurrence and causative factors. Rev Aquac 5:121–127

Browder JA, McClellan DB, Harper DE, Kandrashoff MG (1993) A major developmental defect observed in several Biscayne Bay, Florida, fish species. Environ Biol Fishes 37:181–188

Diggles BK (2013) Saddleback deformities in yellowfin bream, Acanthopagrus australis (Gunther), from South East Queensland. J Fish Dis 36:521–527

Dunham RA, Smitherman RO, Bondari K (1991) Lack of inheritance of stump body and tail-lessness in channel catfish. Prog Fish Cult 53:101–105

Fragkoulis S, Paliogiannis H, Kokkinias P, Chiers K, Adriaens D, Koumoundouros G (2017) Saddleback syndrome in European sea bass Dicentrarchus labrax (Linnaeus, 1758): anatomy, ontogeny and correlation with lateral line, anal and pelvic fin abnormalities. J Fish Dis 40:83–95

Georagakopoulou E, Katharios P, Divanach P, Koumoundouros G (2010) Effect of temperature on the development of skeletal deformities in gilthead seabream (Sparus aurata Linnaeus, 1758). Aquaculture 308:13–19

Gudger EW (1936) Beginning of fish teratology, 1555–1642. Belon, Rondelet, Gesner and Aldrovandi, the fathers of Ichthyology, the first to figure abnormal fishes. Sci Mon 43:252–261

Henitz RA, Short JW, Rice SD (1999) Sensitivity of fish embryos to weathered crude oil. II. Increased mortality of pink salmon (Oncorhynchus gorbuscha) embryos incubating downstream from weathered Exxon Valdez crude oil. Environ Toxicol Chem 18:494–503

James PSBR, Badrudeen M (1968) On certain anomalies in the fishes of the family Leiognathidae. J Mar Biol Assoc India 10:107–113

Jawad LA, Al-Mamry JM (2012) Saddleback syndrome in wild silver pomfret, Pampus argenteus (Euphrasen, 1788) (Family: Stromatidae) from the Arabian coast of Oman. Croat J Fish 70:135–142

Jawad LA, Ibrahim M (2018) Saddleback deformities in fish species collected from the Arabian Gulf of Coast of Jubali city, Saudi Arabia. J Ichthyol 58(3):401–409

Jayaprabha N, Purusothaman S, Srinivasan M (2016) First record of saddleback syndrome in wild species, Etroplus suratensis (Bloch, 1790) from the southeast coast of India. Indian J Geo Mar Sci 45(11):1536–1539

Koumoundouros G (2008) First record of saddleback syndrome in wild parrotfish Sparisoma cretense (Linnaeus, 1758) (Perciformes, Scaridae). J Fish Biol 72:737–741

Koumoundouros G (2010) Morpho-Anatomical abnormalities in Mediterranean Marine Aquaculture. Transworld Research Network, Kerala

Koumoundouros G, Oran G, Divananch P, Stefanakis S, Kentouri M (1997) The opercular complex deformity in intensive gilthead sea bream (Sparus auratavL.,) larviculture. Moment of apparition and description. Aquaculture 156:165–177

Koumoundouros G, Divanach P, Kentouri M (2001) The effect of rearing conditions on development of saddleback syndrome and caudal fin deformities in Dentex dentex (L.). Aquaculture 200:285–304

Kurokawa T, Okamoto T, Gen K, Uji S, Murashita K, Unuma T, Nomura K (2008) Influence of water temperature on morphological deformities in cultured larvae of Japanese eel, Anguilla japonica, at completion of yolk resorption. J World Aquacult Soc 39:726–735

Lemly AD (1993) Teratogenic effects of selenium in natural populations of freshwater fish. Ecotoxicol Environ Saf 26:181–204

Okamoto T, Kurokawa T, Gen K, Uji S, Murashita K (2009) Influence of salinity on morphological deformities in cultured larvae of Japanese eel, Anguilla japonica, at completion of yolk resorption. Aquaculture 293:113–118

Pollock BR (2015) Saddleback syndrome in yellowfin bream [Acanthopagrus australis (Gunther, 1859)] in Moreton Bay, Australia: its form, occurrence, association with other abnormalities and cause. J Appl Ichthyol 31:487–493

Sarma VV, Varaprasad SJD, Gupta GVM, Sudhakar U (1996) Petroleum Hydrocarbons and trace metals in Visakhapatnam harbour and Kakinada Bay, East coast of India. Indian J Mar Sci 25:148–150

Setiadi E, Tsumura S, Kassam D, Yamaoka K (2006) Effect of saddleback syndrome and vertebral deformity on the body shape and size in hatchery-reared juvenile red spotted grouper, Epinephelus akaara (Perciformes: Serranidae): a geometric approach. J Appl Ichthyol 22:49–53

Sfakianakis DG, Koumoundouros G, Anezaki L, Divanach P, Kentouri M (2003) Development of saddleback-like syndrome in reared white seabream Diplodus sargus (Linnaeus, 1758). Aquaculture 217:673–676

Sreeramulu D, Damodhran T (2017) Seasonal variation of heavy metal pollution in the sediment of Visakhapatnam coast of India. Int J Appl Pure Sci Agric 3(3):57–65

Suuronen P (2005) Mortality of fish escaping trawl gears. FAO Fisheries Technical Paper. No. 478. FAO, Rome

Tave D, Bartels JE, Smitherman RO (1983) Saddleback: a dominant, lethal gene in Sarotherodon aureus (Steindachner) (= Tilapia aurea). J Fish Dis 6:59–73

Witten P, Huysseune A (2009) A comparative view on mechanisms and functions of skeletal remodeling in teleost fish, with special emphasis on osteoclasts and their functions. Biol Rev 84:315–346
Acknowledgements
We express our sincere gratitude to Dr. M. Kathirvel, Former Principal Scientist, Central Institute of Brackish water Aquaculture (ICAR-Government of India), Chennai-600 028 for critical evaluation of manuscript and offering valuable suggestions.
Ethics declarations
Conflicts of Interest/Competing Interests
The authors declare that they have no known competing financial interests or personal relationships that could have appeared to influence the work reported in this manuscript.
Ethics Approval
Not applicable. 
Consent to Participate
Not applicable. 
Consent for Publication
Not applicable. 
Code Availability
Not applicable.
Additional information
Publisher's Note
Springer Nature remains neutral with regard to jurisdictional claims in published maps and institutional affiliations.
About this article
Cite this article
Silambarasan, K., Govindaraj, K., Kar, A.B. et al. Saddleback Syndrome in Wild Black Pomfret Parastromateus niger (Bloch, 1795), From Southeast Coast of India. Thalassas (2021). https://doi.org/10.1007/s41208-021-00287-3
Received:

Revised:

Accepted:

Published:
Keywords
Visakhapatnam fishing harbor

Multi species and multi gear fishery

Occurrence

Parastromateus niger

Deformity

Pterygiophores