Abstract
During December 2010, an expedition was conducted to the Philippines Islands aiming to collect coastal polychaetes in the area. Among the abundant material, 593 individuals belonging to the family Eunicidae (Annelida; Polychaeta) were found and studied, and their identification yielded seven species. Four of them were new records to Philippines, enlarging the list of eunicid polychaetes of the country from 32 to 36 species; moreover, two of the species new for these islands were also new records to South China Sea. Additionally, the taxonomic status of one of them is modified, by transferring it from genus Eunice Cuvier, 1817 to Leodice Lamarck, 1818. Eunicids are especially abundant and diverse in benthic environments of tropical seas, were they act mainly as predators and scavengers or as herbivores. Some species are important in coral reefs because their boring abilities make them key organisms in the bioerosion processes. In this respect, knowledge on the composition of their communities is of capital for the understanding of ecological structure of the system.
This is a preview of subscription content, log in to check access.
Access options
Buy single article
Instant access to the full article PDF.
US$ 39.95
Price includes VAT for USA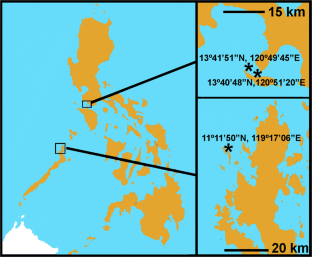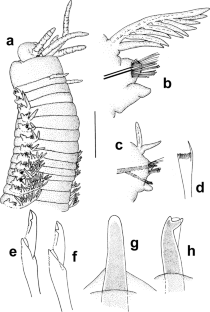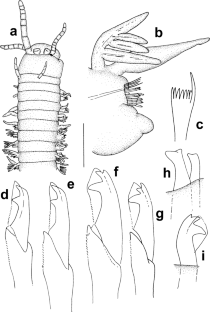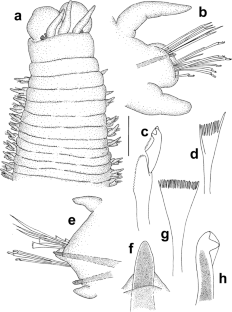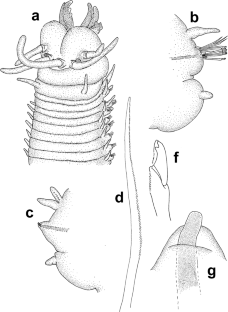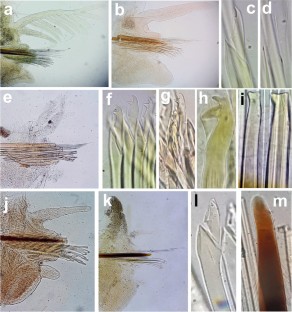 Data Availability
All the specimens herein studied were deposited at the Museo Nacional de Ciencias Naturales de Madrid and accession numbers for material are provided.
References
Bouchet P, Ng PKL, Largo D, Tan SH (2009) PANGLAO 2004 – investigations of the marine species richness in the Philippines. Raffles Bull Zool Suppl 20:1–19

Burrows W (1955) Notes on the periodic appearance of the annelid worm Eunice viridis (gray) in the south-West Pacific Islands. J Polyn Soc 64:137–154

Carrera-Parra LF (2009) 15. Eunicidae Berthold, 1827. In: De León-González JA, Bastida-Zavala JR, Carrera-Parra LF, García-Garza ME, Peña-Rivera A, Salazar-Vallejo SI, Solis-Weiss V (eds) Poliquetos (Annelida: Polychaeta) de México y América Tropical. Universidad Autónoma de Nuevo León, Monterrey, pp 165–181

Carrera-Parra LF, Salazar-Vallejo SI (1998) A new genus and 12 new species of Eunicidae (Polychaeta) from the Caribbean Sea. J Mar Biol Ass UK 78:145–182

Carrera-Parra LF, Fauchald K, Gambi MC (2011) Revision of the taxonomic status of Lysidice (Polychaeta, Eunicidae) in the Western Caribbean Sea with observations on species reproductive features and habitat preference. Italian J Zool 78(S1):27–40

Day JH (1967) A monograph on the Polychaeta of southern Africa. Part I. Errantia. Trustees of the British museum (natural history), London

Fauchald K (1970) Polychaetous annelids of the families Eunicidae, Lumbrineridae, Iphitimidae, Arabellidae, Lysaretidae and Dorvilleidae from Western Mexico. Allan Hancock Monogr Mar Biol 5:1–335

Fauchald K (1992a) A review of the genus Eunice (Eunicidae: Polychaeta) based upon type material. Smith Contr Zool 523:1–422

Fauchald K (1992b) Review of the types of Palola (Eunicidae: Polychaeta). J Nat Hist 26:1117–1225

Gallardo V (1968) Polychaeta from the bay of Nha Trang, South Viet Nam. Scripps Inst Oceanogr NAGA Exped Rep 4:35–279

Gambi MC, Van Tussenbroek BI, Brearley A (2003) Mesofaunal borers in seagrasses: world-wide occurrence and a new record of boring polychaetes in the Mexican Caribbean. Aquatic Bot 76(1):65–77

Glasby CJ, Lee Y-L, Hsueh P-W (2016) Marine Annelida (excluding clitellates and siboglinids) from the South China Sea. Raffles Bull Zool Suppl 34:209–232

Glasby CJ, Mandario MAE, Brurhardt I, Kupriyanova E, Gunton LM, Hutchings PA (2019) A new species of the sanguinea-group Quatrefages, 1866 (Annelida: Eunicidae: Marphysa) from the Philippines. Zootaxa 4674(2):264–282

Grube AE (1878) Annulata Semperiana. Beitrage zur Kenntnis der Annelidan-fauna der Philippinen nach den von Hern Prof. Semper mitgebrachten Sammlungen. Mém Acad Imp Sci St Pétersbourg, VII Sér 25:1–300

Hartmann-Schröder G, Zibrowius H (1998) Polychaeta associated with Antipatharia (Cnidaria: Anthozoa): description of Polynoidae and Eunicidae. Mitt Hamb Zool Mus Inst 95:29–44

Hutchings P (1986) Biological destruction of coral reefs. Coral Reefs 4(4):239–252

Miura T (1979) Eunicid Polychaetous Annelids from Japan-III. La Mer 17(1):33–42

Molina-Acevedo I, Carrera-Parra LF (2015) Reinstatement of three species of the Marphysa sanguinea complex (Polychaeta: Eunicidae) from the grand Caribbean region. Zootaxa 3925(1):37–55

Natividad F, Palpal-latoc VS (1986) Philippine Annelids. In: Umali RM, Zamora PM, Gotera RR, Jara RS (eds) Guide to Philippine Flora and Fauna: Vol. VI, Gastropods, Pelecypods, Annelids. Natural Resources Management Center and University of the Philippines, Manila, pp 269–342

Palpal-latoc VS (1981) Inventory of Polychaetous annelids of Tayabas Bay. Nat'l Mus Zool Pap 9:1–55

Palpal-latoc VS (1996) The Polychaete fauna of Panay. Nat'l Mus Pap 6(1):1–58

Palpal-latoc VS (1997) The Polychaete fauna of Ilocos Sur. Nat'l Mus Pap 7(2):1–78

Palpal-latoc VS (2001) Checklist of Polychaetous annelids in the Philippines special issue. Nat'l Mus Pap 2(2):1–79

Paxton H (2000) Family Eunicidae. In: Beesley PL, GJB R, Glasby CJ (eds) Polychaetes & Allies. The southern synthesis. Fauna of Australia. Vol 4A, Polychaeta, Myzostomida, Pogonophora, Echiura, Sipuncula. CSIRO Publishing, Melbourne, pp 94–96

Paxton H, Chou LM (2000) Polychaetous annelids from the South China Sea. Raffles Bull Zool Suppl 8:209–232

Pillai TG (1965) Annelida Polychaeta from the Philippines and Indonesia. Ceylon J Sci (Biol Sci) 5(2):110–177

Rouse GW, Pleijel F (2001) Polychaetes. Oxford University Press, Oxford

Schulze A (2006) Phylogeny and genetic diversity of Palolo Worms (Palola, Eunicidae) from the tropical North Pacific and the Caribbean. Biol Bull 210(1):25–37

Schulze A, Timm LE (2012) Palolo and un: distinct clades in the genus Palola (Eunicidae, Polychaeta). Mar Biodivers 42:161–171

Tan LT, Chou LM (1993) Checklist of polychaete species from Singapore waters (Annelida). Raffles Bull Zool 41(2):279–295

Wu X, Sun R, Liu R (2013) A new species of Eunice (Polychaeta: Eunicidae) from Hainan Island, South China Sea. Chinese J Oceanol Limn 31(1):134–139

Zanol J, Halanych KM, Struck TH, Fauchald K (2010) Phylogeny of the bristle worm family Eunicidae (Eunicida, Polychaeta) and the phylogenetic utility of noncongruent 16S, COI and 18S in combined analyses. Mol Phyl Evol 55:660–676

Zanol J, Halanych KM, Fauchald K (2014) Reconciling taxonomy and phylogeny in the bristleworm family Eunicidae (polychaete, Annelida). Zool Scr 43(1):79–100
Acknowledgements
We wish to express our gratitude to Guillermo San Martín, Maite Aguado, Patricia Álvarez (Universidad Autónoma de Madrid, Spain) and Charlotte Watson (Museum and Art Gallery of Northern Territory, Australia), for providing us the material examined for this study. In this respect also Virgilio Palpal-latoc (National Museum of the Philippines), Raffy G. Cabate, Minda Go, and Levi A. Ladioray (Municipality of El Nido) are to be acknowledged for their help in the application for permits to samples in the Philippines Islands.
Funding
This study was supported by the project "Caracterización Taxonómica y Sistemática de la familia Syllidae (Polychaeta) basada en datos moleculares y morfológicos. El problema de las especies cosmopolitas y Biodiversidad en el Pacífico" funded by the Ministerio de Ciencia e Innovación of the Spanish Government, Project number CGL2009–12292 BoS.
Ethics declarations
Conflict of Interest
The authors declare that they have no competing interests.
Ethics Approval
Since neither live animals for experimentation nor biological material (be it genetically modified or not) were used for the current study, approval from the "Cómite de Ética en la Investigación" (Ethics Committee for Research) of the Universidad Autónoma de Madrid was not required, as established in the University, regional and national normatives.
Consent to Participate
In no case human participants whose consent to participate was needed were involved.
Consent for Publication
In this study, human participants whose consent for publication was needed were not involved.
Additional information
Publisher's Note
Springer Nature remains neutral with regard to jurisdictional claims in published maps and institutional affiliations.
About this article
Cite this article
Díaz, A., López, E. Four New Records of Eunicidae (Annelida: Polychaeta) from the Western Philippines Islands. Thalassas (2020). https://doi.org/10.1007/s41208-020-00229-5
Received:

Revised:

Accepted:

Published:
Keywords
Polychaeta

Eunicidae

New records

Philippines

South China Sea