Abstract
The present study reports length-weight relationships (LWRs) and Fulton's condition factor (K) of five marine finfish species [(Siganus vermiculatus (Valenciennes, 1835), Kathala axillaris (Cuvier, 1830), Exocoetus volitans, Linnaeus, 1758, Chaetodon collare Bloch, 1787 and Boleophthalmus dussumieri Valenciennes, 1837)] from Parangipettai (East coast, Tamil Nadu) and Mumbai (West coast, Maharashtra) of India. A total of 1451 specimens representing five fin fish species were collected monthly from January 2018 to December 2018 and the sex ratio were calculated. Based on the estimates of total length (TL) and body weight (BW), the growth parameters (b), sex-specific differences in growth parameter and their monthly variation were calculated. The sex ratio was female-biased and significantly different from 1:1 in all species except E. volitans. The value of parameter 'b' of LWRs varied from 2.734 to 3.201 (r2 > 0.96 and P < 0.0001 for all species) and fall within the expected value of 2.5 to 3.5. The value of parameter 'b' for E. volitans and B. dussumieri did not fall within the 95% confidence intervals of Bayesian predictions. However for S. vermiculatus, C. collare, and K. axillaris the value of parameter 'b' was within the range of Bayesian predictions. Monthly variation in the value of parameter 'b' of the LWRs for all species was noticeable. The sample size had no effect on the 'b' value. Sex-specific variation in 'b' value was only observed for C. collare. The condition factor value ranged from 0.52 to 2.25 and was highest in K. axillaris and lowest in C. collare. Owing to the importance of LWRs and K data to understand the relative condition of populations, species ecology, demographic assessment, and species management, the present study has a great significance in fishery biology.
This is a preview of subscription content, log in to check access.
Access options
Buy single article
Instant access to the full article PDF.
US$ 39.95
Price includes VAT for USA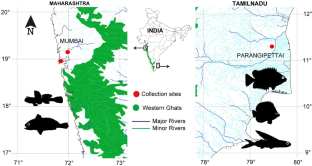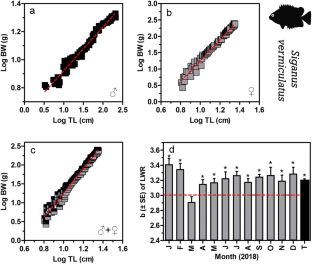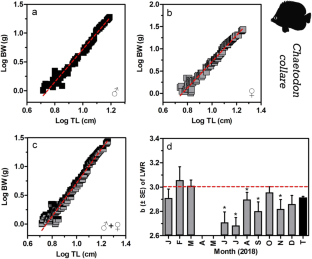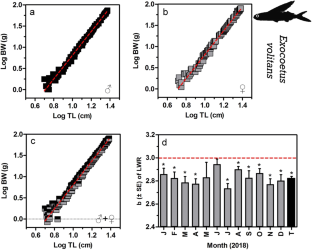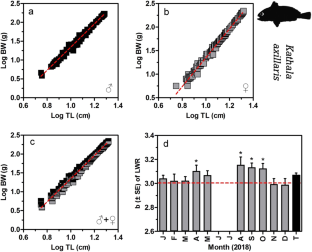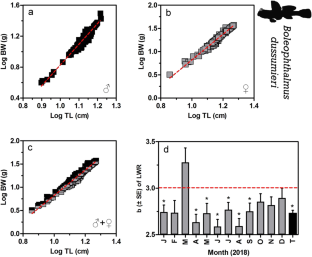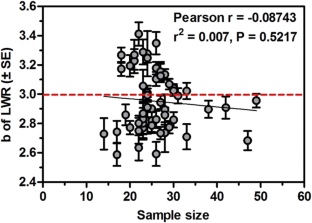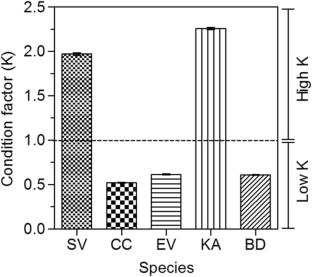 References
Abobi SM, Ekau W (2013) Length-weight relationships and condition factors of Alestes baremoze, Brycinus nurse and Schilbe intermedius from the lower reaches of White Volta River (Yapei), Ghana. Int J Fish Aqua 5:152–165

Accioly IV, Molina WF (2008) Cytogenetic studies in Brazilian marine Sciaenidae and Sparidae fishes (Perciformes). Genet Mol Res 7:358–370. https://doi.org/10.4238/vol7-2gmr427

Ahamed F, Saha N, Nishat MA, Biswas MK, Sultana M, Khatun MS, Ahmed ZF, Hossain MY, Ohtomi J (2018) Length-Weight and Length-Length Relationships of Three Small Indigenous Fishes from the Payra River, Southern Bangladesh. J Appl Ichthyol 34:777–779. https://doi.org/10.1111/jai.13642

Anand M, Reddy P (2017) Reproductive biology of the Rabbitfish (Siganus canaliculatus) in the Gulf of Mannar region, India. Indian J Geo Mar Sci 46:131–140

Anderson R, Gutreuter S (1983) Length, weight and associated structural indices. In: Nielsen L, Johnson D (eds) Fisheries techniques, American Fisheries Society, Bethesda, p 283–300

Anene A (2005) Condition factor of four Cichlid species of a man-made lake in Imo State, Southeastern Nigeria. Turk J Fish Aquat Sci 5:43–47

Ayoade AA (2009) Aspects of the reproductive biology of the African butter catfish Schilbe mystus (Teleostei: Schilbeidae) in an artificial lake in south western Nigeria. Zoologist 7:130–140. https://doi.org/10.4314/tzool.v7i1.52066

Bagenal TB, Tesch FW (1978) Age and growth. In: Bagenal T (ed) Methods for assessment of fish production in Fresh waters, 3rd edn. IBP Handbook No. 3. Blackwell Science Publications, New York, pp 101–136

Bharadhirajan P, Murugan S (2015) On the evaluation of marine finfish resources of Parangipettai coastal waters, Southeast coast of India. Sustainable Fisheries in an Ecosystem Perspective, Conference proceeding, p 39

Bindu L, Padmakumar KG, Sreerekha PS, Joseph N (2012) Reproductive biology of the golden catfish, Horabagrus brachysoma (Gűnther, 1864), an endemic species of the Western Ghats, India. J Appl Ichthyol 28:772–777. https://doi.org/10.1111/j.1439-0426.2012.02026.x

Borja A (2014) Grand challenges in marine ecosystems ecology. Front Mar Sci 1:1. https://doi.org/10.3389/fmars.2014.00001

Cardinale BJ, Duffy JE, Gonzalez A, Hooper DU, Perrings C, Venail P, Narwani A, Mace GM, Tilman D, Wardle DA, Kinzig AP (2012) Biodiversity loss and its impact on humanity. Nature 486:59. https://doi.org/10.1038/nature11148

Dadzie S, Wangila BCC (1980) Reproductive biology, length-weight relationship and relative condition of pond raised Tilapia zilli (Gervais). J Fish Biol 17:243–254. https://doi.org/10.1111/j.1095-8649.1980.tb02758.x

Froese R (2006) Cube law, condition factor and weight–length relationships: History, meta-analysis and recommendations. J Appl Ichthyol 22:241–253. https://doi.org/10.1111/j.1439-0426.2006.00805.x

Froese R, Pauly D (eds) (2019) FishBase. World Wide Web electronic publication. https://www.fishbase.org, version (02/2019). https://www.fishbase.de/

Froese R, Tsiklirans AC, Stergiou KI (2011) Editorial note on weight-length relations of fishes. Acta Ichthyol Piscat 30:14–11. https://doi.org/10.3750/AIP2011.41.4.01

Froese R, Thorson JT, Reyes RB Jr (2014) A Bayesian approach for estimating length-weight relationship in fishes. J Appl Ichthyol 30:78–85. https://doi.org/10.1111/jai.12299

Gonçalves JM, Bentes L, Lino PG, Ribeiro J, Canario AV, Erzini K (1997) Weight-length relationships for selected fish species of the small-scale demersal fisheries of the south and south-west coast of Portugal. Fish Res 30:253–256. https://doi.org/10.1016/S0165-7836(96)00569-3

Gorule PA, Pise M, Kharat SS, Tapkir SD, Londhe P, Sarkar S, Gosavi SM (2019) Length–weight relationships of nine freshwater fishes from five rivers of the Western Ghats of India. J Appl Ichthyol 35:1044–1046. https://doi.org/10.1111/jai.13887

Gundermann N, Popper DM, Lichatowich T (1983) Biology and life cycle of Siganus vermiculatus (Siganidae, Pisces). Pac Sci 37:165–180. http://hdl.handle.net/10125/658

Hammer Ø, Harper DA, Ryan PD (2001) PAST: paleontological statistics software package for education and data analysis. Palaeontol Electron 4:9. https://palaeo-electronica.org/2001_1/past/issue1_01.htm

Hooper DU, Adair EC, Cardinale BJ, Byrnes JE, Hungate BA, Matulich KL, Gonzalez A, Duffy JE, Gamfeldt L, O'Connor MI (2012) A global synthesis reveals biodiversity loss as a major driver of ecosystem change. Nature 486:105. https://doi.org/10.1038/nature11118

Hossain MY, Hossen MA, Pramanik MNU, Ahmed ZF, Hossain MA, Islam MM (2016) Length–weight and length–length relationships of three Ambassid fishes from the Ganges River (NW Bangladesh). J Appl Ichthyol 32:1279–1281. https://doi.org/10.1111/jai.13170

Jones GP, McCormick MI, Srinivasan M, Eagle JV (2004) Coral decline threatens fish biodiversity in marine reserves. Proc Nat Acad Sci 101:8251–8253. https://doi.org/10.1073/pnas.0401277101

Kulbicki M, Bozec YM (2005) The use of butterflyfish (Chaetodontidae) species richness as a proxy of total species richness of reef fish assemblages in the Western and Central Pacific. Aqua Conser 15:S127–S141. https://doi.org/10.1002/aqc.692

Lam TJ (1974) Siganids: their biology and mariculture potential. Aquaculture 3:325–354. https://doi.org/10.1016/0044-8486(74)90001-5

Le Cren CD (1951) The length-weight relationship and seasonal cycle in gonad weight and condition in perch, Perca fluviatilis. J Anim Ecol 20:201–219. https://doi.org/10.2307/1540

Lelli S, Lteif M, Jemaa S, Khalaf G, Verdoit-Jarraya M (2018) Weight-length relationships of 3 demersal fish species from Lebanese marine waters, eastern Mediterranean. J Appl Ichthyol 34:153–156. https://doi.org/10.1111/jai.13459

Lindegren M, Holt BG, MacKenzie BR, Rahbek C (2018) A global mismatch in the protection of multiple marine biodiversity components and ecosystem services. Sci Rep 8:4099. https://doi.org/10.1038/s41598-018-22419-1

Mahadevan G, Ravi V (2018) Length-weight relationship of two mudskippers (Gobiidae: Oxudercinae) Boleophthalmus boddarti (Pallas, 1770) and Periophthalmus novemradiatus (Hamilton, 1822) from Vellar estuary, Southeast India. J Appl Ichthyol 34:1358–1360. https://doi.org/10.1111/jai.13797

Molur S, Smith KG, Daniel BA, Darwall WRT (2011) The status and distribution of freshwater biodiversity in the Western Ghats, India. Cambridge, UK and Gland, Switzerland: IUCN, and Coimbatore, India: Zoo Outreach Organisation. https://www.iucn.org/content/status-and-distribution-freshwater-biodiversity-western-ghats-india

Myers N, Mittermeier R, Mittermeier GC, Dafonseca GAB, Kent J (2000) Biodiversity hotspots for conservation priorities. Nature 403:853–858. https://doi.org/10.1038/35002501

Najmudeen TM, Zacharia PU, Seetha PK, Sunil KTS, Radhakrishnan M, Akhildev S, Sipson A (2019) Length-weight relationships of three species of pelagic sharks from southeastern Arabian Sea. Reg Stu Mar Sci 100647. https://doi.org/10.1016/j.rsma.2019.100647

Nelson J (2006) Fishes of the world, 4th edn. Wiley, New York, 601 pp

Oni SK, Olayemi JY, Adegboye JD (1983) Comparative physiology of three ecologically distinct fresh water fishes, Alestes nurse Ruppell, Synodontis schall Bloch and S schneider and Tilapia zilli Gervais. J Fish Biol 22:105–109. https://doi.org/10.1111/j.1095-8649.1983.tb04730.x

Panda D, Karna SK, Mukherjee M, Manna RK, Suresh VR, Sharma AP (2016) Length–weight relationships of five tropical fish species from Chilika Lagoon, India. J Appl Ichthyol 32:1286–1289. https://doi.org/10.1111/jai.13174

Parin NV, Shakhovskoy IB (2000) A review of the flying fish genus Exocoetus (Exocoetidae) with description of two new species from the Southern Pacific Ocean. J Ichthyol 40:31–63

Pauly D (1984) Fish population dynamics in tropical waters: A manual for use with programmable calculators. ICLARM Stud Rev 8:325 pp. http://pubs.iclarm.net/libinfo/Pdf/Pub%20SR76%208.pdf

Petrakis G, Stergiou KI (1995) Weight-length relationships for 33 fish species in Greek waters. Fish Res 1:465–469. https://doi.org/10.1016/0165-7836(94)00294-7

Pise M, Gorule PA, Kharat S, Tapkir SD, Verma C, Kumkar P, Gosavi SM (2018) Length-weight relationships of four freshwater fishes from northern Western Ghats of India. J Appl Ichthyol 34:1394–1396. https://doi.org/10.1111/jai.13820

Pratchett MS, Munday PL, Wilson SK, Graham NA, Cinner JE, Bellwood DR, Jones GP, Polunin NV, McClanahan TR (2008) Effects of climate-induced coral bleaching on coral reef fishes - Ecological and economic consequences. Ocean Mar Biol: An Ann Rev 46:251–296. https://doi.org/10.1201/9781420065756.ch6

Radkhah AR, Eagderi S (2019) Study on biological and ecological characteristics of mudskippers. J Threat Taxa 11:13948–13950. https://doi.org/10.11609/jott.4984.11.7.13948-13950

Ross JL, Stevens TM, Vaughan DS (1995) Age, growth, mortality, and reproductive biology of red drums in North Carolina waters. Trans Am Fish Soc 124:37–54. https://doi.org/10.1577/1548-8659(1995)124<0037:AGMARB>2.3.CO;2

Safran P (1992) Theoretical analysis of the weight-length relationship in fish juveniles. Mar Biol 112:545–551. https://doi.org/10.1007/BF00346171

Sani R, Gupta BK, Sarkar UK, Pandey A, Dubey VK, Singh Lakra W (2010) Length–weight relationships of 14 Indian freshwater fish species from the Betwa (Yamuna River tributary) and Gomti (Ganga River tributary) rivers. J Appl Ichthyol 26:456–459. https://doi.org/10.1111/j.1439-0426.2009.01388.x

Schäfer RB (2012) Biodiversity, ecosystem functions and services in environmental risk assessment: Introduction to the special issue. Sci Tot Environ 415:1–2. https://doi.org/10.1016/j.scitotenv.2011.08.012

Sharifian S, Taherizadeh MR, Salarpouri A, Dehghani M (2017) Population structure and reproductive biology of the mudskipper Boleophthalmus dussumieri Valenciennes, 1837 from the Bay of Hormozgan province, Persian Gulf. Cah Biol Mar 58:25–32

Shokri MR, Fatemi SMR, Crosby MP (2005) The status of butterflyfishes (Chaetodontidae) in the northern Persian Gulf, IR Iran. Aquat Conserv 1:S91–S99

Sivakami S, Ramalingam P (2003) The Sciaenid fishery resources off Kakinada, Andhra Pradesh. J Mar Biol Asso India 45:74–87

Sivaramakrishnan T, Mathews G, Saritha K, Patterson J (2012) By-Catch exploitation of Ornamental Fishes in Tuticorin Coast of Gulf of Mannar, India. American-Eurasian J Sci Res 7:252–256

Vijayanand PE, Pillai NGK (2002) Reproductive biology of some common coral reef fishes of the Indian EEZ. J Mar Biol Asso India 44:122–135

Wafar M, Venkataraman K, Ingole B, Khan SA, LokaBharathi P (2011) State of knowledge of coastal and marine biodiversity of Indian Ocean countries. PLoS One 31:e14613. https://doi.org/10.1371/journal.pone.0014613

Wang L, Wu Z, Liu M, Liu W, Zhao W, Liu H, Zhang P, You F (2017) Length-weight, length-length relationships, and condition factors of black rockfish Sebastes schlegelii Hilgendorf, 1880 in Lidao Bay, China. Thalassas 33:57–63. https://doi.org/10.1007/s41208-017-0021-6

Wassef EA, Hady HA (1997) Breeding biology of rabbitfish Siganus canaliculatus (Siganidae) in mid Arabian Gulf. Fish Res 33:159–166. https://doi.org/10.1016/S0165-7836(97)00075-1

Wernberg T, Bennett S, Babcock RC, De Bettignies T, Cure K, Depczynski M, Dufois F, Fromont J, Fulton CJ, Hovey RK, Harvey ES (2016) Climate-driven regime shift of a temperate marine ecosystem. Science 353:169–172. https://doi.org/10.1126/science.aad8745

Zar JH (1999) Biostatistical analysis. Prentice Hall, Upper Saddle River
Acknowledgements
The authors acknowledge valuable comments from the reviewers on the earlier version of the manuscript, which significantly increases the standard of the manuscript. The authors are grateful to the Director and Dean, CAS in Marine Biology, authorities of Annamalai University and Maharashtra College of Arts, Science and Commerce (University of Mumbai) for infrastructural support. The present study received financial support from the Ministry of Earth Sciences - National Centre for Coastal Research (NCCR) [MoES/ICMAM-PD: 81/2017], New Delhi.
Ethics declarations
Declaration of interest statement
No.
Additional information
Publisher's Note
Springer Nature remains neutral with regard to jurisdictional claims in published maps and institutional affiliations.
Electronic supplementary material
About this article
Cite this article
Mahadevan, G., Gosavi, S.M. & Murugesan, P. Length-weight Relationships and Condition Factor of Five Marine Finfish Species from Parangipettai (Tamil Nadu) and Mumbai (Maharashtra) Coast of India. Thalassas (2020). https://doi.org/10.1007/s41208-020-00222-y
Received:

Revised:

Published:
Keywords
Allometry

Sex ratio

Demographics

Management

Indian coast