Abstract
Pterois miles (Bennett, 1828) is one of the worst aquatic invaders in history and its rapid dispersal in the Mediterranean Sea raise serious concerns for local biomes. On April 2019, one adult specimen was caught by gillnets close to the shoreline of the island of Kefalonia, Greece. This occurrence, confirmed by DNA barcoding, represents the northernmost record of the species in the Mediterranean Sea, up today, suggesting that the Ionian Sea corridor facilitates fast dispersal of ecological versatile species such as P. miles to higher latitudes.
Access options
Buy single article
Instant access to the full article PDF.
US$ 39.95
Tax calculation will be finalised during checkout.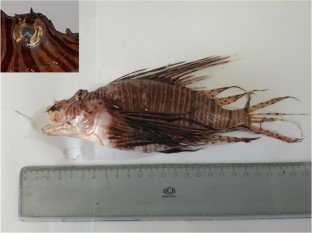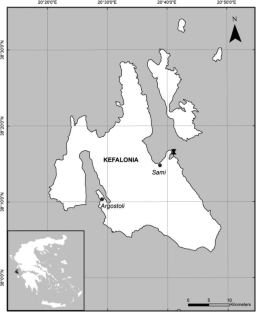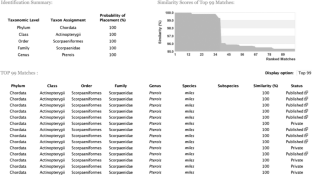 References
Allen GR, Erdmann MV (2008) Pterois andover, a new species of scorpionfish (Pisces: Scorpaenidae) from Indonesia and Papua New Guinea. Aqua, Int J Ichthyol, 13(3–4):127–138

Azzurro E, Stancanelli B, Di Martino V, Bariche M (2017) Range expansion of the common lionfish Pterois miles (Bennett, 1828) in the Mediterranean Sea: an unwanted new guest for Italian waters. BioInv Rec 6(2):95–98

Bariche M, Torres M, Azzurro E (2013) The presence of the invasive Lionfish Pterois miles in the Mediterranean Sea. Mediterr Mar Sci 14(2):292–294

Bariche M, Kleitou P, Kalogirou S, Bernardi G (2017) Genetics reveal the identity and origin of the lionfish invasion in the Mediterranean Sea. Sci Rep 7(6782). https://doi.org/10.1038/s41598-017-07326-1

Bilge G, Filiz H, Yapici S, Tarkan AS, Vilizzi L (2019) A risk screening study on the potential invasiveness of Lessepsian fishes in the south-western coasts of Anatolia. Acta Ichthyol Piscat 49(1):23–31

Côté IM, Smith NS (2018) The lionfish Pterois sp. invasion: Has the worst-case scenario come to pass? J Fish Biol 92(3):660–689

Crocetta F, Agius D, Balistreri P, Bariche M, Bayhan Y, Çakir M, Ciriaco S, Corsini-Foka M, Deidun A, El Zrelli R, Ergüden D, Evans J, Ghelia M, Giavasi M, Kleitou P, Kondylatos G, Lipej L, Mifsud C, Özvarol Y, Pagano A, Portelli P, Poursanidis D, Rabaoui L, Schembri P, Taşkin E, Tiralongo F, Zenetos A (2015) New Mediterranean Biodiversity Records (October 2015). Mediterr Mar Sci 16(3):682–702

Dailianis T, Akyol O, Babali N, Bariche M, Crocetta F, Gerovasileiou V, Chanem R, Gökoğlu M, Hasiotis T, Izquierdo-Muñoz A, Julian D, Katsanevakis S, Lipez L, Mancini E, Mytilineou C, Ounifi Ben Amor K, Özgül A, Ragkousis M, Rubio-Portillo E, Servello G, Sini K, Stamouli C, Sterioti A, Teker S, Tiralongo F, Trkov D (2016) New mediterranean biodiversity records (July 2016). Mediterr Mar Sci 17(2):608–626

ELNAIS (2018) Ellenic Network on Aquatic Invasive Species. https://elnais.hcmr.gr/news/. Accessed 5 May 2019

Froese R, Pauly D (eds) (2019) FishBase. [Version 02/2019] www.fishbase.org. Accessed 5 May 2019

Golani D, Sonin O (1992) New records of the Red Sea fishes, Pterois miles (Scorpaenidae) and Pteragogus pelycus (Labridae) from the eastern Mediterranean Sea. Jap J Ichthyol 39(2):167–169

Johnston MW, Purkis SJ (2014) Are lionfish set for a Mediterranean invasion? Modelling explains why this is unlikely to occur. Mar Pollut Bull 88(1–2):138–147

Katsanevakis S, Zenetos A, Belchior C, Cardoso AC (2013) Invading European seas: assessing pathways of introduction of marine aliens. Ocean Coast Manag 76:64–74

Kletou D, Hall-Spencer JM, Kleitou P (2016) A lionfish (Pterois miles) invasion has begun in the Mediterranean Sea. Mar Biodivers Rec 9(1):46. https://doi.org/10.1186/s41200-016-0065-y

Menna M, Poulain PM (2010) Mediterranean intermediate circulation estimated from Argo data in 2003–2010. Ocean Sci 6(1):331–343

Oray IK, Sınay E, Saadet Karakulak F, Yıldız T (2015) An expected marine alien fish caught at the coast of Northern Cyprus: Pterois miles (Bennett, 1828). J Appl Ichthyol 31(4):733–735

Poursanidis D (2015) Ecological Niche Modelling of the invasive lionfish Pterois miles (Bennett, 1828) in the Mediterranean Sea. Proceedings of the 11th Panhellenic Symposium on Oceanography and Fisheries, Mytilene, Lesvos island, Greece, 13th–15th May 2015, pp 621–624

Ratnasingham S, Hebert PDN (2007) BOLD: the barcode of life data system (http://www.barcodinglife.org). Mol Ecol Notes 7:355–364

Schofield P, Morris Jr J, Langston J, Fuller P (2015) Pterois volitans/miles FactSheet. USGS nonindigenous aquatic species database [online], Gainesville, FL. https://nas.er.usgs.gov/queries/FactSheet.aspx?speciesID=963. Accessed 5 May 2019

Schultz ET (1986) Pterois volitans and Pterois miles: two valid species. Copeia 1986(3):686–690

Spinos E, Vavasis C, Simotas G, Konstantinidis E, Kondylatos G, Perdikaris C (2016) Recent records of invasive alien and range expanding species in the coastal zone of Kefalonia and Ithaca islands, Greece. Proceedings of the 16th Panhellenic Congress of Ichthyologists, Kavala, Greece, 6th–9th October 2016, pp 173–176 (in Greek with English abstract)

Theodorou JA, Govios I, Spinos E Moutopoulos D, Katselis G, Perdikaris C, Konstantinidis E (2019) Case from invasion to commercial exploitation in Greek water: Brown shrimp (P. aztecus), pearl oyster (P. imbricata radiata), blue crab (C. sapidus), red sea bream (P. major). Presentation to Sub-regional committee for the Eastern Mediterranean (SRC-EM) FAO-HQm, Rome, Italy, 18th–19th March 2019

Turan C, Ergüden D, Gürlek M, Yağlıoğlu D, Uyan A, Uygur N (2014) First record of the Indo-Pacific lionfish Pterois miles (Bennett, 1828) (Osteichthyes: Scorpaenidae) for the Turkish marine waters. J Black Sea/Mediterr Environ 20(2):158–163

Turan C, Öztürk B (2015) First record of the lionfish Pterois miles from the Aegean Sea. J Black Sea/Mediterr Environ 21(3):334–338

Turan C, Uygur N, İğde M (2017) Lionfishes Pterois miles and Pterois volitans in the North-eastern Mediterranean Sea: Distribution, habitation, predation and predators. Nat Eng Sci 2(1):35–43

Ward RD, Zemlak TS, Innes BH, Last PR, Hebert PDN (2005) DNA barcoding Australia's fish species. Philos Trans R Soc Lond Ser B Biol Sci 360(1462):1847–1857

Yapıcı S (2018) Piscis non grata in the Mediterranean Sea: Pterois miles (Bennett, 1828). Ege J Fish Aquatic Sci 35(4):467–474
Acknowledgements
We thank the fisherman Dionysis Stefanatos for provision of the specimen.
Ethics declarations
Conflict of Interest
On behalf of all authors, the corresponding author states that there is no conflict of interest.
Additional information
Publisher's Note
Springer Nature remains neutral with regard to jurisdictional claims in published maps and institutional affiliations.
About this article
Cite this article
Vavasis, C., Simotas, G., Spinos, E. et al. Occurrence of Pterois miles in the Island of Kefalonia (Greece): the Northernmost Dispersal Record in the Mediterranean Sea. Thalassas 36, 171–175 (2020). https://doi.org/10.1007/s41208-019-00175-x
Received:

Revised:

Published:

Issue Date:
Keywords
Devil firefish

Pterois miles

Northward dispersal

Kefalonia island

Mediterranean Sea