Abstract
In this study, alginate/bentonite adsorbent beads (Alg/Ben) were prepared by encapsulating natural bentonite (Ben) in calcium alginate (Alg). Different Alg/Ben ratios were applied during bead preparation, yielding beads denoted Alg-Ben1 (1/1 w/w), Alg-Ben2 (1/2 w/w), and Alg-Ben3 (1/3 w/w), respectively. These adsorbents were characterized by Fourier-transform infrared spectroscopy and X-ray diffraction. The adsorption of methylene blue (MB) from aqueous solution on the Alg/Ben beads was investigated as a function of several parameters, including initial MB concentration and contact time. The Langmuir and Freundlich adsorption models were applied to describe the equilibrium adsorption isotherms, and they were found to be well described by the Langmuir model. Encapsulating Ben in Alg led to a substantial increase in maximum amount of methylene blue adsorbed by Ben, from 345 to 1237 mg g−1. The results showed that, among the three types of Alg/Ben beads, Alg-Ben1 presented the greatest MB adsorption capacity. A kinetic study indicated that the adsorption was governed by second-order kinetics.
This is a preview of subscription content, log in to check access.
Access options
Buy single article
Instant access to the full article PDF.
US$ 39.95
Price includes VAT for USA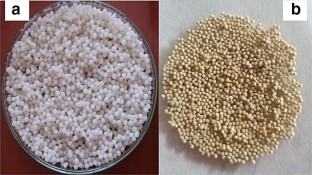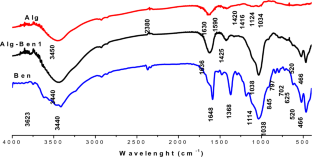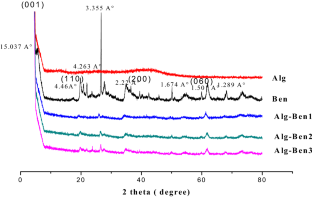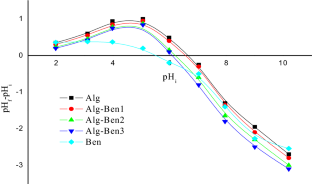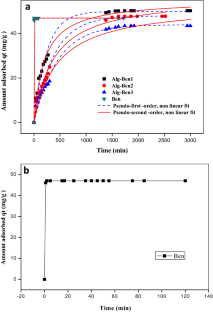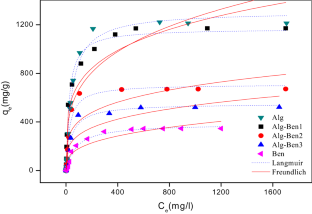 References
Adeyemo AA, Adeoye IO, Bello OS (2017) Adsorption of dyes using different types of clay: a review. Appl Water Sci 7(2):543–568. https://doi.org/10.1007/s13201-015-0322-y

Aichour A, Zaghouane-Boudiaf H, Iborra CV, Polo MS (2018) Bioadsorbent beads prepared from activated biomass/alginate for enhanced removal of cationic dye from water medium: kinetics, equilibrium and thermodynamic studies. J Mol Liq 256:533–540. https://doi.org/10.1016/j.molliq.2018.02.073

Almeida CAP, Debacher NA, Downs AJ, Cottet L, Mello CAD (2009) Removal of methylene blue from colored effluents by adsorption on montmorillonite clay. J Colloid Interface Sci 332:46–53. https://doi.org/10.1016/j.jcis.2008.12.012

Anirudhan TS, Ramachandran M (2015) Adsorptive removal of basic dyes from aqueous solutions by surfactant modified bentonite clay (organoclay): kinetic and competitive adsorption isotherm. Process Saf Environ Prot 95:215–225. https://doi.org/10.1016/j.psep.2015.03.003

Belhouchat N, Zaghouane-Boudiaf H, Viseras C (2017) Removal of anionic and cationic dyes from aqueous solution with activated organo-bentonite/sodium alginate encapsulated beads. Appl Clay Sci 135:9–15. https://doi.org/10.1016/j.clay.2016.08.031

Benhouria A, Azharul Islam M, Zaghouane-Boudiaf H, Boutahala M, Hameed BH (2015) Calcium alginate–bentonite–activated carbon composite beads as highly effective adsorbent for methylene blue. Chem Eng J 270:621–630. https://doi.org/10.1016/j.cej.2015.02.030

Besq A, Malfoy C, Pantet A, Monnet P, Righi D (2003) Physicochemical characterisation and flow properties of some bentonite muds. Appl Clay Sci 23:275–286. https://doi.org/10.1016/S0169-1317(03)00127-3

Boukerroui A, Ouali MS (2000) Activation d'une bentonite par un sel d'ammonium: évolution de la capacité d'échange et de la surface spécifique. Ann Chim Sci Mat 25:583–590

Caglar B, Topcu C, Coldur F, Sarp G, Caglar S, Tabak A, Sahin E (2016) Structural, thermal, morphological and surface charge properties of dodecyltrimethyl ammonium—smectite composites. J Macromol Struct 1105:70–79. https://doi.org/10.1016/j.molstruc.2015.10.017

Didi MA, Makhoukhi B, Azzouz A, Villemin D (2009) Colza oil bleaching through optimized acid activation of bentonite. A comparative study. Appl Clay Sci 42:336–344

Djebri N, Boutahala M, Chelalia N, Boukhalfa N, Zeroual L (2016) Enhanced removal of cationic dye by calcium alginate/organo-bentonite beads: modeling, kinetics, equilibriums, thermodynamic and reusability studies. Int J Biol Macromol 92:1277–1287. https://doi.org/10.1016/j.ijbiomac.2016.08.013

El-Sayed GO (2011) Removal of methylene blue and crystal violet from aqueous solutions by palm kernel fiber. Desalination 272:225–232. https://doi.org/10.1016/j.desal.2011.01.025

Fabryanty R, Valencia C, Soetaredjo FE, Putro JN, Santoso SP, Kurniawan A, Jub YH, Ismadji S (2017) Removal of crystal violet dye by adsorption using bentonite–alginate composite. J Environ Chem Eng 5:5677–5687. https://doi.org/10.1016/j.jece.2017.10.057

Hassan AF, Abdel-Mohsen AM, Fouda MMG (2014) Comparative study of calcium alginate, activated carbon, and their composite beads on methylene blue adsorption. Carbohydr Polym 102:192–198. https://doi.org/10.1016/j.carbpol.2013.10.104

He Y, Wu Z, Tu L, Han Y, Zhang G, Li C (2015) Encapsulation and characterization of slow-release microbial fertilizer from the composites of bentonite and alginate. Appl Clay Sci 109–110:68–75. https://doi.org/10.1016/j.clay.2015.02.001

Kausar A, Iqbal M, Javed A, Aftab K, Nazli ZH, Bhatti HN, Nouren S (2018) Dyes adsorption using clay and modified clay: a review. J Mol Liq 256:395–407. https://doi.org/10.1016/j.molliq.2018.02.034

Kıransan M, Soltani RDC, Hassani A, Karaca S, Khataee A (2014) Preparation of cetyltrimethylammonium bromide modified montmorillonite nanomaterial for adsorption of a textile dye. J Taiwan Inst Chem Eng 45:2565–2577. https://doi.org/10.1016/j.jtice.2014.06.007

Lie Y, Du Q, Liu T, Sun J, Wang Y, Wu S, Wang Z, Xia Y, Xia L (2013) Methylene blue adsorption on graphene oxide/calcium alginate composites. Carbohydr Polym 95:501–507. https://doi.org/10.1016/j.carbpol.2013.01.094

Liu L, Wan Y, Xie Y, Zhai R, Zhang B, Liu J (2012) The removal of dye from aqueous solution using alginate-halloysite nanotube beads. Chem Eng J 187:210–216. https://doi.org/10.1016/j.cej.2012.01.136

Li Q, Li Y, Ma X, Du Q, Sui K, Wang D, Wang C, Li H, Xia Y (2017) Filtration and adsorption properties of porous calcium alginate membrane for methylene blue removal from water. Chem Eng J 316:623–630. https://doi.org/10.1016/j.cej.2017.01.098

Marrakchi F, Bouaziz M, Hameed BH (2017) Adsorption of acid blue 29 and methylene blue on mesoporous K2CO3-activated olive pomace boiler ash. Colloids Surf A Physicochem Eng Asp 535:157–165. https://doi.org/10.1016/j.colsurfa.2017.09.014

Meziti C, Boukerroui A (2011) Regeneration of a solid waste from an edible oil refinery. Ceram Int 37(2011):1953–1957. https://doi.org/10.1016/j.ceramint.2011.02.016

Mohammadi A, Daemi H, Barikani M (2014) Fast removal of malachite green dye using novel super paramagnetic sodium alginate-coated Fe3O4 nanoparticles. Int J Biol Macromol 69:447–455. https://doi.org/10.1016/j.ijbiomac.2014.05.042

Nandi BK, Goswami A, Purkait MK (2009) Adsorption characteristics of brilliant green dye on kaolin. J Hazard Mater 161:387–395. https://doi.org/10.1016/j.jhazmat.2008.03.110

Nasrullah A, Bhat AH, Naeem A, Isa MH, Danish M (2018) High surface area mesoporous activated carbon-alginate beads for efficient removal of methylene blue. Int J Biol Macromol 107:1792–1799. https://doi.org/10.1016/j.ijbiomac.2017.10.045

Oladipo AA, Gazi M (2014) Enhanced removal of crystal violet by low cost alginate/acid activated bentonite composite beads: optimization and modelling using non-linear regression technique. J Water Process Eng 2:43–52. https://doi.org/10.1016/j.jwpe.2014.04.007

Oussalah A (2020) Caractérisation et modification d'une argile de Maghnia: applications. Doctorate thesis. University of Bejaia, Bejaia.

Pandey S (2017) A comprehensive review on recent developments in bentonite-based materials used as adsorbents for wastewater treatment. J Mol Liq 241:1091–1113. https://doi.org/10.1016/j.molliq.2017.06.115

Pandey RLM (2019) Enhanced adsorption capacity of designed bentonite and alginate beads for the effective removal of methylene blue. Appl Clay Sci 169:102–111. https://doi.org/10.1016/j.clay.2018.12.019

Pawar RR, Lalhmunsiama GP, Sawant SY, Shahmoradi B, Lee SM (2018) Porous synthetic hectorite clay alginate composite beads for effective adsorption of methylene blue dye from aqueous solution. Int J Biol Macromol 114:1315–1324. https://doi.org/10.1016/j.ijbiomac.2018.04.008

Rafatullaha M, Sulaimana O, Hashima R, Ahmad A (2010) Adsorption of methylene blue on low-cost adsorbents: a review. J Hazard Mater 177:70–80. https://doi.org/10.1016/j.jhazmat.2009.12.047

Uyar G, Kaygusuz H, Erim FB (2016) Methylene blue removal by alginate–clay quasi-cryogel beads. React Funct Polym 106:1–7. https://doi.org/10.1016/j.reactfunctpolym.2016.07.001
Additional information
Communicated by Mohamed Ksibi, co-Editor in Chief.
About this article
Cite this article
Oussalah, A., Boukerroui, A. Alginate-bentonite beads for efficient adsorption of methylene blue dye. Euro-Mediterr J Environ Integr 5, 31 (2020). https://doi.org/10.1007/s41207-020-00165-z
Received:

Accepted:

Published:
Keywords
Adsorption

Dye adsorption

Methylene blue

Bentonite

Calcium alginate