Abstract
Although civic engagement and human rights are critical values in social work education, few empirical studies have explored the association between civic engagement and human rights exposure and attitudes. This study aims to examine the relationship between the exposure to human rights information, human rights attitudes, normative beliefs, and civic engagement behaviors among university students. A total of 214 students at a public university in the Midwest of the United States responded to the study survey. Findings indicate that students with more exposure to human rights issues showed more civic engagement. This relationship between human rights exposure and civic engagement was mediated by students' attitudes toward human rights, but not moderated by normative beliefs. In addition, students majoring in social work revealed higher civic engagement and more positive attitudes toward human rights issues than those in other disciplines.
This is a preview of subscription content, log in to check access.
Access options
Buy single article
Instant access to the full article PDF.
US$ 39.95
Price includes VAT for USA
Subscribe to journal
Immediate online access to all issues from 2019. Subscription will auto renew annually.
US$ 99
This is the net price. Taxes to be calculated in checkout.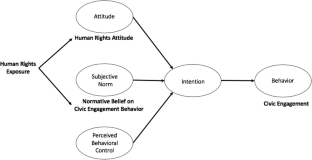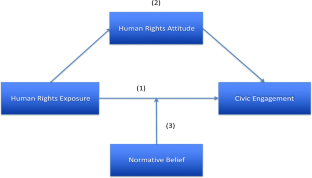 References
Aday, L., & Cornelius, L. J. (2006). Designing and conducting health surveys: a comprehensive guide (3rd ed.). San Francisco: Jossey-Bass.

Adler, R. P., & Goggin, J. (2005). What do we mean by "civic engagement"? Journal of Transformative Education, 3(3), 236–253.

Ajzen, I. (1991). The theory of planned behavior. Organizational Behavior and Human Decision Processes, 50(2), 179–211.

Ajzen, I. (2002). Constructing a TPB questionnaire: conceptual and methodological considerations [PDF document]. Retrieved from http://chuang.epage.au.edu.tw/ezfiles/168/1168/attach

Ajzen, I., Joyce, N., Shelkh, S., & Cote, N. G. (2011). Knowledge and the prediction of behavior: the role of information accuracy and the theory of planned behavior. Basic and Applied Social Psychology, 33(2), 101–117.

Alcantar, C. M. (2014). Civic engagement measures for Latina/o university students. New Directions for Institutional Research, 2013(158), 23–35.

Amnå, E. (2012). How is civic engagement developed over time? Emerging answers from a multidisciplinary field. Journal of Adolescence, 35(3), 611–627.

Armitage, C. J., & Conner, M. (2001). Efficacy of the theory of planned behavior: a meta-analytic review. British Journal of Social Psychology, 40(4), 471–499.

Aronowitz, T., Lambert, C. A., & Davidoff, S. (2012). The role of rape myth acceptance in the social norms regarding sexual behavior among college students. Journal of Community Health Nursing, 29(3), 173–182.

Arvan, M. (2012). Reconceptualizing human rights. Journal of Global Ethics, 8(1), 91–105.

Barksdale, C. L., & Molock, S. D. (2009). Perceived norms and mental health help seeking among African American college students. The Journal of Behavioral Health Services & Research, 36(3), 285–299.

Baron, R. M., & Kenny, D. A. (1986). The moderator variable distinction in social psychological research: conceptual, strategic, and statistical considerations. Journal of Personality and Social Psychology, 51(6), 1173–1182.

Barrows, T. S. (1981). College students' knowledge and beliefs: a survey of global understanding. New Rochelle: Change Magazine Press.

Barton, K. C. (2015). Young adolescents' positioning of human rights: findings from Columbia, Northern Ireland, Republic of Ireland and the United States. Research in Comparative and International Education, 10(1), 48–70.

Baumgartner, J. C., & Morris, J. S. (2010). MyFaceTube politics: social networking web sites and political engagement of young adults. Social Science Computer Review, 28(1), 24–44.

Beaumont, E., Colby, A., Ehrlich, T., & Torney-Purta, J. (2006). Promoting political competence and engagement in college students: an empirical study. Journal of Political Science Education, 2(3), 249–270.

Bobek, D., Zaff, J., Li, Y., & Lerner, R. M. (2009). Cognitive, emotional, and behavioral components of civic action: towards an integrated measure of civic engagement. Journal of Applied Developmental Psychology, 30(5), 615–627.

Bowman, N. A. (2011). Promoting participation in a diverse democracy a meta-analysis of university diversity experiences and civic engagement. Review of Educational Research, 81(1), 29–68.

Chang, M. K. (1998). Predicting unethical behavior: a comparison of the theory of reasoned action and the theory of planned behavior. Journal of Business Ethics, 17(16), 1825–1834.

Chen, H., Thag, I., & Liu, P. (2013). Framing human rights and cultural diversity training in social work classrooms-the case of female marriage immigrants in Taiwan. Journal of Women and Social Work, 28(4), 429–439.

Cohrs, J. C., Maes, J., Moschner, B., & Kielmann, S. (2007). Determinants of human rights attitudes and behavior: a comparison and integration of psychological perspectives. Political Psychology, 28(4), 441–470.

Council on Social Work Education (2008, revised in 2015). Education policy and accreditation standards. Retrieved from http://www.cswe.org/File.aspx?id=13780

Crowson, H. M., Brandes, J. A., & Hurst, R. J. (2013). Who opposes rights for persons with physical and intellectual disabilities? Journal of Applied Social Psychology, 43(S2), E307–E318.

Custom Insight (2015). Survey random sample calculator [Software]. Available from http://www.custominsight.com/articles/random-sample-calculator.asp

Dalton, R. J. (2015). The good citizen: how a younger generation is reshaping American politics. Thousand Oaks: CQ press.

Diaz-Veizades, J., Widaman, K. F., Little, T. D., & Gibbs, K. W. (1995). The measurement and structure of human rights attitudes. The Journal of Social Psychology, 135(3), 313–328.

Diller, E. C. (2001). Citizens in service: the challenge of delivering civic engagement training to national service programs. Washington, DC: Corporation for National and Community Service.

Dillman, D. A., Smyth, J. D., & Christian, L. M. (2014). Internet, phone, mail, and mixed-mode surveys: the tailored design method (4th ed.). Hoboken: Wiley.

Doolittle, A., & Faul, A. C. (2013). Civic engagement scale: a validation study. SAGE Open, 3(3), 1–7.

Duke, N. N., Skay, C. L., Pettingell, S. L., & Borowsky, I. W. (2009). From adolescent connections to social capital: predictors of civic engagement in young adulthood. Journal of Adolescent Health, 44(2), 161–168.

Egerton, M. (2002). Higher education and civic engagement. The British Journal of Sociology, 53(4), 603–620.

Einfeld, A., & Collins, D. (2008). The relationships between service-learning, social justice, multicultural competence, and civic engagement. Journal of University Student Development, 49(2), 95–109.

Ekman, J., & Amnå, E. (2012). Political participation and civic engagement: towards a new typology. Human Affairs, 22(3), 283–300.

Fishbein, M., & Ajzen, I. (2010). Predicting and changing behavior: the reasoned action approach. New York: Taylor & Francis.

Fisher, W. A., Fisher, J. D., & Harman, J. (2003). The information-motivation-behavioral skills model: a general social psychological approach to understanding and promoting health behavior. Social Psychological Foundations of Health and Illness, 22, 82–106.

Flanagan, C., & Levine, P. (2010). Civic engagement and the transition to adulthood. The Future of Children, 20(1), 159–179.

Fletcher, A. C., Elder, G. H. J., & Mekos, D. (2000). Parental influences on adolescent involvement in community activities. Journal of Research on Adolescence, 10(1), 29–48.

French, D. P., & Cooke, R. (2012). Using the theory of planned behaviour to understand binge drinking: the importance of beliefs for developing interventions. British Journal of Health Psychology, 17(1), 1–17.

George, J. (1999). Conceptual muddle, practical dilemma human rights, social development and social work education. International Social Work, 42(1), 15–26.

Glynn, C. J., Huge, M. E., & Lunney, C. A. (2009). The influence of perceived social norms on college students' intention to vote. Political Communication, 26(1), 48–64.

Göckeritz, S., Schultz, P. W., Rendón, T., Cialdini, R. B., Goldstein, N. J., & Griskevicius, V. (2010). Descriptive normative beliefs and conservation behavior: the moderating roles of personal involvement and injunctive normative beliefs. European Journal of Social Psychology, 40(3), 514–523.

Godin, G., & Kok, G. (1996). The theory of planned behavior: a review of its applications to health-related behaviors. American Journal of Health Promotion, 11(2), 87–98.

Hellman, C. M., Hoppes, S., & Ellison, G. C. (2006). Factors associated with college student intent to engage in community service. The Journal of Psychology, 140(1), 29–39.

Hertel, S., Scruggs, L., & Heidkamp, C. P. (2009). Human rights and public opinion: from attitudes to action. Political Science Quarterly, 124(3), 443–459.

Hibbert, N. (2017). Human rights and social justice. Law, MDPI, Open Access Journal, 6(2), 1–16.

Hyde, M. K., & Knowles, S. R. (2013). What predicts Australian university students' intentions to volunteer their time for community service? Australian Journal of Psychology, 65(3), 135–145.

Jacoby, B. (2009). Civic engagement in today's higher education: an overview. Civic Engagement in Higher Education: Concepts and Practices (pp. 5–30).

Kezar, A. (2002). Assessing community service learning: are we identifying the right outcomes? About Campus, 7(2), 14–20.

Kiesa, A., Orlowski, A. P., Levine, P., Both, D., Kirby, E. H., Lopez, M. H., & Marcelo, K. B. (2007). Millennials talk politics: a study of university student political engagement. Center for Information and Research on Civic Learning and Engagement (CIRCLE). Retrieved from https://files.eric.ed.gov/fulltext/ED498899.pdf.

Knapp, T., Fisher, B., & Levesque-Bristol, C. (2010). Service-learning's impact on university students' commitment to future civic engagement, self-efficacy, and social empowerment. Journal of Community Practice, 18(2–3), 233–251.

Krings, A., Austic, E. A., Gutiérrez, L. M., & Dirksen, K. E. (2015). The comparative impacts of social justice educational methods on political participation, civic engagement, and multicultural activism. Equity & Excellence in Education, 48(3), 403–417.

Leong, F. T., Pickren, W. E., & Vasquez, M. J. (2017). APA efforts in promoting human rights and social justice. American Psychologist, 72(8), 778–790.

Marcelo, K. B., Lopez, M. H., & Kirby, E. H. (2007). Civic engagement among young men and women. In Center for Information and Research on Civic Learning and Engagement (CIRCLE). Retrieved from https://files.eric.ed.gov/fulltext/ED495763.pdf.

Mayhew, M. J., & Fernández, S. D. (2007). Pedagogical practices that contribute to social justice outcomes. The Review of Higher Education, 31(1), 55–80.

McPherson, J., & Abell, N. (2012). Human rights engagement and exposure in social work: new scales to challenge social work education. Research in Social Work Practice, 22(6), 704–713.

McPherson, J., & Cheatham, L. P. (2015). One Million Bones: measuring the effect of human rights participation in the social work classroom. Journal of Social Work Education, 51(1), 47–57.

McPherson, J., & Mazza, N. (2014). Using arts activism and poetry to catalyze human rights engagement and reflection. Social Work Education, 33(7), 944–958.

Metzger, A., & Ferris, K. (2013). Adolescents' domain-specific judgments about different forms of civic involvement: variations by age and gender. Journal of Adolescence, 36(3), 529–538.

Mezirow, J. (1997). Transformative learning: theory to practice. New Directions for Adult and Continuing Education, 74, 5–12.

Mollen, S., Rimal, R. N., Ruiter, R. A., Jang, S. A., & Kok, G. (2013). Intervening or interfering? The influence of injunctive and descriptive norms on intervention behaviors in alcohol consumption contexts. Psychology & Health, 28(5), 561–578.

National Association of Social Workers (1996; Revised in 2008). Code of Ethics. Retrieved from https://www.socialworkers.org/pubs/code/code.asp

Niemi, R. G., & Hanmer, M. J. (2010). Voter turnout among college students: new data and a rethinking of traditional theories. Social Science Quarterly, 91(2), 301–323.

Office of the High Commissioner for Human Rights (2015). Human rights. Retrieved from http://www.ohchr.org/EN/Issues/Pages/WhatareHumanRights.aspx.

Ojala, M. (2012). Hope and climate change: the importance of hope for environmental engagement among young people. Environmental Education Research, 18(5), 625–642.

Pancer, M. S., Pratt, M., Hunsberger, B., & Alisat, S. (2007). Community and political involvement in adolescence: what distinguishes the activists from the uninvolved? Journal of Community Psychology, 35(6), 741–759.

Petracchi, H. E., Weaver, A., Schelbe, L., & Song, H. A. (2016). Service learning in baccalaureate social work education: results of a national survey of accredited programs. Journal of Social Work Education, 52(3), 325–336.

Prentice, M. (2007). Service learning and civic engagement. Academic Questions, 20(2), 135–145.

Putnam, R. (2000). Bowling alone: the collapse and revival of American community. New York: Simon & Schuster.

Redman, M., Taylor, E., Furlong, R., Carney, G., & Greenhill, B. (2012). Human rights training: impact on attitudes and knowledge. Tizard Learning Disability Review, 17(2), 80–87.

Rimal, R. N., & Real, K. (2005). How behaviors are influenced by perceived norms a test of the theory of normative social behavior. Communication Research, 32(3), 389–414.

Rome, S. H., & Hoechstetter, S. (2010). Social work and civic engagement: the political participation of professional social workers. Journal of Sociology and Social Welfare, 37(3), 107–129.

Ronan, B. (2004). Testimony at the White House conference on aging public forum on civic engagement in an older America. 25 February 2004, Phoenix, Arizona.

Rozario, P. (2006). Volunteering among current cohorts of older adults and baby boomers. Generations, 30(4), 31–36.

Sanyal, P. (2009). From credit to collective action: the role of microfinance in promoting women's social capital and normative influence. American Sociological Review, 74(4), 529–550.

Sherrod, L. R., Torney-Purta, J., & Flanagan, C. A. (2010). Handbook of research on civic engagement in youth. Hoboken: Wiley.

Simons, L., & Cleary, B. (2006). The influence of service learning on students' personal and social development. University Teaching, 54(4), 307–319.

Sobel Test Calculator for the Significance of Mediation. Retrieved from http://danielsoper.com/statcalc3/calc.aspx?id=31

Stellmacher, J., & Sommer, G. (2008). Human rights education: an evaluation of university seminars. Social Psychology, 39(1), 70–80.

Stellmacher, J., Sommer, G., & Brahler, E. (2005). The cognitive representation of human rights: knowledge, importance, and commitment. Peace and Conflict, 11(3), 267–292.

Swank, E., Frost, D. M., & Fahs, B. (2012). Rural location and exposure to minority stress among sexual minorities in the United States. Psychology & Sexuality, 3(3), 226–243.

Teresi, H., & Michelson, M. R. (2015). Wired to mobilize: the effect of social networking messages on voter turnout. The Social Science Journal, 52(2), 195–204.

Torney-Purta, J. (2002). The school's role in developing civic engagement: a study of adolescents in twenty-eight countries. Applied Developmental Science, 6(4), 203–212.

Van Benshoten, E. (2001). Civic engagement for people of all ages through national service. Unpublished manuscript.

Weerts, D. J., Cabrera, A. F., & Mejías, P. P. (2014). Uncovering categories of civically engaged college students: a latent class analysis. The Review of Higher Education, 37(2), 141–168.

Wray-Lake, L., Tang, J., & Victorino, C. (2017). Are they political? Examining Asian American college students' civic engagement. Asian American Journal of Psychology, 8(1), 31–42.

Yang, H. C., & DeHart, J. L. (2016). Social media use and online political participation among college students during the US election 2012. Social Media+ Society, 2(1), 2056305115623802.

Zukin, C., Keeter, S., Andolina, M., Jenkins, K., & Carpini, M. X. D. (2006). A new engagement?: Political participation, civic life, and the changing American citizen. New York: Oxford University Press.
Ethics declarations
Conflict of Interest
The authors declare that they have no competing interests.
Additional information
Publisher's Note
Springer Nature remains neutral with regard to jurisdictional claims in published maps and institutional affiliations.
About this article
Cite this article
Kwon, I., Lee, J., Cummings, C.E. et al. Human Rights Attitude and Civic Engagement Behavior Among University Students. J. Hum. Rights Soc. Work (2020). https://doi.org/10.1007/s41134-020-00128-y
Keywords
Human rights education

Civic engagement

Social work education

Attitudes and behaviors