Abstract
One hundred and eleven youth with mental ill-health underwent systematic clinical, laboratory and actigraphy monitoring to report associations between 24-h sleep–wake patterns and cardiometabolic risk factors. Multiple linear regression analyses, controlling for medication usage and class, age and sex, found significant associations between: later sleep onset and BMI; standard variation (SV) in the sleep offset with both insulin values and the updated homeostatic model assessment of insulin resistance (HOMA2-IR) values; and the SV of the sleep midpoint with both poorer fasting insulin, and HOMA2-IR values. Further longitudinal research is required to determine the causative relationships between 24-h sleep–wake cycle patterns, and cardiometabolic outcomes.
We're sorry, something doesn't seem to be working properly.
Please try refreshing the page. If that doesn't work, please contact support so we can address the problem.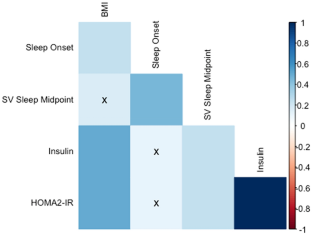 References
1.

Roberts LW, et al. Premature mortality among people with mental illness: advocacy in academic psychiatry. Acad Psychiatry. 2017;41(4):441–6.

2.

Firth J, et al. The lancet psychiatry commission: a blueprint for protecting physical health in people with mental illness. The Lancet Psychiatry. 2019;10:19–34.

3.

Vancampfort D, et al. Sedentary behavior and physical activity levels in people with schizophrenia, bipolar disorder and major depressive disorder: a global systematic review and meta-analysis. World Psychiatry. 2017;16(3):308–15.

4.

Grandner MA, et al. Sleep disturbance is associated with cardiovascular and metabolic disorders. J Sleep Res. 2012;21(4):427–33.

5.

Pillay J, et al. First-and second-generation antipsychotics in children and young adults: systematic review update. 2017.

6.

Scott EM, et al. What is the prevalence, and what are the clinical correlates, of insulin resistance in young people presenting for mental health care? A cross-sectional study. BMJ open. 2019;9(5):e025674.

7.

Wilson C, Carpenter J, Hickie I. The role of the sleep-wake cycle in adolescent mental illness. Curr Sleep Med Rep. 2019;5(3):118–27.

8.

Robillard R, et al. Circadian rhythms and psychiatric profiles in young adults with unipolar depressive disorders. Trans Psychiatry. 2018;8(1):213.

9.

Tubbs AS, et al. The common denominators of sleep, obesity, and psychopathology. Curr Opinion Psychol. 2020;34:84–8.

10.

Feliciano EMC, et al. Objective sleep characteristics and cardiometabolic health in young adolescents. Pediatrics. 2018;142(1):e20174085.
Funding
This study was partially funded by a philanthropic gift (The Liu McCabe Family Scholarship awarded to C.E.W), a National Health and Medical Research Council Australia Fellowship (No. 511921, awarded to I.B.H) and a philanthropic gift (the Caroline Quinn Research Grant awarded to J.S.C). The funders of this study had no involvement in the: study design; collection, analysis and reporting of the data; writing of the report; or decision to submit the paper for publication.
Ethics declarations
Conflict of interest
On behalf of all the authors, the corresponding author states that there is no conflict of interest.
Ethics approval
The Human Research Ethics Committee of the University of Sydney approved our study.
Human animal rights
All the procedures performed in studies involving human participants were in accordance with the ethical standards of the institutional and/or national research committee and with the 1964 Helsinki Declaration and its later amendments or comparable ethical standards.
Informed consent
All participants (or their guardians if under 16 years old) gave written informed consent for the use of routinely collected clinical data for research and publication purposes.
Consent to participate
Sponsors had no involvement in the study design; collection, analysis or interpretation of the data; writing of the report; or the decision to submit the manuscript for publication.
Additional information
Publisher's Note
Springer Nature remains neutral with regard to jurisdictional claims in published maps and institutional affiliations.
About this article
Cite this article
Wilson, C.E., Carpenter, J.S., Song, Y. et al. Associations between 24-h sleep–wake patterns and cardiometabolic risk factors in youth seeking mental health care. Sleep Biol. Rhythms (2021). https://doi.org/10.1007/s41105-021-00314-z
Received:

Accepted:

Published:
Keywords
Youth mental ill-health

Cardiometabolic risk factors

Sleep–wake patterns

Actigraphy

Psychopathology