Abstract
In underground projects, the construction managers engineers' teams experience/confront great challenges to choose a grouting method for the construction of grouted base plug for the all underground station projects constructed in Egypt. It is worth mentioning that there were numerous and diverse conditions in the underground station projects and hence criteria can vary for every single project. Our study successfully incorporated and compiled all these projects criteria to mimic/and match all projects conditions. To combat these challenges, it is crucial to distinctly identify the influencing criteria for the selection of each method and their weights. The importance of obtaining these weights is to evaluate the injection methods before proceeding with the construction works and compare them with other injection alternatives. This study presents an application of multiple-criteria decision-making method based on ranking the influencing criteria. More in particular, a comparative study is carried out among well-known and widely applied methods in injection grout for grouted base plug. Along with data from underground construction experts, two grouting methods are studied, in order to determine the best alternative among the available options, assessed against selected criteria with a view toward assigning weighting levels to each option. Following an overview of the literature around the injection methods, the weighting of each criterion of each method is presented in order to assist the decision-makers to support decisions in the selections in between the grouting applications, where many and often conflicting criteria are present within the underground construction environments such as time, cost, constructability…,etc. Questionnaire surveys are conducted to identify the most important criteria that affect the selection of grouted base plug method, and the interviews with specialized experts have been conducted during our investigation. The results of this study highlighted that the labors and experts, equipment and logistics, construction materials, availability of suppliers and efficiency are the most important criteria that should be considered during the selection of soil improvement methods in underground construction.
This is a preview of subscription content, log in to check access.
Access options
Buy single article
Instant access to the full article PDF.
US$ 39.95
Price includes VAT for USA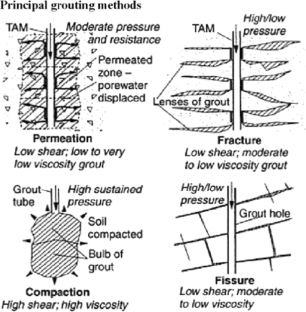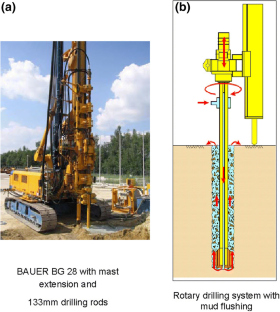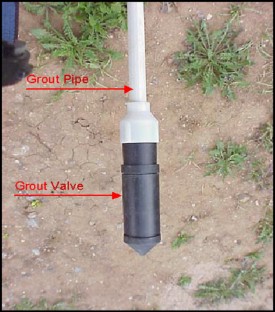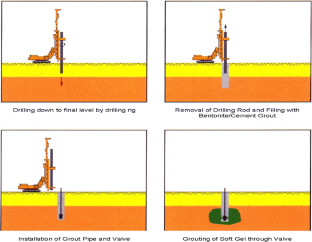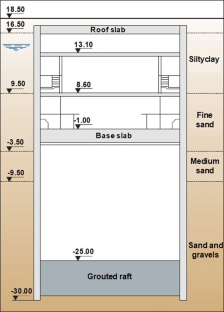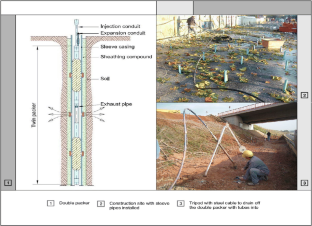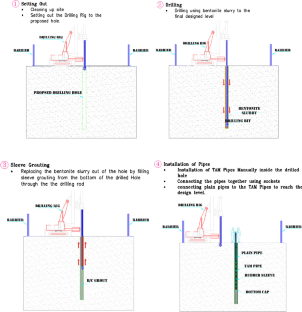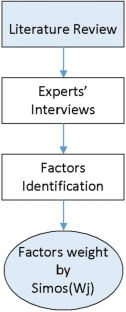 References
1.

Hussin JD (2014) Methods of soft ground improvement, Chap 12. In: The foundation engineering handbook. Taylor & Francis Group, New York

2.

Kazemian S, Huat BBK, Prasad A, Barghchi M (2010) A review of stabilization of soft soils by injection of chemical grouting. Aust J Basic Appl Sci 4(12):5862–5868

3.

Greenwood DA (1992) Grouting in the ground. In: Report on session 1—permeation grouting, proceedings of the conference organized by the Institution of Civil Engineers and held, London

4.

John W (2005) Ground improvement by grouting, Chap 7. In: An introduction to geotechnical processes. Taylor & Francis, New York

5.

Karol RH (2003) Chemical grouting and soil stabilization. Rutgers University, New Brunswick

6.

Mitchell JK, Katti RK (1981) Soil improvement—state of the art report. In: Proceedings, 10th international conference on soil mechanics and foundation engineering, Stockholm (June), pp 509–565

7.

Raffle JF, Greenwood DA (1961) The relationship between the rheological characteristics of grouts and their capacity to permeate soils. In: Proceedings of 5th international conference on soil mechanics and foundation engineering, London, vol 2, pp 789–793

8.

BAUER Work Procedure (2018) https://www.bauer.de/export/shared/documents/pdf/bst/print/905_029_2_Grouting_en.pdf; http://www.bauer-egypt.com/en/references/bauer-projectreference-00001/Cairo-Metro-Line-3-Phase-1//; http://www.bauer-egypt.com/en/references/bauer-projectreference-00001/Cairo-Metro-line-3-phase-4//. Accessed 15 Aug 2019

9.

Liersch L, Baltruschat M (2012) Greater Metro Line 3, Cairo: installation of underground construction pits using cut-off-wall and soft-gel-grouting, geotechnical aspects of underground construction in soft ground. Taylor & Francis Group, London

10.

Cheng SH, Liao HJ, Hatakeyama K, Wong Ricky KN, Iwakubo T (2015) TAM grouting to reduce artesian water pressure acting on the base of an excavation. In: Proceedings of international conference on soft ground engineering (ICSGE), Singapore

11.

Piu CM (2005) Analysis and modeling of grouting and its application in civil engineering. In: Fulfillment of the requirements of Courses ENG4111 and 4112 Research Project, University of Southern Queensland

12.

Bachy S (2011) https://drive.google.com/file/d/1Wx4D3hBRt1JFLKdhiC9CaAG4J2M09r1/view?usp=sharng. Accessed 20 Aug 2019

13.

BILFINGER (2020) https://www.bilfinger.com/en/services/technologies/overviewtechnologies/; https://spezialtiefbau.implenia.com/fileadmin/con-spezialtiefbau/prospekte/englisch/Grouting.pdf. Accessed 12 Jan 2020

14.

Bachy S (2020) https://www.soletanche-bachy.com/en. Accessed 16 Mar 2020

15.

Pettinaroli A, Ruggiero M, Balconi G (2017) A case history of compensation grouting with the TAM application in an urban area in Warsaw. Geotechnical News, Poland. https://www.sireggeotech.it/sites/default/files/The%20Grout%20Line%20-%20June%202017.pdf. Accessed 12 Jan 2020

16.

Oberlander PL, Skaggs RL, Shafer JM (1985) Mitigative techniques for ground-water contamination associated with severe nuclear accidents. Division of Radiation Programs and Earth Sciences, Office of Nuclear Regulatory Research, U.S. Nuclear Regulatory Commission, Washington, D.C., vol 1

17.

Montgomery DC, Runger GC, Hebele NF (1998) Engineering statistics. Wiley, New York

18.

Marzouk M, Amer O, El-Said M (2011) Feasibly study of industrial projects using Simos procedure. J Civil Eng Manage 19(1):59–68. https://doi.org/10.3846/13923730.2012.734855

19.

Marzouk M, Nouh A, El-Said M (2014) Developing green bridge rating system using Simos' procedure. HBRC J 2(10):176–182

20.

Marzouk M, Said Abdel H (2017) Budget allocation for water mains rehabilitation projects using Simos' procedure. HBRC J 13(1):54–60. https://doi.org/10.1016/j.hbrcj.2015.04.003

21.

Nouh Meshref A, Elkasaby EA, Wageh O (2020) Innovative reliable approach for optimal selection for construction infrastructures projects delivery systems. Innov Infrastruct Solut J. https://doi.org/10.1007/s41062-020-00307-w
About this article
Cite this article
Nouh Meshref, A., S. Shehata, A. Systematic decision support system to select methods of grouted base plug construction: comparative study between TaM versus multi-sleeve injection. Innov. Infrastruct. Solut. 5, 67 (2020). https://doi.org/10.1007/s41062-020-00319-6
Received:

Accepted:

Published:
Keywords
Grouting

Grouted base plug

Underground station

Soil improvements

Permeability

Time

Cost

Constructability