Abstract
Based on the Periodic Labour Force Survey (2017–2018), this paper explores women's labour market participation and employment patterns mediated by education and caste, with a focus on highly educated women. We find that women's workforce participation follows a clear caste pattern, with the upper castes having the lowest work participation rates and this increases as we go down the caste hierarchy. These differences narrow down among highly educated women (graduate and above), particularly in urban areas. Considering the workforce participation rate (WPR) by education, female WPR by education class follows a U-shape and this holds across castes. Caste patterns persist in work status; in the female labour force in urban areas, general-caste women are more likely to be in regular employment characterised by employment stability than the other social groups. Among regular workers, Scheduled Caste (SC) and Scheduled Tribe (ST) women are more likely to work in the public sector—a likely result of affirmative action policies of the state. However, while the policy of reservations may have worked in favour of SC/ST communities in terms of accessing public employment, it has not translated to access to good-quality jobs as caste patterns permeate into industry and occupation. Regression results show that caste and education emerge as important variables that explain women's workforce participation, and the interaction effect of caste and education is critical in understanding women's work participation. That accessing education even at the highest levels does not level the gap between social groups in terms of WPR implying that policies aimed towards increasing female employment therefore need to be nuanced to take into account the hetegeneous nature of the women workers, even for the highly educated segment.
This is a preview of subscription content, log in to check access.
Access options
Buy single article
Instant access to the full article PDF.
US$ 39.95
Price includes VAT for USA
Subscribe to journal
Immediate online access to all issues from 2019. Subscription will auto renew annually.
US$ 99
This is the net price. Taxes to be calculated in checkout.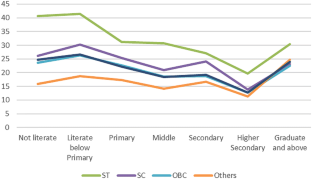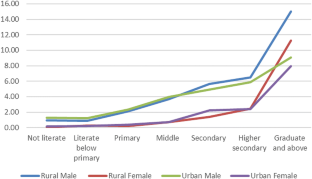 Notes
1.

Usual Principal and Subsidiary Status (UPSS) for 15 years and above.

2.

31% of India's population resides in urban areas (Census of India, 2011).

3.

We note here that women whose principal activity is domestic duties are not considered within the labour force even if they perform certain extra-domestic economic activities such as free collection of vegetables, fire-wood, cattle feed, etc., sewing, tailoring, weaving, among others. This paper does not engage with this issue of under-estimating women's work participation and nor with the issue of unpaid care work for women.

4.

5.

In the context of urban India, Klasen and Pieters (2015) suggest that the U-shaped curve points towards social stigma for women to work in low skilled jobs, particularly if they are more educated or in more secure economic environments (Klasen and Pieters 2015). Das and Desai (2003) point at lack of suitable jobs for educated women due to limited availability of formal sector jobs.

6.

This is an important question as the educational profile of the female workforce has undergone major changes; while the share of illiterates has declined, that of educated workers, including highly educated workers has increased.

7.

Women, as members of families, produce many goods and services that benefit other members of the household. The work involved may be paid or unpaid. Certain kinds of work can contribute towards enhancing the social standing or prestige of the family vis-à-vis a reference community, although the status of the woman within the family may not be enhanced. This has been termed as 'family status production' by Papanek (1979).

8.

In rural areas, however, Neff et al (2012) do not find any change in workforce participation rates among women with young children in the period that saw a decline rural female labour force participation (2004–2005 to 2009–2010). This suggests that childcare does not prevent or constrain women from entering and operating in the rural labour market (Rustagi 2013).

9.

On the other hand, unemployment rate for men is quite high at 4.47%, and this has substantially increased from 2011–2012 to 2017–2018 for men, especially for rural areas, in sharp contrast to women.

10.

Caveat: the circular causation between female workforce participation and household consumption may be noted.

11.

It may be noted that the positive coefficients of the interaction terms come at the cost of decrease in the individual coefficients; the higher is the magnitude of the interaction term coefficient, the larger is the decrease in the individual coefficients.
References
Abraham, V. 2013. Missing Labour or Consistent 'De-feminisation'? Economic and Political Weekly. 48 (31): 99–108.

Afridi, F., Dinkelman, T., & Mahajan, K. (2017). Why are Fewer Married Women Joining the Workforce in Rural India? A Decomposition Analysis over Two Decades. International Growth Centre.

Andres, L., Dasgupta, B., Joseph, G., Abraham, V. and Correia, M. (2017). Precarious Drop: Reassessing Patterns of Female Labor Force Participation in India, Policy Research Working Paper 8024. Washington D.C.: The World Bank Group.

Basole, A. 2018. State of Working India 2018. Bangalore: Azim Premji University.

Becker, G.S. 1964. Human capital: A Theoretical and Empirical Analysis, with Special Reference to Education. New York: National Bureau of Economic Research.

Chakravarti, U. 1993. Conceptualising Brahmanical Patriarchy in Early India: Gender, Caste, Class and State. Economic and Political Weekly 18 (14): 579–585.

Chaudhary, R. and Verick, S. (2014). Female Labour Force Participation in India and Beyond, ILO Asia-Pacific Working Paper. New Delhi: International Labour Organization.

Chowdhury, S. 2011. Employment in India: What does the Latest Data Show? Economic and Political Weekly 46 (32): 23–26.

Das, M.B. (2006). Do Traditional Axes of Exclusion Affect Labor Market Outcomes in India? South Asia Series, Paper No.97. Washington D.C.: The World Bank.

Das, M.B. and Desai, S. (2003). Why Are Educated Women Less Likely to be Employed in India? Social Protection Discussion Paper No. 313. Washington D.C.: The World Bank.

Das, M. B. and Zumbyte, I. (2017). The Motherhood Penalty and Female Employment in Urban India. Policy Research Working Paper No. 8004. Washington D.C.: The World Bank.

Deshpande, A. and Kabeer, N. (2019). (In)Visibility, Care and Cultural Barriers: The Size and Shape of Women's Work in India. Ashoka University Economics Discussion Paper 04/19.

Deshpande, A., D. Goel, and S. Khanna. 2018. Bad Karma or Discrimination? Male-Female Wage Gaps among Salaried Workers in India. World Development 102: 331–344.

Eswaran, M., B. Ramaswami, and W. Wadhwa. 2013. Status, Caste, and the Time Allocation of Women in Rural India. Economic Development and Cultural Change 61 (2): 311–333.

Ghai, S. 2018. The Anomaly of Women's Work and Education in India. New Delhi: Indian Council for Research on International Economic Relations.

Goldin, C. (1995). The U-Shaped Female Labor Force Function in Economic Development and Economic History," in T. Paul Schultz, ed. Investment in Women's Human Capital. Chicago: University of Chicago Press.

Hirway, I. 2012. Missing Labour Force: An Explanation. Economic and Political Weekly 47 (37): 67–72.

Kannan, K.P., and G. Raveendran. 2012. Counting and Profiling the Missing Labour Force. Economic and Political Weekly. 47 (6): 77–80.

Kannan, K.P., and G. Raveendran. 2019. From Jobless to Job-loss Growth. Economic and Political Weekly 54 (44): 38–44.

Kapsos, S., Silberman, A., and Bourmpoula, E. (2014). Why is Female Labour Force Participation Declining so Sharply in India?, ILO Research Paper No. 10. Geneva: International Labour Organization.

Kingdon, G.G., and J. Unni. 2001. Education and Women's Labour Market Outcomes in India. Education Economics 9 (2): 173–195.

Klasen, S., and J. Pieters. 2015. What Explains the Stagnation of Female Labour Force Participation in Urban India? World Bank Economic Review 29 (3): 449–478.

Mahajan, K., and B. Ramaswami. 2017. Caste, female labor supply, and the gender wage gap in India: Boserup revisited. Economic Development and Cultural Change 65 (2): 339–378.

Majumder, Rajarshi. 2011. Female Labour Supply in India: Proximate Determinants. Indian Journal of Labour Economics 55 (3): 393–406.

Mathur, A. 1994. Work participation, gender and economic development: a quantitative anatomy of the Indian scenario. The Journal of Development Studies 30 (2): 466–504.

Mazumdar, I., and N. Neetha. 2011. Gender Dimensions: Employment Trends in India, 1993–94 to 2009–10. Economic and Political Weekly 46 (43): 118–126.

Mehta, B.S., and I.C. Awasthi. 2019. Women and Labour Market Dynamics: New Insights and Evidences. Singapore: Springer Books.

Mukherjee, D., and R. Majumder. 2011. Occupational pattern, wage rates and earning disparities in India: A decomposition analysis. Indian Economic Review 45 (1): 131–152.

Neff, D., K. Sen, and V. Kling. 2012. The Puzzling Decline in Rural Women's Labour Force Participation in India: A Re-examination. Indian Journal of Labour Economics. 55 (3): 407–429.

Olsen, W., and Mehta, S. (2006). A Pluralist Account of Labour Participation in India. Working Paper Global Poverty Research Group. Manchester: University of Manchester.

Papanek, H. 1979. Family status production: The" work" and" non-work" of women. Signs: Journal of Women in Culture and Society 4 (4): 775–781.

Patrinos, H.A. (2016). Estimating the return to schooling using the Mincer equation. IZA World of Labor 2016.

Psacharopoulos, G. and Patrinos, H.A. (2018). Returns to Investment in Education: A Decennial Review of the Global Literature. Policy Research Working Paper No. 8402. Washington, DC: The World Bank

Rangarajan, C., and P.I. KaulSeema. 2011. Where Is the Missing Labour Force? Economic and Political Weekly. 47 (39): 68–72.

Rodgers, J. (2012). Labour Force Participation in Rural Bihar: A Thirty Year Perspective Based on Village Surveys. Working Paper No. 04/2012. New Delhi: Institute for Human Development.

Rustagi, P. 2013. Changing Patterns of Labour Force Participation and Employment of Women in India. Indian Journal of Labour Economics 56 (2): 215–241.

Schultz, T.P. (ed.). 1995. Investment in women's human capital. Chicago: University of Chicago Press.

Sudarshan, R.M., and S. Bhattacharya. 2009. Through the Magnifying Glass: Women's Work and Labor Force Participation in Urban Delhi. Economic and Political Weekly. 44 (48): 59–66.

Thomas, J. 2000s. India's Labour Market during the 2000s: Surveying the Changes. Economic and Political Weekly 47 (5): 39–51.
Additional information
Publisher's Note
Springer Nature remains neutral with regard to jurisdictional claims in published maps and institutional affiliations.
About this article
Cite this article
Datta, A., Endow, T. & Mehta, B.S. Education, Caste and Women's Work in India. Ind. J. Labour Econ. (2020). https://doi.org/10.1007/s41027-020-00219-4
Keywords
Female labour force participation

Women's work

Caste

Education