Abstract
The objective of this study is to evaluate the effects of adding rock wool fibres on the improvement in the dynamic properties of the hot mix asphalt. To this aim, the effects of 0.2, 0.4, 0.6, and 0.8 of percent rock wool fibres by weight of mixture on the dynamic properties of asphalt mixtures were evaluated. Accordingly, indirect tensile stiffness modulus, indirect tensile fatigue and repeated load axial tests were performed to measure the stiffness modulus, fatigue life and rutting resistance of asphalt mixtures. The fatigue life of modified mixtures with different concentrations of rock wool increased 4%, 32%, 35% and 65% at 25 °C with regard to control, respectively. Furthermore, adding 0.8% of Rockwool resulted in 84% and 130% increased in resistance to permanent deformation at the stress of 150 kPa and 300 kPa, respectively. Consequently, incorporation of rock wool in asphalt mixture can be beneficial as it enhances the performance of road pavements against distresses such as rutting and fatigue cracking.
This is a preview of subscription content, log in to check access.
Access options
Buy single article
Instant access to the full article PDF.
US$ 39.95
Price includes VAT for USA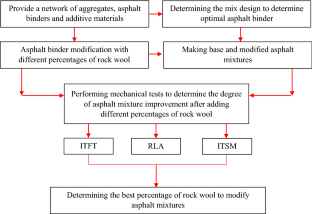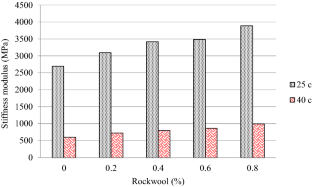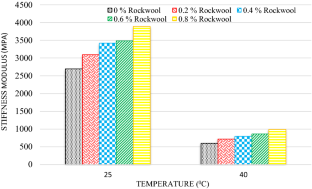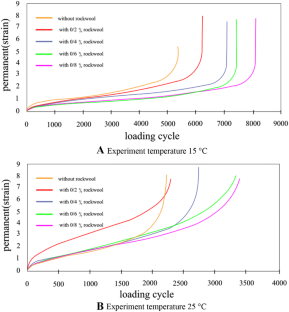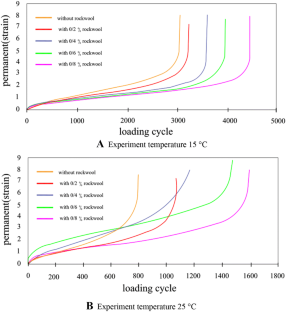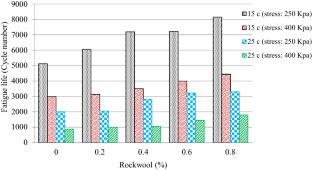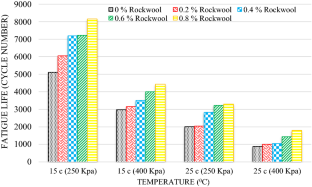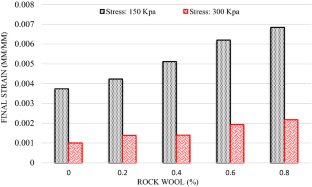 References
1.

Ziari H, Divandari H (2013) Presenting asphalt mixtures flow number prediction model using gyratory curves. Int J Civ Eng 11(2):125–133

2.

Salehfard R, Abdi A, Amini B (2017) Effect of SBR/NC on the rheological properties of bitumen and fatigue resistance of hot mix asphalt. J Mater Civ Eng 29(5):04016282

3.

Topal A, Oner J, Sengoz B, Dokandari PA, Kaya D (2017) Evaluation of rutting performance of warm mix asphalt. Int J Civ Eng 15(4):705–714

4.

Behbahani H, Hamedi GH, Moghaddam Gilani VN (2020) Effects of asphalt binder modifying with nano hydrated lime on moisture susceptibility of asphalt mixtures with thermodynamically concepts. Pet Sci Technol 38(4):297–302

5.

Tang T, Zha X, Xiao Q, Chen Y (2018) Laboratory characterization and field validation of ROADMESH-reinforced asphalt pavement in China. Int J Civ Eng 16(3):299–313

6.

Hamedi GH (2018) Investigating the use of nano coating over the aggregate surface on moisture damage of asphalt mixtures. Int J Civ Eng 16(6):659–669

7.

Hamedi GH (2018) Effects of polymeric coating the aggregate surface on reducing moisture sensitivity of asphalt mixtures. Int J Civ Eng 16(9):1097–1107

8.

Ma T, Wang H, Zhao Y, Huang X, Wang S (2017) Laboratory investigation of crumb rubber modified asphalt binder and mixtures with warm-mix additives. Int J Civ Eng 15(2):185–194

9.

Serin S, Morova N, Saltan M, Terzi S, Karaşahin M (2014) Prediction of the marshall stability of reinforced asphalt concrete with steel fiber using fuzzy logic. J Intell Fuzzy Syst 26(4):1943–1950

10.

García A, Norambuena-Contreras J, Partl MN (2014) A parametric study on the influence of steel wool fibers in dense asphalt concrete. Mater Struct 47(9):1559–1571

11.

Qin X, Shen AQ, Guo YC (2016) Experimental study on road performance of basalt fiber reinforced Bitumen mastics. J Build Mater 19(4):660–664

12.

Tapkin S, Ozcan Ş (2012) Determination of the optimal polypro-pylene fiber addition to the dense bituminous mixtures by the aid of mechanical and optical means. Balt J Road Bridge Eng 7(1):22–29

13.

Kim Y, Park TS (2013) Reinforcement of recycled foamed asphalt using short polypropylene fibers. Adv Mater Sci Eng 2013:903236

14.

Guo Q, Li L, Cheng Y, Jiao Y, Xu C (2015) Laboratory evaluation on performance of diatomite and glass fiber compound modified asphalt mixture. Mater Des 1980–2015(66):51–59

15.

Oda S, Fernandes JL Jr, Ildefonso JS (2012) Analysis of use of natural fibers and asphalt rubber binder in discontinuous asphalt mixtures. Constr Build Mater 26(1):13–20

16.

Herráiz TR, Herráiz JIR, Domingo LM, Domingo FC (2016) Posidonia oceanica used as a new natural fibre to enhance the performance of asphalt mixtures. Constr Build Mater 102:601–612

17.

Yoo PJ, Kim KH (2014) Thermo-plastic fiber's reinforcing effect on hot-mix asphalt concrete mixture. Constr Build Mater 59:136–143

18.

Abiola OS, Kupolati WK, Sadiku ER, Ndambuki JM (2014) Utilisation of natural fibre as modifier in bituminous mixes: a review. Constr Build Mater 54:305–312

19.

Moghadas Nejad F, Vadood M, Baeetabar S (2014) Investigating the mechanical properties of carbon fibre-reinforced asphalt concrete. Road Mater Pavement Des 15(2):465–475

20.

Jahromi SG, Khodaii A (2008) Carbon fiber reinforced asphalt concrete. Arab J Sci Eng 33:355–364

21.

Roberts FL, Kandhal PS, Brown ER, Lee D, Kennedy TW (1996) Hot mix bituminous materials. Mixture design, construction, 2nd edn. Education Foundation, Lanham

22.

Slebi-Acevedo CJ, Lastra-González P, Pascual-Muñoz P, Castro-Fresno D (2019) Mechanical performance of fibers in hot mix asphalt: a review. Constr Build Mater 200:756–769

23.

Chen H, Xu Q, Chen S, Zhang Z (2009) Evaluation and design of fiber-reinforced asphalt mixtures. Mater Des 30(7):2595–2603

24.

Geckil T, Ahmedzade P, Alatas T (2018) Effect of carbon black on the high and low temperature properties of bitumen. Int J Civ Eng 16(2):207–218

25.

Ruíz-Ibarra JF, Rondón-Quintana HA, Chaves-Pabón SB (2020) Behavior of a warm mix asphalt containing a blast furnace Slag. Int J Civ Eng 18(3):325–334

26.

Putman BJ, Amirkhanian SN (2004) Utilization of waste fibers in stone matrix asphalt mixtures. Resour Conserv Recycl 42(3):265–274

27.

Lin Y, Karadelis JN, Xu Y (2013) A new mix design method for steel fibre-reinforced, roller compacted and polymer modified bonded concrete overlays. Constr Build Mater 48:333–341

28.

Serfass JP, Samanos J (1996) Fiber-modified asphalt concrete characteristics, applications and behavior. Asph Paving Technol 65:193–230

29.

Chen JS, Lin KY (2005) Mechanism and behavior of bitumen strength reinforcement using fibers. J Mater Sci 40(1):87–95

30.

Li X, Lv X, Liu X, Ye J (2019) Discrete element analysis of indirect tensile fatigue test of asphalt mixture. Appl Sci 9(2):327

31.

Modarres A, Alinia Bengar P (2019) Investigating the indirect tensile stiffness, toughness and fatigue life of hot mix asphalt containing copper slag powder. Int J Pavement Eng 20(8):977–985

32.

Vamegh M, Ameri M, Naeni SFC (2019) Performance evaluation of fatigue resistance of asphalt mixtures modified by SBR/PP polymer blends and SBS. Constr Build Mater 209:202–214
Acknowledgement
This research did not receive any specific grant from funding agencies in the public, commercial, or not-for-profit sectors.
About this article
Cite this article
Behbahani, H., Najafi Moghaddam Gilani, V., Salehfard, R. et al. Evaluation of Fatigue and Rutting Behaviour of Hot Mix Asphalt Containing Rock Wool. Int J Civ Eng (2020). https://doi.org/10.1007/s40999-020-00532-5
Received:

Revised:

Accepted:

Published:
Keywords
Rock wool fibre

Hot mix asphalt

Fatigue life

Stiffness modulus

Repeated load axial