Abstract
Contemplating the alarming increase in emission of greenhouse gases and global energy demand, electric vehicles (EVs) powered by both the grid and solar photovoltaic (PV) systems pose an effective solution. PV arrays reduce the dependence of EVs on the utility grid for charging. As EVs store energy, they can apportion power to fulfill load demands during peak hours. This paper evaluates the impacts of integrating EVs and PV arrays in distribution networks by evaluating their effects in a given system, during a pre-characterized period with controlled charging and discharging strategy. It simulates EVs' movement in a geographic region by considering a case study-based EV travelling pattern. Adaptive modified multi-objective whale optimization algorithm (A-MWOA) is utilized not exclusively to limit the effect of EV charging/releasing on the network yet, in addition, to reduce the expenses borne by both the EV proprietor and the service provider. It estimates the maximum number of EVs and PV arrays that can be securely incorporated in a given system and the progressions incited by EVs in the load diagrams, voltage profiles, line loading and energy losses are analyzed. The results validate the proposed model from the perspective of practical applications.
We're sorry, something doesn't seem to be working properly.
Please try refreshing the page. If that doesn't work, please contact support so we can address the problem.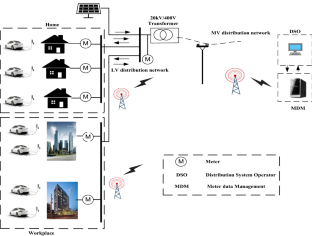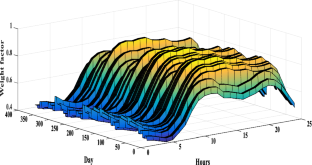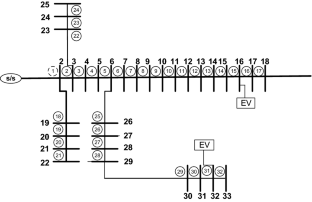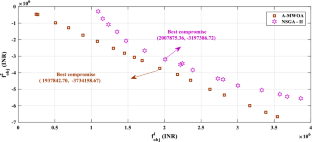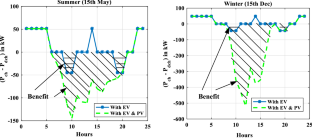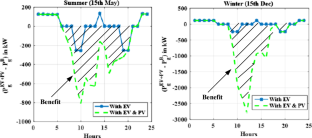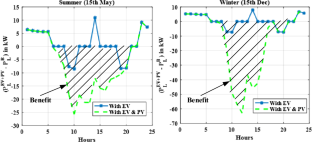 References
Aljanad A, Mohamed A, Shareef H, Khatib T (2018) A novel method for optimal placement of vehicle-to-grid charging stations in distribution power system using a quantum binary lightning search algorithm. Sustainable Cities and Society 38:174–183

Brinkel NB, Gerritsma MK, AlSkaif TA, Lampropoulos I, van Voorden AM, Fidder HA, van Sark WG (2020) Impact of rapid PV fluctuations on power quality in the low-voltage grid and mitigation strategies using electric vehicles. Int J Electr Power Energy Syst 118:105741

Chandra Mouli GR, Kefayati M, Baldick R, Bauer P (2017) Integrated PV charging of EV fleet based on energy prices, V2G, and offer of reserves. IEEE Transac Smart Grid 10(2):1313–1325

Chang F, Huang M, Zhang W, Bao Y, Sun B. (2017) A coordinated charging strategy for PV-Assisted charging station of electric vehicles based on charging service price. In2017 IEEE Transportation Electrification Conference and Expo, Asia-Pacific (ITEC Asia-Pacific) 2017 Aug 7 (pp. 1–5). IEEE.

Chen Q, Liu N, Hu C, Wang L, Zhang J (2016) Autonomous energy management strategy for solid-state transformer to integrate PV-assisted EV charging station participating in ancillary service. IEEE Trans Industr Inf 13(1):258–269

Das R, Wang Y, Putrus G, Kotter R, Marzband M, Herteleer B, Warmerdam J (2020) Multi-objective techno-economic-environmental optimisation of electric vehicle for energy services. Appl Energy 257:113965

Deb S, Kalita K, Mahanta P (2017) Review of impact of electric vehicle charging station on the power grid. In2017 International Conference on Technological Advancements in Power and Energy (TAP Energy) 2017 Dec 21 (pp. 1–6). IEEE.

Deb S, Tammi K, Kalita K, Mahanta P (2018) Impact of electric vehicle charging station load on distribution network. Energies 11(1):178

De Hoog J, Alpcan T, Brazil M, Thomas DA, Mareels I (2014) Optimal charging of electric vehicles taking distribution network constraints into account. IEEE Trans Power Syst 30(1):365–375

do Nascimento Á D J, Rüther R (2020) Evaluating distributed photovoltaic (PV) generation to foster the adoption of energy storage systems (ESS) in time-of-use frameworks. Solar Energy, 208, 917-929

Dubey A, Santoso S, Cloud MP (2013) Understanding the effects of electric vehicle charging on the distribution voltages. In2013 IEEE Power & Energy Society General Meeting 2013 Jul 21 (pp. 1–5). IEEE.

Dubey A, Santoso S, Cloud MP, Waclawiak M (2015) Determining time-of-use schedules for electric vehicle loads: A practical perspective. IEEE Power and Energy Technol Syst J 2(1):12–20

Foster JM, Trevino G, Kuss M, Caramanis MC (2013) (2013) Plug-in electric vehicle and voltage support for distributed solar: theory and application. Syst J IEEE 7(4):881–888

Ghazvini AM, Olamaei J (2019) Optimal sizing of autonomous hybrid PV system with considerations for V2G parking lot as controllable load based on a heuristic optimization algorithm. Sol Energy 184:30–39

Ghofrani M, Arabali A, Ghayekhloo M (2014) Optimal charging/discharging of grid-enabled electric vehicles for predictability enhancement of PV generation. Electr Power Syst Res 117:134–142

Indian meteorological department, Bhubaneswar, Odisha, India, www.imd.gov.in, Accessed 1 June 2018.

Mirjalili S, Lewis A (2016) The whale optimization algorithm. Adv Eng Softw 95:51–67

Moghaddam Z, Ahmad I, Habibi D, Phung QV (2017) Smart charging strategy for electric vehicle charging stations. IEEE Transac on transport electrific 4(1):76–88

Nayak CK, Nayak MR (2018) Technoeconomic analysis of a grid-connected PV and battery energy storage system considering time of use pricing. Turkish Journal of Electrical Engineering & Computer Sciences 26(1):318–329

Nayak MR, Kasturi K, Rout PK (2013) Optimal placement and sizing of multiple capacitors in radial distribution systems using modified TLBO algorithm. Int Rev Autom Control 6(6):701–713

Nayak MR, Nayak CK (2013) Distributed generation optimal placement and sizing to enhance power distribution network performance using MTLBO. Int Rev Electrical Eng 6(8):1857–1869

Oshiro M, Tanaka K, Uehara A, Senjyu T, Miyazato Y, Yona A, Funabashi T (2010) Optimal voltage control in distribution systems with coordination of distribution installations. Int J Electr Power Energy Syst 32(10):1125–1134

Scheider Jr AW (1999) The IEEE reliability test system-1996 IEEE Transaction on Power System.

Shivashankar S, Mekhilef S, Mokhlis H, Karimi M (2016) Mitigating methods of power fluctuation of photovoltaic (PV) sources–A review. Renew Sustain Energy Rev 59:1170–1184

Singh, B., Verma, A., Chandra, A., & Al Haddad, K (2020) Implementation of solar PV-battery and diesel generator based electric vehicle charging station. IEEE Transactions on Industry Applications.

Sun Y, Wang X, Chen Y, Liu Z (2018) A modified whale optimization algorithm for large-scale global optimization problems. Expert Syst Appl 114:563–577

Tan KM, Ramachandaramurthy VK, Yong JY (2016) Integration of electric vehicles in smart grid: A review on vehicle to grid technologies and optimization techniques. Renew Sustain Energy Rev 53:720–732

Yong JY, Ramachandaramurthy VK, Tan KM, Mithulananthan N (2015) Bi-directional electric vehicle fast charging station with novel reactive power compensation for voltage regulation. Int J Electr Power Energy Syst 64:300–310

Zakariazadeh A, Jadid S, Siano P (2014) Multi-objective scheduling of electric vehicles in smart distribution system. Energy Convers Manage 79:43–53

Zhang Y, Cai L (2018) Dynamic charging scheduling for EV parking lots with photovoltaic power system. IEEE Access 6:56995–57005
About this article
Cite this article
Kasturi, K., Nayak, C.K. & Nayak, M.R. Photovoltaic and Electric Vehicle-to-Grid Strategies for Peak Load Shifting in Low Voltage Distribution System Under Time of Use Grid Pricing. Iran J Sci Technol Trans Electr Eng (2021). https://doi.org/10.1007/s40998-020-00405-6
Received:

Accepted:

Published:
Keywords
Electric vehicles

Solar photovoltaic systems

Vehicle-to-grid technology

Time of use pricing

Techno-economic analysis

Adaptive modified multi-objective whale optimization algorithm (a-MWOA)