Abstract
Myoelectric pattern recognition is a useful tool for identifying the user's intended motion. However, the inherent nonstationary properties of Electromyography (EMG) signals usually limited the use of real time commercial prostheses. These variations cause the degradation of myoelectric control performance and make it unstable over time, across subjects and sessions. In this study, this challenge is overcome by combining the use of robust spatial features and the supervised adaptive learning method to improve the myoelectric performance. Three types of spatial features are proposed based on histogram oriented gradient (HOG) algorithm and intensity features namely H, HI, and AIH features. H features correspond to extracting HOG features from the HD-sEMG map. HI feature is obtained by concatenating the H features with scalar intensity feature that calculated from HD-sEMG map. Finally, the hybrid AIH features are produced by combining the H features with the intensity features matrix (AI) that obtained from the segmented maps. Three sub-databases are used for evaluation. The proposal feature sets are compared with time-domain (TD) and a combination of intensity and center of gravity features (ICG) to show the powerful of these features. The offline results report the superiority of the classifier's performance in term of precision and sensitivity based on AIH features than other feature sets (i.e. H, HI, TD, ICG) with improvement 4.1%, 3.5%, 2.24%, 5.3% and 6%, 5%, 2.2%, 6.9% respectively. The adaptive classifier based on AIH features outperforms adaptive myoelectric control based on other feature sets and the original version. The adaptive classifier utilized testing data that update the original dataset which in turn has a significant effect on improving the myoelectric performance in the presence of the variation of EMG signal properties.
This is a preview of subscription content, log in to check access.
Access options
Buy single article
Instant access to the full article PDF.
US$ 39.95
Price includes VAT for USA
Subscribe to journal
Immediate online access to all issues from 2019. Subscription will auto renew annually.
US$ 99
This is the net price. Taxes to be calculated in checkout.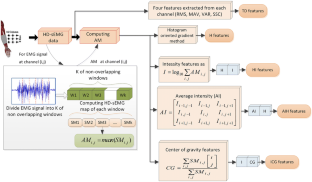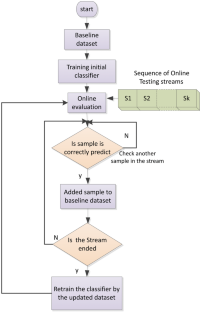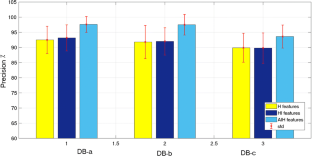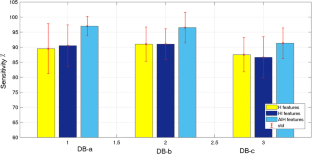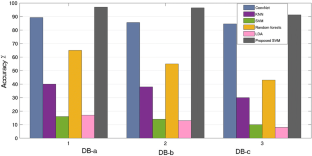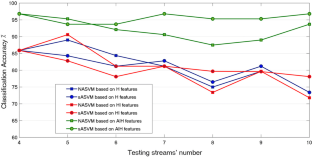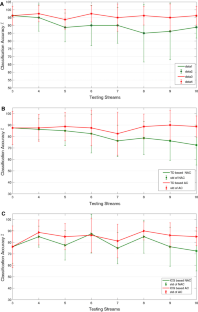 References
Ahsan M, Ibrahimy M, Khalifa O (2011) Hand motion detection from EMG signals using artificial neural network based classifier for human interaction in modelling. In: 4th international conference on simulation and applied optimization (ICMSAO), pp 1–6

Al-Timemy A, Khushaba RN, Bugmann G (2016) Improving the performance against force variation of EMG controlled multifunctional upper-limb prostheses for transradial amputees. IEEE Trans Neural Syst Rehabilit Eng 24(6):650–661. https://doi.org/10.1109/TNSRE.2015.2445634

Amador RD, Riesgo CA, Ginori JV (2019) Using image processing techniques and HD-SEMG for upper limb prosthesis gesture recognition. In: Conference paper, congress on pattern recognition, Springer, pp 913–921. https://doi.org/10.1007/978-3-030-13469-3-105

Angkoon P, Erik S (2018) EMG pattern recognition in the era of big data and deep learning. Big Data Cogn Comput. 2(3):1–27. https://doi.org/10.3390/bdcc2030021

Campbell E, Phinyomark A, Scheme E (2020) Current trends and confounding factors in myoelectric control: limb position and contraction intensity. Sensors 20(6):1–44. https://doi.org/10.3390/s20061613

Chowdhury RH, Reaz MB, Ali MA et al (2013) Surface electromyography signal processing and classification techniques. Sensors 13(9):12431–12466. https://doi.org/10.3390/s130912431

Dalal N, Triggs B (2005) Histograms of oriented gradients for human detection. In: IEEE computer society conference on computer vision and pattern recognition (CVPR'05), 8588935 https://doi.org/10.1109/CVPR.2005.177

Du Y, Jin W, Wei W et al (2017) Surface EMG—based inter-session gesture recognition enhanced by deep domain adaptation. Sensors 17(3):1–22. https://doi.org/10.3390/s17030458

Du Y, Jin W, Wei W et al (2017) Capgmyo: a high density surface electromyography database for gesture recognition. Zhejiang University, College of Information Science and Electronic Engineering, pp 1–8

Edwards AL, Hebert MRDJS et al (2015) Application of real-time machine learning to myoelectric prostheses control: a case series in adaptive switching. ISPO 40(5):573–581. https://doi.org/10.1177/0309364615605373

Geng W, Du Y, Jin W et al (2016) Gesture recognition by instantaneous surface EMG images. Sci Rep 6:36571. https://doi.org/10.1038/srep36571

Gu Y, Yang D, Huang Q et al (2018) Robust EMG pattern recognition in the presence of confounding factors : features, classifiers and adaptive learning. Expert Syst Appl 96:208–217

Hargrove LJ, Englehart K, Hudgins B (2007) A comparison of surface and intramuscular myoelectric signal classification. IEEE Trans Biomed Eng 54:847–853

Hargrove L, Englehart K, Hudgins B (2008) A training strategies to reduce classification degradation due to electrode displacements in pattern recognition based myoelectric control. Biomed Signal Process Control 3:175–180

He J, Zhang D, Zhu X (2012) Adaptive pattern recognition of myoelectric signal towards practical multifunctional prosthesis control. Springer, Berlin, pp 518–525

He J, Zhang D, Sheng X et al (2014) Invariant SEMG feature against varying contraction level for myoelectric control based on muscle coordinate. IEEE J Biomed Health Inf 19:874–882

Huang Q, Yang D (2017) Novel unsupervised adaptive learning method for long-term electromyography (EMG) pattern recognition. Sensors 17(6):1–28. https://doi.org/10.3390/s17061370

Hui Y, Wong Y, Wei W et al (2018) A novel attention-based hybrid CNN-RNN architecture for semg-based gesture recognition. PLoS ONE 13(10):1–18. https://doi.org/10.1145/2702123.2702501

Jaber H, Rashid M (2019) HD-SEMG gestures recognition by SVM classifier for controlling prosthesis. Iraqi J Comput Commun Control Syst Eng 19(1):10–19

Jaber H, Rashid M, Fortuna L (2019) Robust hand gesture identification using envelope of HD-SEMG signal. In: ACM international conference proceeding series, pp 203–209. https://doi.org/10.1145/3321289.3321308

Jaber HA, Rashid MT, Fortuna L (2020) Using the robust high density-surface electromyography features for real-time hand gestures classification. IOP Conf Ser Mater Sci Eng 745:012020. https://doi.org/10.1088/1757-899X/745/1/012020

Jordanic M, Martinez MR, Mananas M et al (2016) Spatial distribution of HD-EMG improves identification of task and force in patients with incomplete spinal cord injury. J Neuroeng Rehabilit 13(1):41. https://doi.org/10.1186/s12984-016-0151-8

Jordanic M, Rojas M, Mananas MA et al (2017) A novel spatial features for the identification of motor tasks using HD-SEMG. Sensors 17:1–24. https://doi.org/10.3390/s17071597

Kyranou I, Vijayakumar S, Erden MS (2018) Causes of performance degradation in non-invasive electromyographic pattern recognition in upper limb prostheses. Front Neurorobot 58(12):58. https://doi.org/10.3389/fnbot.2018.00058

Liu M, Zhang F, Huang H (2017) An adaptive classification strategy for reliable locomotion mode recognition. Sensors 17(9):1–18. https://doi.org/10.3390/s17092020

Nougarou F, Campeau A, Massicotte D et al (2019) Pattern recognition based on HD-SEMG spatial features extraction for an efficient proportional control of a robotic ARM. Biomed Signal Process Control 53:1–12. https://doi.org/10.1016/j.bspc.2019.04.027

Parajuli N, Sreenivasan PBN (2019) Real-time EMG based pattern recognition control for hand prostheses: a review on existing methods, challenges and future implementation. Sensors 19(20):4596. https://doi.org/10.3390/s19204596

Phinyomark A, Quaine F, Charbonnier S et al (2013) Emg feature evaluation for improving myoelectric pattern recognition robustness. Expert Syst Appl 40:4832–4840

Rojas M, Mananas M, Alonso J (2012) High-density surface EMG maps from upper-arm and forearm muscles. J Nuero Eng Rehabilit 9(85):1–17

Scheme E, Englehart K (2014) On the robustness of EMG features for pattern recognition based myoelectric control: a multi data set comparison. Conf Proc IEEE Eng Med Biol Soc 650(3):14717284. https://doi.org/10.1109/EMBC.2014.6943675

Sensinger J, Lock B, Kuiken T (2009) Adaptive pattern recognition of myoelectric signals: exploration of conceptual framework and practical algorithms. IEEE Trans Neural Syst Rehabilit Eng 17(3):270–278. https://doi.org/10.1109/TNSRE.2009.2023282

Smith L, Hargrove L, Lock B et al (2011) Determining the optimal window length for pattern recognition based myoelectric control: balancing the competing effects of classification error and controller. IEEE Trans Neural Syst Rehabilit Eng 19(2):186–192. https://doi.org/10.1109/TNSRE.2010.2100828

Spanias JA, Simon AM, Perreault EJ, et al (2016) Preliminary results for an adaptive pattern recognition system for novel users using a powered lower limb prosthesis. In: 38th annual international conference of the IEEE engineering in medicine and biology society (EMBC), 16395325 https://doi.org/10.1109/EMBC.2016.7591870

Stango A, Negro F, Farina D (2015) Spatial correlation of high density EMG signals provided features robust to electrode number shift in pattern recognition for myocontrol. IEEE Trans Neural Syst Rehabilit Eng 32(2):189–198. https://doi.org/10.1109/TNSRE.2014.2366752

Wei W, Wong Y, Du Y et al (2019) A multi-stream convolutional neural network for SEMG-based gesture recognition in muscle–computer interface. Pattern Recognit Lett 119:131–138

Zhang X, Zhou P (2007) High-density myoelectric pattern recognition toward improved stroke rehabilitation. IEEE Trans Biomed Eng 59:1649–1657

Zhang C, Chen X, Cao S et al (2019) A novel HD-SEMG pre-processing method integrating muscle activation heterogeneity analysis and kurtosis-guided filtering for high-accuracy joint force estimation. IEEE Trans Neural Syst Rehabilit Eng 27(9):1920–1930. https://doi.org/10.1109/TNSRE.2019.2933811
About this article
Cite this article
Jaber, H.A., Rashid, M.T. & Fortuna, L. Adaptive Myoelectric Pattern Recognition Based on Hybrid Spatial Features of HD-sEMG Signals. Iran J Sci Technol Trans Electr Eng (2020). https://doi.org/10.1007/s40998-020-00353-1
Received:

Accepted:

Published:
Keywords
EMG signal classification

Myoelectric pattern recognition

HD-sEMG

Real time classification

Spatial features extraction

SVM classifier

Adaptive myoelectric control