Abstract
Underwater acoustic sensor network (UASN) is a vast network, in which the neighborhood of a transmitting node consists of many operating sensor nodes. By considering this as an advantage, we propose a hybrid automatic repeat request scheme for incremental cooperative communication (HARQ-INCC) in UASNs. The proposed scheme utilizes neighborhood sensor nodes during the instance of packet retransmission. It combines HARQ scheme with incremental cooperative communication; to enhance reliability and to optimize the energy efficiency. In this article, we present an analytical model to calculate the energy efficiency in UASNs for deep and shallow water scenarios, by examining the influence of acoustic fading, ambient noises and underwater channel characteristics. The analytical results show that HARQ-INCC outperforms the existing techniques for considerable distances between the source and destination nodes. We further propose an optimization algorithm to maximize the energy efficiency, by adjusting the modulation level and packet size as a function of the distance between source and destination nodes. The proposed optimization algorithm significantly enhances the energy efficiency of HARQ-INCC scheme. Finally, we analyze the energy efficiency of UASNs with respect to the variation in environmental parameters like waves and shipping noises. We validate the analytical results using ns-3 simulations.
Access options
Buy single article
Instant access to the full article PDF.
US$ 39.95
Tax calculation will be finalised during checkout.
Subscribe to journal
Immediate online access to all issues from 2019. Subscription will auto renew annually.
US$ 79
Tax calculation will be finalised during checkout.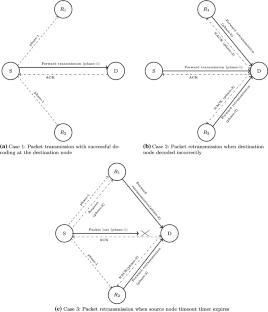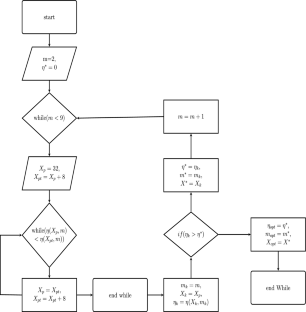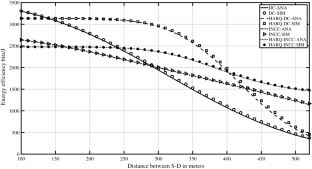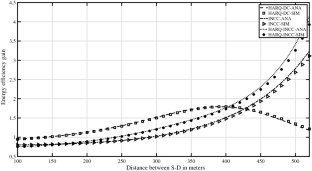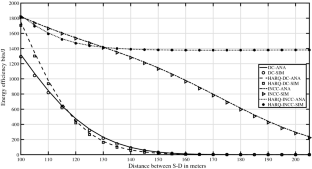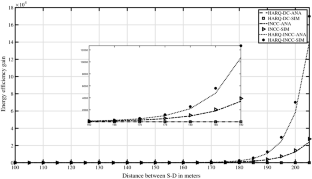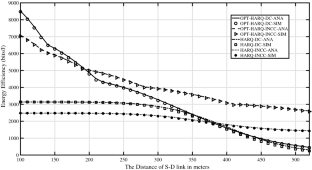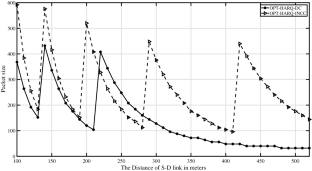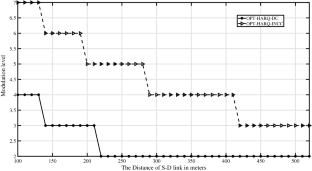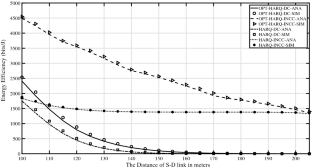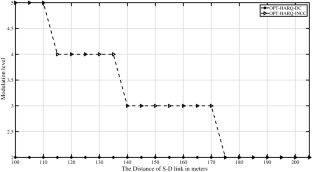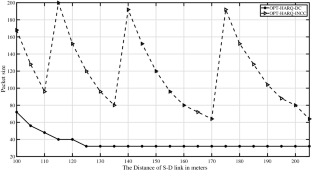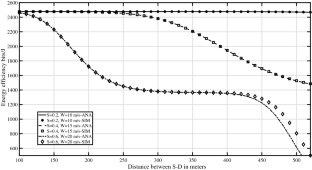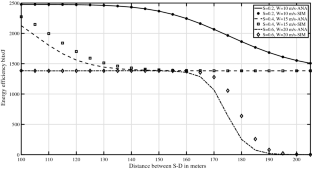 References
Abughalieh N, Steenhaut K, Nowé A, Anpalagan A (2014) Turbo codes for multi-hop wireless sensor networks with decode-and-forward mechanism. EURASIP J Wirel Commun Netw 2014(1):204. https://doi.org/10.1186/1687-1499-2014-204

Cao R, Qu F, Yang L (2016) Asynchronous amplify-and-forward relay communications for underwater acoustic networks. IET Commun 10(6):677–684. https://doi.org/10.1049/iet-com.2014.1233

Celik A, Saeed N, Al-Naffouri TY, Alouini M (2018) Modeling and performance analysis of multihop underwater optical wireless sensor networks. In: 2018 IEEE wireless communications and networking conference (WCNC), pp 1–6. https://doi.org/10.1109/WCNC.2018.8377388

Coutinho RWL, Boukerche A, Loureiro AAF (2018a) Modeling power control and anypath routing in underwater wireless sensor networks. In: 2018 IEEE wireless communications and networking conference (WCNC), pp 1–6. https://doi.org/10.1109/WCNC.2018.8377329

Coutinho RWL, Boukerche A, Vieira LFM, Loureiro AAF (2018b) Underwater wireless sensor networks: a new challenge for topology control-based systems. ACM Comput Surv 51(1):19:1–19:36. https://doi.org/10.1145/3154834

Darehshoorzadeh A, Boukerche A (2015) Underwater sensor networks: a new challenge for opportunistic routing protocols. IEEE Commun Mag 53(11):98–107. https://doi.org/10.1109/MCOM.2015.7321977

Domingo MC (2008) Overview of channel models for underwater wireless communication networks. Phys Commun 1(3):163–182. https://doi.org/10.1016/j.phycom.2008.09.001

Domingo MC, Prior R (2008) Energy analysis of routing protocols for underwater wireless sensor networks. Comput Commun 31(6):1227–1238. https://doi.org/10.1016/j.comcom.2007.11.005

Evologics (2018) Underwater acoustic modem. http://www.evologics.de/en/products/acoustics/ s2cm_hs.html. Accessed 27 Jan 2020

Geethu KS, Babu AV (2015) Minimizing the total energy consumption in multi-hop UWASNs. Wirel Pers Commun 83(4):2693–2709. https://doi.org/10.1007/s11277-015-2564-2

Geethu KS, Babu AV (2017) A hybrid ARQ scheme combining erasure codes and selective retransmissions for reliable data transfer in underwater acoustic sensor networks. EURASIP J Wirel Commun Netw 2017(1):32. https://doi.org/10.1186/s13638-017-0823-5

Goldsmith A (2005) Wireless communications. Cambridge University Press, Cambridge

Ikki SS, Ahmed MH (2011) Performance analysis of cooperative diversity with incremental-best-relay technique over Rayleigh fading channels. IEEE Trans Commun 59(8):2152–2161. https://doi.org/10.1109/TCOMM.2011.053111.080672

Kaushal H, Kaddoum G (2016) Underwater optical wireless communication. IEEE Access 4:1518–1547. https://doi.org/10.1109/ACCESS.2016.2552538

Liau QY, Leow CY, Ding Z (2018) Amplify-and-forward virtual full-duplex relaying-based cooperative noma. IEEE Wirel Commun Lett 7(3):464–467. https://doi.org/10.1109/LWC.2017.2785303

Liu L, Ma M, Liu C, Shu Y (2017) Optimal relay node placement and flow allocation in underwater acoustic sensor networks. IEEE Trans Commun 65(5):2141–2152. https://doi.org/10.1109/TCOMM.2017.2677448

Lott C, Milenkovic O, Soljanin E (2007) Hybrid arq: theory, state of the art and future directions. In: 2007 IEEE information theory workshop on information theory for wireless networks, pp 1–5. https://doi.org/10.1109/ITWITWN.2007.4318035

Lu Jin DH (2013) A slotted CSMA based reinforcement learning approach for extending the lifetime of underwater acoustic wireless sensor networks. Comput Commun 36(9):1094–1099. https://doi.org/10.1016/j.comcom.2012.10.007

Maaz M, Lorandel J, Mary P, Prévotet JC, Hélard M (2016) Energy efficiency analysis of hybrid-arq relay-assisted schemes in LTE-based systems. EURASIP J Wirel Commun Netw 2016(1):22. https://doi.org/10.1186/s13638-016-0520-9

Molland AF (2008) Chapter 1—the marine environment. In: The Maritime Engineering Reference Book. Butterworth-Heinemann, Oxford, pp 1–42. https://doi.org/10.1016/B978-0-7506-8987-8.00001-9

Nasir H, Javaid N, Sher M, Qasim U, Khan ZA, Alrajeh N, Niaz IA (2016) Exploiting outage and error probability of cooperative incremental relaying in underwater wireless sensor networks. Sensors. https://doi.org/10.3390/s16071076

Proakis JG, Salehi M (2014) Digital communications. McGraw Hill Education, New York

Qin H, Zhang Z, Wang R, Cai X, Jia Z (2017) Energy-balanced and depth-controlled routing protocol for underwater wireless sensor networks. Springer, Cham, pp 115–131. https://doi.org/10.1007/978-3-319-65482-9_8

Samad SA, Shenoy SK, Kumar GS (2011) Improving energy efficiency of underwater acoustic sensor networks using transmission power control: a cross-layer approach. Adv Comput Commun 192:93–101

Shah SBH, Zhe C, Ahmed SH, Fuliang Y, Faheem M, Begum S (2018) Depth based routing protocol using smart clustered sensor nodes in underwater WSN. In: Proceedings of the 2nd international conference on future networks and distributed systems, ICFNDS '18. ACM, New York, pp 53:1–53:7. https://doi.org/10.1145/3231053.3231119

Sklar B (1988) Digital communications: fundamentals and applications. Prentice-Hall, Inc., Upper Saddle River

Stojanovic M (2007) On the relationship between capacity and distance in an underwater acoustic communication channel. ACM SIGMOBILE Mobile Comput Commun Rev 11(4):34. https://doi.org/10.1145/1347364.1347373

Thorp WH (1967) Analytic description of the low-frequency attenuation coefficient. J Acoust Soc Am 42(1):270–270. https://doi.org/10.1121/1.1910566

Tomasi B, Casari P, Badia L, Zorzi M (2015) Cross-layer analysis via Markov models of incremental redundancy hybrid ARQ over underwater acoustic channels. Ad Hoc Netw 34:62–74. https://doi.org/10.1016/j.adhoc.2014.07.013

Tsai MF, Chilamkurti N, Shieh CK, Vinel A (2011) Mac-level forward error correction mechanism for minimum error recovery overhead and retransmission. Math Comput Model 53(11):2067–2077. https://doi.org/10.1016/j.mcm.2010.05.019

Uysal M, Panayirci E, Nouri H (2016) Information theoretical performance analysis and optimisation of cooperative underwater acoustic communication systems. IET Commun 10(7):812–823. https://doi.org/10.1049/iet-com.2015.0640

Wahid A, Lee S, Jeong HJ, Kim D (2011) EEDBR: energy-efficient depth-based routing protocol for underwater wireless sensor networks. Springer, Berlin, pp 223–234. https://doi.org/10.1007/978-3-642-24267-0_27

Wang S, Nie J (2010) Energy efficiency optimization of cooperative communication in wireless sensor networks. EURASIP J Wirel Commun Netw. https://doi.org/10.1155/2010/162326

Wang C, Cho T, Tsai T, Jan M (2017) A cooperative multihop transmission scheme for two-way amplify-and-forward relay networks. IEEE Trans Veh Technol 66(9):8569–8574. https://doi.org/10.1109/TVT.2017.2687622

Xiang-ping G, Yyan Y, Rong-lin H (2011) Analyzing the performance of channel in underwater wireless sensor networks (UWSN). Proc Eng 15:95–99. https://doi.org/10.1016/j.proeng.2011.08.020

Xie P, Cui JH, Lao L (2006) VBF: vector-based forwarding protocol for underwater sensor networks. Springer, Berlin, pp 1216–1221. https://doi.org/10.1007/11753810_111

Xie P, Zhou Z, Nicolaou N, See A, Cui JH, Shi Z (2010) Efficient vector-based forwarding for underwater sensor networks. EURASIP J Wirel Commun Netw 2010(1):195,910. https://doi.org/10.1155/2010/195910

Yan H, Shi ZJ, Cui JH (2008) DBR: depth-based routing for underwater sensor networks. Springer, Berlin, pp 72–86. https://doi.org/10.1007/978-3-540-79549-0_7
About this article
Cite this article
Goutham, V., Harigovindan, V.P. Modeling and Analysis of Hybrid ARQ Scheme for Incremental Cooperative Communication in Underwater Acoustic Sensor Networks. Iran J Sci Technol Trans Electr Eng 45, 279–294 (2021). https://doi.org/10.1007/s40998-020-00348-y
Received:

Accepted:

Published:

Issue Date:
Keywords
Incremental cooperative communication

HARQ

Reed–Solomon codes

Energy efficiency