Abstract
Heat transfer enhancement is widely used for improving heat exchanger performance in industrial processes. This is accomplished by increasing the surface area of the heat exchange surface by using fins or inserts of different geometries. The present work is an experimental study of heat transfer when using different fin geometries for the heat exchange surface in a double pipe heat exchanger. The fin geometries included interrupted rectangular fins, circular fins and helical ribs. The heat transfer coefficient and pressure drop were experimentally determined for a range of Reynolds numbers of hot and cold fluids. The results showed that extending the surface using different fin geometries enhanced the heat transfer coefficient, but was dependent on the Reynolds number of both fluids. The maximum heat transfer enhancement was obtained for a rectangular fin and the minimum was for a circular fin. In the case of the finned tubes, the lowest pressure drop was observed for the circular fin and highest for the rectangular fin.
This is a preview of subscription content, log in to check access.
Access options
Buy single article
Instant access to the full article PDF.
US$ 39.95
Price includes VAT for USA
Subscribe to journal
Immediate online access to all issues from 2019. Subscription will auto renew annually.
US$ 99
This is the net price. Taxes to be calculated in checkout.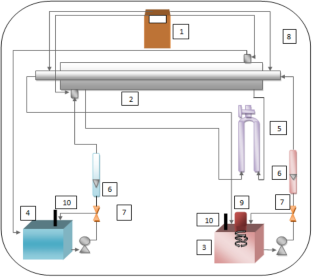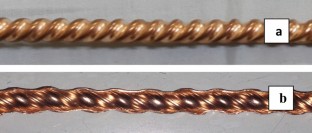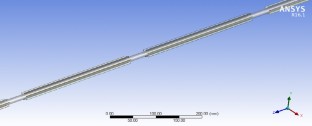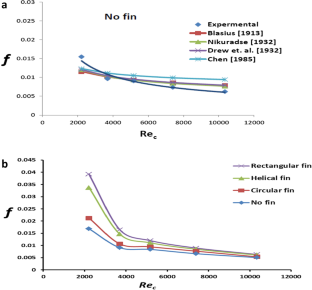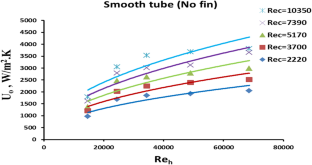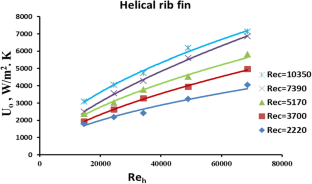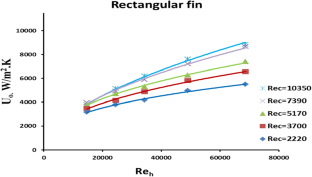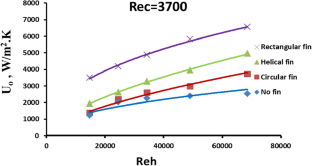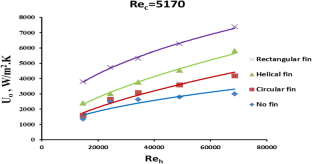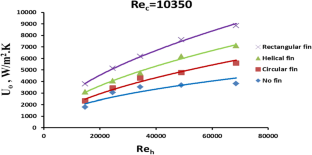 Abbreviations
∆p :

Pressure drop (N/m2)

A :

Area (m2)

C p :

Specific heat (J/kg K)

D :

Diameter (m)

f :

Friction factor

L :

Length (m)

m :

Mass flow rate (kg/s)

N :

Number of measurements

Q :

Heat transfer rate (W)

Re:

Reynolds number

s :

Standard deviation

T :

Temperature (K)

u :

Velocity (m/s)

U o :

Overall heat transfer coefficient based on outside area (W/m2 K)

x av :

Average value

x i :

Parameter's value

c:

Cold

h:

Hot

H:

Hydrodynamic

ρ :

Density (kg/m3)

∆:

Difference

lm:

Log-mean
References
Ali IM, Mussa MA, Mustafa MM (2017) Experimental investigation of forced convection heat transfer in open cell copper fins. Al-Nahrain J Eng Sci (NJES) 20(1):272–280

Blasius H (1913) Mitt, Forchungsarbeit Surbocit. VDZ 131:1

Chen JJJ (1985) A single correlation for mass (heat) transfer in turbulent smooth and rough tube flow. Int Commun Heat Mass Transf 12:219

Drew TB, Koo EC, McAdams WH (1932) The friction factors for clean round pipes. Trans AIChE, pp 28–56

Duan L, Ling X, Peng H (2018) Flow and heat transfer characteristics of a double-tube structure internal finned tube with blossom shape internal fins. Appl Therm Eng 128:1102–1115

Gorman JM, Krautbauer KR, Sparrow EM (2016) Thermal and fluid flow first-principles numerical design of an enhanced double pipe heat exchanger. Appl Therm Eng 107:194–206

Hasan BO (2003) Heat, mass, and momentum analogies to estimate corrosion rates under turbulent flow conditions. Ph.D., Thesis Department of Chemical Engineering, University of AL-Nahrain, Iraq

Hasan BO (2007) Turbulent Prandtl number and its use in prediction of heat transfer coefficient. Coll Eng J (NUCEJ) Al-Nahrain Univ 10(1):53–64

Hasan BO (2013) Heat transfer analysis in thermal entrance region under turbulent flow conditions. Asia Pac J Chem Eng 8:578–592

Hasan BO, Nathan GJ, Ashman PJ, Craig RA, Kelso RM (2012) The use of turbulence generators to mitigate crystallization fouling under cross flow conditions. Desalination 288(1):108–117

Hasan BO, Jwair EA, Craig RA (2017) The effect of heat transfer enhancement on the crystallization fouling in a double pipe heat exchanger. Exp Therm Fluid Sci 86:272–280

Jayakumara JS, Mahajania SM, Mandala JC, Vijayanb PK, Bhoia R (2008) Experimental and CFD estimation of heat transfer in helically coiled heat exchangers. Chem Eng Res Des 86(3):221–232

Ji T, Kim Y, Hyun JM (2007) Pressure drop and heat transfer correlations for triangular folded fin heat sinks. IEEE Trans Compon Packag Technol 30(1):3–8

Knudsen JD, Katz DL (1958) Fluid dynamics and heat transfer. McGraw-Hill, New York

Majdi HS, Alabdly HA, Hasan BO, Hathal MM (2019) Oil fouling in double-pipe heat exchanger under liquid–liquid dispersion and the influence of copper oxide nanofluid. Heat Transf-Asian Res 48:1963–1981

Majidi D, Alighardashi H, Farhadi F (2018) Experimental studies of heat transfer of air in a double-pipe helical heat exchanger. Appl Therm Eng 133:276–282

Masliyah J, Nandakumar K (1976) Heat transfer in internally finned tubes. J Heat Transf 98(2):257–261

Moffat RJ (1988) Describing the uncertainties in experimental results. Exp Therm Fluid Sci 1:3–17

Moitsheki RJ (2011) Steady one-dimensional heat flow in a longitudinal triangular and parabolic fin. Commun Nonlinear Sci Numer Simul 16(10):3971–3980

Monica JI, Bhatkar VW (2015) Optimization of longitudinal fin profile for double pipe heat exchanger. Int Res J Eng Technol 02(04):517–529

Naikel S, Probert SD, Wood CI (1987) Natural-convection characteristics of a horizontally-based vertical rectangular fin-array in the presence of a shroud. Appl Energy 28:295–319

Nikurdse J (1932) VDI-Forschungsheft 356

Omidi M, Farhadi M, Jafari M (2017) A comprehensive review on double pipe heat exchangers. Appl Therm Eng 110:1075–1090

Sheikholeslami M, Jafaryar M, Li Z (2018) Nanofluid turbulent convective flow in a circular duct with helical turbulators considering CuO nanoparticles. Int J Heat Mass Transf 124:980–989

Sheikholeslami M, Haq R, Shafee A, Li Z, Elaraki YG, Tlili I (2019) Heat transfer simulation of heat storage unit with nanoparticles and fins through a heat exchanger. Int J Heat Mass Transf 135:470–478

Shewale OM, Mane PA, Gazge S, Hameed PP (2014) Experimental investigation of double pipe heat exchanger with Helical fins on the inner rotating tube. Int J Res Eng Technol 3(7):98–102

Slaiman QJ, Abu-Khader MM, Hasan BO (2007) Prediction of heat transfer coefficient based on eddy diffusivity concept. Trans IChemE Part A Chem Eng Res Des 85(A4):455–464

Syed KS, Ishaq M, Iqbal Z (2015) Numerical study of an innovative design of a finned double-pipe heat exchanger with variable fin-tip thickness. Energy Convers Manag 98(1):69–80

Thirumarimurugan M, Kannadasan T, Ramasamy E (2008) Performance analysis of shell and tube heat exchanger using miscible system. Am J Appl Sci 5(5):548–552

Worachest S (2013) Partially wet fin efficiency for the longitudinal fins of rectangular, triangular, concave parabolic, and convex parabolic profiles. J Frankl Inst 350(6):1424–1442

Zhang L, Hongmei G, Jianhua W, Wenjuan D (2012) Compound heat transfer enhancement for shell side of double-pipe heat exchanger by helical fins and vortex generators. Heat Mass Transf 48(7):1113–1124
Acknowledgements
Sincere thanks to Dr. Richard A. Craig/Australia, for providing editorial services for this paper.
About this article
Cite this article
Mohsen, O.A., Muhammed, M.A.R. & Hasan, B.O. Heat Transfer Enhancement in a Double Pipe Heat Exchanger Using Different Fin Geometries in Turbulent Flow. Iran J Sci Technol Trans Mech Eng (2020). https://doi.org/10.1007/s40997-020-00377-2
Received:

Accepted:

Published:
Keywords
Heat transfer

Fins

Turbulent flow

Double pipe

Pressure drop