Abstract
In recent years, latent heat storage systems have been received considerable attention as they can provide high thermal storage capacity and optimize energy consumption. Cascaded phase change materials (PCMs) are a significant strategy to manage the gap between energy supply and demand, especially in renewable thermal energy applications. This work is devoted to investigate the unsteady freezing process of cascaded latent heat thermal energy storage systems inside a channel under different forced airflow strategies for winter conditions. Cold air flows through cascaded PCMs in five various ways and starts changing their initial liquid status to the final solid phase. Results discuss the heat transfer and phase transition features of each strategy in four various Reynolds numbers. Two-dimensional finite volume method is utilized to solve the governing equations of incompressible fluid flow in which conduction and convection mechanisms within PCM chambers are taken into account. According to numerical results, U-type and counter flow schemes lead to quick solidification in all Reynolds numbers, while in one-side channel strategy, the system takes a longer time to be completely solidified in all Reynolds numbers except Re = 300 in which parallel flow and middle inlets methods cause later freezing. The aspect ratio of PCM cavities and outlet temperature of the flowing air are also studied for various cases. Results demonstrated that the lower aspect ratio of the counter flow strategy could solidify the PCM faster and could remove the higher value of heat from cavities (higher outlet temperature).
This is a preview of subscription content, log in to check access.
Access options
Buy single article
Instant access to the full article PDF.
US$ 39.95
Price includes VAT for USA
Subscribe to journal
Immediate online access to all issues from 2019. Subscription will auto renew annually.
US$ 99
This is the net price. Taxes to be calculated in checkout.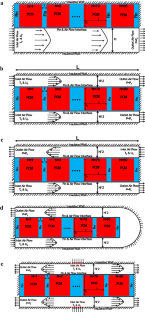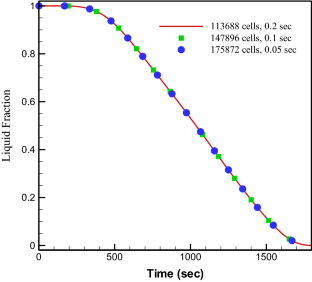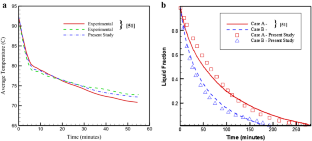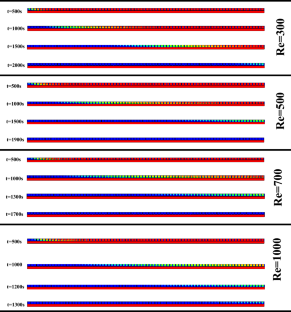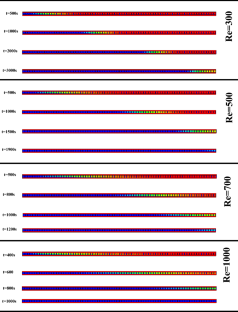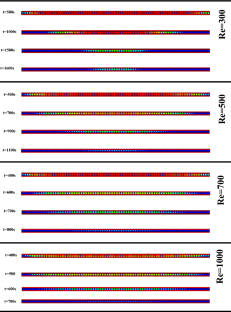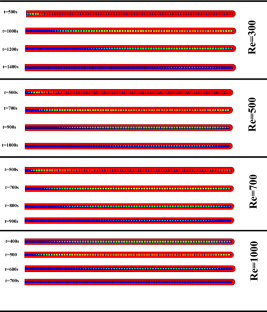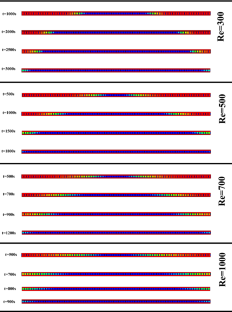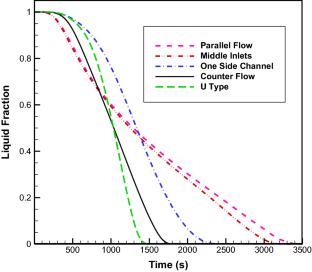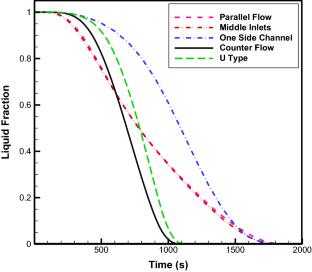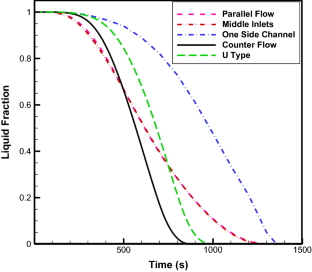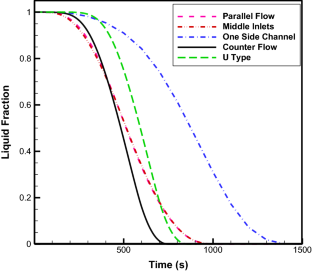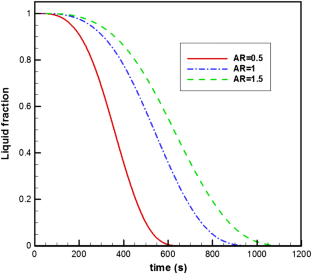 References
Agyenim F, Hewitt N, Eames P, Smyth M (2010) A review of materials, heat transfer and phase change problem formulation for latent heat thermal energy storage systems (LHTESS). Renew Sustain Energy Rev 14(2):615–628

Al-Abidi AA, Mat S, Sopian K, Sulaiman MY, Mohammad AT (2013) Numerical study of PCM solidification in a triplex tube heat exchanger with internal and external fins. Int J Heat Mass Transf 61:684–695

Aydin D, Casey SP, Riffat S (2015) The latest advancements on thermochemical heat storage systems. Renew Sustain Energy Rev 41:356–367

Bayon A, Liu M, Sergeev D, Grigore M, Bruno F, Müller M (2019) Novel solid–solid phase-change cascade systems for high-temperature thermal energy storage. Sol Energy 177:274–283

Brousseau P, Lacroix M (1996) Study of the thermal performance of a multi-layer PCM storage unit. Energy Convers Manag 37(5):599–609

Chen H, Cong TN, Yang W, Tan C, Li Y, Ding Y (2009) Progress in electrical energy storage system: a critical review. Prog Nat Sci 19(3):291–312

Cheng X, Zhai X (2018) Thermal performance analysis of a cascaded cold storage unit using multiple PCMs. Energy 143:448–457

Chiu JN, Martin V (2013) Multistage latent heat cold thermal energy storage design analysis. Appl Energy 112:1438–1445

Darzi AR, Farhadi M, Jourabian M (2013) Lattice Boltzmann simulation of heat transfer enhancement during melting by using nanoparticles. Iran J Sci Technol Trans Mech Eng 37(M1):23

Darzi AAR, Jourabian M, Farhadi M (2016) Melting and solidification of PCM enhanced by radial conductive fins and nanoparticles in cylindrical annulus. Energy Convers Manag 118:253–263

Du Y, Ding Y (2016) Towards improving charge/discharge rate of latent heat thermal energy storage (LHTES) by embedding metal foams in phase change materials (PCMs). Chem Eng Process 108:181–188

El Ganaoui M, Bontoux P, Morvan D (1999) Localisation d'un front de solidification en interaction avec un bain fondu instationnaire. Comptes Rendus de l'Académie des Sciences-Series IIB-Mechanics-Physics-Astronomy 327(1):41–48

Erek A, İlken Z, Acar MA (2005) Experimental and numerical investigation of thermal energy storage with a finned tube. Int J Energy Res 29(4):283–301

Esen M, Durmuş A, Durmuş A (1998) Geometric design of solar-aided latent heat store depending on various parameters and phase change materials. Sol Energy 62(1):19–28

Farid MM, Kanzawa A (1989) Thermal performance of a heat storage module using PCM's with different melting temperatures: mathematical modeling. J Sol Energy Eng 111(2):152–157

Fernández AI, Barreneche C, Miró L, Brückner S, Cabeza LF (2014) Thermal energy storage (TES) systems using heat from waste. In: Cabeza LF (ed) Advances in thermal energy storage systems: methods and applications, 1st edn. Woodhead Publishing, Cambridge, pp 479–492

Gong ZX, Mujumdar AS (1997) Thermodynamic optimization of the thermal process in energy storage using multiple phase change materials. Appl Therm Eng 17(11):1067–1083

Gopalan KS, Eswaran V (2016) Numerical investigation of thermal performance of PCM based heat sink using structured porous media as thermal conductivity enhancers. Int J Therm Sci 104:266–280

Hamza H, Hanchi N, Abouelkhayrat B, Lahjomri J, Oubarra A (2016) Location and thickness effect of two phase change materials between layers of roof on energy consumption for air-conditioned room. J Therm Sci Eng Appl 8(2):021009

Horbaniuc B, Dumitrascu G, Popescu A (1999) Mathematical models for the study of solidification within a longitudinally finned heat pipe latent heat thermal storage system. Energy Convers Manag 40(15–16):1765–1774

Jourabian M, Farhadi M, Darzi AAR (2013) Convection-dominated melting of phase change material in partially heated cavity: lattice Boltzmann study. Heat Mass Transf 49(4):555–565

Jourabian M, Farhadi M, Darzi AAR (2016) Heat transfer enhancement of PCM melting in 2D horizontal elliptical tube using metallic porous matrix. Theoret Comput Fluid Dyn 30(6):579–603

Li YQ, He YL, Song HJ, Xu C, Wang WW (2013) Numerical analysis and parameters optimization of shell-and-tube heat storage unit using three phase change materials. Renew Energy 59:92–99

Mahdi JM, Nsofor EC (2016) Solidification of a PCM with nanoparticles in triplex-tube thermal energy storage system. Appl Therm Eng 108:596–604

Mazraeh AE, Babayan M, Yari M, Sefidan AM, Saha SC (2018) Theoretical study on the performance of a solar still system integrated with PCM-PV module for sustainable water and power generation. Desalination 443:184–197

Michels H, Pitz-Paal R (2007) Cascaded latent heat storage for parabolic trough solar power plants. Sol Energy 81(6):829–837

Mosaffa AH, Talati F, Tabrizi HB, Rosen MA (2012) Analytical modeling of PCM solidification in a shell and tube finned thermal storage for air conditioning systems. Energy Build 49:356–361

Pasupathy A, Velraj R (2008) Effect of double layer phase change material in building roof for year round thermal management. Energy Build 40(3):193–203

Peiró G, Gasia J, Miró L, Cabeza LF (2015) Experimental evaluation at pilot plant scale of multiple PCMs (cascaded) versus single PCM configuration for thermal energy storage. Renew Energy 83:729–736

Prasad JS, Muthukumar P, Anandalakshmi R, Niyas H (2018) Comparative study of phase change phenomenon in high temperature cascade latent heat energy storage system using conduction and conduction-convection models. Sol Energy 176:627–637

Rathod MK, Banerjee J (2015) Thermal performance enhancement of shell and tube latent heat storage unit using longitudinal fins. Appl Therm Eng 75:1084–1092

Salomoni VA, Majorana CE, Giannuzzi GM, Miliozzi A, Di Maggio R, Girardi F, Mele D, Lucentini M (2014) Thermal storage of sensible heat using concrete modules in solar power plants. Sol Energy 103:303–315

Seeniraj RV, Narasimhan NL (2008) Performance enhancement of a solar dynamic LHTS module having both fins and multiple PCMs. Sol Energy 82(6):535–542

Sefidan AM, Sojoudi A, Saha SC, Cholette M (2017a) Multi-layer PCM solidification in a finned triplex tube considering natural convection. Appl Therm Eng 123:901–916

Sefidan AM, Taghilou M, Mohammadpour M, Sojoudi A (2017b) Effects of different parameters on the discharging of double-layer PCM through the porous channel. Appl Therm Eng 123:592–602

Shaikh S, Lafdi K (2006) Effect of multiple phase change materials (PCMs) slab configurations on thermal energy storage. Energy Convers Manag 47(15):2103–2117

Shamsi H, Boroushaki M, Geraei H (2017) Performance evaluation and optimization of encapsulated cascade PCM thermal storage. J Energy Storage 11:64–75

Taghilou M, Talati F (2016) Numerical investigation on the natural convection effects in the melting process of PCM in a finned container using lattice Boltzmann method. Int J Refrig 70:157–170

Taghilou M, Sefidan AM, Sojoudi A, Saha SC (2017) Solid–liquid phase change investigation through a double pipe heat exchanger dealing with time-dependent boundary conditions. Appl Therm Eng 128:725–736

Talati F, Taghilou M (2015) Lattice Boltzmann application on the PCM solidification within a rectangular finned container. Appl Therm Eng 83:108–120

Teamah HM, Lightstone MF, Cotton JS (2018) Potential of cascaded phase change materials in enhancing the performance of solar domestic hot water systems. Sol Energy 159:519–530

Tehrani SSM, Shoraka Y, Nithyanandam K, Taylor RA (2018) Cyclic performance of cascaded and multi-layered solid-PCM shell-and-tube thermal energy storage systems: a case study of the 19.9 MW e Gemasolar CSP plant. Appl Energy 228:240–253

Tessier MJ, Floros MC, Bouzidi L, Narine SS (2016) Exergy analysis of an adiabatic compressed air energy storage system using a cascade of phase change materials. Energy 106:528–534

Tian Y, Zhao CY (2013) A review of solar collectors and thermal energy storage in solar thermal applications. Appl Energy 104:538–553

Wang J, Chen G, Zheng F (1999) Study on phase change temperature distributions of composite PCMs in thermal energy storage systems. Int J Energy Res 23(4):277–285

Wang P, Yao H, Lan Z, Peng Z, Huang Y, Ding Y (2016) Numerical investigation of PCM melting process in sleeve tube with internal fins. Energy Convers Manag 110:428–435

Wu M, Chao X, He Y (2016) Cyclic behaviors of the molten-salt packed-bed thermal storage system filled with cascaded phase change material capsules. Appl Therm Eng 93:1061–1073

Xu HJ, Zhao CY (2015) Thermodynamic analysis and optimization of cascaded latent heat storage system for energy efficient utilization. Energy 90:1662–1673

Xu HJ, Zhao CY (2016) Thermal efficiency analysis of the cascaded latent heat/cold storage with multi-stage heat engine model. Renew Energy 86:228–237

Xu HJ, Zhao CY (2017a) Thermal performance of cascaded thermal storage with phase-change materials (PCMs). Part I: steady cases. Int J Heat Mass Transf 106:932–944

Xu HJ, Zhao CY (2017b) Thermal performance of cascaded thermal storage with phase-change materials (PCMs). Part II: unsteady cases. Int J Heat Mass Transf 106:945–957

Xu HJ, Zhao CY (2019) Analytical considerations on optimization of cascaded heat transfer process for thermal storage system with principles of thermodynamics. Renew Energy 132:826–845

Yang L, Zhang X, Xu G (2014) Thermal performance of a solar storage packed bed using spherical capsules filled with PCM having different melting points. Energy Build 68:639–646

Yuan F, Li M-J, Ma Z, Jin B, Liu Z (2018) Experimental study on thermal performance of high-temperature molten salt cascaded latent heat thermal energy storage system. Int J Heat Mass Transf 118:997–1011

Zhao B-c, Cheng M-s, Liu C, Dai Z-m (2016) Thermal performance and cost analysis of a multi-layered solid-PCM thermocline thermal energy storage for CSP tower plants. Appl Energy 178:784–799

Zhao Y, You Y, Liu HB, Zhao CY, Xu ZG (2018) Experimental study on the thermodynamic performance of cascaded latent heat storage in the heat charging process. Energy 157:690–706

Zhou D, Zhao CY, Tian Y (2012) Review on thermal energy storage with phase change materials (PCMs) in building applications. Appl Energy 92:593–605

Zivkovic B, Fujii I (2001) An analysis of isothermal phase change of phase change material within rectangular and cylindrical containers. Sol Energy 70(1):51–61
About this article
Cite this article
Sojoudi, A., Mohammadpour, M., Sefidan, A.M. et al. Solidification of Cascaded PCM Storages Embedded Within a Channel Under Various Forced Air Flow Strategies. Iran J Sci Technol Trans Mech Eng (2020). https://doi.org/10.1007/s40997-020-00371-8
Received:

Accepted:

Published:
Keywords
Latent heat thermal storage (LHTS) systems

Cascaded PCMs

Solidification

Various forced air flow strategies