Abstract
Parallel mechanisms are finding wide applications in manufacturing. The design methodology of parallel mechanisms is generally considered as a complex procedure. Many times they are custom designed to suit a specific task. In this work, a generalized analytical approach to forward, inverse kinematics and workspace analysis of three-degrees-of-freedom 3RPS (revolute–prismatic–spherical) and 3RPS-R (revolute–prismatic–spherical–revolute) parallel manipulator is presented. Methodology for obtaining various position and orientation of the moving platform for the provided actuation by varying the distance between the base platform and the moving platform has been discussed in detail. The actuation is given to the prismatic joint of the manipulator, which results in a variation of limb lengths, thereby altering the position and orientation of the moving platform. Sylvester dialytic elimination method is used to solve the nonlinear polynomial expressions originally obtained from the loop–closure equations. Various numerical solutions have been obtained for a different combination of limb lengths and by changing the height of the manipulator. The workspace obtained is not evenly distributed, and hence, an additional degree of freedom (DOF) of base rotation has been suggested. With the addition of one DOF, the volume of workspace obtained is enhanced without any discontinuities which would enable the manipulator to generate circular trajectories. The methodology presented in this work is general and will be suitable for similar geometries by altering the loop closure equations suitably.
Access options
Buy single article
Instant access to the full article PDF.
US$ 39.95
Tax calculation will be finalised during checkout.
Subscribe to journal
Immediate online access to all issues from 2019. Subscription will auto renew annually.
US$ 79
Tax calculation will be finalised during checkout.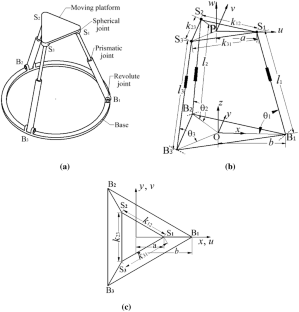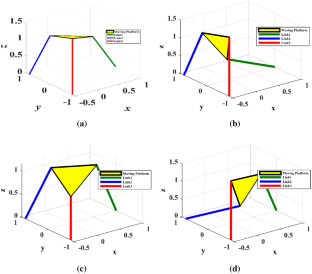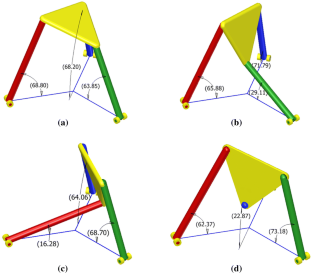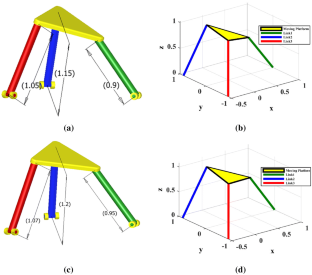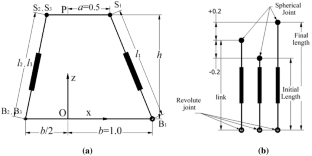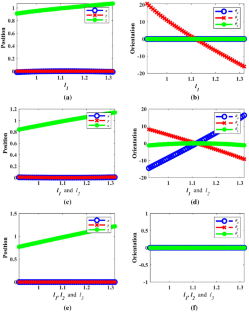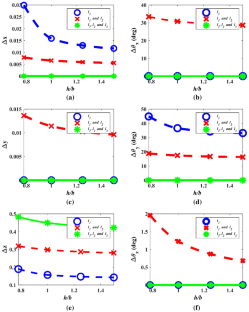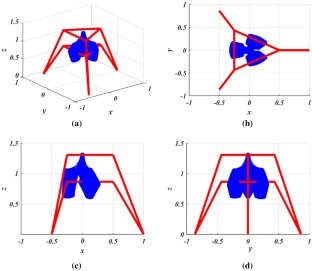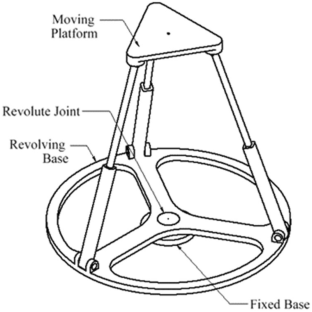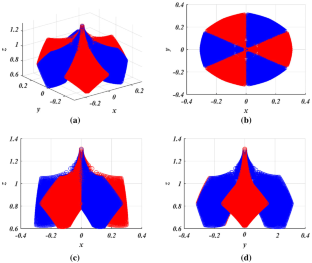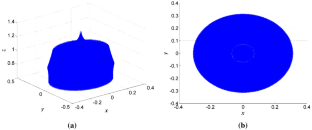 References
Babu SR et al (2013) Design for optimal performance of 3-RPS parallel manipulator using evolutionary algorithms. Trans Can Soc Mech Eng 37(2):135–160

Epsteen S (1903) Analog of Sylvester's dialytic method of elimination. Am Math Mon 10(3):63–64

Fang Y, Huang Z (1997) Kinematics of a three-degree-of-freedom in-parallel actuated manipulator mechanism. Mech Mach Theory 32(7):789–796

Fang H, Fang Y, Zhang K (2013) Kinematics and workspace analysis of a novel 3-DOF parallel manipulator with virtual symmetric plane. Proc Inst Mech Eng C J Mech Eng Sci 227(3):620–629

Gallardo J, Orozco H, Rico JM (2008) Kinematics of 3-RPS parallel manipulators by means of screw theory. Int J Adv Manuf Technol 365:598–605

Gallardo-Alvarado J (2013) Mobility analysis and kinematics of the semi-general 2 (3-RPS) series-parallel manipulator. Robot Comput Integr Manuf 29(6):463–472

Gallardo-Alvarado J, García-Murillo MA (2013) A parallel manipulator inspired by the original Stewart platform. Proc Inst Mech Eng C J Mech Eng Sci 227(4):831–844

Geng M, Zhao T, Wang C, Chen Y, Li E (2014) Forward kinematics analysis of parallel mechanisms with restricted workspace. Proc Inst Mech Eng C J Mech Eng Sci 229(14):1–12

Ghosal A (2006) Robotics: fundamental concepts and analysis. Oxford University Press, New Delhi

Hao Z, Qiyi W, Qunming L, Bo Z (1996) December. The kinematics and workspace analyses of a parallel manipulator for manufacturing. In: Proceedings of The IEEE international conference on industrial technology, pp 647–650

Hunt KH (1983) Structural kinematics of in-parallel-actuated robot-arms. ASME J Mech Transm Autom Des 105(4):705–712

Ibrahim O, Khalil W (2007) Kinematic and dynamic modeling of the 3-RPS parallel manipulator. In: 12th IFToMM world congress, Besançon

Kosinska A, Galicki M, Kedzior K (2003) Design of parameters of parallel manipulators for a specified workspace. Robotica 21(05):575–579

Kumar V (1992) Characterization of workspaces of parallel manipulators. Trans ASME J Mech Des 114:368

Lee KM, Shah DK (1988) Kinematic analysis of a three-degrees-of-freedom in-parallel actuated manipulator. IEEE J Robot Autom 4(3):354–360

Li Y, Xu Q (2007) Kinematic analysis of a 3-PRS parallel manipulator. Robot Comput Integr Manuf 23(4):395–408

Li Q, Chen Z, Chen Q, Wu C, Hu X (2011) Parasitic motion comparison of 3-PRS parallel mechanism with different limb arrangements. Robot Comput Integr Manuf 27(2):389–396

Liu D, Che R, Li Z, Luo X (2003) Research on the theory and the virtual prototype of 3-DOF parallel-link coordinate-measuring machine. IEEE Trans Instrum Meas 52(1):119–125

Merlet JP (1994) Parallel manipulators: state of the art and perspectives. Adv Robot 8:589–596

Merlet JP (2006) Parallel robots. Springer, Berlin

Özdemir M (2016) Singularity robust balancing of parallel manipulators following inconsistent trajectories. Robotica 34(9):1–12

Patel YD, George PM (2012) Parallel manipulators applications—a survey. Mod Mech Eng 2(1):57–64

Patel Y, George P (2014) Constraint and inverse kinematic analysis of 3-RPS parallel manipulator. In: 5th International & 26th all India manufacturing technology, design and research conference

Rao NM (2010) Synthesis of a spatial 3-RPS parallel manipulator based on physical constraints. Sadhana 35(6):739–746

Rao NM (2011) Synthesis of a spatial 3-RPS parallel manipulator based on physical constraints using hybrid GA simplex method. Int J Adv Manuf Technol 52(5–8):777–787

Rao NM, Rao KM (2009) Dimensional synthesis of a spatial 3-RPS parallel manipulator for a prescribed range of motion of spherical joints. Mech Mach Theory 44(2):477–486

Rao PS, Rao NM (2013) Position analysis of spatial 3-RPS parallel manipulator. Int J Mech Eng Robit Res 2(2):79–90

Rogers DF, Adams JA (1989) Mathematical elements for computer graphics. McGraw-Hill, New York

Schadlbauer J, Walter DR, Husty ML (2014) The 3-RPS parallel manipulator from an algebraic viewpoint. Mech Mach Theory 75:161–176

Tsai LW (1999) Robot analysis: the mechanics of serial and parallel manipulators. Wiley, New York

Wang QY, Zou H, Zhao MY, Li QM, Zheng HW (1997) Design and kinematics of a parallel manipulator for manufacturing. CIRP Ann Manuf Technol 46(1):297–300

Yuan WH, Tsai MS (2014) A novel approach for forward dynamic analysis of 3-PRS parallel manipulator with consideration of friction effect. Robot Comput Integr Manuf 30(3):315–325

Zhang J, Yu H, Gao F, Zhao X (2011) Key issues in studying parallel manipulators. In: IEEE international conference on advanced mechatronic systems (ICAMechS), pp 234–244

Zhao JS, Feng ZJ, Wang LP, Dong JX (2006) The free mobility of a parallel manipulator. Robotica 24(05):635–641

Zhao JS, Lu W, Chu F, Feng ZJ (2009) The kinematics and statics of manipulators. Proc Inst Mech Eng C J Mech Eng Sci 223(9):2155–2166
Appendix
Appendix
$$ \begin{aligned} A_{2} & = - 3a^{2} + 3b^{2} + 3bl_{2} - 3bl_{3} \cos \theta_{3} + l_{2}^{2} - l_{2} l_{3} \cos \theta_{3} + l_{3}^{2} \\ B_{2} & = - 4l_{2} l_{3} \sin \theta_{3} \\ C_{2} & = - 3a^{2} + 3b^{2} - 3bl_{2} - 3bl_{3} \cos \theta_{3} + l_{2}^{2} + l_{2} l_{3} \cos \theta_{3} + l_{3}^{2} \\ \end{aligned} $$
$$ \begin{aligned} A_{4} & = 2l_{1}^{2} (18a^{4} l_{2}^{2} + 45a^{4} l_{3}^{2} + 18b^{2} l_{2}^{4} + 72b^{3} l_{2}^{3} + 72b^{4} l_{2}^{2} + 18b^{2} l_{3}^{4} + 72b^{4} l_{3}^{2} + 2l_{1}^{4} l_{2}^{2} + 5l_{1}^{4} l_{3}^{2} + 2l_{2}^{2} l_{3}^{4} + 5l_{2}^{4} l_{3}^{2} \\ & \quad - 27a^{4} l_{3}^{2} \cos (2\theta_{3} ) - 3l_{1}^{4} l_{3}^{2} \cos (2\theta_{3} ) - 3l_{2}^{4} l_{3}^{2} \cos (2\theta_{3} ) + 36a^{2} bl_{2}^{3} - 12bl_{1}^{2} l_{2}^{3} + 12bl_{2}^{3} l_{3}^{2} + 72a^{2} b^{2} l_{2}^{2} \\ & \quad - 36a^{2} b^{2} l_{3}^{2} - 12a^{2} l_{1}^{2} l_{2}^{2} - 30a^{2} l_{1}^{2} l_{3}^{2} - 42a^{2} l_{2}^{2} l_{3}^{2} - 24b^{2} l_{1}^{2} l_{2}^{2} - 24b^{2} l_{1}^{2} l_{3}^{2} - 12b^{2} l_{2}^{2} l_{3}^{2} + 10l_{1}^{2} l_{2}^{2} l_{3}^{2} \\ & \quad - 72b^{3} l_{3}^{3} \cos \theta_{3} + 4l_{2}^{3} l_{3}^{3} \cos (\theta_{3} ) + 12bl_{2} l_{3}^{4} - 36a^{2} bl_{3}^{3} \cos (\theta_{3} ) - 12a^{2} l_{2} l_{3}^{3} \cos \theta_{3} - 12a^{2} l_{2}^{3} l_{3} \cos \theta_{3} \\ & \quad + 12bl_{1}^{2} l_{3}^{3} \cos \theta_{3} + 12bl_{2}^{2} l_{3}^{3} \cos \theta_{3} - 24b^{2} l_{2} l_{3}^{3} \cos \theta_{3} - 24b^{2} l_{2}^{3} l_{3} \cos \theta_{3} + 72b^{3} l_{2}^{2} l_{3} \cos \theta_{3} + 4l_{1}^{2} l_{2} l_{3}^{3} \cos \theta_{3} \\ & \quad + 4l_{1}^{2} l_{2}^{3} l_{3} \cos \theta_{3} - 24bl_{2}^{3} l_{3}^{2} \cos (2\theta_{3} ) - 72b^{3} l_{2} l_{3}^{2} \cos (2\theta_{3} ) - 108a^{2} bl_{2} l_{3}^{2} + 12bl_{1}^{2} l_{2} l_{3}^{2} + 36a^{4} l_{2} l_{3} \cos \theta_{3} \\ & \quad - 12bl_{2}^{4} l_{3} \cos (\theta_{3} ) + 144b^{4} l_{2} l_{3} \cos (\theta_{3} ) + 4l_{1}^{4} l_{2} l_{3} \cos (\theta_{3} ) + 108a^{2} b^{2} l_{3}^{2} \cos (2\theta_{3} ) + 18a^{2} l_{1}^{2} l_{3}^{2} \cos (2\theta_{3} ) \\ & \quad + 18a^{2} l_{2}^{2} l_{3}^{2} \cos (2\theta_{3} ) - 72b^{2} l_{2}^{2} l_{3}^{2} \cos (2\theta_{3} ) - 2l_{1}^{2} l_{2}^{2} l_{3}^{2} \cos (2\theta_{3} ) + 36a^{2} bl_{2}^{2} l_{3} \cos \theta_{3} + 144a^{2} b^{2} l_{2} l_{3} \cos \theta_{3} \\ & \quad - 24a^{2} l_{1}^{2} l_{2} l_{3} \cos \theta_{3} - 12bl_{1}^{2} l_{2}^{2} l_{3} \cos \theta_{3} - 48b^{2} l_{1}^{2} l_{2} l_{3} \cos \theta_{3} + 72a^{2} bl_{2} l_{3}^{2} \cos (2\theta_{3} )) \\ \end{aligned} $$
$$ \begin{aligned} B_{4} & = - 32l_{1}^{2} l_{2} l_{3} (18a^{4} \sin \theta_{3} - 36a^{2} b^{2} \sin \theta_{3} - 18a^{2} bl_{2} \sin \theta_{3} + 9a^{2} bl_{3} \sin (2\theta_{3} ) - 12a^{2} l_{1}^{2} \sin \theta_{3} \\ & \quad - 6a^{2} l_{2}^{2} \sin \theta_{3} - 6a^{2} l_{3}^{2} \sin \theta_{3} + 18b^{4} \sin \theta_{3} + 18b^{3} l_{2} \sin \theta_{3} - 9b^{3} l_{3} \sin (2\theta_{3} ) - 6b^{2} l_{1}^{2} \sin \theta_{3} \\ & \quad + 6b^{2} l_{2}^{2} \sin \theta_{3} - 9b^{2} l_{2} l_{3} \sin (2\theta_{3} ) + 6b^{2} l_{3}^{2} \sin \theta_{3} - 3bl_{2}^{2} l_{3} \sin (2\theta_{3} ) + 6bl_{2} l_{3}^{2} \sin \theta_{3} + 2l_{1}^{4} \sin \theta_{3} \\ & \quad + 2l_{1}^{2} l_{2}^{2} \sin \theta_{3} + l_{1}^{2} l_{2} l_{3} \sin (2\theta_{3} ) + 2l_{1}^{2} l_{3}^{2} \sin \theta_{3} + 2l_{2}^{2} l_{3}^{2} \sin \theta_{3} ) \\ \end{aligned} $$
$$ \begin{aligned} C_{4} & = 8l_{1}^{2} (63a^{4} l_{2}^{2} + 36a^{4} l_{3}^{2} + 9b^{2} l_{2}^{4} + 36b^{4} l_{2}^{2} + 9b^{2} l_{3}^{4} + 36b^{4} l_{3}^{2} + 7l_{1}^{4} l_{2}^{2} + 4l_{1}^{4} l_{3}^{2} + 7l_{2}^{2} l_{3}^{4} + 4l_{2}^{4} l_{3}^{2} \\ & \quad - 27a^{4} l_{3}^{2} \cos^{2} \theta_{3} - 3l_{1}^{4} l_{3}^{2} \cos^{2} \theta_{3} - 3l_{2}^{4} l_{3}^{2} \cos^{2} \theta_{3} - 180a^{2} b^{2} l_{2}^{2} - 72a^{2} b^{2} l_{3}^{2} - 42a^{2} l_{1}^{2} l_{2}^{2} \\ & \quad - 24a^{2} l_{1}^{2} l_{3}^{2} - 66a^{2} l_{2}^{2} l_{3}^{2} - 12b^{2} l_{1}^{2} l_{2}^{2} - 12b^{2} l_{1}^{2} l_{3}^{2} + \,30b^{2} l_{2}^{2} l_{3}^{2} + 26l_{1}^{2} l_{2}^{2} l_{3}^{2} - 36b^{3} l_{3}^{3} \cos \theta_{3} \\ & \quad - 18a^{2} bl_{3}^{3} \cos \theta_{3} + 6bl_{1}^{2} l_{3}^{3} \cos \theta_{3} - 42bl_{2}^{2} l_{3}^{3} \cos \theta_{3} - 108b^{3} l_{2}^{2} l_{3} \cos \theta_{3} - 6bl_{2}^{4} l_{3} \cos \theta_{3} \\ & \quad + 108a^{2} b^{2} l_{3}^{2} \cos^{2} \theta_{3} + 18a^{2} l_{1}^{2} l_{3}^{2} \cos^{2} \theta_{3} + 18a^{2} l_{2}^{2} l_{3}^{2} \cos^{2} \theta_{3} + 72b^{2} l_{2}^{2} l_{3}^{2} \cos^{2} \theta_{3} - 18l_{1}^{2} l_{2}^{2} l_{3}^{2} \cos^{2} \theta_{3} \\ & \quad + 162a^{2} bl_{2}^{2} l_{3} \cos \theta_{3} - 6bl_{1}^{2} l_{2}^{2} l_{3} \cos \theta_{3} ) \\ \end{aligned} $$
$$ \begin{aligned} D_{4} & = - 32l_{1}^{2} l_{2} l_{3} (18a^{4} \sin \theta_{3} - 36a^{2} b^{2} \sin \theta_{3} + 18a^{2} bl_{2} \sin \theta_{3} + 9a^{2} bl_{3} \sin (2\theta_{3} ) - 12a^{2} l_{1}^{2} \sin \theta_{3} \\ & \quad - 6a^{2} l_{2}^{2} \sin \theta_{3} - 6a^{2} l_{3}^{2} \sin \theta_{3} + 18b^{4} \sin \theta_{3} - 18b^{3} l_{2} \sin \theta_{3} - 9b^{3} l_{3} \sin (2\theta_{3} ) - 6b^{2} l_{1}^{2} \sin \theta_{3} \\ & \quad + 6b^{2} l_{2}^{2} \sin \theta_{3} + 9b^{2} l_{2} l_{3} \sin (2\theta_{3} ) + 6b^{2} l_{3}^{2} \sin \theta_{3} - 3bl_{2}^{2} l_{3} \sin (2\theta_{3} ) - 6bl_{2} l_{3}^{2} \sin \theta_{3} + 2l_{1}^{4} \sin \theta_{3} \\ & \quad + 2l_{1}^{2} l_{2}^{2} \sin \theta_{3} - l_{1}^{2} l_{2} l_{3} \sin (2\theta_{3} ) + 2l_{1}^{2} l_{3}^{2} \sin \theta_{3} + 2l_{2}^{2} l_{3}^{2} \sin \theta_{3} ) \\ \end{aligned} $$
$$ \begin{aligned} E_{4} & = 2l_{1}^{2} (18a^{4} l_{2}^{2} + 45a^{4} l_{3}^{2} + 18b^{2} l_{2}^{4} - 72b^{3} l_{2}^{3} + 72b^{4} l_{2}^{2} + 18b^{2} l_{3}^{4} + 72b^{4} l_{3}^{2} + 2l_{1}^{4} l_{2}^{2} + 5l_{1}^{4} l_{3}^{2} + 2l_{2}^{2} l_{3}^{4} \\ & \quad + 5l_{2}^{4} l_{3}^{2} - 27a^{4} l_{3}^{2} \cos (2\theta_{3} ) - 3l_{1}^{4} l_{3}^{2} \cos (2\theta_{3} ) - 3l_{2}^{4} l_{3}^{2} \cos (2\theta_{3} ) - 36a^{2} bl_{2}^{3} + 12bl_{1}^{2} l_{2}^{3} - 12bl_{2}^{3} l_{3}^{2} \\ & \quad + 72a^{2} b^{2} l_{2}^{2} - 36a^{2} b^{2} l_{3}^{2} - 12a^{2} l_{1}^{2} l_{2}^{2} - 30a^{2} l_{1}^{2} l_{3}^{2} - 42a^{2} l_{2}^{2} l_{3}^{2} - 24b^{2} l_{1}^{2} l_{2}^{2} - 24b^{2} l_{1}^{2} l_{3}^{2} - 12b^{2} l_{2}^{2} l_{3}^{2} \\ & \quad + 10l_{1}^{2} l_{2}^{2} l_{3}^{2} - 72b^{3} l_{3}^{3} \cos \theta_{3} - 4l_{2}^{3} l_{3}^{3} \cos \theta_{3} - 12bl_{2} l_{3}^{4} - 36a^{2} bl_{3}^{3} \cos \theta_{3} + 12a^{2} l_{2} l_{3}^{3} \cos \theta_{3} + 12a^{2} l_{2}^{3} l_{3} \cos \theta_{3} \\ & \quad + 12bl_{1}^{2} l_{3}^{3} \cos \theta_{3} + 12bl_{2}^{2} l_{3}^{3} \cos \theta_{3} + 24b^{2} l_{2} l_{3}^{3} \cos \theta_{3} + 24b^{2} l_{2}^{3} l_{3} \cos \theta_{3} + 72b^{3} l_{2}^{2} l_{3} \cos \theta_{3} - 4l_{1}^{2} l_{2} l_{3}^{3} \cos \theta_{3} \\ & \quad - 4l_{1}^{2} l_{2}^{3} l_{3} \cos \theta_{3} + 24bl_{2}^{3} l_{3}^{2} \cos (2\theta_{3} ) + 72b^{3} l_{2} l_{3}^{2} \cos (2\theta_{3} ) + 108a^{2} bl_{2} l_{3}^{2} - 12bl_{1}^{2} l_{2} l_{3}^{2} - 36a^{4} l_{2} l_{3} \cos \theta_{3} \\ & \quad - 12bl_{2}^{4} l_{3} \cos \theta_{3} - 144b^{4} l_{2} l_{3} \cos \theta_{3} - 4l_{1}^{4} l_{2} l_{3} \cos \theta_{3} + 108a^{2} b^{2} l_{3}^{2} \cos (2\theta_{3} ) + 18a^{2} l_{1}^{2} l_{3}^{2} \cos (2\theta_{3} ) \\ & \quad + 18a^{2} l_{2}^{2} l_{3}^{2} \cos (2\theta_{3} ) - 72b^{2} l_{2}^{2} l_{3}^{2} \cos (2\theta_{3} ) - 2l_{1}^{2} l_{2}^{2} l_{3}^{2} \cos (2\theta_{3} ) + 36a^{2} b*l_{2}^{2} l_{3} \cos \theta_{3} - 144a^{2} b^{2} l_{2} l_{3} \cos \theta_{3} \\ & \quad + 24a^{2} l_{1}^{2} l_{2} l_{3} \cos \theta_{3} - 12bl_{1}^{2} l_{2}^{2} l_{3} \cos \theta_{3} + 48b^{2} l_{1}^{2} l_{2} l_{3} \cos \theta_{3} - 72a^{2} bl_{2} l_{3}^{2} \cos (2\theta_{3} )) \\ \end{aligned} $$
About this article
Cite this article
Desai, R., Muthuswamy, S. A Forward, Inverse Kinematics and Workspace Analysis of 3RPS and 3RPS-R Parallel Manipulators. Iran J Sci Technol Trans Mech Eng 45, 115–131 (2021). https://doi.org/10.1007/s40997-020-00346-9
Received:

Accepted:

Published:

Issue Date:
Keywords
3RPS-R parallel manipulator

Kinematics

Sylvester dialytic elimination method

Workspace analysis