Abstract
Upper limb disability is one of the major adversities faced by post-stroke patients. Eating is one of the fundamental activities of survival for all living beings. The robotic rehabilitation systems for people with upper limb disabilities must have the capability of assisting the patients, providing appropriate forces/torques, during various eating activities. In this study, a 3-D, four-DOF dynamic, mathematical model of human arm, including wrist and elbow joints, focusing on elbow flexion/extension motion, forearm pronation/supination, wrist flexion/extension and wrist adduction/abduction is formulated, for predicting the torques during different eating activities. A simulation study and experimental validation has been conducted involving five different food types and using two types of cutlery, which are, a fork and a spoon, to study their effect on the corresponding torques produced. It was observed that the maximum torque is obtained in both wrist and elbow joint when the subject digs into the food and eats (event B) in the majority of the eating tasks. The accuracy of the model, in terms of torque prediction, was compared to that of the load cell, for all eating activities, using RMSE as a statistical measure, to the test the performance of the model. The results indicate that 3-D dynamic model formulated fits all the torques for all eating activities very well, with the average RMSE of 0.05 Nm and the performance of the model is good. These results verify that the proposed Kane's model, successfully models the HUL, during different eating tasks and using different types of cutlery.
This is a preview of subscription content, log in to check access.
Access options
Buy single article
Instant access to the full article PDF.
US$ 39.95
Price includes VAT for USA
Subscribe to journal
Immediate online access to all issues from 2019. Subscription will auto renew annually.
US$ 99
This is the net price. Taxes to be calculated in checkout.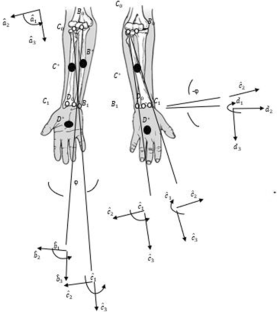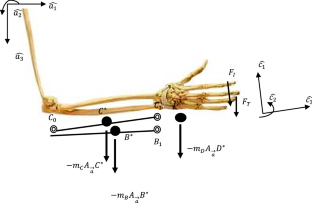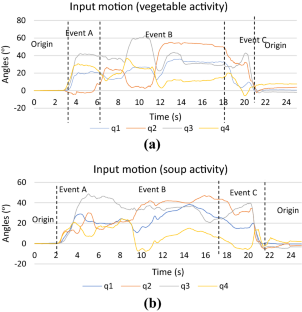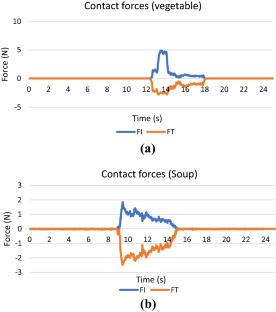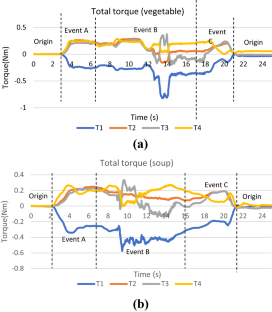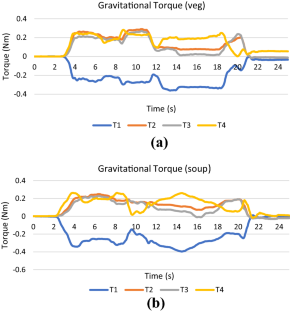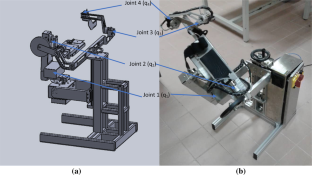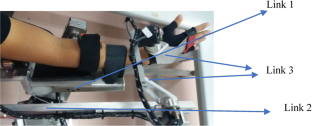 References
Akbari AA, Talasaz M (2014) Prediction of above-elbow motions in amputees, based on electromyographic (EMG) signals, using nonlinear autoregressive exogenous (NARX) model. Iran J Med Phys 11(2–3):233–241

Ariff FHM, Rambely AS (2005) Determination of torques at upper limb joints during jumping in badminton smash via Kane's method. In: ISBS-Conference proceedings archive, vol 1, No. 1

Ariff FHM, Rambely AS, Ghani NAA (2011) Shoulder's modeling via Kane's method: determination of torques in smash activity. In: 5th Kuala Lumpur international conference on biomedical engineering 2011. Springer, Berlin, pp 207–209

Asadi Nikooyan A, Veeger HEJ, Chadwick EKJ, Praagman M, van der Helm FCT (2011) Development of a comprehensive musculoskeletal model of the shoulder and elbow. Med Biol Eng Comput 49(12):1425–1435

Ayati M, Ehrampoosh A, Yousefi-koma A (2015) Estimation of elbow joint angle by NARX model using EMG data. In: 2015 3rd RSI International conference on robotics and mechatronics (ICROM). IEEE, pp 444–449

Barnston AG (1992) Correspondence among the correlation, RMSE, and Heidke forecast verification measures; refinement of the Heidke Score. Weather Forecast 7(4):699–709

Buondonno G, De Luca A (2015) A recursive Newton–Euler algorithm for robots with elastic joints and its application to control. In 2015 IEEE/RSJ International conference on intelligent robots and systems (IROS). IEEE, pp 5526–5532

Carmichael MG, Liu D (2015) Upper limb strength estimation of physically impaired persons using a musculoskeletal model: a sensitivity analysis. In: Proceedings of the annual international conference of the IEEE Engineering in Medicine and Biology Society, EMBS, 2015–Novem, pp 2438–2441

Chai T, Draxler RR (2014) Root mean square error (RMSE) or mean absolute error (MAE)?—arguments against avoiding RMSE in the literature. Geosci Model Dev 7(3):1247–1250. https://doi.org/10.5194/gmd-7-1247-2014

Choudhury TT, Rahman MM, Khorshidtalab A, Khan MR (2013) Modeling of human arm movement: a study on daily movement. In: 2013 Fifth international conference on computational intelligence, modelling and simulation. IEEE, pp 63–68

de Leva P (1996) Adjustments to Zatsiorsky–Seluyanov's segment inertia parameters. J Biomech 29(9):1223–1230

De Los Reyes-Guzmán A, Gil-Agudo A, Peñasco-Martín B, Solís-Mozos M, Del Ama-Espinosa A, Pérez-Rizo E (2010) Kinematic analysis of the daily activity of drinking from a glass in a population with cervical spinal cord injury. J NeuroEng Rehabil 7(1):41

Faria-Fortini I, Michaelsen SM, Cassiano JG, Teixeira-Salmela LF (2011) Upper extremity function in stroke subjects: relationships between the international classification of functioning, disability, and health domains. J Hand Ther 24(3):257–265

Gonzalez RV, Buchanan TS, Delp SL (1997) How muscle architecture and moment arms affect wrist flexion-extension moments. J Biomech 30(7):705–712

Gopura RARC, Kiguchi K, Horikawa E (2010) A study on human upper-limb muscles activities during daily upper-limb motions. Int J Bioelectromagn 12(2):54–61

Hirza F, Ariff M, Rambely AS (2009) Modeling of an arm via Kane's method : an inverse dynamic approach. Eur J Sci Res 33(2):358–364

Holzbaur KRS, Murray WM, Delp SL (2005) A model of the upper extremity for simulating musculoskeletal surgery and analyzing neuromuscular control. Ann Biomed Eng 33(6):829–840

Hussain Z, Azlan NZ (2016) Kane's method for dynamic modeling. In: IEEE International conference on automatic control and intelligent systems (I2CACIS). IEEE, pp 174–179

Hussain Z, Azlan NZ (2017) Human lower arm analysis during different eating activities. In: 2017 IEEE 8th Control and system graduate research colloquium, ICSGRC 2017—proceedings, pp 93–98

Hussain Z, Zainul Azlan N, Yusof AZB (2018) Human hand motion analysis during different eating activities. Appl Bionics Biomech 2018:8567648

Jali MH, Izzuddin TA, Bohari ZH, Sulaima MF, Sarkawi H (2014) Predicting EMG based elbow joint torque model using multiple input ANN neurons for arm rehabilitation. In: UKSim, pp 189–194

Jali MH, Izzuddin TA, Bohari ZH, Sarkawi H, Sulaima MF, Baharom MF, Bukhari WM (2015) Joint torque estimation model of sEMG signal for arm rehabilitation device using artificial neural network techniques. In: Advanced computer and communication engineering technology. Springer, Cham, pp 671–682

Kane TR, Levinson DA (1985) Dynamics, theory and applications. McGraw Hill, New York

Komistek RD, Stiehl JB, Dennis DA, Paxson RD, Soutas-Little RW (1997) Mathematical model of the lower extremity joint reaction forces using Kane's method of dynamics. J Biomech 31(2):185–189

Kwakkel G, Kollen BJ, Krebs HI (2008) Effects of robot-assisted therapy on upper limb recovery after stroke: a systematic review. Neurorehabil Neural Repair 22(2):111–121

Li X, Wang X (2016) Dynamic modeling of the human-computer interaction for upper limb rehabilitation robot. J Softw Eng 10(4):347–355

Lin J, Wu Y, Huang TS (2000) Modeling the constraints of human hand motion. In: Workshop on human motion, 2000. Proceedings. IEEE, pp 121–126

Mackay J (2004) The atlas of heart disease and stroke, vol 5. World Health Organization, Washington, DC

Mansour G, Mitsi S, Bouzakis KD (2008) A kinematic and dynamic model of the human upper extremity. In: Proceedings of the 3rd international conference on manufacturing engineering (ICMEN), 1–3 October

Massa E, Vignolo S (2016) Newton–Euler, Lagrange and Kirchhoff formulations of rigid body dynamics: a unified approach. Meccanica 51(8):2019–2023

McGrath M, Howard D, Baker R (2017) A Lagrange-based generalised formulation for the equations of motion of simple walking models. J Biomech 55:139–143

Metcalf CD, Notley SV, Chappell PH, Burridge JH, Yule VT (2008) Validation and application of a computational model for wrist and hand movements using surface markers. IEEE Trans Biomed Eng 55(3):1199–1210

Naaji A (2008a) Dynamic modeling of the human upper limb. In: 9th WSEAS International conference on evolutionary computing (EC'08), Sofia, Bulgaria

Naaji A (2008b) Using computer aided techniques in the dynamic modeling of the human upper limb. WSEAS Trans Comput 7(7):1030–1039

Rambely AS, Fazrolrozi (2012) A six-link kinematic chain model of human body using Kane's method. Int J Mod Phys Conf Ser 09:59–67

Rambely AS, Halim NA, Ahmad RR (2012) A numerical comparison of langrange and Kane's methods of an arm segment. Int J Mod Phys Conf Ser 09:68–75

Reich J, Daunicht WJ (2000) A rigid body model of the forearm. J Biomech 33:1159–1168

Rosen J, Perry JC, Manning N, Burns S, Hannaford B (2005) The human arm kinematics and dynamics during daily activities—toward a 7 DOF upper limb powered exoskeleton. In: 2005 International conference on advanced robotics, ICAR'05, proceedings, 2005 (July), pp 532–539

Sancho-Bru JL, Pérez-González A, Vergara M, Giurintano DJ (2003) A 3D biomechanical model of the hand for power grip. J Biomech Eng 125(1):78

Tumit NP, Rambely AS, BMT S, Deros BM, Goh YM, Arumugam M, Ismail IA (2014) An upper limb mathematical model of an oil palm harvester. In: AIP Conference proceedings, vol 1614, No. 1. AIP, pp 973–979

Tumit NP, Rambely AS, BMT S, Deros BM, Arumugam M (2015) A full body mathematical model of an oil palm harvester. In: AIP Conference proceedings, vol 1678, No. 1. AIP Publishing, p 060019

Valero-Cuevas FJ, Johanson ME, Towles JD (2003) Towards a realistic biomechanical model of the thumb: the choice of kinematic description may be more critical than the solution method or the variability/uncertainty of musculoskeletal parameters. J Biomech 36(7):1019–1030

van der Helm FC (1994) A finite element musculoskeletal model of the shoulder mechanism. J Biomech 27(5):551–569

Yamaguchi GT (2001) Dynamic modeling of musculoskeletal motion: a vectorized approach for biomechanical analysis in three dimensions. Springer, New York

Zheng M, Zou Z, Bartolo PJDS, Peach C, Ren L (2017) Finite element models of the human shoulder complex: a review of their clinical implications and modelling techniques. Int J Numer Methods Biomed Eng 33(2):e02777
Acknowledgements
The authors would like to thank the Ministry of Education, Malaysia for supporting this research under the Fundamental Research Grant Scheme (FRGS14-107-0348).
Ethics declarations
Conflict of interest
The authors declare no conflict of interest.
Appendices
Appendix A
Elements of matrix \(M{\vec{\ddot{Q}}}\) can be written as:
$$\begin{aligned} k_{11} & = - m_{B} \rho_{{B_{3}^{2} }} - m_{C} \left( {r^{2} + \rho_{{C_{3} }} c_{\varphi } c_{2}^{2} + rs_{2}^{2} \rho_{{C_{3} }} c_{\varphi } s_{2} } \right) \\ & \quad - m_{D} \left[ {r^{2} + \frac{1}{2}\left( {l_{CB} + l_{{C_{3} }} } \right)c_{\varphi } c_{2}^{2} - \frac{1}{2}\left( {l_{CB} + l_{{C_{3} }} } \right)c_{\varphi } s_{2}^{2} + rc_{2}^{2} \frac{1}{2}\left( {l_{CB} + l_{{C_{3} }} } \right)c_{\varphi } + \frac{1}{2}l_{{C_{2} }} s_{\varphi } } \right] \\ & \quad - I_{B}^{ * } - I_{C}^{ * } - I_{D}^{ * } \left[ {c_{\varphi }^{2} + 2c_{\varphi } s_{2} c_{4} s_{\varphi } c_{3 - \varphi } s_{4} + c_{\varphi } s_{\varphi } c_{2} s_{3 - \varphi } c_{3 - \varphi } + s_{\varphi } c_{3 - \varphi } s_{4}^{2} c_{\varphi } c_{2} s_{3 - \varphi } } \right. \\ & \quad + s_{\varphi }^{2} c_{3 - \varphi }^{2} s_{4}^{2} + s_{\varphi } c_{3 - \varphi } c_{\varphi } c_{2} s_{3 - \varphi } + s_{\varphi }^{2} c_{3 - \varphi }^{2} - 2c_{\varphi } c_{2} c_{3 - \varphi } s_{\varphi } s_{3 - \varphi } \\ & \quad \left. +{ s_{\varphi }^{2} s_{3 - \varphi }^{2} - s_{\varphi } c_{3 - \varphi } c_{4} c_{\varphi } s_{2} s_{4} + l_{{c_{2} }}^{2} c_{\varphi }^{2} s_{2}^{2} } \right]. \\ \end{aligned}$$
(46)
$$\begin{aligned} k_{12} & = \frac{1}{2}m_{D} l_{{C_{2} }} + I_{C}^{ * } s_{\varphi } \\ & \quad + I_{D}^{ * } \left[ {c_{\varphi } c_{2} s_{3 - \varphi } c_{3 - \varphi } + s_{\varphi } c_{3 - \varphi }^{2} + s_{\varphi } c_{3 - \varphi }^{2} s_{4}^{2} - c_{\varphi }^{2} c_{2} c_{3 - \varphi } s_{3 - \varphi } + s_{\varphi } s_{3 - \varphi }^{2} c_{\varphi } } \right] \\ \end{aligned}$$
(47)
$$k_{13} = - I_{D}^{ * } \left[ { - c_{\varphi } s_{2} - s_{\varphi } c_{3 - \varphi } s_{4} c_{4} } \right]$$
(48)
$$k_{14} = - I_{D}^{ * } \left[ {c_{\varphi } c_{2} c_{3 - \varphi } - s_{\varphi } s_{3 - \varphi } } \right]$$
(49)
$$\begin{aligned} k_{21} & = - m_{D} \left[ {\frac{1}{2}rl_{{C_{2} }} c_{2} + l_{{C_{2} }} \left( {l_{CB} + l_{{C_{3} }} } \right)c_{\varphi } c_{2} + l_{{C_{2} }}^{2} s_{\varphi } + s_{3 - \varphi } \rho_{{D_{3} }} rc_{2} c_{4} - \rho_{{D_{3} }} rs_{2} s_{4} } \right. \\ & \quad + \frac{1}{2}\left( {l_{CB} + l_{{C_{3} }} } \right)c_{\varphi } c_{2} c_{4} + \frac{1}{2}l_{{C_{2} }} s_{\varphi } c_{4} + \frac{1}{2}\left( {l_{CB} + l_{{C_{3} }} } \right)c_{\varphi } s_{2} s_{3 - \varphi } s_{4} \\ & \left. {\quad - \frac{1}{2}c_{3 - \varphi } s_{4} l_{{C_{2} }} c_{\varphi } s_{2} + \frac{1}{2}s_{3 - \varphi } l_{{C_{2} }} c_{\varphi } s_{2} } \right] \\ & \quad + I_{C}^{ * } - I_{D}^{ * } \left[ { - c_{3 - \varphi } c_{\varphi } c_{2} s_{3 - \varphi } - c_{3 - \varphi }^{2} s_{4}^{2} s_{\varphi } + s_{3 - \varphi } c_{\varphi } c_{2} c_{3 - \varphi } - s_{3 - \varphi }^{2} s_{\varphi } - c_{3 - \varphi }^{2} c_{4}^{2} s_{\varphi } } \right] \\ \end{aligned}$$
(50)
$$k_{22} = - m_{D} \left[ { - l_{{C_{2} }}^{2} + \frac{1}{2}l_{{C_{2} }} s_{\varphi } c_{4} } \right] - I_{C}^{ * } - I_{D}^{ * } \left[ {c_{3 - \varphi }^{2} + s_{3 - \varphi }^{2} c_{\varphi } } \right]$$
(51)
$$k_{ 2 3} = k_{ 3 2} = k_{ 3 4} = 0$$
(52)
$$k_{24} = - I_{D}^{ * } s_{3 - \varphi }$$
(53)
$$k_{31} = m_{D} c_{4} \rho_{{D_{3} }} \left[ { - rs_{2} c_{3 - \varphi } + \frac{1}{2}s_{3 - \varphi } l_{{C_{2} }} c_{\varphi } s_{2} } \right] - I_{D}^{ * } c_{\varphi } s_{2}$$
(54)
$$k_{33} = - I_{D}^{ * }$$
(55)
$$\begin{aligned} k_{41} & = - m_{D} \left[ {\rho_{{D_{3} }} rc_{2} c_{4} - r\rho_{{D_{3} }} s_{2} s_{3 - \varphi } s_{4} + \frac{1}{2}\left( {l_{CB} + l_{{C_{3} }} } \right)c_{\varphi } c_{2} c_{4} \rho_{{D_{3} }} } \right. \\ & \left. {\quad + \frac{1}{2}\left( {l_{CB} + l_{{C_{3} }} } \right)\rho_{{D_{3} }} c_{\varphi } s_{2} s_{3 - \varphi } s_{4} - \frac{1}{2}\rho_{{D_{3} }} c_{3 - \varphi } s_{4} l_{{C_{2} }} c_{\varphi } s_{2} } \right] \\ & \quad - I_{D}^{ * } \left[ {c_{\varphi } c_{2} c_{3 - \varphi } - s_{\varphi } s_{3 - \varphi } } \right] \\ \end{aligned}$$
(56)
Elements of \(\vec{G}\) matrix can be written as follows:
$$j_{11} = - \rho_{{B_{3} }} s_{1}$$
(58)
$$j_{12} = - c_{\varphi } s_{2} \rho_{{C_{3} }} s_{1} s_{2} - c_{\varphi } s_{2} \rho_{{C_{3} }} c_{1} c_{2} s_{\varphi }$$
(59)
$$\begin{aligned} j_{13} & = - rs_{1} + \frac{1}{2}l_{{C_{2} }} s_{\varphi }^{2} c_{1} s_{2} + \frac{1}{2}l_{{C_{2} }} c_{1} s_{\varphi } s_{2} \\ & \quad - \frac{1}{2}\left( {l_{CB} + l_{{C_{3} }} } \right)s_{1} c_{2} - \frac{1}{2}l_{{C_{2} }} s_{\varphi } s_{1} c_{2} - \frac{1}{2}l_{{C_{2} }} s_{1} c_{2} \\ & \quad - \frac{1}{2}\left( {l_{CB} + l_{{C_{3} }} } \right)c_{\varphi } s_{2}^{2} s_{1} + \frac{1}{2}l_{{C_{2} }} c_{\varphi }^{2} s_{2} c_{3} c_{1} \\ \end{aligned}$$
(60)
$$j_{ 2 1} = j_{ 2 2} = j_{ 3 1} = j_{ 3 2} = j_{ 4 1} = j_{ 4 2} = 0$$
(61)
$$\begin{aligned} j_{23} & = \frac{1}{2}l_{{C_{2} }} c_{1} s_{\varphi } s_{2} - \frac{1}{2}l_{{C_{2} }} s_{1} c_{2} + s_{3 - \varphi } \rho_{{D_{3} }} c_{4} c_{1} c_{2} \\ & \quad + s_{3 - \varphi } \rho_{{D_{3} }} c_{4} s_{1} s_{\varphi } s_{2} + s_{3 - \varphi }^{2} \rho_{{D_{3} }} s_{4} c_{1} s_{2} - s_{3 - \varphi }^{2} \rho_{{D_{3} }} s_{4} s_{1} s_{\varphi } c_{2} \\ & \quad - s_{3 - \varphi } \rho_{{D_{3} }} s_{1} c_{\varphi } c_{3 - \varphi } s_{4} + c_{3 - \varphi }^{2} s_{4} \rho_{{D_{3} }} s_{1} s_{2} \\ & \quad + c_{3 - \varphi }^{2} s_{4} \rho_{{D_{3} }} c_{1} c_{2} s_{\varphi } + c_{3 - \varphi } s_{4} \rho_{{D_{3} }} s_{3 - \varphi } c_{1} c_{\varphi } \\ \end{aligned}$$
(62)
$$j_{33} = - c_{4} \rho_{{D_{3} }} c_{3 - \varphi } s_{1} s_{2} - c_{4} \rho_{{D_{3} }} c_{3 - \varphi } c_{1} c_{2} s_{\varphi } - c_{4} \rho_{{D_{3} }} c_{1} c_{\varphi }$$
(63)
$$j_{43} = \rho_{{D_{3} }} \left( { - c_{4} s_{1} c_{2} + c_{4} c_{1} s_{\varphi } s_{2} + s_{3 - \varphi } s_{4} s_{1} s_{2} + s_{3 - \varphi } s_{4} c_{1} c_{2} s_{\varphi } - c_{\varphi } c_{1} c_{3 - \varphi } s_{4} } \right)$$
(64)
Elements of \(\vec{V}\) matrix can be written as follows:
$$z_{11}=-m_{C}\left[rc_{\varphi}s_{2}\rho_{C_{3}}s_{\varphi}c_{2}+rs_{2}c_{\varphi}c_{2}\rho_{C_{3}}s_{\varphi}\right]-m_{D}\left[\frac{1}{2}c_{2}^{2}c_{\varphi}^{2}l_{C_{2}}s_{2}-\frac{1}{2}\left(l_{CB}+l_{C_{3}}\right)c_{2}c_{\varphi}s_{2}s_{\varphi}+\frac{1}{2}l_{C_{2}}s_{\varphi}+\frac{1}{2}l_{C_{2}}s_{2}^{3}c_{\varphi}^{2}+\frac{1}{2}\left(l_{CB}+l_{C_{3}} \right)s_{\varphi}c_{\varphi}c_{2}s_{2}+\frac{1}{2}l_{C_{2}}s_{\varphi}^{2}s_{2}+c_{\varphi}^{2}s_{2}^{2}s_{4}c_{2}c_{4}^{2}\rho_{D_{3}+}c_{\varphi}^{2}s_{4}^{2}s_{2}c_{2}^{2}c_{4}\rho_{D_{3}}s_{3-\varphi}+c_{\varphi}s_{2}s_{4}^{2}\rho_{D_{3}}s_{\varphi}c_{3-\varphi}c_{2}c_{4}-c_{\varphi}^{2}s_{2}^{3}s_{4}^{2}s_{3-\varphi}\rho_{D_{3}}c_{4}-c_{\varphi}^{2}s_{2}^{2}s_{4}^{3}s_{3-\varphi}^{2}\rho_{D_{3}}c_{2}-c_{\varphi}^{2}s_{2}^{2}s_{4}^{3}s_{3-\varphi}^{2}\rho_{D_{3}}c_{2}-c_{\varphi}^{2}s_{2}s_{4}^{3}\rho_{D_{3}}s_{3-\varphi}s_{\varphi}c_{3-\varphi}-c_{\varphi}^{2}c_{2}^{2}c_{4}^{3}s_{3-\varphi}\rho_{D_{3}}s_{2}-c_{\varphi}^{2}c_{2}^{3}s_{3-\varphi}^{3}c_{4}\rho_{D_{3}}s_{4}-c_{2}^{2}c_{\varphi}s_{3-\varphi}c_{4}^{2}\rho_{D_{3}}s_{\varphi}c_{3-\varphi}s_{4}+c_{\varphi}^{2}c_{2}s_{3-\varphi}^{2}c_{4}^{2}s_{2}^{2}s_{4}\rho_{D_{3}}+c_{\varphi}^{2}c_{2}^{2}s_{3-\varphi}^{2}c_{4}s_{2}s_{4}^{2}\rho_{D_{3}}+c_{\varphi}c_{2}s_{3-\varphi}^{2}c_{4}s_{2}s_{4}^{2}\rho_{D_{3}}s_{\varphi}c_{3-\varphi}-s_{\varphi}c_{3-\varphi}c_{4}^{3}c_{2}\rho_{D_{3}}c_{\varphi}s_{2}-s_{\varphi}c_{3-\varphi}c_{4}^{2}c_{2}^{2}\rho_{D_{3}}c_{\varphi}s_{3-\varphi}s_{4}-s_{\varphi}^{2}c_{3-\varphi}^{2}c_{4}^{2}\rho_{D_{3}}s_{4}c_{2}+s_{\varphi}c_{3-\varphi}c_{4}^{2}s_{2}^{2}s_{3-\varphi}s_{4}\rho_{D_{3}}c_{\varphi}+s_{\varphi}c_{3-\varphi}c_{4}s_{2}s_{3-\varphi}^{2}s_{4}^{2}\rho_{D_{3}}c_{\varphi}c_{2}+s_{\varphi}^{2}c_{3-\varphi}^{2}c_{4}s_{2}s_{3-\varphi}s_{4}^{2}\rho_{D_{3}}-c_{\varphi}^{2}c_{2}c_{3-\varphi}^{2}\rho_{D_{3}}s_{2}^{2}s_{4}+c_{\varphi}^{2}c_{2}^{2}c_{3-\varphi}^{2}s_{2}\rho_{D_{3}}s_{3-\varphi}c_{4}+c_{\varphi}c_{2}c_{3-\varphi}^{3}s_{2}s_{\varphi}c_{4}\rho_{D_{3}}+s_{\varphi}s_{3-\varphi}\rho_{D_{3}}s_{2}^{2}c_{3-\varphi}c_{\varphi}s_{4}-s_{\varphi}s_{3-\varphi}^{2}s_{2}c_{3-\varphi}\rho_{D_{3}}c_{\varphi}c_{2}c_{4}-s_{\varphi}^{2}s_{3-\varphi}s_{2}c_{3-\varphi}^{2}c_{4}\rho_{D_{3}}+c_{\varphi}^{2}s_{2}c_{4}^{2}c_{2}s_{4}^{2}\rho_{D_{3}}+c_{\varphi}^{2}s_{2}c_{4}c_{2}^{2}s_{4}^{2}\rho_{D_{3}}s_{3-\varphi}+c_{\varphi}s_{2}c_{4}c_{2}s_{4}^{2}\rho_{D_{3}}s_{\varphi}c_{3-\varphi}+c_{\varphi}^{2}s_{2}^{2}c_{4}^{3}c_{3-\varphi}\rho_{D_{3}}s_{4}+c_{\varphi}^{2}s_{2}^{2}c_{4}^{2}c_{3-\varphi}\rho_{D_{3}}c_{2}s_{3-\varphi}s_{4}+c_{\varphi}s_{2}^{2}c_{4}^{2}c_{3-\varphi}^{2}\rho_{D_{3}}s_{\varphi}s_{4}+c_{\varphi}^{2}c_{2}^{2}s_{3-\varphi}s_{4}^{3}\rho_{D_{3}}c_{4}+c_{\varphi}^{2}c_{2}^{3}s_{3-\varphi}^{2}s_{4}^{3}\rho_{D_{3}}+c_{\varphi}c_{2}^{2}s_{3-\varphi}s_{4}^{3}\rho_{D_{3}}s_{\varphi}c_{3-\varphi}+c_{\varphi}^{2}c_{2}s_{3-\varphi}s_{4}^{2}s_{2}c_{3-\varphi}c_{4}^{2}\rho_{D_{3}}+c_{\varphi}^{2}c_{2}^{2}s_{3-\varphi}^{2}s_{4}^{2}s_{2}c_{3-\varphi}c_{4}\rho_{D_{3}}+c_{\varphi}c_{2}s_{3-\varphi}s_{4}^{2}s_{2}c_{3-\varphi}^{2}c_{4}\rho_{D_{3}}s_{\varphi}+s_{\varphi}c_{3-\varphi}c_{2}s_{4}^{2}\rho_{D_{3}}c_{\varphi}c_{4}+s_{\varphi}c_{3-\varphi}s_{4}^{3}c_{2}^{2}\rho_{D_{3}}c_{\varphi}s_{3-\varphi}+s_{\varphi}^{2}c_{3-\varphi}^{2}c_{2}s_{4}^{2}\rho_{D_{3}}+s_{\varphi}c_{3-\varphi}^{2}s_{2}c_{4}^{2}\rho_{D_{3}}c_{\varphi}s_{4}^{2}+s_{\varphi}c_{3-\varphi}^{2}s_{4}^{2}s_{2}c_{4}\rho_{D_{3}}c_{\varphi}c_{2}s_{3-\varphi}+s_{\varphi}^{2}c_{3-\varphi}^{3}s_{4}^{2}s_{2}c_{4}\rho_{D_{3}}-c_{\varphi}^{2}c_{2}^{2}c_{3-\varphi}^{2}\rho_{D_{3}}+c_{\varphi}c_{2}c_{3-\varphi}s_{3-\varphi}s_{\varphi}\rho_{D_{3}}+s_{3-\varphi}s_{4}c_{\varphi}c_{2}c_{3-\varphi}\rho_{D_{3}}-s_{3-\varphi}^{2}s_{\varphi}^{2}\rho_{D_{3}}+c_{4}^{2}c_{\varphi}^{2}s_{2}^{2}\rho_{D_{3}}s_{4}-\rho_{D_{3}}c_{4}^{4}c_{\varphi}^{2}s_{2}c_{2}s_{3-\varphi}-\rho_{D_{3}}c_{4}^{4}c_{\varphi}s_{2}s_{\varphi}c_{3-\varphi}-\rho_{D_{3}}c_{4}^{4}c_{\varphi}s_{2}s_{\varphi}c_{3-\varphi}+\rho_{D_{3}}c_{\varphi}^{2}c_{4}c_{2}s_{3-\varphi}s_{4}^{2}s_{2}-\rho_{D_{3}}c_{\varphi}^{2}c_{4}^{3}c_{2}^{2}s_{3-\varphi}^{2}s_{4}-\rho_{D_{3}}c_{\varphi}c_{4}^{3}c_{2}s_{3-\varphi}s_{4}s_{\varphi}c_{3-\varphi}+\rho_{D_{3}}s_{\varphi}c_{3-\varphi}s_{4}^{2}c_{4}-\rho_{D_{3}}s_{\varphi}c_{3-\varphi}s_{4}c_{4}^{3}c_{\varphi}c_{2}s_{3-\varphi}-\rho_{D_{3}}s_{\varphi}^{2}c_{3-\varphi}^{2}s_{4}c_{4}^{3}+\rho_{D_{3}}c_{\varphi}^{2}s_{4}^{3}c_{4}^{2}s_{2}+\rho_{D_{3}}c_{\varphi}^{2}s_{4}c_{4}c_{2}s_{3-\varphi}+\rho_{D_{3}}c_{\varphi}s_{4}^{4}c_{4}s_{\varphi}c_{3-\varphi}+\rho_{D_{3}}c_{\varphi}^{2}c_{2}s_{3-\varphi}s_{2}s_{4}^{3}c_{4}+\rho_{D_{3}}c_{\varphi}^{2}c_{2}^{2}s_{3-\varphi}^{2}s_{4}^{4}+\rho_{D_{3}}c_{\varphi}c_{2}s_{3-\varphi}s_{4}^{4}s_{\varphi}c_{3-\varphi}+\rho_{D_{3}}s_{4}^{3}s_{\varphi}c_{3-\varphi}c_{\varphi}s_{2}c_{4}+\rho_{D_{3}}s_{4}^{4}s_{\varphi}c_{3-\varphi}c_{\varphi}c_{2}s_{3-\varphi}+\rho_{D_{3}}s_{4}^{4}s_{\varphi}^{2}c_{3-\varphi}^{2}-c_{\varphi}^{2}c_{2}^{2}c_{3-\varphi}^{2}\rho_{D_{3}}{+c}_{\varphi}c_{2}c_{3-\varphi}\rho_{D_{3}}s_{\varphi}s_{3-\varphi}+s_{3-\varphi}s_{\varphi}\rho_{D_{3}}c_{\varphi}c_{2}c_{3-\varphi}-s_{3-\varphi}^{2}s_{\varphi}^{2}\rho_{D_{3}} \right]$$
(65)
$$z_{12}=-m_{C}\left[-rc_{\varphi}s_{2}\rho_{C_{3}}c_{2}-\rho_{C_{3}}c_{\varphi}s_{2}c_{2}-rs_{2}c_{\varphi}c_{2}\rho_{C_{3}}+rs_{2}\rho_{C_{3}}c_{\varphi}c_{2} \right]-m_{D}\left[-\left(l_{CB}+l_{C_{3}} \right)c_{2}s_{2}c_{\varphi}+l_{C_{2}}s_{\varphi}s_{2}-c_{\varphi}s_{2}s_{4}^{2}\rho_{D_{3}}c_{3-\varphi}c_{2}c_{4}+c_{\varphi}s_{2}^{2}s_{4}^{3}s_{3-\varphi}\rho_{D_{3}}c_{3-\varphi}+c_{\varphi}^{2}c_{2}s_{3-\varphi}c_{4}^{2}\rho_{D_{3}}c_{3-\varphi}s_{4}-c_{\varphi}c_{2}s_{3-\varphi}^{2}c_{4}s_{2}s_{4}^{2}\rho_{D_{3}}c_{3-\varphi}+c_{3-\varphi}c_{4}^{3}c_{2}\rho_{D_{3}}c_{\varphi}s_{2}+c_{3-\varphi}c_{4}^{2}c_{2}^{2}\rho_{D_{3}}c_{\varphi}s_{3-\varphi}s_{4}+c_{3-\varphi}^{2}c_{4}^{2}\rho_{D_{3}}s_{\varphi}s_{4}c_{2}-c_{3-\varphi}c_{4}^{2}s_{2}^{2}s_{3-\varphi}s_{4}\rho_{D_{3}}c_{\varphi}-c_{3-\varphi}c_{4}s_{2}s_{3-\varphi}^{2}s_{4}^{2}\rho_{D_{3}}c_{\varphi}c_{2}-c_{3-\varphi}^{2}c_{4}s_{2}s_{3-\varphi}s_{4}^{2}\rho_{D_{3}}s_{\varphi}+s_{\varphi}c_{3-\varphi}^{2}c_{4}^{2}\rho_{D_{3}}s_{4}c_{2}-s_{\varphi}c_{3-\varphi}^{2}c_{4}s_{2}s_{3-\varphi}s_{4}^{2}\rho_{D_{3}}-c_{\varphi}c_{2}c_{3-\varphi}^{3}s_{2}\rho_{D_{3}}c_{4}-s_{3-\varphi}\rho_{D_{3}}s_{2}^{2}c_{3-\varphi}c_{\varphi}s_{4}+s_{3-\varphi}^{2}s_{2}c_{3-\varphi}\rho_{D_{3}}c_{\varphi}c_{2}c_{4}+s_{3-\varphi}s_{2}c_{3-\varphi}^{2}s_{\varphi}c_{4}\rho_{D_{3}}+s_{\varphi}s_{3-\varphi}s_{2}c_{3-\varphi}^{2}\rho_{D_{3}}c_{4}-c_{\varphi}s_{2}c_{4}c_{2}s_{4}^{2}\rho_{D_{3}}c_{3-\varphi}-c_{\varphi}s_{2}^{2}c_{4}^{2}c_{3-\varphi}^{2}\rho_{D_{3}}s_{4}+c_{\varphi}c_{2}^{2}s_{3-\varphi}s_{4}^{3}\rho_{D_{3}}c_{3-\varphi}-c_{\varphi}c_{2}s_{3-\varphi}s_{4}^{2}s_{2}c_{3-\varphi}^{2}c_{4}\rho_{D_{3}}-c_{3-\varphi}s_{4}^{3}c_{2}\rho_{D_{3}}c_{\varphi}c_{4}-c_{3-\varphi}s_{4}^{3}c_{2}^{2}\rho_{D_{3}}c_{\varphi}s_{3-\varphi}-c_{3-\varphi}^{2}s_{4}^{3}c_{2}\rho_{D_{3}}s_{\varphi}-c_{3-\varphi}^{2}s_{4}^{2}s_{2}c_{4}^{2}\rho_{D_{3}}c_{\varphi}-c_{3-\varphi}^{2}s_{4}^{2}s_{2}c_{4}\rho_{D_{3}}c_{\varphi}c_{2}s_{3-\varphi}-c_{3-\varphi}^{3}s_{4}^{2}s_{2}c_{4}\rho_{D_{3}}s_{\varphi}-s_{\varphi}c_{3-\varphi}^{2}s_{4}^{3}c_{2}\rho_{D_{3}}-s_{\varphi}c_{3-\varphi}^{3}s_{4}^{2}s_{2}c_{4}\rho_{D_{3}}-2c_{\varphi}c_{2}^{2}c_{3-\varphi}s_{3-\varphi}\rho_{D_{3}}s_{4}-2c_{\varphi}c_{2}c_{3-\varphi}^{2}s_{3-\varphi}\rho_{D_{3}}s_{2}c_{4}+s_{3-\varphi}^{2}s_{\varphi}\rho_{D_{3}}c_{2}s_{4}+s_{3-\varphi}^{2}s_{\varphi}\rho_{D_{3}}s_{2}c_{3-\varphi}c_{4}+s_{3-\varphi}^{2}s_{\varphi}c_{2}s_{4}\rho_{D_{3}}+s_{2}c_{3-\varphi}c_{4}s_{3-\varphi}^{2}s_{\varphi}\rho_{D_{3}}+\rho_{D_{3}}c_{4}^{4}c_{\varphi}s_{2}c_{3-\varphi}+\rho_{D_{3}}c_{\varphi}c_{4}^{3}c_{2}s_{3-\varphi}s_{4}c_{3-\varphi}-\rho_{D_{3}}c_{3-\varphi}s_{4}^{2}c_{4}c_{\varphi}c_{4}s_{2}+\rho_{D_{3}}c_{3-\varphi}s_{4}c_{\varphi}c_{2}s_{3-\varphi}c_{4}^{3}+\rho_{D_{3}}c_{3-\varphi}^{2}s_{4}s_{\varphi}c_{4}^{3}+\rho_{D_{3}}s_{\varphi}c_{3-\varphi}^{2}s_{4}c_{4}^{3}-\rho_{D_{3}}c_{\varphi}s_{4}^{4}c_{4}c_{3-\varphi}-\rho_{D_{3}}c_{\varphi}c_{2}s_{3-\varphi}s_{4}^{4}c_{3-\varphi}-\rho_{D_{3}}c_{3-\varphi}s_{4}^{3}c_{\varphi}s_{2}c_{4}-\rho_{D_{3}}c_{3-\varphi}s_{4}^{4}c_{\varphi}c_{2}s_{3-\varphi}-\rho_{D_{3}}s_{4}^{4}s_{\varphi}c_{3-\varphi}^{2}-c_{\varphi}c_{2}c_{3-\varphi}\rho_{D_{3}}s_{3-\varphi}s_{4}-s_{3-\varphi}s_{4}\rho_{D_{3}}c_{\varphi}c_{2}c_{3-\varphi}+s_{3-\varphi}^{2}\rho_{D_{3}}s_{\varphi}s_{4}+s_{4}s_{3-\varphi}^{2}s_{\varphi}\rho_{D_{3}}+\frac{1}{2}l_{C_{2}}\left(l_{CB}+l_{C_{3}} \right)s_{\varphi}s_{2}c_{\varphi}-\rho_{D_{3}}c_{3-\varphi}^{2}s_{4}^{4}s_{\varphi}+\left(s_{3-\varphi}s_{4} \right)\left(c_{\varphi}s_{2}c_{4}^{2}\rho_{D_{3}}c_{3-\varphi}+c_{\varphi}c_{2}s_{3-\varphi}s_{4}\rho_{D_{3}}c_{3-\varphi}c_{4}-c_{3-\varphi}s_{4}^{2}\rho_{D_{3}}c_{\varphi}s_{2}+c_{3-\varphi}s_{4}\rho_{D_{3}}c_{\varphi}c_{2}s_{3-\varphi}c_{4}+c_{3-\varphi}^{2}s_{4}\rho_{D_{3}}s_{\varphi}c_{4}+s_{\varphi}c_{3-\varphi}^{2}s_{4}\rho_{D_{3}}c_{4} \right)+c_{3-\varphi}\left(c_{\varphi}s_{2}s_{4}s_{3-\varphi}\rho_{D_{3}}-c_{\varphi}c_{2}s_{3-\varphi}^{2}c_{4}\rho_{D_{3}}+c_{3-\varphi}^{2}c_{4}c_{\varphi}c_{2}\rho_{D_{3}}-c_{3-\varphi}c_{4}s_{\varphi}s_{3-\varphi}\rho_{D_{3}}-s_{\varphi}c_{3-\varphi}c_{4}s_{3-\varphi}\rho_{D_{3}}\right)-s_{3-\varphi}c_{4}\rho_{D_{3}}\left(\rho_{D_{3}}c_{\varphi}s_{4}^{2}c_{4}c_{3-\varphi}-\rho_{D_{3}}c_{\varphi}c_{2}s_{3-\varphi}s_{4}^{2}c_{3-\varphi}-\rho_{D_{3}}c_{3-\varphi}s_{4}c_{\varphi}s_{2}c_{4}-\rho_{D_{3}}c_{3-\varphi}s_{4}^{2}c_{\varphi}c_{2}s_{3-\varphi}-\rho_{D_{3}}c_{3-\varphi}^{2}s_{4}^{2}s_{\varphi}-\rho_{D_{3}}s_{\varphi}c_{3-\varphi}^{2}s_{4}^{2}-c_{\varphi}c_{2}c_{3-\varphi}\rho_{D_{3}}s_{3-\varphi}-s_{3-\varphi}\rho_{D_{3}}c_{\varphi}c_{2}c_{3-\varphi}+s_{3-\varphi}^{2}\rho_{D_{3}}s_{\varphi}+s_{3-\varphi}s_{\varphi}\rho_{D_{3}} \right)+\frac{1}{2}l_{C_{2}}c_{\varphi}s_{2}\left[\left(-c_{3-\varphi}s_{4} \right)\left(c_{\varphi}s_{2}c_{4}^{2}\rho_{D_{3}}c_{3-\varphi}+c_{\varphi}c_{2}s_{3-\varphi}s_{4}\rho_{D_{3}}c_{3-\varphi}c_{4}-c_{3-\varphi}s_{4}^{2}\rho_{D_{3}}c_{\varphi}s_{2}+c_{3-\varphi}s_{4}\rho_{D_{3}}c_{\varphi}c_{2}s_{3-\varphi}c_{4}+c_{3-\varphi}^{2}s_{4}\rho_{D_{3}}s_{\varphi}c_{4}+s_{\varphi}c_{3-\varphi}^{2}s_{4}\rho_{D_{3}}c_{4} \right)+s_{3-\varphi}\left(c_{\varphi}s_{2}s_{4}s_{3-\varphi}\rho_{D_{3}}-c_{\varphi}c_{2}s_{3-\varphi}^{2}c_{4}\rho_{D_{3}}+c_{3-\varphi}^{2}c_{4}c_{\varphi}c_{2}\rho_{D_{3}}-c_{3-\varphi}c_{4}s_{\varphi}s_{3-\varphi}\rho_{D_{3}}-s_{\varphi}c_{3-\varphi}c_{4}s_{3-\varphi}\rho_{D_{3}}\right)+c_{3-\varphi}c_{4}\left(\rho_{D_{3}}c_{\varphi}s_{4}^{2}c_{4}c_{3-\varphi}-\rho_{D_{3}}c_{\varphi}c_{2}s_{3-\varphi}s_{4}^{2}c_{3-\varphi}-\rho_{D_{3}}c_{3-\varphi}s_{4}c_{\varphi}s_{2}c_{4}-\rho_{D_{3}}c_{3-\varphi}s_{4}^{2}c_{\varphi}c_{2}s_{3-\varphi}-\rho_{D_{3}}c_{3-\varphi}^{2}s_{4}^{2}s_{\varphi}-\rho_{D_{3}}s_{\varphi}c_{3-\varphi}^{2}s_{4}^{2}-c_{\varphi}c_{2}c_{3-\varphi}\rho_{D_{3}}s_{3-\varphi}-s_{3-\varphi}\rho_{D_{3}}c_{\varphi}c_{2}c_{3-\varphi}+s_{3-\varphi}^{2}\rho_{D_{3}}s_{\varphi}+s_{3-\varphi}s_{\varphi}\rho_{D_{3}} \right) \right]-I_{D}^{\ast}\left[c_{\varphi}^{2}c_{4}^{2}c_{2}s_{2}+c_{\varphi}^{2}c_{2}^{2}c_{4}s_{3-\varphi}s_{4}+s_{\varphi}c_{3-\varphi}s_{4}c_{\varphi}c_{2}c_{4}+s_{\varphi}c_{3-\varphi}s_{4}c_{\varphi}c_{2}c_{4}-c_{\varphi}^{2}s_{2}^{2}c_{4}s_{3-\varphi}s_{3}-c_{\varphi}^{2}c_{2}s_{{3-\varphi}^{2}}s_{2}s_{3}-s_{\varphi}c_{3-\varphi}s_{4}c_{\varphi}s_{2}s_{3-\varphi\varphi}s_{3}-c_{\varphi}s_{2}s_{3-\varphi}s_{3}s_{\varphi}c_{3-\varphi}s_{4}-c_{\varphi}^{2}c_{2}s_{2}c_{3-\varphi}^{2}+s_{\varphi}s_{3-\varphi}c_{\varphi}s_{2}c_{3-\varphi}+c_{\varphi}^{2}c_{2}s_{2}s_{4}^{2}-c_{\varphi}^{2}c_{2}^{2}s_{4}c_{2}s_{3-\varphi}c_{4}-s_{\varphi}c_{3-\varphi}c_{4}c_{\varphi}c_{2}s_{4}+c_{\varphi}^{2}s_{2}^{2}s_{4}c_{4}s_{3-\varphi}-c_{\varphi}^{2}c_{2}s_{2}s_{3-\varphi}c_{4}^{2}-s_{\varphi}c_{\varphi}c_{3-\varphi}s_{2}s_{3-\varphi}c_{4}^{2} \right] \right]$$
(66)
$$z_{13}=-m_{D21}\left[c_{\varphi}s_{2}s_{4}c_{2}\rho_{D_{3}}c_{4}^{2}-c_{\varphi}s_{2}^{2}s_{4}^{2}s_{3-\varphi}\rho_{D_{3}}c_{4}-c_{\varphi}c_{2}^{2}s_{3-\varphi}c_{4}^{3}\rho_{D_{3}}+c_{\varphi}c_{2}s_{3-\varphi}^{2}c_{4}^{2}s_{2}s_{4}\rho_{D_{3}}-c_{3-\varphi}c_{4}s_{2}s_{3-\varphi}s_{4}\rho_{D_{3}}c_{4}-s_{\varphi}c_{3-\varphi}c_{4}^{3}c_{2}\rho_{D_{3}}+s_{\varphi}c_{3-\varphi}c_{4}^{2}s_{2}s_{3-\varphi}s_{4}\rho_{D_{3}}+s_{4}c_{2}c_{4}^{2}\rho_{D_{3}}c_{\varphi}s_{2}+s_{4}^{2}\rho_{D_{3}}s_{\varphi}c_{3-\varphi}c_{2}c_{4}-s_{4}^{2}s_{2}^{2}s_{3-\varphi}\rho_{D_{3}}c_{\varphi}c_{4}-s_{4}^{3}s_{2}s_{3-\varphi}\rho_{D_{3}}s_{\varphi}c_{3-\varphi}-c_{\varphi}c_{2}c_{3-\varphi}^{2}s_{2}s_{4}\rho_{D_{3}}+s_{\varphi}s_{3-\varphi}s_{2}c_{3-\varphi}s_{4}\rho_{D_{3}}+c_{\varphi}s_{2}c_{4}c_{2}s_{4}\rho_{D_{3}}c_{4}+c_{\varphi}s_{2}^{2}c_{4}^{3}c_{3-\varphi}\rho_{D_{3}}+c_{\varphi}c_{2}^{2}s_{3-\varphi}s_{4}^{2}\rho_{D_{3}}c_{4}+c_{\varphi}c_{2}s_{3-\varphi}s_{4}s_{2}c_{3-\varphi}c_{4}^{2}\rho_{D_{3}}+s_{\varphi}c_{3-\varphi}c_{2}s_{4}\rho_{D_{3}}c_{4}+s_{\varphi}c_{3-\varphi}^{2}s_{4}s_{2}c_{4}^{2}\rho_{D_{3}}+c_{4}^{2}c_{2}s_{4}^{2}\rho_{D_{3}}c_{\varphi}+c_{4}c_{2}^{2}\rho_{D_{3}}c_{\varphi}s_{3-\varphi}+c_{4}c_{2}s_{4}^{2}\rho_{D_{3}}s_{\varphi}c_{3-\varphi}+c_{4}^{3}s_{2}c_{3-\varphi}\rho_{D_{3}}c_{\varphi}s_{4}+c_{4}^{2}s_{2}c_{3-\varphi}\rho_{D_{3}}c_{\varphi}c_{2}s_{3-\varphi}s_{4}+c_{4}s_{2}c_{3-\varphi}^{2}c_{4}\rho_{D_{3}}s_{\varphi}s_{4}+\rho_{D_{3}}c_{4}^{2}c_{\varphi}s_{2}s_{4}+\rho_{D_{3}}c_{\varphi}c_{4}^{2}c_{2}s_{3-\varphi}s_{4}^{2}+\rho_{D_{3}}s_{\varphi}c_{3-\varphi}s_{4}^{2}c_{4}^{2}+\rho_{D_{3}}c_{4}^{3}c_{\varphi}s_{2}s_{4}-\rho_{D_{3}}c_{4}^{4}c_{\varphi}c_{2}s_{3-\varphi}-\rho_{D_{3}}c_{4}^{4}s_{\varphi}c_{3-\varphi}+\rho_{D_{3}}c_{\varphi}s_{4}^{3}c_{4}^{2}+\rho_{D_{3}}c_{\varphi}c_{2}s_{3-\varphi}s_{4}^{3}c_{4}+\rho_{D_{3}}s_{4}^{3}s_{\varphi}c_{3-\varphi}c_{4}+\rho_{D_{3}}c_{4}^{2}s_{4}^{2}c_{\varphi}s_{2}+\rho_{D_{3}}c_{4}s_{4}^{3}c_{\varphi}c_{2}s_{3-\varphi}+\rho_{D_{3}}s_{4}^{3}c_{4}s_{\varphi}c_{3-\varphi}+\rho_{D_{3}}c_{4}s_{4}^{2}c_{2}^{2}+s_{3-\varphi}s_{4}\left(c_{\varphi}s_{2}c_{4}\rho_{D_{3}}s_{4}+c_{\varphi}c_{2}s_{3-\varphi}s_{4}^{2}\rho_{D_{3}}+s_{\varphi}c_{3-\varphi}s_{4}^{2}\rho_{D_{3}}+c_{4}\rho_{D_{3}}c_{\varphi}s_{2}s_{4}-c_{4}^{2}\rho_{D_{3}}c_{\varphi}c_{2}s_{3-\varphi}-c_{4}^{2}\rho_{D_{3}}s_{\varphi}c_{3-\varphi} \right)+c_{3-\varphi}\left(s_{4}c_{\varphi}c_{2}c_{3-\varphi}\rho_{D_{3}}-s_{\varphi}s_{3-\varphi}\rho_{D_{3}}s_{4} \right)-s_{3-\varphi}c_{4}\rho_{D_{3}}\left(c_{4}^{2}\rho_{D_{3}}c_{\varphi}s_{4}+c_{4}\rho_{D_{3}}c_{\varphi}c_{2}s_{3-\varphi}s_{4}+c_{4}\rho_{D_{3}}s_{\varphi}c_{3-\varphi}s_{4}+\rho_{D_{3}}c_{4}^{2}c_{\varphi}s_{2}+\rho_{D_{3}}c_{4}s_{\varphi}c_{3-\varphi}s_{4} \right)+\frac{1}{2}l_{C_{2}}c_{\varphi}s_{2}\left[\left(-c_{3-\varphi}s_{4} \right)\left(c_{\varphi}s_{2}c_{4}\rho_{D_{3}}s_{4}+c_{\varphi}c_{2}s_{3-\varphi}s_{4}^{2}\rho_{D_{3}}+s_{\varphi}c_{3-\varphi}s_{4}^{2}\rho_{D_{3}}+c_{4}\rho_{D_{3}}c_{\varphi}s_{2}s_{4}-c_{4}^{2}\rho_{D_{3}}c_{\varphi}c_{2}s_{3-\varphi}-c_{4}^{2}\rho_{D_{3}}s_{\varphi}c_{3-\varphi} \right)+s_{3-\varphi}\left(s_{4}c_{\varphi}c_{2}c_{3-\varphi}\rho_{D_{3}}-s_{\varphi}s_{3-\varphi}\rho_{D_{3}}s_{4} \right)+c_{3-\varphi}c_{4}\left(c_{4}^{2}\rho_{D_{3}}c_{\varphi}s_{4}+c_{4}\rho_{D_{3}}c_{\varphi}c_{2}s_{3-\varphi}s_{4}+c_{4}\rho_{D_{3}}s_{\varphi}c_{3-\varphi}s_{4}+\rho_{D_{3}}c_{4}^{2}c_{\varphi}s_{2}+\rho_{D_{3}}c_{4}s_{\varphi}c_{3-\varphi}s_{4} \right) \right] \right]-I_{D}^{\ast}\left[\left(c_{\varphi}s_{2}c_{4}+c_{\varphi}c_{2}s_{3-\varphi}s_{4}+s_{\varphi}c_{3-\varphi}s_{4}+s_{\varphi}c_{3-\varphi}s_{4} \right)\left(c_{\varphi}c_{2}c_{3-\varphi}s_{4}-s_{\varphi}s_{3-\varphi}s_{4} \right)+\left(c_{\varphi}c_{2}c_{3-\varphi}-s_{\varphi}s_{3-\varphi} \right)\left(-c_{\varphi}c_{2}s_{3-\varphi}-s_{\varphi}c_{3-\varphi} \right)+\left(c_{\varphi}s_{2}s_{4}-c_{\varphi}c_{2}s_{3-\varphi}c_{4}-s_{\varphi}c_{3-\varphi}c_{4} \right)\left(-c_{\varphi}c_{2}c_{3-\varphi}c_{4}+s_{\varphi}s_{3-\varphi}c_{4} \right) \right]$$
(67)
$$\begin{aligned} z_{14} & = - m_{D} \left[ { - \rho_{{D_{3} }} s_{2} c_{3 - \varphi } c_{\varphi } s_{2} s_{4} + s_{2} c_{3 - \varphi } \rho_{{D_{3} }} c_{\varphi } c_{2} s_{3 - \varphi } c_{4} + s_{2} c_{3 - \varphi }^{2} s_{\varphi } c_{4} \rho_{{D_{3} }} } \right. \\ & \quad + 2s_{3 - \varphi } s_{\varphi } \rho_{{D_{3} }} \left( {c_{2} s_{4} + s_{2} c_{3 - \varphi } c_{4} } \right) - s_{4} c_{\varphi } c_{2} c_{3 - \varphi } \rho_{{D_{3} }} - s_{4} \rho_{{D_{3} }} c_{\varphi } c_{2} + s_{4} \rho_{{D_{3} }} s_{\varphi } s_{3 - \varphi } \\ & \quad + c_{3 - \varphi } \left( {c_{\varphi } s_{2} s_{4} \rho_{{D_{3} }} - \rho_{{D_{3} }} c_{\varphi } c_{2} s_{3 - \varphi } c_{4} - s_{\varphi } c_{3 - \varphi } c_{4} \rho_{{D_{3} }} 22} \right) \\ & \quad - s_{3 - \varphi } c_{4} \rho_{{D_{3} }} \left( {\rho_{{D_{3} }} s_{3 - \varphi } s_{\varphi } - \rho_{{D_{3} }} c_{\varphi } c_{2} c_{3 - \varphi } - \rho_{{D_{3} }} s_{\varphi } s_{3 - \varphi } } \right) \\ & \quad + \frac{1}{2}l_{{C_{2} }} c_{\varphi } s_{2} \left[ {s_{3 - \varphi } \left( {c_{\varphi } s_{2} s_{4} \rho_{{D_{3} }} - \rho_{{D_{3} }} c_{\varphi } c_{2} s_{3 - \varphi } c_{4} - s_{\varphi } c_{3 - \varphi } c_{4} \rho_{{D_{3} }} } \right)} \right. \\ & \quad \left. {\left. { + c_{3 - \varphi } c_{4} \left( {\rho_{{D_{3} }} s_{3 - \varphi } s_{\varphi } - \rho_{{D_{3} }} c_{\varphi } c_{2} c_{3 - \varphi } - \rho_{{D_{3} }} s_{\varphi } s_{3 - \varphi } } \right)} \right]} \right] \\ & \quad - I_{D}^{ * } \left[ {\left( {c_{\varphi } s_{2} c_{4} + c_{\varphi } c_{2} s_{3 - \varphi } s_{4} + s_{\varphi } c_{3 - \varphi } s_{4} + s_{\varphi } c_{3 - \varphi } s_{4} } \right)\left( { - c_{\varphi } s_{2} s_{4} + c_{\varphi } c_{2} s_{3 - \varphi } c_{4} + s_{\varphi } c_{3 - \varphi } c_{4} } \right)} \right. \\ & \quad \left. { + \left( {c_{\varphi } s_{2} s_{4} - c_{\varphi } c_{2} s_{3 - \varphi } c_{4} - s_{\varphi } c_{3 - \varphi } c_{4} } \right)\left( {c_{\varphi } s_{2} c_{4} + c_{\varphi } c_{2} s_{3 - \varphi } s_{4} + s_{\varphi } c_{3 - \varphi } s_{4} } \right)} \right] \\ \end{aligned}$$
(68)
$$\begin{aligned} z_{15} & = - m_{D} \left[ {\frac{1}{2}l_{{C_{2} }} s_{2} - c_{3 - \varphi }^{2} c_{4}^{2} \rho_{{D_{3} }} s_{4} c_{2} + c_{3 - \varphi }^{2} c_{4} s_{2} s_{3 - \varphi } s_{4}^{2} \rho_{{D_{3} }} } \right. \\ & \quad - s_{3 - \varphi } s_{2} c_{3 - \varphi }^{2} \rho_{{D_{3} }} c_{4} + c_{3 - \varphi }^{3} s_{4}^{2} s_{2} c_{4} \rho_{{D_{3} }} - s_{3 - \varphi }^{2} \rho_{{D_{3} }} \left( {c_{2} s_{4} + s_{2} c_{3 - \varphi } c_{4} } \right) \\ & \quad - \rho_{{D_{3} }} c_{3 - \varphi }^{2} s_{4} c_{4}^{3} + \rho_{{D_{3} }} c_{3 - \varphi }^{2} s_{4}^{4} - s_{3 - \varphi }^{2} \rho_{{D_{3} }} s_{4} + l_{{C_{2} }} \left( {l_{CB} + l_{{C_{3} }} } \right)s_{2} c_{\varphi } \\ & \quad - s_{3 - \varphi } s_{{4^{2} }} c_{3 - \varphi }^{2} \rho_{{D_{3} }} c_{4} + c_{3 - \varphi }^{2} s_{3 - \varphi } \rho_{{D_{3} }} c_{4} - s_{3 - \varphi } c_{4} \rho_{{D_{3} }} \left( {\rho_{{D_{3} }} c_{3 - \varphi }^{2} s_{4}^{2} - s_{3 - \varphi }^{2} \rho_{{D_{3} }} } \right) \\ & \quad \left. { + \frac{1}{2}l_{{C_{2} }} c_{\varphi } s_{2} \left[ {c_{3 - \varphi }^{3} s_{4}^{2} \rho_{{D_{3} }} c_{4} + c_{3 - \varphi } s_{3 - \varphi }^{2} \rho_{{D_{3} }} c_{4} + c_{3 - \varphi } c_{4} \left( {\rho_{{D_{3} }} c_{3 - \varphi }^{2} s_{4}^{2} - s_{3 - \varphi }^{2} \rho_{{D_{3} }} } \right)} \right]} \right] \\ \end{aligned}$$
(69)
$$\begin{aligned} z_{16} & = - m_{D} \left[ {c_{3 - \varphi } c_{4}^{4} c_{2} \rho_{{D_{3} }} - s_{4}^{2} \rho_{{D_{3} }} c_{3 - \varphi } c_{2} c_{4} + s_{4}^{3} s_{2} s_{3 - \varphi } \rho_{{D_{3} }} c_{3 - \varphi } } \right. \\ & \quad - s_{3 - \varphi } s_{2} c_{3 - \varphi } s_{4} \rho_{{D_{3} }} - \rho_{{D_{3} }} c_{3 - \varphi } s_{4}^{3} c_{2} c_{4} - \rho_{{D_{3} }} c_{3 - \varphi }^{2} s_{4} s_{2} c_{4}^{2} \\ & \quad - c_{4} c_{2} s_{4}^{2} \rho_{{D_{3} }} c_{3 - \varphi } - c_{4}^{2} s_{2} c_{3 - \varphi }^{2} \rho_{{D_{3} }} s_{4} - \rho_{{D_{3} }} c_{3 - \varphi } s_{4}^{2} c_{4}^{2} + \rho_{{D_{3} }} c_{4}^{4} c_{3 - \varphi } \\ & \quad - \rho_{{D_{3} }} c_{3 - \varphi } s_{4}^{3} c_{4} - \rho_{{D_{3} }} c_{4} s_{4}^{3} c_{3 - \varphi } + s_{3 - \varphi } s_{4} \left( {c_{4}^{2} \rho_{{D_{3} }} c_{3 - \varphi } - s_{4}^{2} c_{3 - \varphi } \rho_{{D_{3} }} } \right) \\ & \quad + s_{3 - \varphi } c_{3 - \varphi } s_{4} \rho_{{D_{3} }} - \rho_{{D_{3} }} s_{3 - \varphi } c_{4} \left( {\rho_{{D_{3} }} c_{3 - \varphi } s_{4} c_{4} + \rho_{{D_{3} }} c_{4} c_{3 - \varphi } s_{4} } \right) \\ & \quad + \frac{1}{2}l_{{C_{2} }} c_{\varphi } s_{2} \left[ { - c_{3 - \varphi } s_{4} \left( {c_{4}^{2} \rho_{{D_{3} }} c_{3 - \varphi } - s_{4}^{2} c_{3 - \varphi } \rho_{{D_{3} }} } \right) + s_{3 - \varphi }^{2} s_{4} \rho_{{D_{3} }} + c_{3 - \varphi } c_{4} \left( {\rho_{{D_{3} }} c_{3 - \varphi } s_{4} c_{4} + \rho_{{D_{3} }} c_{4} c_{3 - \varphi } s_{4} } \right)} \right] \\ & \quad - I_{D}^{ * } \left[ {s_{3 - \varphi } s_{4} \left( {c_{\varphi } s_{2} c_{4} + c_{\varphi } c_{2} s_{3 - \varphi } s_{4} + s_{\varphi } c_{3 - \varphi } s_{4} + s_{\varphi } c_{3 - \varphi } s_{4} } \right) + c_{\varphi } c_{3 - \varphi } \left( {c_{\varphi } c_{2} c_{3 - \varphi } - s_{\varphi } s_{3 - \varphi } } \right)} \right. \\ & \quad \left. {\left. { - s_{3 - \varphi } c_{4} \left( {c_{\varphi } s_{2} s_{4} - c_{\varphi } c_{2} s_{3 - \varphi } c_{4} - s_{\varphi } c_{3 - \varphi } c_{4} } \right)} \right]} \right] \\ \end{aligned}$$
(70)
$$\begin{aligned} z_{17} & = - m_{D} \left[ { - s_{2} c_{3 - \varphi }^{2} \rho_{{D_{3} }} c_{4} - 2s_{3 - \varphi } \rho_{{D_{3} }} \left( {c_{2} s_{4} + s_{2} c_{3 - \varphi } c_{4} } \right)} \right. \\ & \quad - 2s_{3 - \varphi } \rho_{{D_{3} }} s_{4} + \rho_{{D_{3} }} c_{3 - \varphi }^{2} c_{4} + \rho_{{D_{3} }}^{3} s_{3 - \varphi }^{2} c_{4} \\ & \quad + \frac{1}{2}l_{{C_{2} }} c_{\varphi } s_{2} \left[ {s_{3 - \varphi } c_{3 - \varphi } c_{4} \rho_{{D_{3} }} + 2c_{3 - \varphi } c_{4} s_{3 - \varphi } \rho_{{D_{3} }} } \right] \\ & \quad - I_{D}^{ * } \left[ { - c_{3 - \varphi } c_{4} \left( {c_{\varphi } s_{2} c_{4} + c_{\varphi } c_{2} s_{3 - \varphi } s_{4} + s_{\varphi } c_{3 - \varphi } s_{4} + s_{\varphi } c_{3 - \varphi } s_{4} } \right)} \right. \\ & \quad \left. {\left. { - c_{3 - \varphi } s_{4} \left( {c_{\varphi } s_{2} s_{4} - c_{\varphi } c_{2} s_{3 - \varphi } c_{4} - s_{\varphi } c_{3 - \varphi } c_{4} } \right)} \right]} \right] \\ \end{aligned}$$
(71)
$$\begin{aligned} z_{18} = - m_{D} \left[ {\rho_{{D_{3} }} s_{4} c_{4}^{2} c_{2} + s_{4}^{3} s_{2} s_{3 - \varphi } \rho_{{D_{3} }} c_{4} + c_{4}^{2} c_{2} s_{4} \rho_{{D_{3} }} + c_{4}^{3} s_{2} c_{3 - \varphi } \rho_{{D_{3} }} } \right. \hfill \\ + \rho_{{D_{3} }} c_{4}^{3} s_{4} + \rho_{{D_{3} }} c_{4}^{2} s_{4}^{2} + s_{3 - \varphi } c_{4} s_{4}^{2} \rho_{{D_{3} }} - s_{3 - \varphi } c_{4}^{3} \rho_{{D_{3} }} \hfill \\ \left. { + \frac{1}{2}l_{{C_{2} }} c_{\varphi } s_{2} \left[ { - \rho_{{D_{3} }} c_{3 - \varphi } c_{4} s_{4}^{2} + \rho_{{D_{3} }} c_{3 - \varphi } c_{4}^{3} } \right]} \right] \hfill \\ \end{aligned}$$
(72)
$$\begin{aligned} z_{19} & = - m_{D} \left[ { - s_{2} c_{3 - \varphi } s_{4} \rho_{{D_{3} }} + c_{3 - \varphi } s_{4} \rho_{{D_{3} }} + \frac{1}{2}l_{{C_{2} }} c_{\varphi } s_{2} \rho_{{D_{3} }} s_{3 - \varphi } s_{4} } \right] \\ & \quad - I_{D}^{ * } \left[ { - s_{4} \left( {c_{\varphi } s_{2} c_{4} + c_{\varphi } c_{2} s_{3 - \varphi } s_{4} + s_{\varphi } c_{3 - \varphi } s_{4} + s_{\varphi } c_{3 - \varphi } s_{4} } \right) + c_{4} \left( {c_{\varphi } s_{2} s_{4} - c_{\varphi } c_{2} s_{3 - \varphi } c_{4} - s_{\varphi } c_{3 - \varphi } c_{4} } \right)} \right] \\ \end{aligned}$$
(73)
$$z_{20} = - m_{D} \left[ { - \rho_{{D_{3} }} \left( {c_{2} s_{4} + s_{2} c_{3 - \varphi } c_{4} + s_{4} + s_{3 - \varphi } c_{4} - \frac{1}{2}l_{{C_{2} }} c_{\varphi } s_{2} c_{3 - \varphi } c_{4} } \right)} \right]$$
(74)
$$z_{21}=-m_{D}\left[- \frac{1}{2}l_{{C_{2}}} rs_{\varphi} s_{2} + l_{{C_{2}}}^{2} c_{\varphi}^{2} c_{2} s_{2} - l_{{C_{2}}} \left({l_{CB} + l_{{C_{3}}}} \right)c_{\varphi} s_{2} s_{\varphi} + \frac{1}{2}l_{{C_{2}}}\left[c_{4}^{2}s_{2}^{2}c_{\varphi}^{2}\rho_{D_{3}}s_{4}-c_{4}^{3}c_{\varphi}^{2}s_{2}c_{2}s_{3-\varphi}\rho_{D_{3}}-c_{4}^{3}c_{\varphi}s_{2}s_{\varphi}c_{3-\varphi}\rho_{D_{3}}+c_{4}c_{\varphi}^{2}c_{2}s_{3-\varphi}s_{2}s_{4}^{2}\rho_{D_{3}}-c_{4}^{2}c_{\varphi}^{2}c_{2}^{2}s_{3-\varphi}^{2}s_{4}\rho_{D_{3}}-c_{4}^{2}c_{\varphi}c_{2}s_{3-\varphi}s_{4}s_{\varphi}\rho_{D_{3}}+c_{4}s_{\varphi}c_{3-\varphi}s_{4}^{2}c_{\varphi}s_{2}\rho_{D_{3}}-c_{4}^{2}s_{\varphi}c_{3-\varphi}s_{4}c_{\varphi}c_{2}s_{3-\varphi}\rho_{D_{3}}-c_{4}^{2}s_{\varphi}^{2}c_{3-\varphi}^{2}s_{4}\rho_{D_{3}}+2s_{4}^{2}c_{\varphi}^{2}c_{4}^{2}s_{2}\rho_{D_{3}}+2s_{4}^{2}\rho_{D_{3}}c_{\varphi}c_{4}s_{\varphi}c_{3-\varphi}+s_{4}^{2}c_{\varphi}^{2}c_{2}s_{3-\varphi}s_{2}c_{4}\rho_{D_{3}}+s_{4}^{3}\rho_{D_{3}}c_{\varphi}^{2}c_{2}^{2}s_{3-\varphi}^{2}+2s_{4}^{3}\rho_{D_{3}}c_{\varphi}c_{2}s_{3-\varphi}s_{\varphi}c_{3-\varphi}+s_{4}^{3}\rho_{D_{3}}s_{\varphi}^{2}c_{3-\varphi}^{2}-c_{\varphi}^{2}c_{2}^{2}c_{3-\varphi}^{2}\rho_{D_{3}}s_{4}+c_{\varphi}c_{2}c_{3-\varphi}s_{4}s_{\varphi}s_{3-\varphi}\rho_{D_{3}}+s_{3-\varphi}s_{\varphi}s_{4}c_{\varphi}c_{2}c_{3-\varphi}\rho_{D_{3}}-s_{3-\varphi}^{2}s_{\varphi}^{2}s_{4}\rho_{D_{3}} \right]+s_{3-\varphi}\rho_{D_{3}}\left[rc_{\varphi}c_{3-\varphi}s_{4}+c_{4}c_{\varphi}^{2}c_{2}\frac{1}{2}l_{C_{2}}s_{2}-\frac{1}{2}\left(l_{CB}+l_{C_{3}} \right)c_{4}c_{\varphi}s_{2}s_{\varphi}+s_{3-\varphi}s_{4}\left(-\frac{1}{2}l_{C_{2}}c_{\varphi}^{2}s_{2}^{2}-\frac{1}{2}\left(l_{CB}+l_{C_{3}} \right)s_{\varphi}c_{\varphi}c_{2}-\frac{1}{2}l_{C_{2}}s_{\varphi}^{2} \right)-c_{3-\varphi}s_{4}\left(-\frac{1}{2}\left(l_{CB}+l_{C_{3}} \right)c_{\varphi}^{2}-\frac{1}{2}l_{C_{2}}s_{\varphi}c_{\varphi}c_{2}+c_{\varphi}^{2}s_{2}^{2}c_{4}s_{4}\rho_{D_{3}}-c_{\varphi}^{2}s_{2}c_{4}^{2}\rho_{D_{3}}c_{2}s_{3-\varphi}-c_{\varphi}s_{2}c_{4}^{2}\rho_{D_{3}}s_{\varphi}c_{3-\varphi}+c_{\varphi}^{2}c_{2}s_{3-\varphi}s_{4}^{2}\rho_{D_{3}}s_{2}-c_{\varphi}^{2}c_{2}^{2}s_{3-\varphi}^{2}s_{4}\rho_{D_{3}}c_{4}-c_{\varphi}c_{2}s_{3-\varphi}s_{4}\rho_{D_{3}}s_{\varphi}c_{3-\varphi}c_{4}+s_{\varphi}c_{3-\varphi}s_{4}^{2}\rho_{D_{3}}c_{\varphi}s_{2}-s_{\varphi}c_{3-\varphi}s_{4}\rho_{D_{3}}c_{\varphi}c_{2}s_{3-\varphi}c_{4}-s_{\varphi}^{2}c_{3-\varphi}^{2}s_{4}\rho_{D_{3}}c_{4} \right) \right]+c_{3-\varphi}s_{4}\rho_{D_{3}}\left[-r\left(s_{\varphi}c_{2}c_{3-\varphi}+c_{\varphi}s_{3-\varphi} \right)-\frac{1}{2}l_{C_{2}}c_{\varphi}^{2}s_{2}^{2}c_{3-\varphi}+\frac{1}{2}\left(l_{CB}+l_{C_{3}} \right)s_{\varphi}c_{\varphi}c_{2}c_{3-\varphi}+\frac{1}{2}l_{C_{2}}s_{\varphi}^{2}c_{3-\varphi}-\frac{1}{2}\left(l_{CB}+l_{C_{3}} \right)c_{\varphi}^{2}s_{3-\varphi}-\frac{1}{2}l_{C_{2}}s_{\varphi}c_{\varphi}c_{2}s_{3-\varphi}+\rho_{D_{3}}c_{\varphi}^{2}c_{2}c_{3-\varphi}s_{2}s_{4}-\rho_{D_{3}}c_{\varphi}^{2}c_{2}^{2}c_{3-\varphi}s_{3-\varphi}c_{4}-\rho_{D_{3}}c_{\varphi}c_{2}c_{3-\varphi}^{2}s_{\varphi}c_{4}-\rho_{D_{3}}s_{\varphi}s_{3-\varphi}c_{\varphi}s_{2}s_{4}+\rho_{D_{3}}s_{\varphi}s_{3-\varphi}^{2}c_{\varphi}c_{2}c_{4}+\rho_{D_{3}}s_{\varphi}^{2}s_{3-\varphi}c_{3-\varphi}c_{4} \right] \right]$$
(75)
$$z_{22}=-m_{D}\left[\frac{1}{2}l_{C_{2}}\left[-\left(l_{CB}+l_{C_{3}} \right)c_{\varphi}s_{2}+c_{4}^{3}c_{\varphi}s_{2}\rho_{D_{3}}c_{3-\varphi}+c_{4}^{2}c_{\varphi}c_{2}s_{3-\varphi}s_{4}c_{3-\varphi}\rho_{D_{3}}-c_{4}c_{3-\varphi}s_{4}^{2}\rho_{D_{3}}c_{\varphi}s_{2}+c_{4}^{2}c_{3-\varphi}s_{4}\rho_{D_{3}}c_{\varphi}c_{2}s_{3-\varphi}+c_{4}^{2}c_{3-\varphi}^{2}s_{4}s_{\varphi}\rho_{D_{3}}+c_{4}^{2}s_{\varphi}c_{3-\varphi}^{2}s_{4}\rho_{D_{3}}-s_{4}^{3}\rho_{D_{3}}c_{\varphi}c_{4}c_{3-\varphi}-s_{4}^{3}c_{\varphi}c_{2}s_{3-\varphi}c_{3-\varphi}\rho_{D_{3}}-s_{4}^{2}\rho_{D_{3}}c_{3-\varphi}c_{\varphi}s_{2}c_{4}-s_{4}^{2}\rho_{D_{3}}c_{3-\varphi}c_{\varphi}c_{2}s_{3-\varphi}s_{4}-s_{4}^{3}\rho_{D_{3}}c_{3-\varphi}^{2}s_{\varphi}-s_{4}^{3}\rho_{D_{3}}s_{\varphi}c_{3-\varphi}^{2}-c_{\varphi}c_{2}c_{3-\varphi}\rho_{D_{3}}s_{4}s_{3-\varphi}-s_{3-\varphi}\rho_{D_{3}}s_{4}c_{\varphi}c_{2}c_{3-\varphi}+s_{3-\varphi}^{2}s_{\varphi}\rho_{D_{3}}s_{4} \right]+\rho_{D_{3}}s_{3-\varphi}\left[-\left(l_{CB}+l_{C_{3}} \right)c_{\varphi}s_{2}+l_{C_{2}}s_{\varphi}+c_{\varphi}s_{2}c_{4}^{2}\rho_{D_{3}}c_{3-\varphi}+c_{\varphi}c_{2}s_{3-\varphi}s_{4}\rho_{D_{3}}c_{3-\varphi}c_{4}-c_{3-\varphi}s_{4}^{2}\rho_{D_{3}}c_{\varphi}s_{2}+c_{3-\varphi}s_{4}\rho_{D_{3}}c_{\varphi}c_{2}s_{3-\varphi}c_{4}+c_{3-\varphi}^{2}s_{4}\rho_{D_{3}}s_{\varphi}c_{4}+s_{\varphi}c_{3-\varphi}^{2}s_{4}\rho_{D_{3}}c_{4} \right]+c_{3-\varphi}s_{4}\rho_{D_{3}}\left[c_{3-\varphi}l_{C_{2}}c_{\varphi}+\rho_{D_{3}}c_{\varphi}c_{2}c_{3-\varphi}^{2}c_{4}+\rho_{D_{3}}s_{3-\varphi}c_{\varphi}s_{2}s_{4}-\rho_{D_{3}}s_{3-\varphi}^{2}c_{\varphi}c_{2}c_{4}-{2\rho}_{D_{3}}s_{3-\varphi}s_{\varphi}c_{3-\varphi}c_{4} \right] \right]-I_{D}^{\ast}\left[{-c}_{3-\varphi}s_{4}\left(c_{\varphi}c_{2}c_{4}-c_{\varphi}s_{2}s_{3-\varphi}s_{3} \right)-s_{3-\varphi}c_{\varphi}s_{2}c_{3-\varphi}+c_{3-\varphi}c_{4}\left(c_{\varphi}c_{2}s_{4}+c_{\varphi}s_{2}s_{3-\varphi}c_{4} \right) \right]$$
(76)
$$\begin{aligned} z_{23} & = - m_{D} \left[ {\frac{1}{2}l_{{C_{2} }} \left[ {\rho_{{D_{3} }} s_{4} c_{4}^{2} c_{\varphi } s_{2} + \rho_{{D_{3} }} c_{4} c_{\varphi } c_{2} s_{3 - \varphi } s_{4}^{2} } \right.} \right. \\ & \quad + \rho_{{D_{3} }} c_{4} s_{\varphi } c_{3 - \varphi } s_{4}^{2} + \rho_{{D_{3} }} c_{4}^{2} c_{\varphi } s_{2} s_{4} - \rho_{{D_{3} }} c_{4}^{3} c_{\varphi } c_{2} s_{3 - \varphi } \\ & \quad - c_{4}^{3} \rho_{{D_{3} }} s_{\varphi } c_{3 - \varphi } + s_{4}^{2} c_{\varphi } c_{4}^{2} \rho_{{D_{3} }} + \rho_{{D_{3} }} c_{4} s_{4}^{2} c_{\varphi } c_{2} s_{3 - \varphi } \\ & \quad \left. { + s_{4}^{2} \rho_{{D_{3} }} s_{\varphi } c_{3 - \varphi } c_{4} + s_{4} \rho_{{D_{3} }} c_{4}^{2} c_{\varphi } s_{2} + s_{4}^{2} \rho_{{D_{3} }} c_{4} c_{\varphi } c_{2} s_{3 - \varphi } + s_{4}^{2} \rho_{{D_{3} }} c_{4} s_{\varphi } c_{3 - \varphi } } \right] \\ & \quad + s_{3 - \varphi } \rho_{{D_{3} }} \left[ {c_{\varphi } s_{2} c_{4} \rho_{{D_{3} }} s_{4} + c_{\varphi } c_{2} s_{3 - \varphi } s_{4}^{2} \rho_{{D_{3} }} + s_{\varphi } c_{3 - \varphi } s_{4}^{2} \rho_{{D_{3} }} } \right. \\ & \quad \left. { + \rho_{{D_{3} }} c_{\varphi } s_{2} s_{4} c_{4} - c_{4}^{2} \rho_{{D_{3} }} c_{\varphi } c_{2} s_{3 - \varphi } - c_{4}^{2} \rho_{{D_{3} }} s_{\varphi } c_{3 - \varphi } } \right] \\ & \quad \left. { + c_{3 - \varphi } s_{4} \rho_{{D_{3} }} \left[ {\rho_{{D_{3} }} c_{\varphi } c_{2} c_{3 - \varphi } s_{4} - \rho_{{D_{3} }} s_{4} s_{\varphi } s_{3 - \varphi } } \right]} \right] \\ & \quad - I_{D}^{ * } \left[ { - c_{3 - \varphi } s_{4} \left( {c_{\varphi } c_{2} c_{3 - \varphi } s_{4} - s_{\varphi } s_{3 - \varphi } s_{4} } \right) + s_{3 - \varphi } \left( { - c_{\varphi } c_{2} s_{3 - \varphi } - s_{\varphi } c_{3 - \varphi } } \right)} \right. \\ & \quad \left. { + c_{3 - \varphi } c_{4} \left( { - c_{\varphi } c_{2} c_{3 - \varphi } c_{4} + s_{\varphi } s_{3 - \varphi } c_{4} } \right)} \right] \\ \end{aligned}$$
(77)
$$\begin{aligned} z_{24} & = - m_{D} \left[ {\frac{1}{2}l_{{C_{2} }} \left[ { - c_{\varphi } c_{2} c_{3 - \varphi } \rho_{{D_{3} }} s_{4} + s_{3 - \varphi } s_{\varphi } \rho_{{D_{3} }} s_{4} - \rho_{{D_{3} }} s_{4} c_{\varphi } c_{2} c_{3 - \varphi } + \rho_{{D_{3} }} s_{4} s_{\varphi } s_{3 - \varphi } } \right]} \right. \\ & \left. { + \rho_{{D_{3} }} c_{3 - \varphi } s_{4} \left[ {\rho_{{D_{3} }} c_{\varphi } s_{2} s_{4} - \rho_{{D_{3} }} s_{\varphi } c_{3 - \varphi } c_{4} } \right]} \right] \\ & - I_{D}^{ * } \left[ { - c_{3 - \varphi } s_{4} \left( { - c_{\varphi } s_{2} s_{4} + c_{\varphi } c_{2} s_{3 - \varphi } c_{4} + s_{\varphi } c_{3 - \varphi } c_{4} } \right)} \right. \\ & \left. { + c_{4} c_{3 - \varphi } \left( {c_{\varphi } s_{2} c_{1} + c_{\varphi } c_{2} s_{3 - \varphi } s_{4} + s_{\varphi } c_{3 - \varphi } s_{4} } \right)} \right] \\ \end{aligned}$$
(78)
$$\begin{aligned} z_{25} & = - m_{D} \left[ {\frac{1}{2}l_{{C_{2} }} \left[ { - c_{4}^{2} c_{3 - \varphi }^{2} s_{4} \rho_{{D_{3} }} + s_{4}^{3} c_{3 - \varphi }^{2} \rho_{{D_{3} }} - s_{3 - \varphi }^{2} \rho_{{D_{3} }} s_{4} } \right]} \right. \\ & \quad + \rho_{{D_{3} }} s_{3 - \varphi } \left[ {\frac{1}{2}l_{{C_{2} }} s_{3 - \varphi } s_{4} - c_{3 - \varphi }^{2} s_{4} c_{4} \rho_{{D_{3} }} } \right] \\ & \quad \left. { + \rho_{{D_{3} }} c_{3 - \varphi } s_{4} \left[ {\frac{1}{2}l_{{C_{2} }} c_{3 - \varphi } + \rho_{{D_{3} }} s_{3 - \varphi } c_{3 - \varphi } c_{4} } \right]} \right] \\ \end{aligned}$$
(79)
$$\begin{aligned} z_{26} & = - m_{D} \left[ {\frac{1}{2}l_{{C_{2} }} \left[ { - c_{4} c_{3 - \varphi } s_{4}^{2} \rho_{{D_{3} }} + \rho_{{D_{3} }} c_{4}^{3} c_{3 - \varphi } - s_{4}^{3} \rho_{{D_{3} }} c_{3 - \varphi } c_{4} - s_{4}^{2} \rho_{{D_{3} }} c_{4} c_{3 - \varphi } } \right]} \right. \\ & \left. {\quad + s_{3 - \varphi } \rho_{{D_{3} }} \left[ {c_{4}^{2} \rho_{{D_{3} }} c_{3 - \varphi } } \right] + c_{3 - \varphi } \rho_{{D_{3} }}^{2} s_{4}^{2} s_{3 - \varphi } } \right] \\ & \quad - I_{D}^{ * } \left[ { - c_{3 - \varphi } s_{3 - \varphi } s_{4}^{2} + s_{3 - \varphi } c_{\varphi } c_{3 - \varphi } + s_{3 - \varphi } c_{4}^{2} c_{3 - \varphi } } \right] \\ \end{aligned}$$
(80)
$$z_{27} = - m_{D} \left[ { - l_{{C_{2} }} \rho_{{D_{3} }} s_{3 - \varphi } s_{4} + \rho_{{D_{3} }}^{2} c_{3 - \varphi }^{2} c_{4} s_{4} } \right]$$
(81)
$$z_{28} = - m_{D} \left[ {l_{{C_{2} }} c_{4}^{2} s_{4} \rho_{{D_{3} }} + s_{3 - \varphi } \rho_{{D_{3} }}^{2} c_{4} s_{4} } \right]$$
(82)
$$z_{29} = - m_{D} \left[ {c_{3 - \varphi } s_{4}^{2} \rho_{{D_{3} }}^{2} } \right] - I_{D}^{ * } c_{3 - \varphi }$$
(83)
$$z_{30} = - \frac{1}{2}l_{{C_{2} }} m_{D} \rho_{{D_{3} }} s_{4}$$
(84)
$$z_{31}=m_{D}c_{4}\rho_{D_{3}}\left[- r\left({s_{\varphi} c_{2} c_{3 - \varphi} + c_{\varphi} s_{3 - \varphi}} \right) + c_{3 - \varphi} \left({- \frac{1}{2}l_{{c_{2}}} c_{\varphi}^{2} s_{2}^{2} + \frac{1}{2}\left({l_{CB} + l_{{C_{3}}}} \right)s_{\varphi} c_{\varphi} c_{2} + \frac{1}{2}l_{{C_{2}}} s_{\varphi}^{2}} \right) +s_{3-\varphi}\left(-\frac{1}{2}\left(l_{CB}+l_{C_{3}} \right)c_{\varphi}^{2}-\frac{1}{2}l_{C_{2}}s_{\varphi}c_{\varphi}c_{2}+\rho_{D_{3}}c_{\varphi}^{2}c_{2}c_{3-\varphi}s_{2}s_{4}-\rho_{D_{3}}c_{\varphi}^{2}c_{2}^{2}c_{3-\varphi}s_{3-\varphi}c_{4}-\rho_{D_{3}}s_{\varphi}c_{\varphi}c_{2}c_{4}+\rho_{D_{3}}s_{\varphi}c_{\varphi}s_{2}s_{4}s_{3}-\rho_{D_{3}}s_{\varphi}^{2}s_{3-\varphi}c_{3-\varphi}c_{4} \right) \right]$$
(85)
$$\begin{aligned} z_{32} & = m_{D} c_{4} \rho_{{D_{3} }} \left[ {c_{3 - \varphi } l_{{C_{2} }} s_{\varphi } + \rho_{{D_{3} }} c_{\varphi } c_{2} c_{4} c_{3 - \varphi }^{2} + \rho_{{D_{3} }} s_{3 - \varphi } c_{\varphi } s_{2} s_{4} - c_{\varphi } c_{2} c_{4} \rho_{{D_{3} }} s_{3 - \varphi }^{2} } \right. \\ & \left. {\quad - \rho_{{D_{3} }} s_{\varphi } c_{3 - \varphi } c_{4} s_{3 - \varphi } + \rho_{{D_{3} }} s_{\varphi } c_{3 - \varphi } c_{4} s_{3 - \varphi } } \right] \\ & \quad - I_{D}^{ * } \left[ {c_{4}^{2} c_{\varphi } c_{2} - c_{\varphi } s_{2} s_{3 - \varphi } s_{3} + c_{\varphi } c_{2} s_{4}^{2} + c_{\varphi } s_{2} s_{3 - \varphi } c_{4} s_{4} } \right] \\ \end{aligned}$$
(86)
$$z_{33} = m_{D} c_{4} \rho_{{D_{3} }} \left[ {\rho_{{D_{3} }} s_{4} c_{\varphi } c_{2} c_{3 - \varphi } + \rho_{{D_{3} }} s_{4} s_{3 - \varphi } s_{\varphi } } \right] - I_{D}^{ * } 2s_{4} c_{\varphi } c_{2} c_{3 - \varphi } c_{4}$$
(87)
$$\begin{aligned} z_{34} & = m_{D} c_{4} \rho_{{D_{3} }} \left[ {\rho_{{D_{3} }} s_{4} c_{\varphi } s_{2} - \rho_{{D_{3} }} c_{4} c_{\varphi } c_{2} s_{3 - \varphi } - \rho_{{D_{3} }} c_{4} s_{\varphi } c_{3 - \varphi } } \right] \\ & \quad - I_{D}^{ * } \left[ {c_{\varphi } s_{2} s_{4} c_{4} + c_{\varphi } c_{2} c_{4}^{2} s_{3 - \varphi } + s_{\varphi } c_{3 - \varphi } c_{4}^{2} + s_{4} c_{\varphi } s_{2} c_{1} + s_{4}^{2} c_{\varphi } c_{2} s_{3 - \varphi } + s_{4}^{2} s_{\varphi } c_{3 - \varphi } } \right] \\ \end{aligned}$$
(88)
$$z_{35} = m_{D} c_{4} \rho_{{D_{3} }} \left[ {\frac{1}{2}l_{{C_{2} }} + \rho_{{D_{3} }} s_{3 - \varphi } c_{3 - \varphi } c_{4} } \right]$$
(89)
$$z_{36} = m_{D} c_{4} \rho_{{D_{3} }} \left[ {\rho_{{D_{3} }} s_{3 - \varphi } s_{4} } \right]$$
(90)
$$z_{37} = m_{D} c_{4} \rho_{{D_{3} }} \left[ {\rho_{{D_{3} }} c_{3 - \varphi } c_{4} } \right] + I_{D}^{ * } c_{3 - \varphi }$$
(91)
$$z_{39} = m_{D} c_{4} \rho_{{D_{3} }}^{2} s_{4} - 2I_{D}^{ * } s_{4} c_{4}$$
(93)
$$\begin{aligned} z_{41} & = - m_{D} \rho_{{D_{3} }} \left[ {rc_{\varphi } c_{3 - \varphi } s_{4} + \frac{1}{2}l_{{C_{2} }} c_{\varphi }^{2} s_{2} c_{2} c_{4} - \frac{1}{2}\left( {l_{CB} + l_{{C_{3} }} } \right)s_{\varphi } c_{\varphi } s_{2} c_{4} } \right. \\ & \quad - \frac{1}{2}l_{{C_{2} }} c_{\varphi }^{2} s_{2}^{2} s_{4} s_{3 - \varphi } + \frac{1}{2}\left( {l_{CB} + l_{{C_{3} }} } \right)s_{\varphi } c_{\varphi } c_{2} c_{4} s_{4} s_{3 - \varphi } \\ & \quad + \frac{1}{2}l_{{C_{2} }} s_{\varphi }^{2} s_{4} s_{3 - \varphi } - c_{3 - \varphi } s_{4} \left( { - \frac{1}{2}\left( {l_{CB} + l_{{C_{3} }} } \right)c_{\varphi }^{2} - \frac{1}{2}l_{{C_{2} }} s_{\varphi } c_{\varphi } c_{2} } \right) \\ & \quad + c_{\varphi }^{2} s_{2}^{2} c_{4} s_{4} \rho_{{D_{3} }} - c_{\varphi }^{2} c_{4}^{2} s_{2} c_{2} s_{3 - \varphi } \rho_{{D_{3} }} - c_{4}^{2} s_{2} s_{\varphi } c_{\varphi } \rho_{{D_{3} }} c_{3 - \varphi } \\ & \quad + c_{\varphi }^{2} s_{2} c_{2} s_{4}^{2} s_{3 - \varphi } \rho_{{D_{3} }} - c_{\varphi }^{2} c_{2}^{2} s_{3 - \varphi }^{2} c_{4} s_{4} \rho_{{D_{3} }} - s_{4} s_{3 - \varphi } c_{\varphi } c_{2} \rho_{{D_{3} }} \\ & \quad \left. { + s_{4}^{2} s_{2} s_{\varphi } c_{\varphi } \rho_{{D_{3} }} c_{3 - \varphi } - c_{2} s_{\varphi } c_{\varphi } \rho_{{D_{3} }} c_{3 - \varphi } s_{3 - \varphi } c_{4} s_{4} } \right] \\ \end{aligned}$$
(95)
$$\begin{aligned} z_{42} & = - m_{D} \rho_{{D_{3} }} \left[ { - \left( {l_{CB} + l_{{C_{3} }} } \right)c_{\varphi } s_{2} c_{4} + l_{{C_{2} }} s_{\varphi } s_{4} s_{3 - \varphi } } \right. \\ & \quad + c_{\varphi } s_{2} c_{4}^{2} \rho_{{D_{3} }} c_{3 - \varphi } + 2s_{4} s_{3 - \varphi } c_{\varphi } c_{2} \rho_{{D_{3} }} c_{3 - \varphi } c_{4} \\ & \quad \left. { - c_{3 - \varphi } s_{4}^{2} \rho_{{D_{3} }} c_{\varphi } s_{2} + 2c_{3 - \varphi }^{2} s_{4} \rho_{{D_{3} }} s_{\varphi } c_{4} } \right] \\ & \quad + I_{D}^{ * } c_{\varphi } s_{2} c_{3 - \varphi } \\ \end{aligned}$$
(96)
$$\begin{aligned} z_{43} & = - m_{D} \rho_{{D_{3} }} \left[ {c_{\varphi } s_{2} c_{4} s_{4} \rho_{{D_{3} }} + c_{\varphi } c_{2} s_{4}^{2} \rho_{{D_{3} }} s_{3 - \varphi } + s_{\varphi } s_{2} s_{4}^{2} \rho_{{D_{3} }} c_{3 - \varphi } } \right. \\ & \left. {\quad + c_{\varphi } s_{2} c_{4} \rho_{{D_{3} }} s_{4} - c_{4}^{2} c_{2} c_{\varphi } \rho_{{D_{3} }} s_{3 - \varphi } - c_{4}^{2} s_{\varphi } \rho_{{D_{3} }} c_{3 - \varphi } } \right] \\ & \quad + I_{D}^{ * } \left[ {c_{\varphi } c_{2} s_{3 - \varphi } + s_{\varphi } c_{3 - \varphi } } \right] \\ \end{aligned}$$
(97)
$$i_{45} = m_{D} \rho_{{D_{3} }}^{2} c_{4} s_{4} c_{3 - \varphi }^{2}$$
(99)
$$z_{46} = - m_{D} \rho_{{D_{3} }} \left[ {c_{3 - \varphi } s_{4}^{2} \rho_{{D_{3} }} + c_{4} c_{\varphi } s_{2} s_{4} \rho_{{D_{3} }} } \right] - I_{D}^{ * } c_{3 - \varphi } c_{\varphi }$$
(100)
$$z_{48} = - m_{D} \rho_{{D_{3} }} c_{4} s_{4} \rho_{{D_{3} }}$$
(102)
The elements of matrix \(\vec{E}\) can be written as:
$$\begin{aligned} f_{{I_{1} }} & = rc_{1} + \left( {\frac{1}{2}\left( {l_{CB} + l_{{c_{3} }} } \right)c_{\varphi } c_{2} + \frac{1}{2}l_{{c_{2} }} s_{\varphi } } \right)\left( {c_{1} c_{2} + s_{1} s_{\varphi } s_{2} } \right) \\ & \quad - \left( {\frac{1}{2}\left( {l_{CB} + l_{{c_{3} }} } \right)c_{\varphi } c_{2} } \right)\left( {s_{1} s_{\varphi } c_{2} - c_{1} s_{2} } \right) \\ & \quad + \frac{1}{2}l_{{c_{2} }} c_{\varphi }^{2} s_{2} s_{1} + \left( {l_{{D_{3} }} c_{\varphi } c_{2} c_{3 - \varphi } - l_{{D_{3} }} s_{\varphi } s_{3 - \varphi } - c_{\varphi } s_{2} s_{4} l_{{D_{2} }} + c_{\varphi } c_{2} s_{3 - \varphi } c_{4} l_{{D_{2} }} + s_{\varphi } c_{3 - \varphi } c_{4} l_{{D_{2} }} } \right) \\ & \quad \left( {c_{1} c_{2} c_{4} + c_{4} s_{1} s_{\varphi } s_{2} + s_{3 - \varphi } s_{4} c_{1} s_{2} - s_{3 - \varphi } s_{4} s_{1} s_{\varphi } c_{2} - s_{1} c_{\varphi } c_{3 - \varphi } s_{4} } \right) \\ & \quad + \left( { - c_{\varphi } s_{2} c_{4} l_{{D_{3} }} - c_{\varphi } c_{2} s_{3 - \varphi } s_{4} l_{{D_{3} }} - s_{\varphi } c_{3 - \varphi } s_{4} l_{{D_{3} }} } \right)\left( { - c_{3 - \varphi } c_{1} s_{2} + c_{3 - \varphi } s_{1} s_{\varphi } c_{2} + s_{1} c_{\varphi } s_{3 - \varphi } } \right) \\ & \quad + \left( {c_{\varphi } s_{2} c_{4} l_{{D_{2} }} + c_{\varphi } c_{2} s_{3 - \varphi } s_{4} l_{{D_{2} }} + s_{\varphi } c_{3 - \varphi } s_{4} l_{{D_{2} }} } \right)\left( {s_{4} c_{1} c_{2} + s_{4} s_{1} s_{\varphi } s_{2} + s_{3 - \varphi } c_{4} c_{1} s_{2} - s_{3 - \varphi } c_{4} s_{1} s_{\varphi } c_{2} + s_{1} c_{\varphi } c_{3 - \varphi } c_{4} } \right) \\ \end{aligned}$$
(105)
$$\begin{aligned} f_{{T_{1} }} & = rc_{1} + \left( {\frac{1}{2}\left( {l_{CB} + l_{{c_{3} }} } \right)c_{\varphi } c_{2} + \frac{1}{2}l_{{c_{2} }} s_{\varphi } } \right)\left( {c_{1} c_{2} + s_{1} s_{\varphi } s_{2} } \right) \\ & \quad - \left( {\frac{1}{2}\left( {l_{CB} + l_{{c_{3} }} } \right)c_{\varphi } c_{2} } \right)\left( {s_{1} s_{\varphi } c_{2} - c_{1} s_{2} } \right) + \frac{1}{2}l_{{c_{2} }} c_{\varphi }^{2} s_{2} s_{1} \\ & \quad + \left( {l_{{M_{3} }} c_{\varphi } c_{2} c_{3 - \varphi } - l_{{M_{3} }} s_{\varphi } s_{3 - \varphi } - c_{\varphi } s_{2} s_{4} l_{{M_{2} }} + c_{\varphi } c_{2} s_{3 - \varphi } c_{4} l_{{M_{2} }} + s_{\varphi } c_{3 - \varphi } c_{4} l_{{M_{2} }} } \right) \\ & \quad \left( {c_{1} c_{2} c_{4} + c_{4} s_{1} s_{\varphi } s_{2} + s_{3 - \varphi } s_{4} c_{1} s_{2} - s_{3 - \varphi } s_{4} s_{1} s_{\varphi } c_{2} - s_{1} c_{\varphi } c_{3 - \varphi } s_{4} } \right) \\ & \quad + \left( { - c_{\varphi } s_{2} c_{4} l_{{M_{3} }} - c_{\varphi } c_{2} s_{3 - \varphi } s_{4} l_{{M_{3} }} - s_{\varphi } c_{3 - \varphi } s_{4} l_{{M_{3} }} } \right)\left( { - c_{3 - \varphi } c_{1} s_{2} + c_{3 - \varphi } s_{1} s_{\varphi } c_{2} + s_{1} c_{\varphi } s_{3 - \varphi } } \right) \\ & \quad + \left( {c_{\varphi } s_{2} c_{4} l_{{M_{2} }} + c_{\varphi } c_{2} s_{3 - \varphi } s_{4} l_{{M_{2} }} + s_{\varphi } c_{3 - \varphi } s_{4} l_{{M_{2} }} } \right)\left( {s_{4} c_{1} c_{2} + s_{4} s_{1} s_{\varphi } s_{2} + s_{3 - \varphi } c_{4} c_{1} s_{2} - s_{3 - \varphi } c_{4} s_{1} s_{\varphi } c_{2} + s_{1} c_{\varphi } c_{3 - \varphi } c_{4} } \right) \\ \end{aligned}$$
(106)
$$\begin{aligned} f_{{I_{2} }} & = \frac{1}{2}l_{{c_{2} }} \left( {c_{1} c_{2} + s_{1} s_{\varphi } s_{2} } \right) + \left( {s_{3 - \varphi } l_{{D_{3} }} - c_{3 - \varphi } c_{4} l_{{D_{2} }} } \right) \\ & \left( {c_{1} c_{2} c_{4} + c_{4} s_{1} s_{\varphi } s_{2} + s_{3 - \varphi } s_{4} c_{1} s_{2} - s_{3 - \varphi } s_{4} s_{1} s_{\varphi } c_{2} - s_{1} c_{\varphi } c_{3 - \varphi } s_{4} } \right) \\ & + \left( {c_{3 - \varphi } s_{4} l_{{D_{3} }} + c_{3 - \varphi } c_{4} l_{{D_{1} }} } \right)\left( { - c_{3 - \varphi } c_{1} s_{2} + c_{3 - \varphi } s_{1} s_{\varphi } c_{2} + s_{1} c_{\varphi } s_{3 - \varphi } } \right) \\ & + \left( { - c_{3 - \varphi } s_{4} l_{{D_{3} }} } \right)\left( {s_{4} c_{1} c_{2} + s_{4} s_{1} s_{\varphi } s_{2} + s_{3 - \varphi } c_{4} c_{1} s_{2} - s_{3 - \varphi } c_{4} s_{1} s_{\varphi } c_{2} + s_{1} c_{\varphi } c_{3 - \varphi } c_{4} } \right) \\ \end{aligned}$$
(107)
$$\begin{aligned} f_{{T_{2} }} & = \frac{1}{2}l_{{c_{2} }} \left( {c_{1} c_{2} + s_{1} s_{\varphi } s_{2} } \right) \\ & \quad + \left( {s_{3 - \varphi } l_{{M_{3} }} - c_{3 - \varphi } c_{4} l_{{M_{2} }} } \right)\left( {c_{1} c_{2} c_{4} + c_{4} s_{1} s_{\varphi } s_{2} + s_{3 - \varphi } s_{4} c_{1} s_{2} - s_{3 - \varphi } s_{4} s_{1} s_{\varphi } c_{2} - s_{1} c_{\varphi } c_{3 - \varphi } s_{4} } \right) \\ & \quad + \left( {c_{3 - \varphi } s_{4} l_{{M_{3} }} + c_{3 - \varphi } c_{4} l_{{M_{1} }} } \right)\left( { - c_{3 - \varphi } c_{1} s_{2} + c_{3 - \varphi } s_{1} s_{\varphi } c_{2} + s_{1} c_{\varphi } s_{3 - \varphi } } \right) \\ & \quad + \left( { - c_{3 - \varphi } s_{4} l_{{M_{3} }} } \right)\left( {s_{4} c_{1} c_{2} + s_{4} s_{1} s_{\varphi } s_{2} + s_{3 - \varphi } c_{4} c_{1} s_{2} - s_{3 - \varphi } c_{4} s_{1} s_{\varphi } c_{2} + s_{1} c_{\varphi } c_{3 - \varphi } c_{4} } \right) \\ \end{aligned}$$
(108)
$$\begin{aligned} f_{{I_{3} }} & = - s_{4} l_{{D_{2} }} \left( {c_{1} c_{2} c_{4} + c_{4} s_{1} s_{\varphi } s_{2} + s_{3 - \varphi } s_{4} c_{1} s_{2} - s_{3 - \varphi } s_{4} s_{1} s_{\varphi } c_{2} - s_{1} c_{\varphi } c_{3 - \varphi } s_{4} } \right) \\ & - c_{4} l_{{D_{3} }} \left( { - c_{3 - \varphi } c_{1} s_{2} + c_{3 - \varphi } s_{1} s_{\varphi } c_{2} + s_{1} c_{\varphi } s_{3 - \varphi } } \right) \\ & + c_{4} l_{{D_{2} }} \left( {s_{4} c_{1} c_{2} + s_{4} s_{1} s_{\varphi } s_{2} + s_{3 - \varphi } c_{4} c_{1} s_{2} - s_{3 - \varphi } c_{4} s_{1} s_{\varphi } c_{2} + s_{1} c_{\varphi } c_{3 - \varphi } c_{4} } \right) \\ \end{aligned}$$
(109)
$$\begin{aligned} f_{{T_{3} }} & = - s_{4} l_{{M_{2} }} \left( {c_{1} c_{2} c_{4} + c_{4} s_{1} s_{\varphi } s_{2} + s_{3 - \varphi } s_{4} c_{1} s_{2} - s_{3 - \varphi } s_{4} s_{1} s_{\varphi } c_{2} - s_{1} c_{\varphi } c_{3 - \varphi } s_{4} } \right) \\ & \quad - c_{4} l_{{M_{3} }} \left( { - c_{3 - \varphi } c_{1} s_{2} + c_{3 - \varphi } s_{1} s_{\varphi } c_{2} + s_{1} c_{\varphi } s_{3 - \varphi } } \right) \\ & \quad + c_{4} l_{{M_{2} }} \left( {s_{4} c_{1} c_{2} + s_{4} s_{1} s_{\varphi } s_{2} + s_{3 - \varphi } c_{4} c_{1} s_{2} - s_{3 - \varphi } c_{4} s_{1} s_{\varphi } c_{2} + s_{1} c_{\varphi } c_{3 - \varphi } c_{4} } \right) \\ \end{aligned}$$
(110)
$$f_{{I_{4} }} = l_{{D_{3} }} \left( {c_{1} c_{2} c_{4} + c_{4} s_{1} s_{\varphi } s_{2} + s_{3 - \varphi } s_{4} c_{1} s_{2} - s_{3 - \varphi } s_{4} s_{1} s_{\varphi } c_{2} - s_{1} c_{\varphi } c_{3 - \varphi } s_{4} } \right)$$
(111)
$$f_{{T_{4} }} = l_{{M_{3} }} \left( {c_{1} c_{2} c_{4} + c_{4} s_{1} s_{\varphi } s_{2} + s_{3 - \varphi } s_{4} c_{1} s_{2} - s_{3 - \varphi } s_{4} s_{1} s_{\varphi } c_{2} - s_{1} c_{\varphi } c_{3 - \varphi } s_{4} } \right)$$
(112)
Appendix B
Subject 2
Cereal activity (Fig. 14)
Noodle activity (Fig. 15)
Rice activity (Fig. 16)
Soup activity (Fig. 17)
Vegetable activity (Fig. 18)
Subject 3
Cereal activity (Fig. 19)
Noodle activity (Fig. 20)
Rice activity (Fig. 21)
Soup activity (Fig. 22)
Vegetable activity (Fig. 23)
About this article
Cite this article
Hussain, Z., Azlan, N.Z. 3-D Dynamic Modeling and Validation of Human Arm for Torque Determination During Eating Activity Using Kane's Method. Iran J Sci Technol Trans Mech Eng 44, 661–694 (2020). https://doi.org/10.1007/s40997-019-00299-8
Received:

Accepted:

Published:

Issue Date:
Keywords
Dynamic modeling

Wrist

Elbow

Eating

Kane's method

RMSE