Abstract
The synchronous belt drive with noncircular pulleys can be used to obtain accurate transmission with a specific motion law, but the shortage of big belt slack caused by noncircular pulleys limits its application. In order to reduce the belt slack, a novel synchronous belt drive with noncircular pulleys, which is formed by a driving circular pulley, a driven eccentric pulley and a noncircular tension pulley, was presented in this paper. During the transmission from the driving circular pulley to the driven eccentric pulley, the belt slack is compensated by the noncircular tension pulley. The calculation models for this novel synchronous belt drive were built based on tangent equations of the noncircular pulleys. The pitch curve of the noncircular tension pulley and the length of the synchronous belt were deduced by iterative algorithm. Subsequently, an auxiliary application program for the numerical calculation of these models, using MATLAB, was developed. The calculation examples by using this program prove that the proposed noncircular synchronous belt drive has far less belt slack than the traditional noncircular synchronous belt drive without tension pulley. At last, the results of the mathematical calculation were compared with the experimental data and good agreement has been reached.
This is a preview of subscription content, log in to check access.
Access options
Buy single article
Instant access to the full article PDF.
US$ 39.95
Price includes VAT for USA
Subscribe to journal
Immediate online access to all issues from 2019. Subscription will auto renew annually.
US$ 99
This is the net price. Taxes to be calculated in checkout.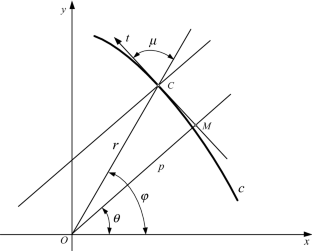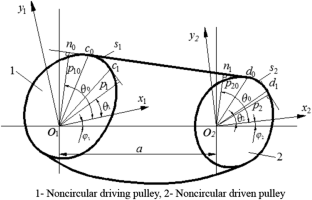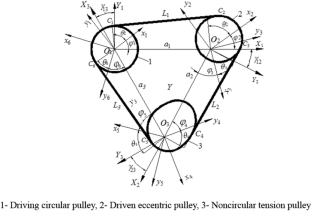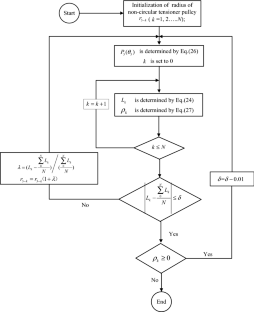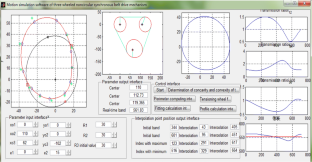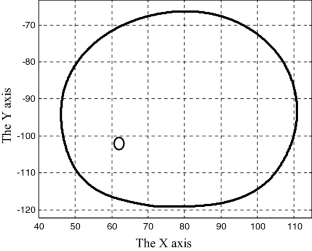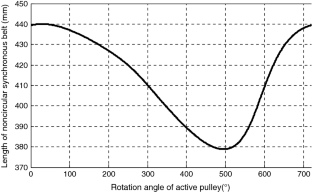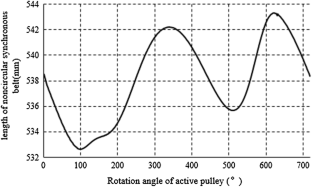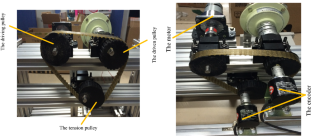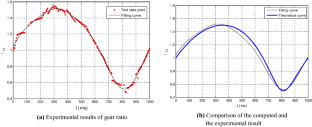 References
Barton LO (1995) A new graphical technique for solving the Euler–Savary equation. Mech Mach Theory 30(8):1305–1309

Cao LX, Liu J (2001) Study on the method of computing the ratio function of noncircular chain. Chin J Mech Eng 37(5):35–39

Dai L, Zhao X, Zhao Y (2009) Kinematic analysis and parameter iterative of eccentric sprockets transmission mechanism. Trans Chin Soc Agric Mach 40(12):233–241

Feng LP, Zheng JH (2005) Synthesis of noncircular chain drive pith curve based on the least theoretical slack. Mach Des Manuf 6:43–44

Feng LP, Zheng JH (2006) Pitch curve iterative of noncircular chain wheel 23(1):25–27

Ferguson RJ, Daws LF, Kerr JH (1975) The design of a stepless transmission using noncircular gears. Mech Mach Theory 10(6):467–478

Freudenstein F, Chen CK (1991) Variable-ratio chain drives with noncircular sprockets and minimum slack-theory and application. J Mech Des 113(3):253–262

Guo LS, Zhang WJ (2001) Kinematic analysis of a rice transplanting mechanism with eccentric planetary gear trains. Mech Mach Theory 36(11):1175–1188

Innocenti C, Paganelli D (2006) Designing synchronous belt drives with variable velocity ratio. J Mech Des 130(1):842–849

Ju HX (2015) Design and kinematics analysis of noncircular belt drive. J Mech Transm 39(1):126–130

Karpov O, Nosko P, Fil P et al (2017) Prevention of resonance oscillations in gear mechanisms using noncircular gears. Mech Mach Theory 114:1–10

Konishi T, Horio M et al (1989) Development of high performance rice transplanter. J Jpn Soc Agric Mach 51(6):604–610

Li FS (1975) Noncircular gear. Mechanical Industry Press, Beijing

Li FS (1983) Transmission design of noncircular gear and special gear. Mechanical Industry Press, Beijing

Li BW, Yang TH, Liu T (2015) Riding performance and design of elliptical-eccentric sprockets chain system for bicycles. In: Proceedings of the 14th IFToMM world congress. Taipei, Taiwan, October 25–30

Liu D, Ren T (2011) Study on deformed limacon gear and motion iterative of its serial mechanism. J Mech Des 133(6):061004

Liu X, Fahad A, Kazuo Y et al (2005) Adaptive interpolation scheme for NURBS curves with the integration of machining dynamics. Int J Mach Tools Manuf 45(4):433–444

Masal M, Tosun M, Pirdal AZ (2010) Euler savary formula for the one parameter motions in the complex plane C. Int J Phys Sci 5(1):6–10

Miller NR, Ross D (1980) Design of variable-ratio chain drives for bicycles and ergometers-application to a maximum power bicycle drive. J Mech Des 102(4):711–717

Ottaviano E, Mundo D, Danieli GA et al (2008) Numerical and experimental analysis of noncircular gears and cam-follower systems as function generators. Mech Mach Theory 43(8):996–1008

Piegl LA, Tiller W (2008) Fitting NURBS spherical patches to measured data. Eng Comput 24(2):97–106

Tsay MF, Fong ZH (2005) Study on the generalized mathematical model of noncircular gears. Math Comput Model 41(4):555–569

Wu XT, Wang GH (1997) Non-circular gear and non-uniform transmission. Mechanical Industry Press, Beijing

Zhang YM, Liu Q, Wen B (2003) Practical reliability-based design of gear pairs. Mech Mach Theory 38(12):1363–1370

Zheng EL, Jia F, Sha HW et al (2012) Noncircular belt drive design of mechanical press. Mech Mach Theory 57(11):126–138

Zheng F, Hua L, Han X et al (2016a) Generation of noncircular bevel gears with free-form tooth profile and tooth tengthwise based on screw theory. J Mech Des 138(6):064501

Zheng FY, Lin H, Han XH et al (2016b) Synthesis of indexing mechanisms with noncircular gears. Mech Mach Theory 105:108–128
Acknowledgements
This work was supported by the National Natural Science Foundation of China (No. 51675486, No. 51505239) and the Zhejiang Key Research and Development Program (2018C02046).
About this article
Cite this article
Chen, J., Ye, J., Wang, Y. et al. Design, Modeling and Experiment of a Novel Synchronous Belt Drive with Noncircular Pulleys. Iran J Sci Technol Trans Mech Eng 44, 533–542 (2020). https://doi.org/10.1007/s40997-019-00297-w
Received:

Accepted:

Published:

Issue Date:
Keywords
Synchronous belt drive

Noncircular pulley

Belt slack

Tangent equation

Pitch curve