Abstract
The geometrically nonlinear forced vibration response of magneto-electro-thermo-elastic (METE) rectangular plates is analyzed herein using a numerical approach. The shear deformation effect is taken into account based on the first-order shear deformation plate theory. The geometrical nonlinearity is also considered using the von Kármán hypothesis. Based upon a variational approach, the energy functional of problem is obtained and represented in matrix form. Then, the variational differential quadrature technique is utilized to directly discretize that functional. For the solution in the time domain, the time periodic discretization method is employed. Finally, the pseudo arc-length continuation technique is used to find the frequency-response curves of METE plates under various boundary conditions. The influences of electric voltage, magnetic potential and temperature difference on the primary resonant dynamics of METE plates are investigated.
This is a preview of subscription content, log in to check access.
Access options
Buy single article
Instant access to the full article PDF.
US$ 39.95
Price includes VAT for USA
Subscribe to journal
Immediate online access to all issues from 2019. Subscription will auto renew annually.
US$ 99
This is the net price. Taxes to be calculated in checkout.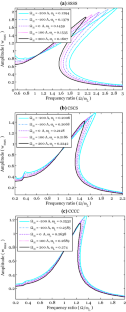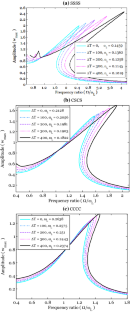 References
Alibeigi B, Tadi Beni Y (2018) On the size-dependent magneto/electromechanical buckling of nanobeams. Eur Phys J Plus 133:398

Alibeigi B, Tadi Beni Y, Mehralian F (2018) On the thermal buckling of magneto-electro-elastic piezoelectric nanobeams. Eur Phys J Plus 133:133

Ansari R, Gholami R (2016) Nonlocal free vibration in the pre-and post-buckled states of magneto-electro-thermo elastic rectangular nanoplates with various edge conditions. Smart Mater Struct 25:095033

Ansari R, Gholami R (2017) Size-dependent buckling and postbuckling analyses of first-order shear deformable magneto-electro-thermo elastic nanoplates based on the nonlocal elasticity theory. Int J Struct Stab Dyn 17:1750014

Ansari R, Torabi J (2016) Nonlocal vibration analysis of circular double-layered graphene sheets resting on an elastic foundation subjected to thermal loading. Acta Mech Sin 32:841–853

Ansari R, Hasrati E, Gholami R, Sadeghi F (2015a) Nonlinear analysis of forced vibration of nonlocal third-order shear deformable beam model of magneto–electro–thermo elastic nanobeams. Compos Part B 83:226–241

Ansari R, Gholami R, Rouhi H (2015b) Size-dependent nonlinear forced vibration analysis of magneto-electro-thermo-elastic Timoshenko nanobeams based upon the nonlocal elasticity theory. Compos Struct 126:216–226

Ansari R, Gholami R, Rouhi H (2019) Geometrically nonlinear free vibration analysis of shear deformable magneto-electro-elastic plates considering thermal effects based on a novel variational approach. Thin-Walled Struct 135:12–20

Asemi SR, Farajipour A (2014) Thermo-electro-mechanical vibration of coupled piezoelectric-nanoplate systems under non-uniform voltage distribution embedded in Pasternak elastic medium. Curr Appl Phys 14:814–832

Benveniste Y (1995) Magnetoelectric effect in fibrous composites with piezoelectric and piezomagnetic phase. Phys Rev B 51:16424–16427

Daga A, Ganesan N, Shankar K (2009a) Transient dynamic response of cantilever magneto-electro-elastic beam using finite elements. Int J Comput Meth Eng Sci Mech 10:173–185

Daga A, Ganesan N, Shankar K (2009b) Harmonic response of three-phase magneto-electro-elastic beam under mechanical, electrical and magnetic environment. J Intell Mater Syst Struct 20:1203–1220

Dehkordi SF, Tadi Beni Y (2017) Electro-mechanical free vibration of single-walled piezoelectric/flexoelectric nano cones using consistent couple stress theory. Int J Mech Sci 128–129:125–139

Ebrahimi F, Barati MR (2017) Buckling analysis of smart size-dependent higher order magneto-electro-thermo-elastic functionally graded nanosize beams. J Mech 33:23–33

Ebrahimi N, Tadi Beni Y (2016) Electro-mechanical vibration of nanoshells using consistent size-dependent piezoelectric theory. Steel Compos Struct 22:1301–1336

Faghih Shojaei M, Ansari R (2017) Variational differential quadrature: a technique to simplify numerical analysis of structures. Appl Math Model 49:705–738

Faghih Shojaei M, Ansari R, Mohammadi V, Rouhi H (2014) Nonlinear forced vibration analysis of postbuckled beams. Arch Appl Mech 84:421–440

Gholami R, Ansari R, Gholami Y (2017) Nonlinear resonant dynamics of geometrically imperfect higher-order shear deformable functionally graded carbon-nanotube reinforced composite beams. Compos Struct 174:45–58

Huang DJ, Ding HJ, Chen WQ (2007) Analytical solution for functionally graded magneto-electro-elastic plane beams. Int J Eng Sci 45:467–485

Jandaghian AA, Rahmani O (2016) Free vibration analysis of magneto-electro-thermo-elastic nanobeams resting on a Pasternak foundation. Smart Mater Struct 25:035023

Jiangong Y, Qiujuan M (2010) Wave characteristics in magneto-electro-elastic functionally graded spherical curved plates. Mech Adv Mater Struct 17:287–301

Jiangyi C, Hualing C, Ernian P (2006) Free vibration of functionally graded, magneto-electro-elastic, and multilayered plates. Acta Mech Solida Sin 19:160–166

Ke LL, Wang YS (2014) Free vibration of size-dependent magneto-electro-elastic nanobeams based on the nonlocal theory. Physica E 63:52–61

Ke LL, Wang YS, Yang J, Kitipornchai S (2014) Free vibration of size-dependent magneto-electro-elastic nanoplates based on the nonlocal theory. Acta Mech Sin 30:516–525

Keller HB (1977) Numerical solution of bifurcation and nonlinear eigenvalue problems, in Applications of bifurcation theory (Proc. Advanced Sem. Univ. Wisconsin, Madison Wis. 1976). Academic Press, New York, pp 359–384

Kheibari F, Tadi Beni Y (2017) Size dependent electro-mechanical vibration of single-walled piezoelectric nanotubes using thin shell model. Mater Des 114:572–583

Kiani A, Sheikhkhoshkar M, Jamalpoor A, Khanzadi M (2018) Free vibration problem of embedded magneto-electro-thermo-elastic nanoplate made of functionally graded materials via nonlocal third-order shear deformation theory. J Intell Mater Syst Struct 29:741–763

Lang Z, Xuewu L (2013) Buckling and vibration analysis of functionally graded magneto-electro-thermo-elastic circular cylindrical shells. Appl Math Model 37:2279–2292

Li YS, Cai ZY, Shi SY (2014) Buckling and free vibration of magnetoelectroelastic nanoplate based on nonlocal theory. Compos Struct 111:522–529

Nan CW, Bichurin M, Dong S, Viehland D, Srinivasan G (2008) Multiferroic magnetoelectric composites: historical perspective, status, and future directions. J Appl Phys 103:031101

Omidian R, Tadi Beni Y, Mehralian F (2017) Analysis of size-dependent smart flexoelectric nanobeams. Eur Phys J Plus 132:481

Priya S, Islam R, Dong S, Viehland D (2007) Recent advancements in magnetoelectric particulate and laminate composites. J Electroceram 19:149–166

Shojaeefard MH, Mahinzare M, Safarpour H, Saeidi Googarchin H, Ghadiri M (2018) Free vibration of an ultra-fast-rotating-induced cylindrical nano-shell resting on a Winkler foundation under thermo-electro-magneto-elastic condition. Appl Math Model 61:255–279

Tsai YH, Wu CP, Syu YS (2008) Three-dimensional analysis of doubly curved functionally graded magneto-electro-elastic shells. Eur J Mech A Solids 27:79–105

Vinyas M, Kattimani SC (2018) Influence of coupled material properties of BaTiO3 and CoFe2O4 on the static behavior of thermo-mechanically loaded magneto-electro-elastic beam. Mater Today Proc 5:7410–7419

Wang R, Han Q, Pan E (2010) An analytical solution for a multilayered magneto-electro-elastic circular plate under simply supported lateral boundary conditions. Smart Mater Struct 19(6):065025

Wang Y, Xu R, Ding H (2011) Axisymmetric bending of functionally graded circular magneto-electro-elastic plates. Eur J Mech A Solids 30:999–1011

Wu CP, Tsai YH (2007) Static behavior of functionally graded magneto-electro-elastic shells under electric displacement and magnetic flux. Int J Eng Sci 45:744–769

Zhai J, Xing Z, Dong S, Li J, Viehland D (2008) Magnetoelectric laminate composites: an overview. J Am Ceram Soc 91:351–358
About this article
Cite this article
Gholami, R., Ansari, R. & Rouhi, H. A Numerical Investigation into the Primary Resonant Dynamics of Magneto-Electro-Thermo-Elastic Plates. Iran J Sci Technol Trans Mech Eng 44, 571–583 (2020). https://doi.org/10.1007/s40997-019-00293-0
Received:

Accepted:

Published:

Issue Date:
Keywords
Magneto-electro-thermo-elastic plate

Nonlinear forced vibration

Variational differential quadrature method